The luxury compact electric SUV segment is hotting up, but will it be the new Audi Q4 e-tron or Mercedes EQA that's best in class right now?
If you're searching for a new electric car, odds are you'll find yourself looking at a quickly growing list of electric SUV options. On the more affordable end of the compact SUV spectrum you've got the Hyundai Kona EV and Kia e-Niro. If you're looking for something more premium in the luxury segment, the recently launched Mercedes-Benz EQA and incoming Audi Q4 e-tron are the two to look at.
Both are brand-new, and both sit on the bottom rung of each manufacturers' electric lineup.
Mercedes EQA vs Audi Q4 e-tron: Overview
Audi Q4 e-tron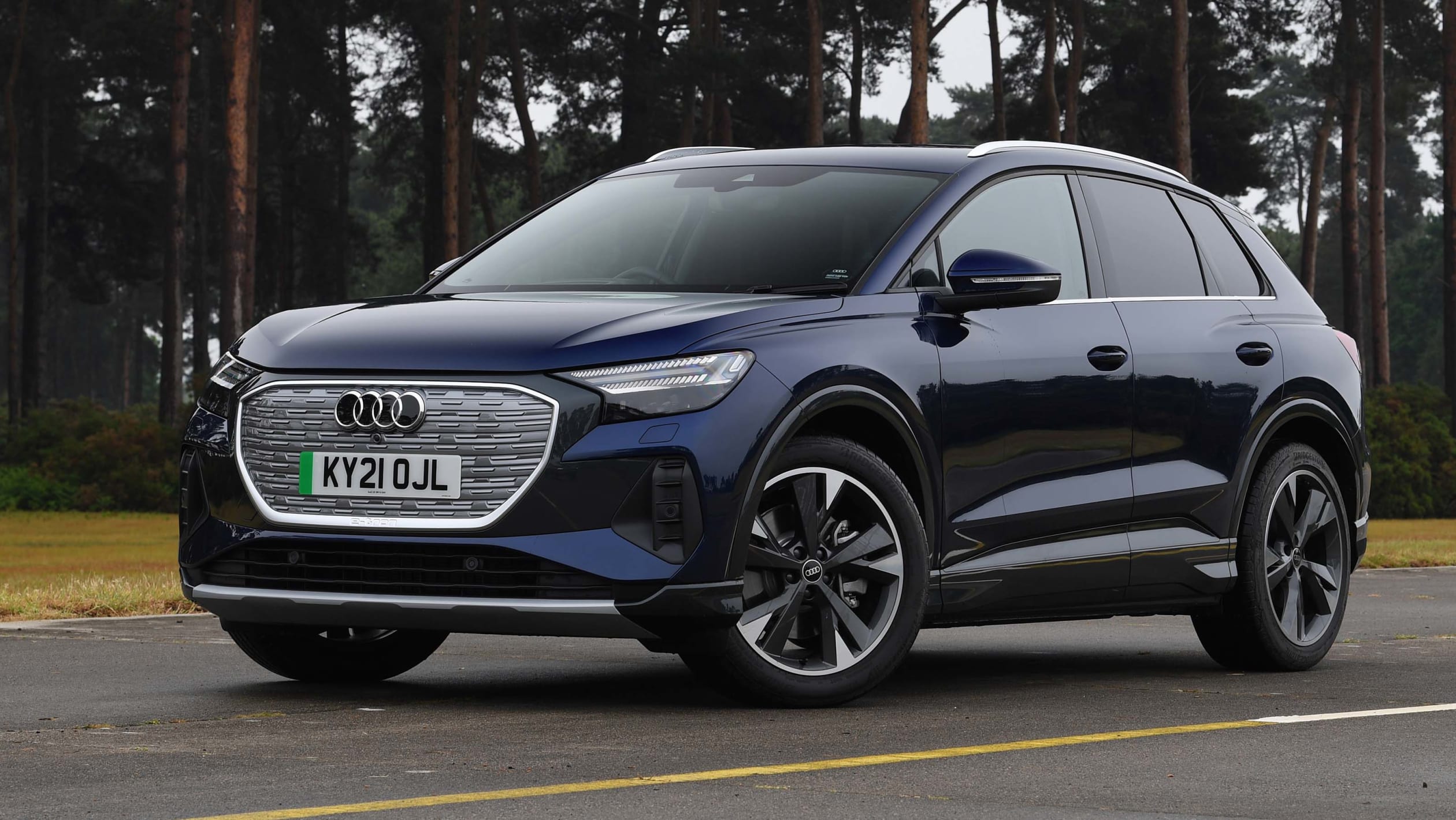 Pros: Range compared to EQA, spacious interior, comfortable ride
Cons: Only top-spec models get four-wheel-drive, expensive options list, heavy steering compared to EQA
Mercedes EQA
Pros: Relaxing to drive, interior quality, standard equipment
Cons: Small boot, styling, Audi is more efficient
Both cars offer everything you would expect from an SUV wearing either a Mercedes or Audi badge, including premium-feeling interiors, refinement and lots of tech. But is that where the similarities between the two newest electric SUVs from these heavy-hitting German brands end?
Mercedes EQA vs Audi Q4 e-tron: Range and Charging
The Q4 e-tron uses the same MEB electric-specific mechanical platform as several other electric cars, including the forthcoming Cupra Born, the Skoda Enyaq iV and the Volkswagen ID 3, ID 4 and ID 5. Like those cars, while the entry-level version of the Q4 e-tron comes with a 52kWh battery and a range of around 310-330km, the 40-badged powertrain in our model gets a 77kWh battery for a longer 509km range.
The EQA on the other hand gets one battery size throughout the entire range, with all models fitted with a 66.5kWh battery. In many respects that's good, as even entry-level variants like the EQA 250 we have here in Sport trim have a maximum range of 423km – the same as the top-spec models.
The two SUVs achieved around 5km per kilowatt hour of energy used on test, which meant that the Q4 promised a real-world range of 422km to the EQA's 330km. However, when we drove it in predominantly urban areas, the Audi was hovering around the 6.6km/kWh mark – which translates to a real-world range of 520km, which is further than even the Audi's official WLTP rating of 509km on a single charge.
While all versions of the EQA come with 100kW DC rapid charging capabilities, the mid-range Q4 e-tron 40 we have here can reach speeds of up to 125kW if you find a fast enough charging point. That means, while it will take 37 minutes to recharge the EQA's battery from 10-80 per cent, it takes only a minute longer to top up from 5-80 per cent in the Q4 e-tron – despite its longer range.
However, most people will be charging from a home wallbox, potentially overnight. In which case, thanks to its larger battery, the Q4 e-tron takes 11 and a half hours to fully recharge. The Mercedes does better, only slightly, taking 10 hours and 45 minutes to recharge from flat. Again, you'll need to factor in that you'll get fewer kays out of the EQA.
Mercedes EQA vs Audi Q4 e-tron: Performance and Handling
The EQA and Q4 e-tron we have here are evenly matched when it comes to performance, with both featuring just one electric motor. The EQA is front-wheel drive and produces 139kW and 370Nm of torque, while the Q4 e-tron has a rear-axle mounted electric motor producing 150kW and 310Nm of torque.
Thanks to that extra power, the Q4 e-tron 40 will reach 100kph from a standstill in 8.5 seconds; the EQA will do the same sprint in 8.9 seconds. However, it must be said that both cars do feel faster than those figures might suggest, thanks to their instant torque when you put your foot down.
At low speeds, the Q4 e-tron in particular jumps away from the line, especially if you're in Dynamic mode, where the throttle response is at its sharpest. The Q4 e-tron's lively performance is also present when you're at freeway speeds, too.
The Mercedes meanwhile is prone to be more understeer when entering corners, but it rides smoothly and refinement is very good for the most part, too. However, the EQA's electric motor does produce a high-pitched whine when you try and accelerate hard, which cuts through that sense of refinement.
But, there are more powerful, four-wheel-drive versions of both models available if you're looking for something more potent. In fact, only the entry-level EQA 250 is front-wheel drive, with the mid-range 300 4MATIC and top-spec 350 4MATIC both getting an additional electric motor on the rear axle. With the Q4 e-tron, it's only the top-of-the-range 50 quattro powertrain that gets a dual-motor setup for four-wheel-drive.
It's worth noting that our Q4 e-tron came equipped with adaptive dampers. Our advice is leave them in Comfort mode, where the many bumps that cause the car to jiggle slightly in Dynamic mode rarely make it through the cabin.
But regardless of what setting or driving mode you're in, the Q4 feels very stable and balanced, whether you're on the motorway or driving on country roads. The EQA has much lighter steering, which coupled with its 11.4-metre turning circle, makes the Mercedes easier to drive around town.
What doesn't help the EQA around town is its inconsistent throttle response, which can make it harder to crawl along in traffic at a steady speed.
Mercedes EQA vs Audi Q4 e-tron: Space and practicality
With no internal-combustion engine or bulky transmission to package into an electric car, brands have been making the most of this new found freedom when it comes to designing their electric cars – especially SUVs. The Audi is the perfect example of this, because while it's only 104mm longer than the company's Q3, the Q4 e-tron's cabin feels vast in comparison.
Rear legroom is a particular highlight in the Q4 e-tron, with plenty of headroom and adequate space for three people to sit across the back row. There's also lots of clever storage options up front to help hide away your stuff, although the door bins are a little small.
Better still is the fact that the spacious and airy cabin of the Audi doesn't come at the expense of practicality or boot space, as there's a whopping 520 litres of space on offer – that's more than you get in the bigger, petrol and diesel-powered Q5 SUV. The Q4 e-tron's load capacity grows even further when you fold the rear seats down flat, with up to 1,490 litres of space available.
The Audi's optional 'Function Package' adds a variety of storage nets to the Q4 e-tron, plus a luggage compartment cover that can be stowed under the boot floor.
However, while the Q4 e-tron demonstrates the advantages of using an EV-dedicated platform, the Mercedes on the other hand uses the same mechanical platform as the petrol-engined GLA. It's for this reason that the EQA isn't as cleverly packaged, with the slightly raised floor leaving passengers' legs lifted up from the seat squabs, plus little room for their feet under the front seats.
Other than that, the Mercedes still offers plenty of headroom and a reasonable amount of kneerom, with its tall doors making it easy to get in and out of the car.
However, the EQA really falters when it comes to boot space. With only 340 litres, it's smaller than the GLA it's based on, and less even than the Volkswagen ID.3 hatchback. The rear seats do split 40:20:40, and can fold down almost entirely flat, however. Once you do so the amount of storage space in the EQA expands to 1,320 litres, but that's still significantly less than Q4 e-tron.
One rarity in the electric car market is the ability to tow. However the Q4 e-tron has a towing limit of 1,000kg, while the EQA 250 can only haul 750kg. But, if you upgrade to the more powerful 300 and 350 variants, the EQA can pull a braked trailer of up to 1,800kg.
Mercedes EQA vs Audi Q4 e-tron: Interior and infotianment
Audi and Mercedes have taken two very different approaches when it came to designing the interiors of their entry-level electric SUVs. The Q4 e-tron features a far more minimalistic cabin, with only a smattering of buttons for the climate control underneath the central infotainment screen, while the gear selector and a few other controls for the drive modes are located on a floating panel beneath that.
The EQA meanwhile has an almost identical cabin to Mercedes' entry-level SUV, the GLA. The EQA uses the same basic controls as its combustion-engined equivalent, and features a column-mounted gear selector and a similarly designed steering wheel. You also get the same turbine-style air vents and dual-screen cockpit design.
However, none of that is to say the EQA's cabin feels cheap, as Mercedes does an excellent job of shrinking the interiors of its flagships to suit its more affordable models, and in the EQA, you have to search quite hard before finding any cheaper-feeling materials.
The EQA also features the latest version of Mercedes' MBUX infotainment system that we're now familiar with from our time living with the EQA's big brother, the EQC. In the EQA, you get a pair of 10.25-inch screens: one central infotainment screen and another behind the steering wheel. Plus, the EQA comes as standard with Apple CarPlay and Android Auto, too.
The graphics on the EQA's system are sharp and the colours bright. Usability is a bit of an issue, as getting used to the fiddly controls on the steering wheel and confusing trackpad can be a bit of a pain. But, after that learning curve, Mercedes' system is actually one of the most intuitive on the market.
All Q4 e-trons come as standard with a 10.25-inch 'Virtual Cockpit' driver's display, plus a 10.1-inch infotainment touchscreen. You also get wireless Apple CarPlay and Android Auto, but you need to plug your phone in to use the latter. Audi's 'MMI' operating system is one of the slickest in the business – far superior, in particular, to the one found in the Volkswagen ID.4.
Mercedes EQA vs Audi Q4 e-tron: Safety and reliability
While neither of these cars has been crash-tested by Euro NCAP, given the reliability and rating of the cars that share the EQA and Q4 e-tron's platforms, we don't have any concerns.
The Q4 e-tron utilises the MEB platform that serves as the underpinnings for the Volkswagen ID.4, Volkswagen ID.3 and Skoda Enyaq iV. All of which received the maximum five-star rating when they were put through Euro NCAP's barrage of crash tests.
All Q4 e-trons get cruise control, lane-departure warning, rear parking sensors and road-sign recognition. Additional features include side assistance, cross-traffic assistance, a reversing camera, adaptive cruise control and emergency assistance.
It's worth noting that while the EQA itself has not been given a rating by Euro NCAP, back in July 2021 the European safety body decided to apply the Mercedes B-Class' five-star crash-test result from 2019 to the EQA. This is the same five star rating ANCAP applies to the EQA locally. The individual section scores of 97 per cent for adult occupant protection, 90 per cent for child occupant protection and 75 per cent for safety assist systems were carried over, too – meaning the EQA can be considered an exceptionally safe choice.
Plus, every EQA model comes with lane-keeping assistance, speed-limit assistance and blind-spot monitoring, plus LED headlights with automatic high beams. There is also adaptive cruise control, active speed-limit and steering assistance and active emergency stop assistance amongst others.
Mercedes EQA vs Audi Q4 e-tron: Verdict
1st: Audi Q4 e-tron
Audi knocked it out of the park with the Q4 e-tron. Not only is it the best of these two electric SUVs, it's one of the best electric cars on the market right now. Audi has utilised all the advantages afforded to it from the Volkswagen Group's MEB platform, and given the Q4 e-tron a wonderfully spacious cabin and lots of boot space. Plus, it has a longer range and is more efficient than the EQA.
2nd: Mercedes-Benz EQA
The EQA narrowly loses out on first place in this fight, not because it's sub-par, but due to how well Audi did putting together its own entry-level electric SUV. The EQA still offers plenty of standard equipment and tech, and boasts a premium-feeling interior, too. But it is let down by its range, and the reduced practicality compared to both the Audi and the GLA it's based on.
Mercedes EQA vs Audi Q4 e-tron: Specifications
| | | |
| --- | --- | --- |
| | Audi Q4 e-tron 40 Sport | Mercedes EQA 250 Sport |
| Price (plus on-roads) | $80,000 (estimated) | $76,800 |
| Powertrain | Single electric motor + lithium-ion battery | Single electric motor + lithium-ion battery |
| Transmission | Single-speed auto / rear-wheel drive | Single-speed auto / front-wheel drive |
| Battery capacity (total/usable) | 82 / 76.6 kWh | 66.5 / 66.5 kWh |
| Power / torque | 150kW / 310Nm | 1839kW / 375Nm |
| 0-100kph | 8.5s | 8.9s |
| Top speed | 160kph | 160kph |
| Charge time (wallbox/rapid) | 11hrs 30mins / 38mins | 10hrs 45mins / 37mins |
| Claimed / predicted range | 509km / 418km | 423 / 332 miles |
| Length / width / height / wheelbase | 4,588 / 1,865 / 1,632 / 2,764mm | 4,463 / 1,834 / 1,620 / 2,729mm |
| Boot capacity (seats up/down) | 520 / 1,490 litres | 451 / 1,405 litres |