Mountune can boost the latest Ford Focus ST to nearly 270kW with a few modifications. We see if it's an upgrade worth wanting.
At the risk of sounding like an old curmudgeon, too many of the latest crop of hot hatchbacks are too easy to drive. Roughly 50 grand or so gets you a four-wheel drive 220kW-plus five-door that'll keep up with all but the quickest supercars in a straight line, and just about anything on a B-road.
There's a risk, however, when a car is so capable, that covering ground at speed might leave you feeling cold; like you haven't achieved much. It might even feel like you've reached your limits of talent long before the car has; like the car is doing all the work for you and showing contempt for your efforts.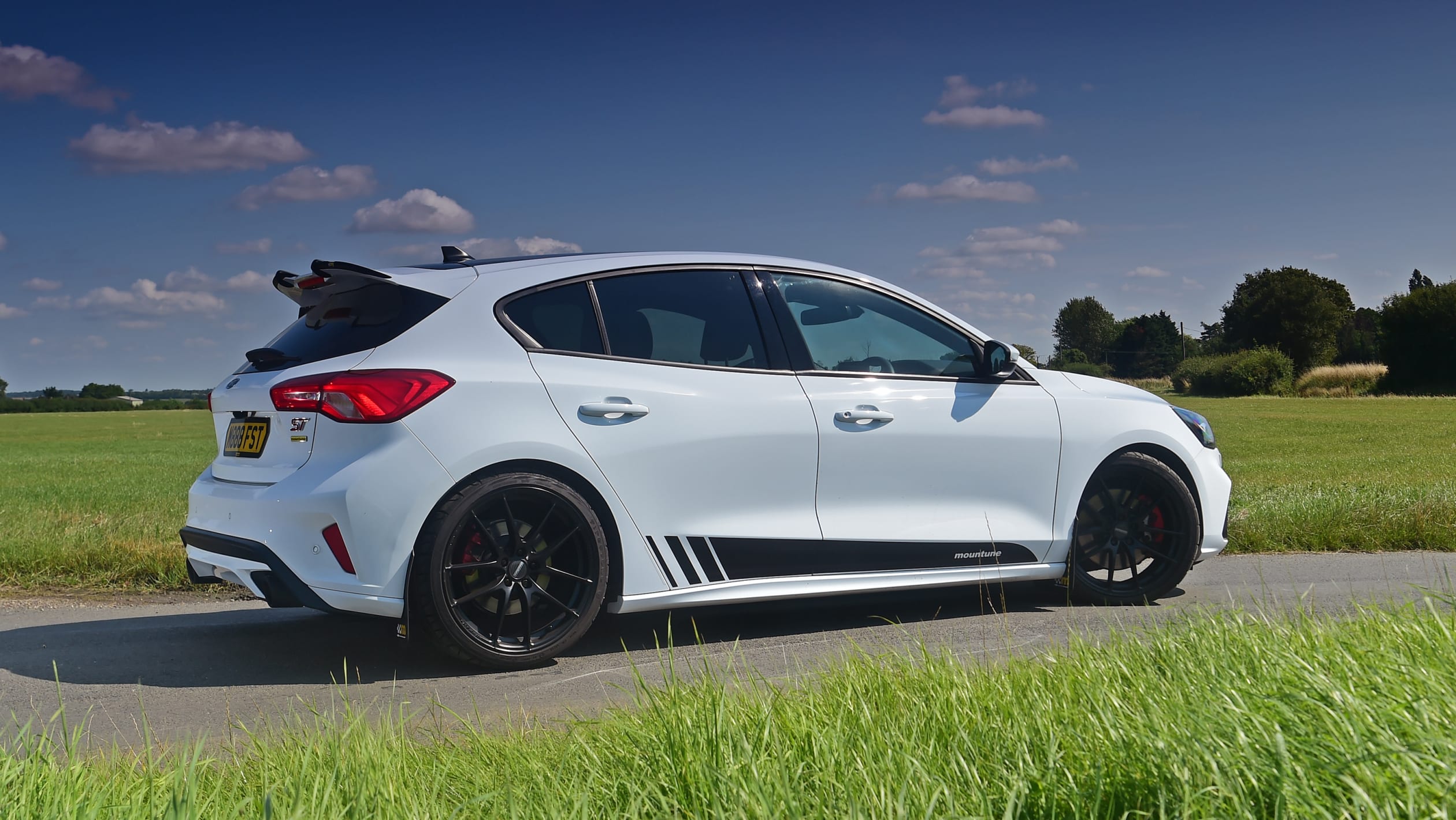 If you've ever felt like this, you might sometimes yearn for the time when hot hatches were more edgy, frisky and exciting. As it turns out, there's a very special Ford Focus ST that fits the bill perfectly. It's called the m365, and it's the work of Ford tuning specialists Mountune.
UK-based Mountune has been working its magic over various Ford models for a long time, generally taking an already accomplished bunch of hot hatchbacks and gradually turning up the wick to often borderline silly levels. Within Ford's current lineup, Mountune tuning packages are available for the Fiesta ST and Puma ST, but this Focus ST setup is its most potent yet.
The latest kit uses a firmware flash which is rather simple to do using a smartphone and proprietary OBD bluetooth chip. It's simple to purchase and use, however, Mountune also says that you will need their high-flow panel filter, 3″ downpipe sports cat and 3″ sport exhaust, otherwise: "Using the m365 calibration without the suggested supporting hardware will not produce the published power and torque increases and is not recommended."
Mountune also says that it is compatible with all known regional variations with a manual transmission, however, for Australians (and greater Asia Pacific), it is not yet available here. It does sound like support is coming soon and we will keep you updated. In the meantime, we find out if the m365 will be worth the hassle to get in from the renowned tuner Mountune.
The headline figure is 269kW – a significant 63kW up on the standard Focus ST. It's a number that lifts the Fast Ford not only beyond the old Focus RS, but to within striking distance of the hyper hatches of Mercedes-AMG and Audi.
The difference is, that while the A45 S and RS 3 send their 300kW-plus outputs through all four wheels, the m365 is front-wheel drive.
Mourtune has eked out 30 percent more power from the ST's 2.0-litre turbocharged motor through a series of breathing tweaks. There's a three-inch exhaust system running from the manifold to the back box, a free-flowing intake system and a remap to make the most of both. In addition to that power boost, torque is also up to 560Nm – 140Nm more than the already muscular figure of the standard car.
From a chassis point of view, Mountune's demonstrator we're driving here in the UK has only had minimal changes. Lowering springs drop the ride height by 25mm, the standard brake pads have been replaced with higher performance items, and the m365 rides on a gorgeous set of OZ Racing 19-inch wheels.
So how does that make the ST feel on the road? Like a hooligan, in short. Hard bursts of acceleration will leave the ESP flashing in a panic in order to keep that power in check. Disable that safety net – or switch to Race mode, which leaves only you and your talent forming the fine line between excitement and terror – and the m365 will light up its tyres in second and third gear. In the dry. On anything but a perfectly level bit of straight road, the steering wheel tugs your hands from side to side as it tries to deploy all of that considerable shove.
Starting with a base of the already accomplished standard Focus ST, Mountune adds an extra 63kW that turns every burst of full-throttle acceleration into a white knuckle ride. Yet when you're not in the mood, it settles down to behave with similar manners to Ford's showroom model. All of this comes at a reasonable price too – the engine upgrades adding the equivalent of just over $3300 to the cost of a new Focus ST. It's lairy, thrilling and just a little bit silly – and it's all the better for it.
Admittedly, the test car was fitted with Firestone tyres which aren't quite the peak of performance rubber, but it seems Mountune has pushed the limits of what the Focus ST's front axle – and road-going front-wheel drive cars in general – can currently handle.
The throttle is sharp, giving the impression that this Mountune creation is always desperate to show you just what it's got in reserve. That, and the vast power and torque figures, means it takes a deft right foot to get the most out of it on the road. It's not simply a case of hoofing the throttle out of a corner only to rely on four-wheel drive traction – there's plenty of subtly needed. Apply the throttle smoothly, wait for the electronic limited slip differential to hook up, and squeeze it towards the floor from there, allowing the full 268kW to catapult you along the next straight.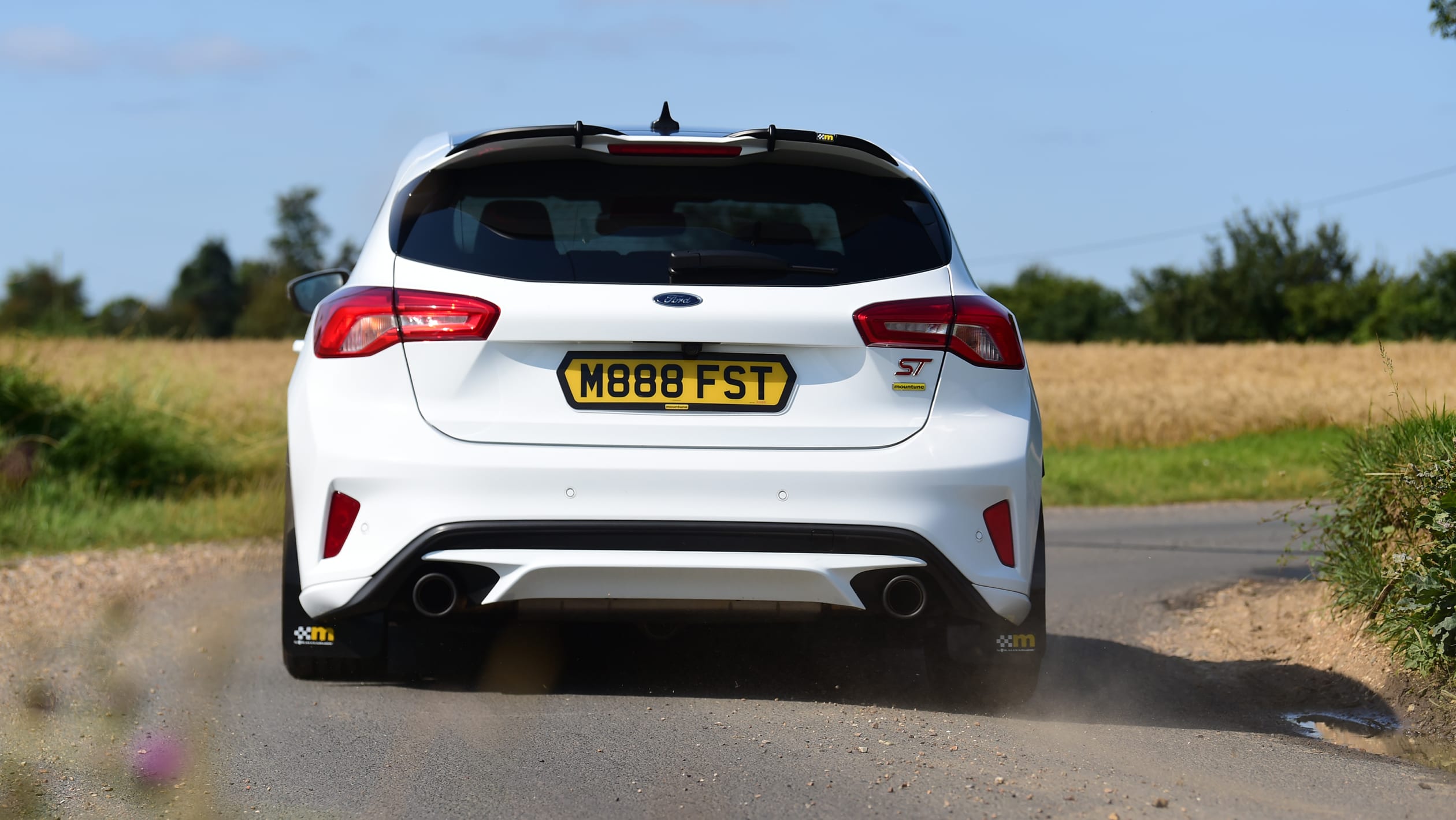 Alex Ingram