The International Mobility Show will be held in Munich for the first time and is the first European motor show in two years. Here's what you can expect to see.
The first Munich Motor Show will begin this September with a press day on September 6 and doors opening to the public the following day. Officially, the Munich Motor Show is called IAA Mobility and It spreads across the city, with a traditional motor show space as well as displays in the city centre and even a test track that links the two main locations.
The motor show will host the reveals of several new models, and you can read about all of the most important ones below in our A-to-Z list of the car makers and what they're going to bring to the show.
We already know that Audi, BMW, Cupra, Dacia, Ford, Hyundai, Mercedes, MINI, Polestar, Porsche, Renault, Rolls-Royce, Smart and Volkswagen will be in attendance, though only a handful of these car makers have announced what they will be showing. Notably, Stellantis brands including Vauxhall, Peugeot, Citroen and Fiat won't be attending the show.
The Munich Motor Show, which replaces the traditional Frankfurt Motor Show this year, will be built around the Summit area, a typical motor show space with new products and unveilings. This is where our reporters will chat to industry bosses and get our scoops and exclusive news stories.
Then there's the Blue Lane, a test track that runs from the conference centre to the city centre, where visitors can try out new products, including cars and bicycles – since this motor show is focused on all forms of mobility and not just cars.
Then there's the Open Space in the city centre, where visitors to Munich will be able to see the new cars and other transport, plus there will be entertainment and other events.
Manufacturer displays at the 2021 Munich Motor Show
Audi
Exclusively previewed by Automotive Daily last month, the Grand Sphere concept is Audi's vision for an all- electric and highly autonomous successor to today's A8 luxury saloon. Developed under the 'Landjet' codename by Audi's Project Artemis division, the Munich-bound concept will be the first of three 'Sphere' concepts Audi will show in the next year as a preview of flagship models with level- four autonomous capabilities.
The 'Grand Touring' model sees the Audi's steering wheel and pedals retract to allow the Skysphere to drive itself autonomously using its level 4 tech. The second 'Sports' mode sees the steering wheel and pedals return and the wheelbase shrink by 250mm, while the ride drops by 10mm. Both measures boost agility to provide the sportiest drive possible.
Power comes from a battery that "is expected to be more than 80kWh" for a claimed WLTP range of 500km. The battery feeds one electric motor mounted on the rear axle producing 465kW and 750Nm of torque; Audi claims that the Skysphere weighs around 1800kg, which results in a 0-100kph time of 4.0 seconds.
The brand has not yet revealed any information on charging technology, but has confirmed that the Skysphere is based on an 800v electronic architecture – similar tech shared by the firm's A6 e-tron concept that is based on the VW Group's PPE platform.
This car's battery accepts a maximum 270kW DC rapid charge supply and can recharge from five to 80 per cent in just 25 minutes, so we'd expect similarly swift times for the Skysphere's smaller battery.
BMW
It's rumoured that BMW will launch its new 7 Series luxury saloon at the motor show this year, potentially in the form of a concept car. It'll show the transition from combustion power to the future of electric luxury cars on a new platform designed to support that.
Staying on that theme, the Munich-based brand will also roll out its hydrogen fuel-cell powered X5 SUV. Called the iX5 Hydrogen, BMW has confirmed the zero-emission SUV will be available for showgoers to take short rides in ahead of its 2022 debut.
Featuring a unique blue-tinted grille, lightweight 22-inch alloys and a revised rear diffuser with blanks where the exhausts sit on ICE-powered X5s, the short-production run of iX5s are driven by a pair of electric motors that generate a combined 275kW.
Employing fuel-cell tech developed in partnership with Toyota, the BMW iX5 Hydrogen is claimed to combine an unconfirmed long-range with a four-minute refuelling time.
As well as the bigger hydrogen-powered X5, BMW will use its home show to debut the recently updated pure-electric iX3 that received mild cosmetic updates and more tech.
Cupra
Spanish performance brand, Cupra, will unveil the UrbanRebel concept at Munich, which gives an indication of the design language the manufacturer will employ on its more affordable, smaller electric cars.
Look past the motorsport addenda and the shape provides an interesting insight into how a small Cupra EV might look. Although Cupra says the UrbanRebel has 250kW, with the ability to produce up to 320kW for short periods, a production car is more likely to have around 149kW and a rear-wheel-drive set-up.
Already previewed online, we know that beneath the skin, the Cupra Born will be offered with either a 110kW or 170kW electric motor that, with the largest 77kWh battery provides a range of up to 539km.
Dacia
Budget car maker Dacia will show a new seven-seat MPV called the Jogger – a replacement for the Romanian brand's Lodgy seven-seater MPV.
It'll use the same architecture as the new Sandero and Sandero Stepway, but it'll be larger to accommodate the extra passenger seats inside. We expect it to use the same engines as well, including a small petrol and probably the LPG-equipped Bi-Fuel model too. A diesel will also likely be available.
Kia
Kia has confirmed that it will showcase the all-new European-spec Sportage family SUV in plug-in hybrid form at the 2021 Munich show. It's the first time we'll have seen a specific model for the European market, but it is not coming to Australia at this stage. The SUV will package a 13.8kWh battery feeding a 67kW electric motor that will work in conjunction with a 1.6-litre turbocharged petrol unit. The Korean brand's first electric car to be based on the E-GMP platform, the EV6, will also make its European debut.
Mercedes-Benz
Mercedes will launch eight new cars at Munich, including five pure-electric vehicles and one new performance hybrid. The most important debut will be the Mercedes EQE, ahead of the new all-electric executive sedan going on sale in 2022.
The EQE is has an EQS-aping silhouette, E-Class practicality and a price that positions it as a direct rival to the Tesla Model S. Based on the same aluminium-intensive EVA architecture as Stuttgart's larger, luxury-oriented electric flagship, it will offer more cabin space than its combustion- engined E-Class counterpart, courtesy of its flat floors and short overhangs.
A variation of the brand's new Hyperscreen infotainment display – spanning the width of the dashboard – is also tipped to feature. The model will spawn an EQE-badged SUV in 2022, positioned similarly to today's GLE.
For those EV buyers who need something altogether more rugged, Benz will also pull the drapes off a concept for a battery-powered EQG version of the G-Class that will preview a production model scheduled to make its debut in 2024.
We'll have to wait until the show to see if engineers have adapted the current G-Class's ladder-frame underpinnings to package the batteries or started from scratch and used Mercedes' dedicated EVA platform for EVs; regardless, expect its blocky looks to live on in the electric age.
Mercedes will also unveil its first-ever electric AMG model, which we expect will be a 560kW version of the EQS sedan. A more luxurious Mercedes-Maybach-badged version of the EQS SUV will also be launched.
Other highlights will include a new rival for the Audi A4 Allroad in the form of the C-Class All-Terrain, and a new performance hybrid, which could either be an AMG version of the GT 4-Door or the electrified S-Class we first spied in 2020.
Porsche
Mystery still surrounds exactly what Porsche plans to unwrap at the Munich motor show following it only revealing a single teaser image of a headlamp, but we expect the concept will be fully electric and possibly take the shape of a sports or supercar.
Other rumours suggest that it could preview new tech destined for the brand's 2023 hybrid racer that's currently in development for the World Endurance Championship's upcoming LMDh class.
Renault
Renault has a strong line-up at the Munich show, starting with the new Megane E-Tech electric car. It's a fully electric version of the popular family car and will rival the Volkswagen ID.3.
The Renault 5 electric car prototype we've already seen will also make an appearance on the show stand, as well as some classic Renault 5 models to compare it with. Plug-in hybrid Megane models will also appear.
Finally, there will be vehicles from the new Mobilize brand, which Renault is using to show its planned range of urban vehicles, likely to be called Duo, Bento, Limo and Hippo. This service looks like it will produce a successor to the oddball Twizy, but with a more modern sales policy with charges based on time spent in the car and paid by smartphone.
Smart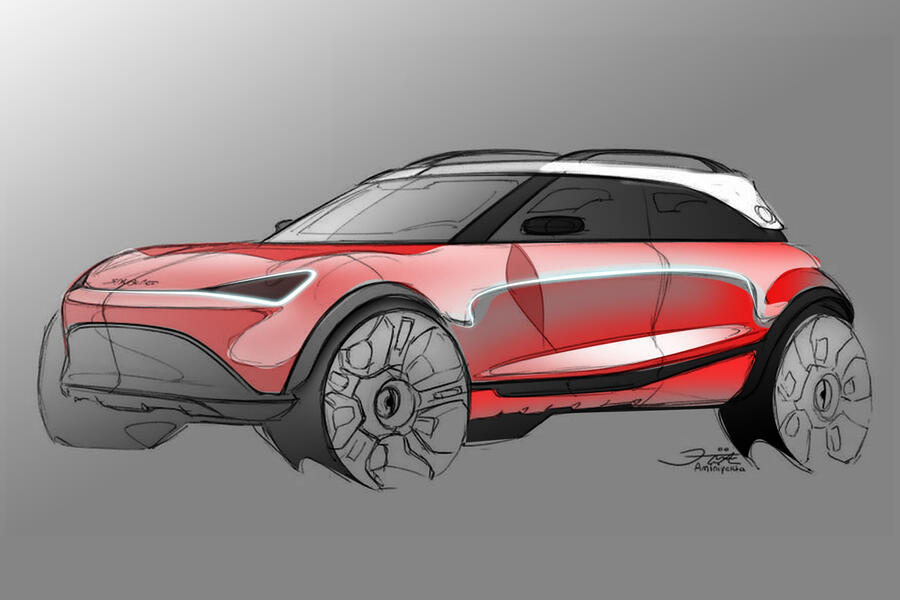 Urban EV manufacturer Smart will make its first motor show appearance under the joint ownership of Mercedes and Chinese auto giant Geely, which also owns LEVC, Lotus, Volvo and Polestar. Codenamed HX11, the Smart concept on show will preview the EV-only brand's first SUV model, which will arrive in production form in 2022.
Preview images hint at an all-new design approach for the premium-focused five-seat crossover and leaked technical figures from China suggest it will use a 200kW rear-mounted motor and a 70kWh battery for an NEDC range of 500 kilometres.
Volkswagen
Volkswagen will unveil not one but three new cars at the Munich show. We've already driven the ID 5 GTX coupe-SUV in prototype form, but now it's time to reveal the real thing.
Based heavily on VW's first performance-focused electric car, the ID 4 GTX, the sporty ID 5 gets swoopy looks and a powerful 220kW all-wheel drive system that offers a brisk 6.2-second dash from 0-100kph. Feeding the pair of electric motors is a 77kWh lithium-ion battery that provides a range of up to 496km.
If a quick electric SUV-coupe doesn't appeal, VW will also cater to more traditional performance car enthusiasts with the facelifted Polo GTI. Now pumping out 152kW from its 2.0-litre four-cylinder turbo, the pint-size VW hot hatch gets a seven-speed dual-clutch transmission that enables it to launch from 0-100kph in 6.5 seconds.
The final launch on the VW stand will be the European market debut of the SUV-coupe Taigo. Closely related to the Polo-based Nivus already on sale in South America, think of
John Mahoney