A seasoned veteran in its fashionable boots, the latest Nissan Juke seeks to pique buyers among a dizzying competitor set.
BMW might've invented the SUV with the X5 but Nissan can lay claim to the funky crossover segment with its first-generation Juke that launched in 2010. It offered stout and quirky styling nothing like a boring hatchback plus an elevated view of the road – and all at a reasonably competitive price.
Rivals naturally pitched in like the Toyota C-HR, Hyundai Kona, and Honda HR-V. And now much later are competitors such as the Volkswagen T-Cross, Kia Stonic, and Ford Puma. While that may be a credit to Nissan's visionary product planners, it's a significant challenge for engineers.
The Juke still features much of what made the original car a success – bold styling, compact yet practical dimensions and a high-riding stance and driving position. It's also 35mm wider and 75mm longer than before, while the wheelbase has grown by 105mm, so there is more interior space.
Under the skin the Juke shares much with the Renault Captur – the two make use of the companies' connections, sharing the same CMF-B platform, engines and some tech. The Juke was designed in Britain and is built at Nissan's factory in Sunderland, UK.
For now, there's just one engine on offer – a turbocharged 1.0-litre three-cylinder available with only a seven-speed dual-clutch automatic transmission. The motor develops 84kW and 180Nm, and performance is adequate, if not exhilarating. There's no four-wheel drive option, despite the car's raised ride height, so all Juke models are front-wheel drive only.
Nissan's tried-and-tested and rather broad trim level line-up applies: ST, ST+, ST-L, ST-L+ and Ti versions are available. Prices start from just over $27,990 before on-road costs and climb to $36,490.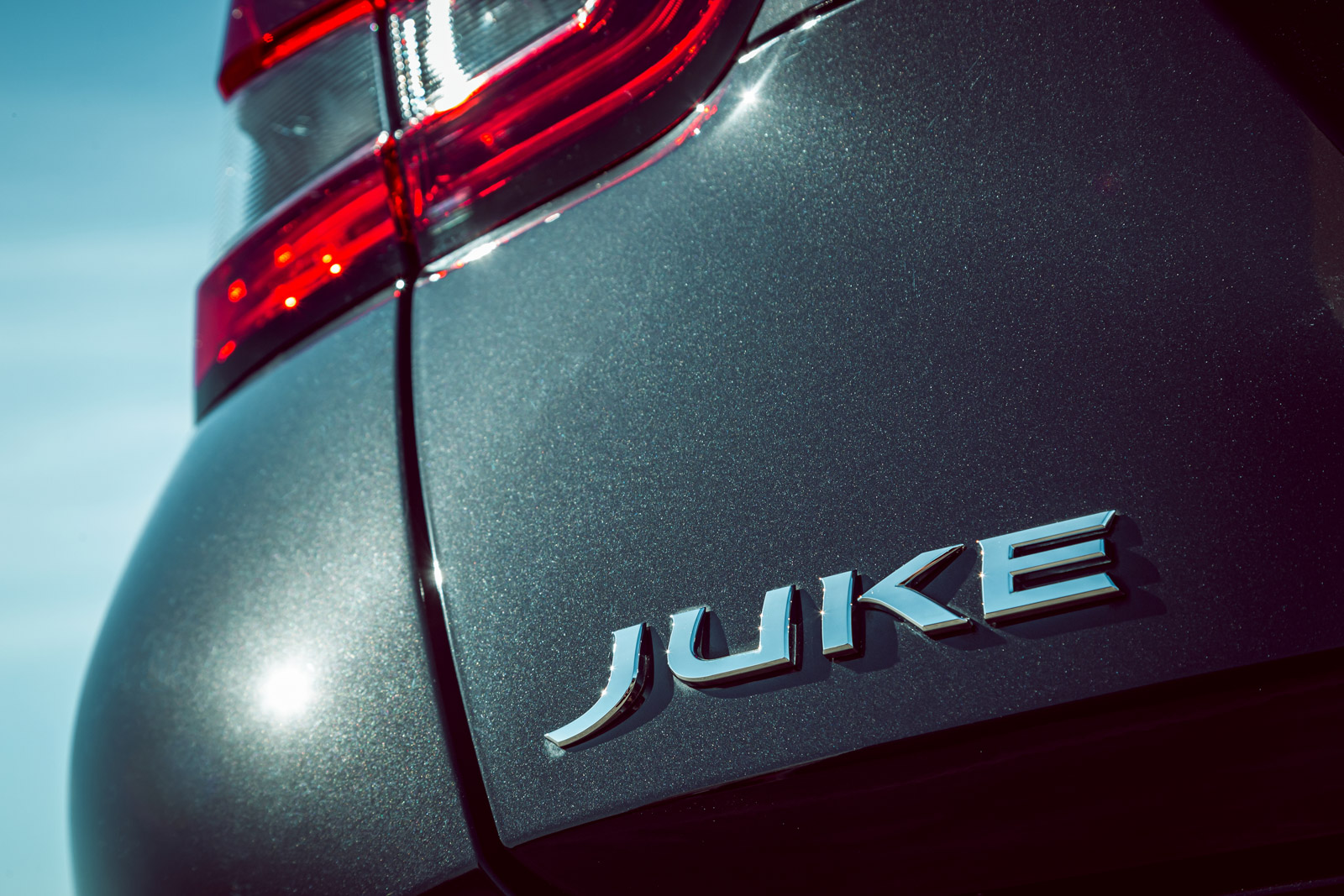 The Juke is based on the same small-car platform as the latest Renault Captur, yet it drives quite differently. While the French sibling prioritises comfort, the Nissan feels much stiffer and more alert. Body control is excellent, but the trade-off is a firm ride. The chassis is rigid, yet the Juke manages not to crash too terribly through bumps and potholes.
For a car of this type, the Juke does handle quite well. There's very little roll in the bends and the grip is good. The steering is light and doesn't offer all that much feel, however. There are also reservations over the engine. While it feels punchy enough around town, it can feel laggy, with a tendency to bog down if you try to pull away without many revs. Some of this is because of the DCT auto. It has been re-configured for 2021, and is better than before, but it can still be a little off-beat at slow speeds if you catch it at the wrong time.
The small 1.0-litre turbocharged three-cylinder petrol engine does pull the Juke along with reasonable efficiency if you keep the revs up. Officially, 0-100km/h takes 11.8 seconds, which is not quick, while actual fuel efficiency is 5.8L/100km on the claimed combined cycle. Still, the engine is relatively quiet, although there's a bit of tyre noise from the big 19-inch wheels.
Inside, the second-generation Nissan Juke is clearly recognisable as an evolution of the original compact crossover although this time around there's loads of new kit. The large central touchscreen isn't the most responsive, but at least you get physical shortcut buttons along the bottom of the screen, and you can use Apple CarPlay and Android Auto to bypass Nissan's infotainment set-up.
Also on the equipment list from the base model is autonomous emergency braking (AEB) with pedestrian and cyclist detection, lane departure warning, automatic headlights with high beam assist, reversing camera, rear parking sensors, blind spot warning and traffic sign detection systems. In ST-L you get 360-degree birdseye camera system with moving object detection, adaptive cruise control, and TomTom navigation on the infotainment. Ti adds partial leather seats with diamond quilt pattern stitching and an eight-speaker Bose sound system.
The Bose Audio System features speakers set into the front headrests which means you not only get a much clearer sound, but it's less harmful to your hearing. The quality is really very good, and works well no matter what kind of music, radio or Podcast you like to listen to.
The driving position is far more adjustable than before; you sit low, and the steering wheel now moves fore and aft, as well as up and down. Visibility is fine out the front, but the small side windows and rear windscreen restrict viewing somewhat.
If the interior trim is a bit bland to you (though it's hard to see why it would be as is), then the Ti can be further optioned with 'Energy Orange', which adds bright splashes of orange around the cabin.
In terms of cabin storage, there are some large door bins and a sizeable glovebox, but the cubby between the front seats is only just big enough for a modern smartphone. There's another pair of door bins big enough for a 500ml bottle of water in the back, though that sloping roofline means it feels quite dark and cramped. That said, adults should be able to get comfortable, with enough headroom for those under six-feet tall.
The Nissan Juke's boot is much bigger than before, and sizes up well in this class. However, while it shares a platform with the Renault Captur, it doesn't get its trick sliding bench, so there's no option to extend the 422-litre (was 324L) load bay without lowering the rear seats. Do so and you'll create a 1088L cargo space.
Worthy of note is the Juke's wider boot opening. The old model's tailgate was shaped to make space for the rear light clusters, whereas the new car's design splits them in two for improved practicality. The fixed parcel shelf attaches to the bootlid via a pair of strings and lifts out easily, although it feels flimsy and there's nowhere to store it. Wiggle it in, and there's enough space for a road bike in the back.
On the safety front, the new Nissan Juke offers an array of active safety and driver assistance systems. All this tech helped the Juke achieve a full five-star rating from ANCAP in 2020 (tested 2019).
However, it falls short of full marks in our overall assesment in this review. Its looks will appeal to those after a sharp crossover in the segment, and it handles equally as sharp too. But ultimately this gives a firm ride overall and the drivetrain (mostly from the auto) lacks the smoothness some rivals offer. That said, it is fun to drive in other ways, has some unique tech like Bose headrests which truly work well, and is practical enough considering its sacrifice for styling.
Alex Rae