Rolls-Royce retains the character of the original Ghost, but ups every part of the capability, to good effect.
'Post-opulent.' An unusual way to describe a car that costs $625,000 before paying extra for lambswool floor mats, you might think.
But here we are, with Rolls-Royce Ghost take two, the all-new v2.0 generation of a car that made its debut in 2009 and went on to become the most successful Rolls of all time. A record I suspect it'll lose to the Cullinan SUV before long.
Last time around there were large elements of large BMW beneath the original Ghost. BMW owns Rolls-Royce of course, following a highly amusing caper in which Volkswagen thought it had bought the entirety of Rolls-Royce Bentley in the late 1990s, before somebody pointed out that the Rolls-Royce brand didn't actually belong to the seller.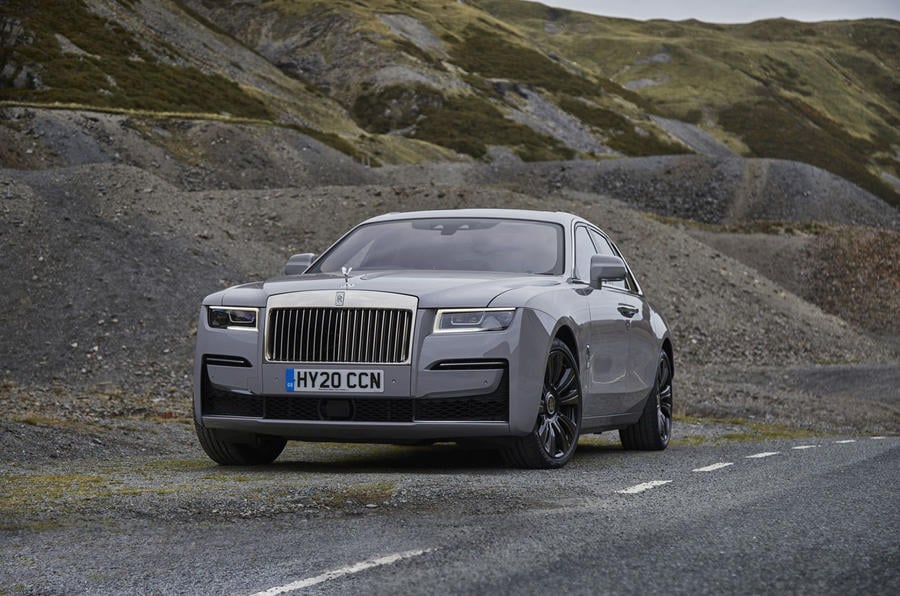 The particularly good thing about that wheeze is that two decades on, Rolls-Royces and Bentleys do two very distinct things and Rolls has now grown sufficiently confidently into a brand that can pin each of its models on its own, bespoke platform, without the parent company foundations. 'The architecture of luxury', they call it.
It's an all-aluminium structure with some extrusions down its length that makes it relatively simple to produce cars of different lengths, wheelbases, heights and so on – and also move some hardware around, to make room, for example, to allow the Ghosts's tapered rear end. The Cullinan, the Phantom and this Ghost all sit on the platform and replacements for the coupe and convertible will too.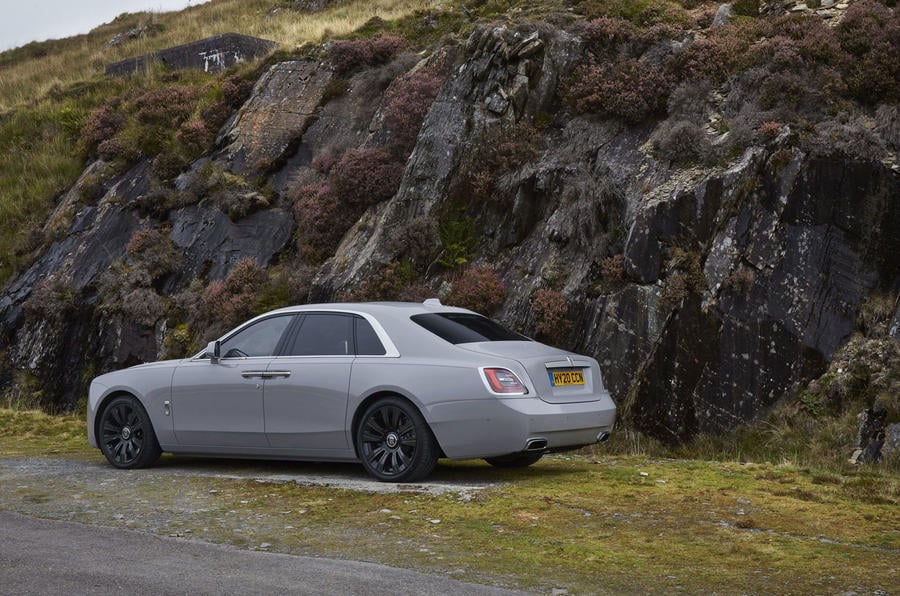 Underneath the Ghost you'll find, effectively, a Cullinan powertrain. That means a 6.75-litre V12 with two turbochargers under the bonnet, making 420kW but just as importantly, 850Nm developed at, more importantly again, 1600rpm – just 600rpm above idle. Driving all four wheels through an eight-speed automatic gearbox, you can expect, therefore, full oomph basically from when you set off. Rolls-Royce says the unit has a Rolls, not BMW part number, but, well, put it this way, they don't cast 'em in Goodwood. I don't suppose it really matters.
There's double wishbone suspension at the front and a multi-link setup at the rear, with adaptive dampers – not that you can change drive modes yourself. Rolls sets it up how it likes because, honestly, owners don't want to. This is a concierge of a car, existing basically to make your life more pleasant and easier.
There's a 12v active anti-roll bar at the back, which takes inputs from forward facing cameras – if it sees a shadow or a highlight it thinks a bump is coming and can slacken right off. The front suspension instead has a mass damper in its efforts to keep the body flat. There are air springs on each corner, and rear wheel steering. Quite a lot of tech, then, but you're not really meant to know it's there.
This is quite a big car – at 5546mm long and 2148mm wide (including the mirrors) it's a touch bigger than the old one. Not so differently sized inside, though, because there's more insulation in the doors. But unsurprisingly, wide enough, and also long enough for tall occupants to sit behind tall occupants. Tall drivers might find the B-pillar restricts visibility, mind, and optional blinds restrict rear passenger's views out too even when they're retracted, if you want to be hidden, that's the rub.
Some people want to be seen, others don't. There are, I suppose, different types of luxury. And while the full-fat Rolls, the Phantom preferred by the world's most exuberant high-rollers, is outlandish and extravagant and opulent in the extreme, Ghost buyers are – remember these things are relative – more discreet.
In Rolls terms, discreet means that there's less obvious stitching on the leather, and the Ghost does without the Phantom's glass-fronted 'gallery' on the dashboard. Instead, there's a rather sweet Ghost nameplate backed with little glowing stars. I promise that looks better than I've just made it sound.
Fit and finish is great and materials choice is terrific, too – although I wouldn't object to analogue rather than digital dials. The metal air vents ting pleasingly, ambient lighting is artfully done and, well, the short of it is that, post-opulance or not, it's a Rolls-Royce, and you'll find it very comfortable.
And also very quiet. Fancy things have been tuned acoustically – the boot was a bit boomy but opening up vent spaces cured that, and there's 100kg of soundproofing in total (a Phantom has 130kg), but the important thing to know is that if you're doing motorway speeds, and sitting in the back seat, you can have a hushed conversation with the person in the front because the loudest noise otherwise is their hands on the steering wheel. I wouldn't mind if that were bigger and thinner of rim, more Phantom-y, but I'm being pernickety. You have to be.
What differentiates customers of a Phantom and customers of the Ghost is how, and how much, they want to shout about their wealth. Where they don't necessarily want a difference is in how their Rolls-Royces drive.
There is a differentiation between the two – it would be wrong if there wasn't. But both have an inherent relaxed character that's enjoyable while being freed from the shackles and compromises of some competitors. A big Bentley, for example, has to do all but 322km/h and be a sports car as well as a luxury car. It's very good at attempting to do them all of those things too – hence fast-acting, strong-force 48v active anti-roll bars to try and control roll but not give a brittle ride. Rolls-Royce just doesn't mind if there's more, and slower frequency, body lean, because it dispenses with any sporting pretence, and so it lets its cars' ride breathe more easily.
On the road, then, there is a relaxed gait and some low-frequency float to match the quietness, but less than you'd find in a Phantom. The Ghost feels a more tightly screwed car than the bigger Rolls, albeit still comfortably in the realms of luxury. Make a quick lane change and the active rear steer enables a calm mooch across the carriageway and then ties the rear down quickly, whereas a Phantom, or a big SUV, would wallow in a little steadying movement.
If you're seeking things to notice, there is a curious almost lateral shimmy from the rear from time to time, at higher speeds across sharp imperfections. I doubt you'd notice them in most cars, but as with a little suspension noise at the front, I guess the silence elsewhere amplifies it. You could always turn up the stereo.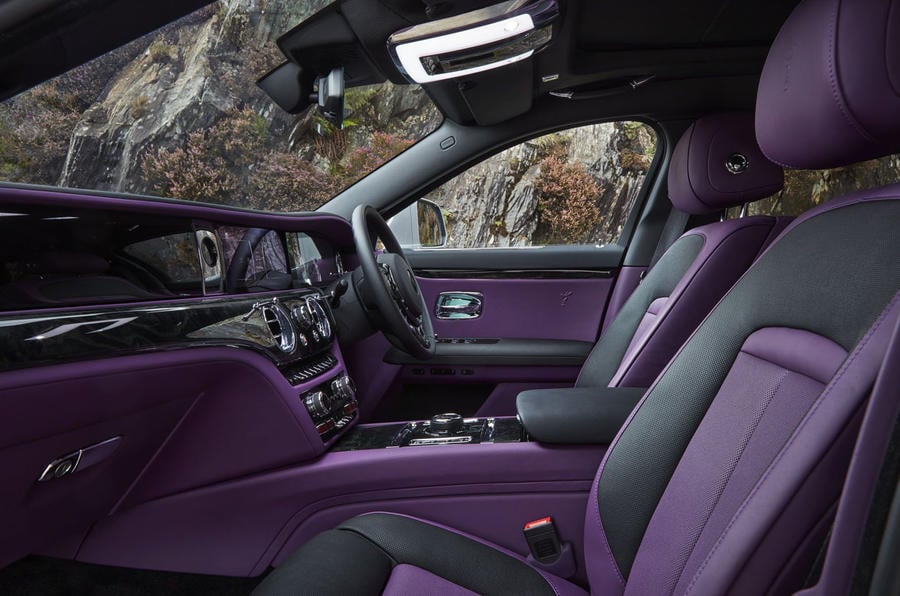 In terms of engagement, the Ghost steers with lightness and moderate speed, but brilliant accuracy and a fingertip weight that barely changes – odd to say it but I find that as impressive and engaging as the weightier systems of most sports cars. The steering self centres less strongly than most big cars, but if you're letting the wheel slip between your fingers, remember that you're making the loudest noise in the cabin – best to feed it back gently.
Other control weights are also expertly judged – given Ghosts are 'for being driven' as well as 'for driving', Rolls goes to some lengths to make sure they can be brought to a stop, and will step-off again, really smootlhly.
You can still make pretty quick progress, I should add – and it's enjoyable to do it. This is a car that has been limited at 250km/h, after all, and I don't imagine that, despite the 2490kg kerbweight and pretty vast frontal area, it'd take too long to get there. Ask for a lot of performance and the engine emits a muted, expensive-sounding growl while the autobox, whose shifts you can't make yourself, is responsive. Ask for a more Rolls-steady sedate pace and you'll probably never even notice the Ghost change gear or hear the engine while you do it.
This powertrain combo is awfully but deliciously some of the last of the old-school, un-electrified, internal combusted analogue tech and while vastly consumptive, ironically this is the closest the internal combusted car comes to electric driving.
My understanding is that we'll see a fully electrified Rolls-Royce some time this decade, and my suspicion is that electric driving will suit a big luxury saloon like this perfectly.
For now, though, the big V12 is the only choice. And if the stamp on the block says Rolls-Royce? This time, the character of the rest of the car says the same, too.
Matt Prior