I can remember reading an observation made by one amazed early reviewer of
the McLaren F1
.
He'd discovered that when sixth gear was selected at almost 200mph and the V12's throttle bodies were subsequently prised back open, the car properly surged forth.
There's no shortage of confounding facts about the greatest supercar ever made, but I never got my head around that one. How was the Mac capable of generating so much thrust just at the point the body of air ahead of it would be solidifying into a wall? I also found it difficult to imagine the synaptic hit and adrenaline rush the driver must have enjoyed.
But then we secured some time in what's known as the CTR Anniversary – the car currently being hand-assembled by Ruf in Pfaffenhausen at a rate of three examples per month. Only 50 will exist and the price is prohibitive, but when you're talking about what is still the most respected third-party Porsche tuner in what is an increasingly saturated market, new projects are impossible to ignore.
It's a curious thing, the CTR – a real departure from Ruf's usual approach of modifying Porsches both historic and new for wildly fast but finessed road driving. For one thing, aside from the Hans Mezger-designed block for the 3.6-litre flat six, there's very little Porsche in it. Not even the chassis. And as for the Anniversary bit, along with the Blossom Yellow paint job, five-spoke wheels and the bodywork, it merely references the original Ruf CTR Yellowbird, which in 1987 was the fastest road car on the planet, capable of 343km/h.
Over the years, we've also seen the 993-based 380kW CTR2 and mid-engined CTR3, whose spaceship form and 515kW made it an alternative to the Ferrari Enzo and Pagani Zonda. But neither the CTR2 nor the CTR3 sought to revive the spirit of the Yellowbird, as this new CTR does – and in fairness, Ruf's timing could hardly be better. The current fetishisation of all things retro-911 shows no sign of letting up, so why not join in?
Not that there is anything especially retro about the hardware beneath the cartoonishly smooth, fully carbonfibre body, which was styled by Freeman Thomas of original Audi TT fame.
For one thing, the CTR is built around Ruf's new proprietary carbonfibre tub, developed at a cost of around AUD$15 million. It's made by Gerg, which has experience in DTM and at the very highest level in the WEC. To this are affixed steel subframes that support double-wishbone suspension controlled by 'active' pushrod-operated Tractive Autosport dampers that can manipulate pitch, squat and roll movements on the fly. It's all fully adjustable and beautifully finished, with some whimsical touches, such as the spring casings, which are coloured Ruf's familiar forest green.
At each corner then sits a carbon-ceramic Brembo brake disc that, while similar to what you find on the 911 GT2 RS, is unique to Ruf. The 19-inch wheels that fill their arches so generously are forged centre-locking items whose relatively small diameter is a reflection of the CTR's compact stature. Not that you would want to leave it there, but you could get this car up into an NCP without hassle. I should probably mention now, in the context of the car's modest size, its official power output: 520kW.
So although the CTR may appear to be an anachronism (its glasshouse is exactly to 993 specification) and may sound like an old 911 (albeit an absurdly fruity one), its chassis has more in common with modern Le Mans prototypes than the classic Carrera 3.2 that its bodywork plays on. It's an undiluted supercar, based on nothing other than Alois Ruf's desire to do something fresh.
As for the powertrain, it could almost have come from a Group C racer. The 520kW is paired with 880Nm, both developed with the help of Ruf's own titanium internals, new top-end and electronic management. The figures give pause for thought even before you consider the fact that it all flows not through some reinforced torque converter or beefed-up dual-clutch gearbox but through a seven-speed manual.
Ruf's industry connections meant German engineering heavyweight ZF provided the tiny number of bespoke 'boxes needed, which pair with a dual-mass flywheel in the more 'rounded' CTR but a single-mass flywheel in the sabre-sharp SCR – the CTR's howling, naturally aspirated sibling. Downstream sits a limited-slip differential, entirely necessary.
Settle into the cockpit and the dissonance that stems from being inside something so novel, but that also feels so familiar, really hits you. Were it not for the modern Porsche wheel and exposed carbonfibre weave of the tub around your knees, you could almost be in any old 911 – although of course any level of customisation is possible with Ruf.
It's therefore no surprise that it's quite tight in here, although far from being a drawback, the panoramic glasshouse actually makes it feel like you're wearing an astronaut's flight helmet. This is kilometres from the often claustrophobic cabins of mainstream supercars and thus an environment much better suited for the purpose of uncorking Ruf's monstrous engine.
Even so, get going and the CTR allows you to gently acclimatise. The clutch pedal is reassuringly heavy but no more. Off boost, the twin-turbo engine is much more mildly mannered than its breathy, cammy, fidgety idle and low-rev soundscape suggest. And the steering: it's hydraulically assisted but only lightly so, and it quickly graduates from reasonable heft to almost guide-by-your-fingertips delicacy. At this stage, you will also clock how reactive the rack is as you put in those first few degrees of lock.
Most of all, though, the Ruf CTR immediately feels wonderfully light. It glides down the road carefree, its body seeming to barely work its sophisticated suspension, but when it does, doing so with total precision, like a modern McLaren. Three years of fine-tuning on the move and the result is as easy-going as you like. Progress is calm. And with that wonderful visibility, almost soothing.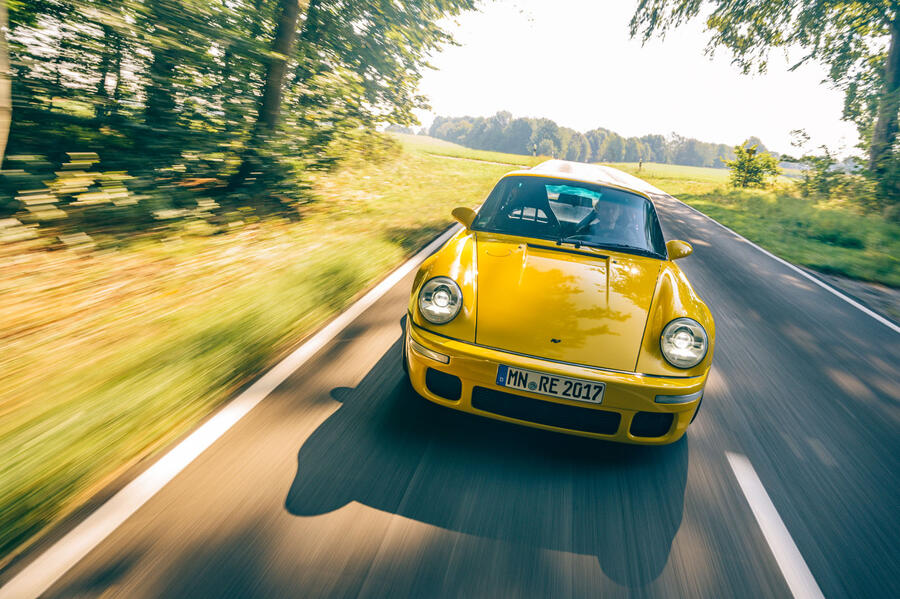 It doesn't last. Up the ante and you're obliged to properly engage your brain. The gearbox is tight enough in its action but not the most intuitive. The top-row gates are closely stacked, so it's easy to overshoot third and snatch fifth while you're still trying to compute just how far up the road you might be in half-a-second's time. Which, even on part-throttle, is quite far. Fluff it and select fifth with your foot floored and the CTR would still embarrass plenty of serious sports cars in a straight drag race, but get it right and it accelerates with an outright malevolence that leaves you feeling foggy. It's Ariel Atom-esque.
That said, the motor is inherently so strong that the level of forced-induction assistance is sympathetic rather than intentionally barbaric, and fittingly the delivery is responsive and linear to the very end, with a serrated, yowling engine note that wouldn't feel out of place in the outgoing 911 GT3. There are no nasty surprises here, either: traction is excellent, driveline shunt is minimal and there's plenty of throttle-pedal travel.
You start to bed into the car, and become accustomed to something that is, by any reasonable measure, completely out of the ordinary.
So next you start to explore the handling, and getting the best out of the CTR in this area isn't so easy. It feels almost mid-engined in its balance – neutral and lithe – right up to the moment you try to do something ambitious, when it dispenses with the disguise and reverts to 911 traits. As such, once loaded up, it's fiercely responsive to a lifted throttle and before that point shoots up on its toes under a trailing brake. The thing simply comes alive about a certain level of commitment.
Stability out of bends is also immense, for the most part, though I'm reluctant to throw the kitchen sink at this treasured development car. During the CTR's gestation, Ruf shifted from Michelin Pilot Sport Cup 2 tyres to Dunlop SportMaxx Race 2s, because the car was considered too edgy and reactive, and that underlying nervous energy is still palpable. The CTR bristles, although always in the context of remarkably flat body control, once the dampers are in the appropriate setting, and disarmingly delicate steering. Just a touch more feedback and it would be world-class. Driven very quickly, the overall sensation is of a small and precise car, but one that's explosively over-endowed and almost uncomfortably agile at times.
And then you get the CTR on a properly quick road, which is why I finally understand what the driver of that F1 understood. Slotting seventh gear then reapplying the power with almost 330km/h on the dial results in the car slamming its goggle-eyed face into ambient autobahn air harder than you thought possible. Imagine an air-tanker dropping not water onto a blazing forest but kerosene.
It may not be an F1 but, in this respect, the CTR can do what the F1 can do, and perhaps that's not surprising. The two cars are very similar in their dimensions and technologies, and at 1200kg dry the Ruf is also exceptionally light, weighing 270kg less than even the 911 GT2 RS, which is the car Ruf benchmarked for performance, and only 50kg more than the original 1987 Yellowbird. And just think: 520kW and 880Nm.
The asking price for all this is $1.34 million. Or rather it was: every example is now spoken for. If you have the means, there's still the 4.0-litre SCR, which lacks the CTR's cachet but is arguably even more exciting and isn't limited.
Both cars are something completely extraordinary, though: charismatic, suckerpunch-quick, multifaceted in their dynamics and analogue.
Analogue. Because, among its many defining attributes, really it's the manual 'box that makes the CTR. In 2021, there is no shortage of superbly well-honed, carbonfibre-tubbed supercars with this much power, but none demands so much from their driver. As with the Noble M600 and Porsche Carrera GT, owners will need to master their machine but will revel in what is sure to be a spectacular bonding period.
Ultimately this car makes you feel happy to be alive. It offers such a challenge, but at the same time is there to be exploited, and is so rich in feel and ferocity. Even for those lucky enough to have just a taste, the CTR experience isn't one easily, if ever, forgotten.
Richard Lane