Toyota special edition Supra commemorates the coupe's rebirth, but does it remain competitive in this fierce segment?
Here's one for you: what links the Renault Clio Williams, the Volkswagen Polo Harlequin and the Hyundai Tucson The Walking Dead Special Edition?
Struggling? Well, they're each limited-run special editions conceived to celebrate a particular moment in their respective maker's history, although so tenuously named as to require of their owners a chunk of research before they can begin bragging at the pub about their latest acquisition. And yes, I promise that Hyundai one is real.
The new Toyota GR Supra Jarama Racetrack Edition is a particularly tricky concept to explain, and perhaps one that will only hold appeal to avid motoring enthusiasts. It's named after the Madrid circuit best known as the nine-time host of the Spanish Grand Prix (before, notably, Toyota began competing in Formula 1) and far less well known as the venue for the first media drives of the sixth-generation Supra in 2018.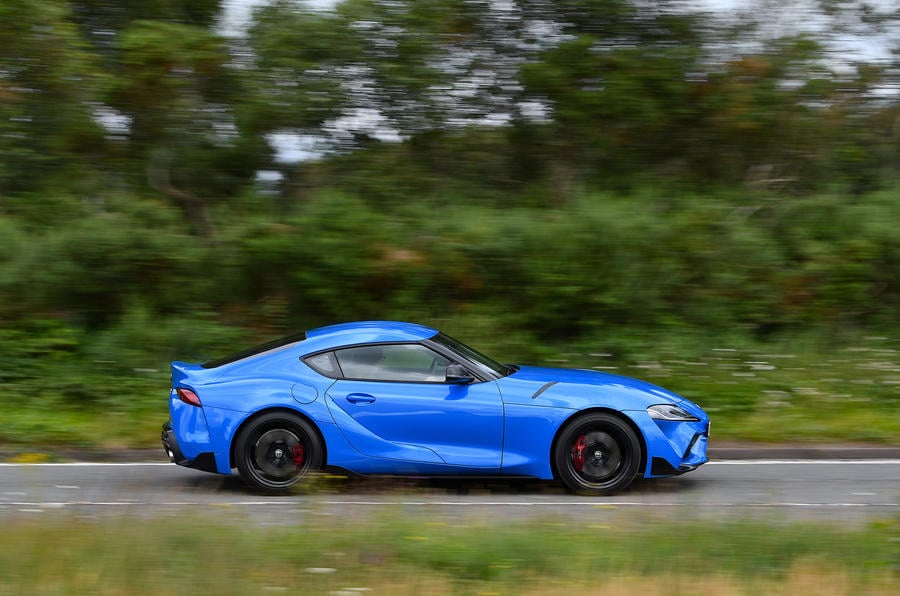 Back then, the Supra was still in its distinctive pre-production camouflage – a livery whose longevity and recognisability was such that Toyota would later use it as an official Christmas wrapping-paper design – although you will note that it hasn't been replicated here.
Just 90 Jarama Racetrack Editions will be built of which 30 will go into right-hand drive, but all of those are destined for the UK. A Toyota Australia spokesperson tells us that for now there are none planned to arrive locally…perhaps Jarama is something only Northern Hemisphere types will understand despite local motoring journalists traveling there for the prototype test.
Toyota has gone with an unmissable shade of Horizon Blue paint, which is teamed with matt-black 19in alloy wheels, black mirrors and red Brembo brake calipers in a bespoke paint scheme that – although it does feel special and attract its fair share of raised eyebrows – seems entirely unrelated to the one worn by the prototype.
Anyway, it's a welcome opportunity to revisit the Supra two years on from its market launch and to consider its evolved position in a market segment that hasn't so much changed as been turned on its head since. Its mortal enemy (and close relation), the BMW M2 Coupe is to be replaced with a new generation, the Porsche 718 Cayman is now available with a charismatic flat six once again, Lotus's sports car trio has bitten the dust ahead of the Emira's launch and, closer to home, Toyota is about to launch the markedly distinct but still threatening GR 86.
We drove Jarama Racetrack Edition #1, a privilege to which only we who could see the easily missed dashboard plaque were privy. It was more obviously marked out as a non-standard Supra by the bespoke paint job, and it's a pretty safe bet that it turned more heads than would a standard car as a result of said scheme; so if you like your attention, it could well be the variant to pick.
It's well worth pointing out that it commands no premium over the standard car but swaps out various functions, including a head-up display and wireless smartphone charger, for others: 3D sat-nav maps, wireless smartphone connectivity and an upgraded 10-speaker sound system. Otherwise, you would be hard pressed to pick it out. Oh, and the steering wheel and Alcantara seats are livened up, as you might expect, with bright blue stitching. Right, that really is it.
That means BMW's B58 turbocharged straight-six is carried over in the same state of tune as in the spiciest BMW Z4, pumping 250kW and 500Nm to the rear axle by way of an eight-speed automatic gearbox.
It remains a gratifyingly punchy drivetrain with no notable deficit in output or character. Leaving aside the all-too-obvious lamentation that you can't make your own way through the ratios by dint of a stick, it feels up for a laugh on demand, if a bit muted against its free-breathing and more powerful 718 Cayman GTS rival.
Throttle response is as snappy as you would like in a road-focused sports car at this price point (spoiled are they who sniff at a sub-4.5sec 0-100kph sprint time) and, on greasy surfaces at least, the rear end is sufficiently lively that you can have a bit of fun in corners without risking your licence or life. All easy-access, well-controlled fun. Slightly sanitised, sure, but what the Supra lacks in viscerality and shock factor it more than makes up for in genuine daily usability.
For better or worse (and I would still choose the former as my hill to die on), it's a BMW, isn't it? So it has a lovely iDrive infotainment system, all the buttons are where you want them to be and the gear selector is nice to nudge about when you have cause to.
Not only that, but it's also comfortable over long distances, with plenty of adjustability in the seat and steering column, nicely judged seat cushioning and a remarkable ability to coast over the worst surfaces that Highways England can throw at it. It's mighty driveable, too, even in town, with a tight turning circle and all the parking aids you could reasonably need.
In the vein of refamiliarising ourselves with Toyota's top-rung sports car, though, we must highlight again the faintly cramped cockpit and sub-par visibility in both directions. Could Toyota be tempted to sacrifice the characteristic double-bubble lid for a panoramic sunroof option? Doubtful, but it would air out the cabin nicely.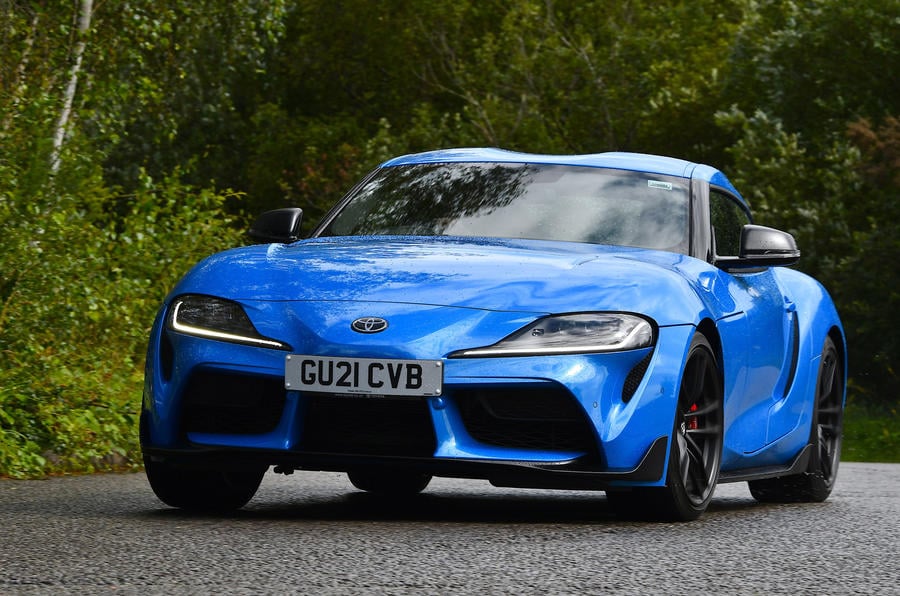 Aside from that coat of paint on the calipers, the chassis remains untouched, so while its effective bump cushioning and general rolling refinement are welcome traits indeed, the Supra feels like it stops just short of the edge when you really push it. You can tip it into a hairpin at quite a lick and be confident of your safe exit on the other side, but you won't come away thinking: "Wow, I did that".
The steering is impressively accurate and the dampers steadfastly resistant to roll, but the front end could do with being a lot more talkative, for sure, and the manual gearbox paddles tuned for snappier shift times if this is to remain a compelling alternative to some of its more overtly driver-focused rivals.
Which brings us back to the Racetrack element of this car's name, at long last: is this a case of a car being linked to a heritage it can't really claim? A Supra can be similarly specified in white-over-black Fuji Speedway trim, but you have to wonder if such a marketing ploy only serves to draw attention to some of the model's less racy characteristics. Plus, you won't get away with even a hint of kerb rash on those matt-black rims.
Felix Page