BMW's flagship iX electric SUV has landed in Australia, and it's outstanding.
The iX is not just another electric car from BMW. Although that's not entirely fair to the German brand which has innovated with cars such as the i3 and i8. However, the iX comes at a time when the focus on electric cars couldn't be hotter. EV chargers are popping up in suburbs and towns all over, sales of EVs have doubled worldwide in just the last 12 months, and there are new electric models hitting Australia every month, many under one hundred grand. So one wonders just how much impact BMW's iX can do with its $135,900 before on-road costs starting price.
Well, as a showcase for the future of motoring from BMW and as a premium SUV in general, the iX is an outstanding statement.
The iX xDrive 50 Sport we're driving is the current range-topper and costs $169,900. That's a fair chunk of coin over something like a Tesla but there's no comparison in quality. The styling is certainly distinctive, with brutal surfacing, a low shoulder line and enlarged kidney grilles setting the iX apart from just about anything on the road. The footprint is about the same as a BMW X5's, but with a significantly lower roofline; in the metal the design isn't quite as jarring as it might appear in pictures, but we'd stop short of calling it handsome. It is however rather striking.
Step inside the iX and the cabin is much more cohesive. The dashboard slopes down from a low scuttle, which coupled with the lack of a transmission tunnel and a panoramic glass roof, gives a pleasingly airy ambience. Material quality is extremely high, with soft quilted leather and metal trim, and BMW was intent on minimising clutter, so the dashboard is almost entirely clear of buttons.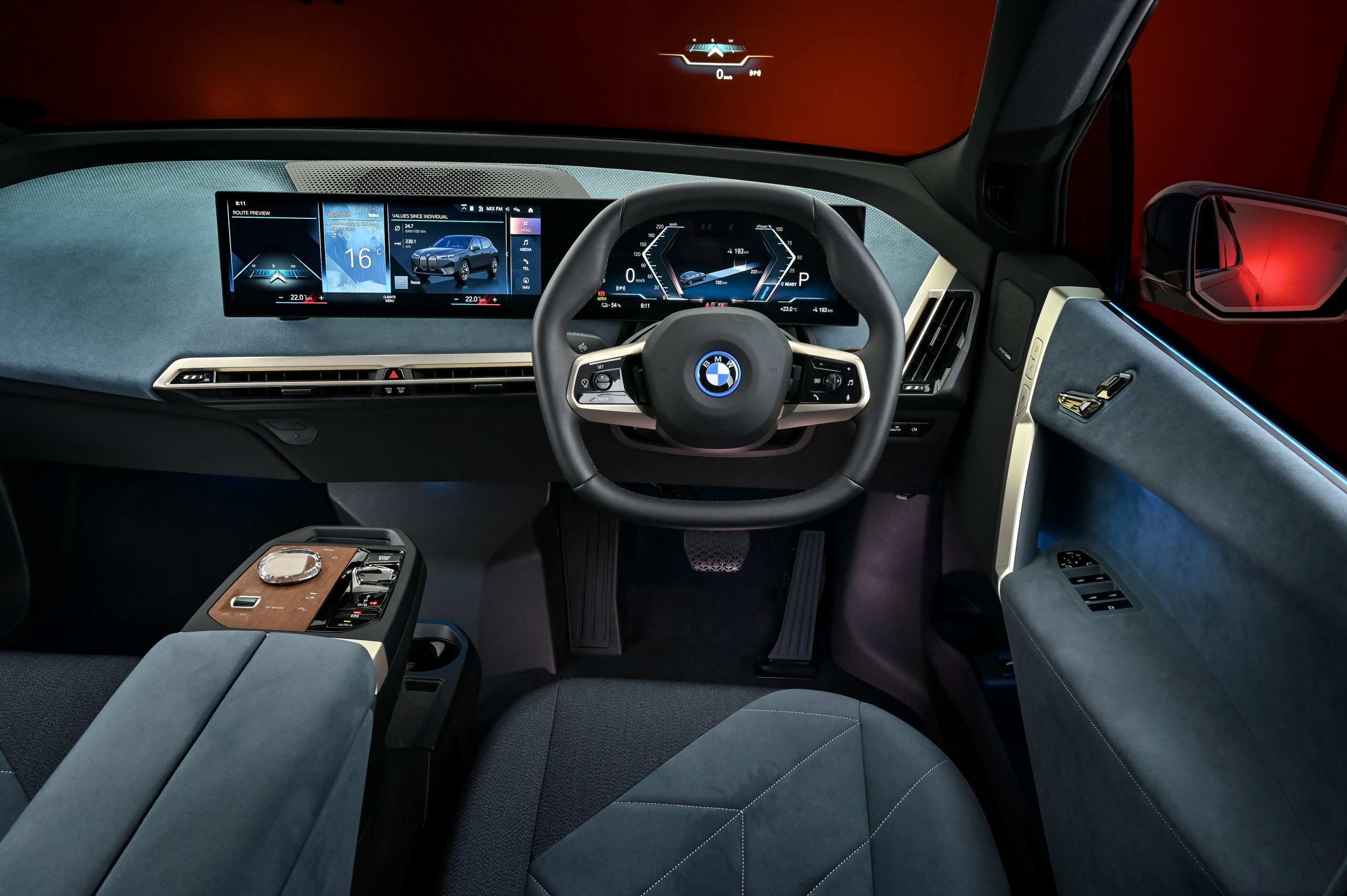 Instead, the main controls can be found on a floating centre console, which features a crystal-glass volume dial, gear selector and iDrive controller, with buttons integrated into a smooth touch-capacitive wood-veneer panel. It provides an appealing incongruity in what is BMW's most technologically advanced interior to date.
The iX offers 20 times more computing power than any previous BMW, and introduces the marque's new iDrive 8 infotainment system. It brings new features such as 5G connectivity, mixed-reality satellite navigation and Digital Key Plus, which uses your smartphone in place of a conventional key. There's also a handy little slot on the floating centre console that lets you stand a phone (or tablet) upright.
The seamless, curved display takes centre stage inside and houses a 14.9-inch infotainment screen alongside a 12.3-inch digital instrument panel. Graphics are extremely crisp, and the interface is responsive to operate, whether that be through touch or the rotary dial. With so many functions, however, it can seem at first to be difficult to navigate the myriad of icons and sub-menus while on the move, but after our week of testing with the BMW iX, it became an easy task.
Thanks to the iX's large dimensions, there's a generous amount of rear legroom, and the car's boxy shape means that headroom is in abundance, even for those over 6ft tall. The rear seats share the same soft cushioning as those in the front, with a slight recline providing added comfort. There are also more charging ports than you would have devices. The car's battery packs are housed within the floor, which usually results in shallower footwells for rear-seat passengers, but the iX's rear seats are set quite high relative to the floor, which minimises this effect. You can also fit a rearward-facing baby seat with good room around it, or a couple of child seats with no worries.
However, the rear-mounted electric motor does bring some packaging issues. The relatively large integrated drive unit on the rear axle forces a higher boot floor, with a high load lip. Carrying capacity is still a respectable 500 litres, but the iX trails the similarly sized X5 by 150 litres as a result.
The BMW iX is available in three trim grades: xDrive 40, xDrive 40 Sport, and xDrive 50 Sport. Pricing starts at $135,900 before on-road costs for the xDrive 40, $141,900 for the xDrive 40 Sport, and $169,900 for the xDrive 50 Sport.
All models use an electric motor on the front and rear axles, with the xDrive 40 producing 240kW and providing 425km of range from a 71kWh (net) battery. The xDrive 50 is fitted with a larger 105.2kWh (net) battery, which increases the range to 630km; that's 50km further than a Tesla Model X Long Range. And with 380kW on tap, this iX is more powerful than the latest BMW M3.
The true litmus test of the iX is out on the road, however. A 2.5-tonne, electric SUV is unlikely to satisfy the 'Ultimate Driving Machine' tagline, but the iX has a fair stab at it. We drove the xDrive 50, and in pure performance terms, it's genuinely startling. Bury the throttle and thrust is instant and borderline violent, with the hexagonal steering wheel tugging at your hands as the front wheels struggle to deal with maximum torque.
Thanks to a mammoth 765Nm total output, the xDrive 50 feels quicker than its 4.6-second 0-100km/h suggests and it continues to pull hard at 100km/h, if not quite with the same explosiveness. Refinement is excellent, too, and the iX feels very well isolated from road roar (particularly important when there's no combustion engine to mask unwanted sounds). Since it is a tall, bluff SUV, there is some wind noise at high speed, although a drag coefficient of 0.25cd makes the iX slipperier through the air than an X5 and it's hardly noticeable when cruising.
But it's the new underpinnings that impress most. Made from a blend of aluminium and carbon-fibre construction that you can see on the door jam, the structure of the iX feels very rigid, and provides a strong platform for the adjustable air suspension system (standard on xDrive 50 models). The set-up is beautifully judged, and with the dampers in their Comfort setting, the iX rides with serenity, smothering uneven surfaces. Sudden road imperfections, such as potholes or expansion joints, are also nicely rounded off, with only the harshest of bumps sending a distant thud into the cabin.
Despite the compliant ride, the iX controls its mass well, and vertical body movement is kept at a minimum – especially with the dampers set to Sport. Turn in and the steering is accurate for a car of this type, but almost entirely devoid of feedback from the front axle. It feels synthetic and remote, but doesn't stop you hustling the car, at which point the iX shines more brightly than you'd expect. With the 600kg battery pack mounted within the floor, most of the car's 2.5-tonne mass is concentrated low down, allowing it to mask much of its weight during direction changes.
Roll is well contained, and the iX feels incisive in a way that such a tall, heavy car shouldn't; this is aided by the xDrive 50's rear-wheel steering system, which in effect shortens the car's wheelbase and adds agility. The iX can feel wayward when nearing the limit on a tight road, and it can't hide its mass under braking, but this is certainly a dynamically accomplished SUV.
The iX offers three levels of energy regeneration and a one-pedal driving mode, which feels natural and well-calibrated. The xDrive has a claimed 630km of driving range according to WLTP testing. In reality, there's is a lot of real-driving range if you're not blasting around at nine-tenths. Charging is capped at 195kW on a rapid charger, but that's fast enough to replenish almost 150km range in just 10 minutes.
The iX is, from a technical standpoint, a very promising start for BMW's mainstream EV push. With prices starting from $135,900, the xDrive40 comes in at around $10k more than the Mercedes EQC, which offers similar range and quicker acceleration. But the BMW excels in areas that can't be judged on paper, such as its cabin ambience, quality and driving dynamics.
With a bespoke EV platform, cutting-edge tech suite and BMW's new-generation electric motors, the iX promises much, and it delivers. Putting aside the devastating straight-line pace, there's real depth to the package; the chassis feels expertly judged, cabin quality is superb and real-world driving range is strong. As a calling card for BMW's next generation of EVs, it's a convincing effort.
Alex Rae