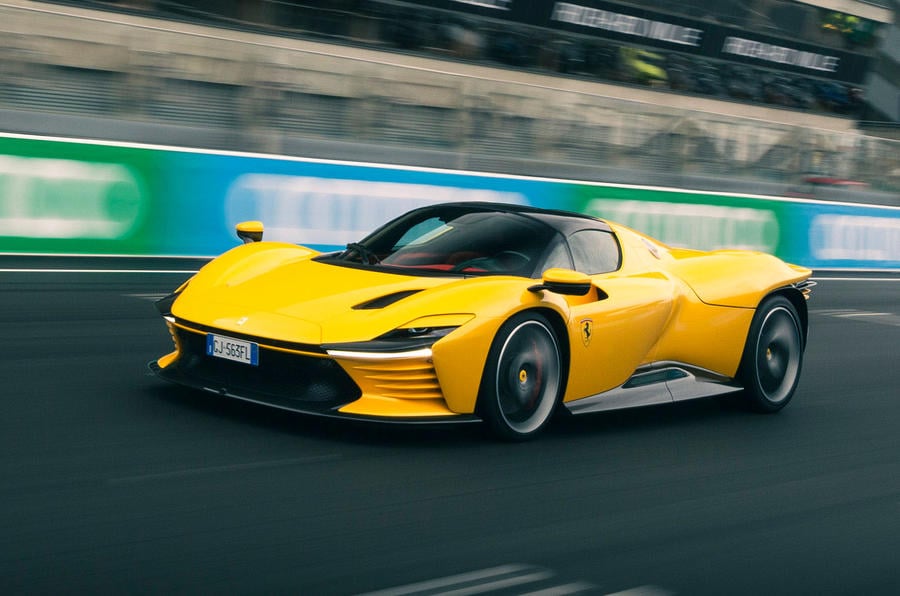 Andrew Frankel takes to the track with Ferrari's Daytona SP3.
You probably remember Le Mans '66, the 2019 Matt Damon film in which Ford and Carroll Shelby come across the Atlantic to duff up Ferrari on its home turf.
Before that race, Ferraris had won seven of the previous eight Le Mans 24 Hours races. It hasn't won another ever since, but that's another story.
The SP3 does have a boot, of sorts, under the nose. I managed to get an anorak into it. An overnight bag? Not a chance: it's not that kind of car
What you won't remember is the film Daytona '67, because it hasn't been made yet. Because what Ford tends not to crow about quite so much is that Ferrari returned the compliment the very next time the two teams met to race twice around the clock, at the aforementioned race track the following year. Two works 4.0-litre Ferrari P4s (well, one was actually technically a P3 modified to P4 specification) faced six factory Ford GT40 MkIIs with 7.0-litre engines and trounced the lot of them. One after another, the thundering Fords broke while the howling Ferraris made mincemeat of them, finishing not only first and second but also with a customer car (a 412P, which was essentially a customer-specification P4) in third to complete a Maranello podium lockout – in Florida.
In Ferrari folklore, if not public consciousness, the event was so fabled that the next road car was never called by its 365 GTB/4 title but instead and simply Daytona. Ferrari itself never called a car a Daytona – not, at least, until now, the car you're looking at being the Daytona SP3. It's the third of the Icona-series cars, after the Ferrari 812 Superfast-based, barchetta-bodied Monza SP1 and Monza SP2, but the first that you can use properly, on account of it having refinements such as a windscreen and roof.
Like its name, its styling is designed to evoke memories of that great day 55 years ago. Those curvaceous front wings and rear haunches are pure P4 and all the better for it. I've always considered the P4 the most beautiful car of any kind ever created by anyone anywhere in the world.
The Daytona SP3 exists fairly obviously to make Ferrari money, and with all 599 units pre-sold at a base price of around $3 million, it has surely already succeeded handsomely in that regard. But its other purpose is to remind the world that, for the first time in 50 years, Ferrari is going sports-car racing as a factory team.
Curiously, however, given the car's name, there's no guarantee that the new LMH prototype racer will compete at Daytona next year or thereafter, because the race doesn't form part of the World Endurance Championship that Ferrari has entered. But the LMH will be at Le Mans next year, and that's where I am now to meet the SP3 Daytona.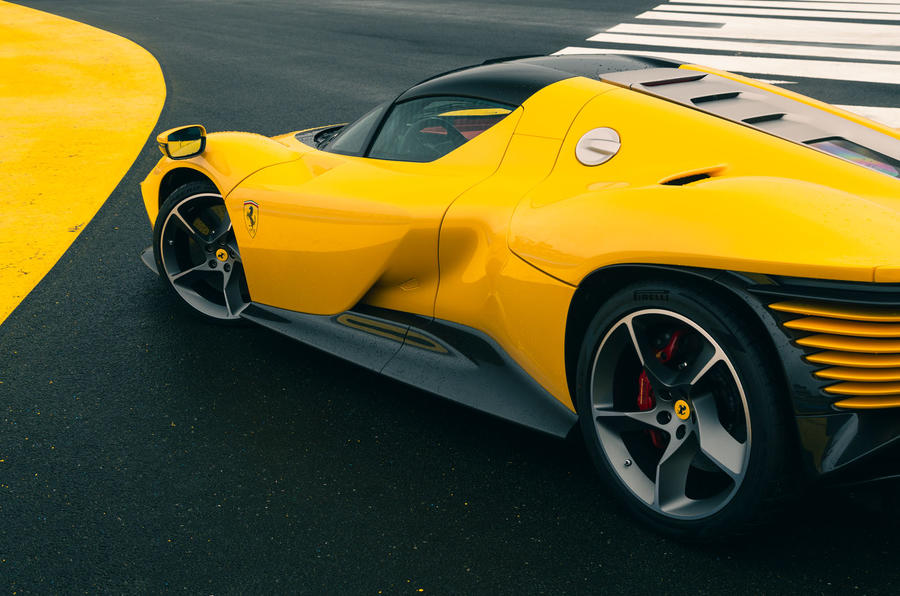 It's so good-looking that it makes you want to laugh out loud. Whereas the SP1 and SP2 looked almost cartoonish in the extremity and impracticality of their design, the SP3 is nothing more or less than simply very beautiful, Ferrari's best design work since at least the LaFerrari of 2013, despite no shortage of other candidates.
Back to top
This is a surprisingly important point. Pretty though the cars are, I don't think people tend to spend hours lingering over the looks of the Portofino, Roma, F8 Tributo or 812 Superfast. But you would if you owned an SP3 Daytona. You would probably never see another one, and the novelty of a shape this striking would likely never wear off. So here's a Ferrari from which a great deal of pleasure can be derived from several yards away.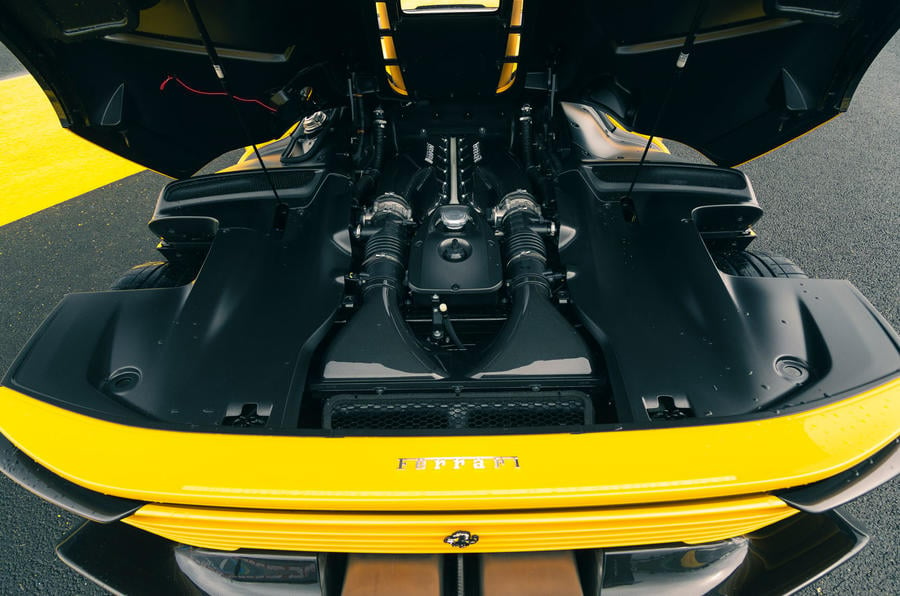 Owners may want to remember that when they realise that their SP3 Daytona is no faster than a Ferrari 296 GTB, despite being, ahem, seven times more expensive. In fact, I would bet plenty that the SP3 Daytona would be slower, because while their power and weight (and therefore their power-to-weight ratios) are similar, the manner in which they develop said power could scarcely be more different in the ICE world, one a twin-turbocharged and hybridised 3.0-litre V6, the other an unfettered, naturally aspirated 6.5-litre V12. And while I haven't yet driven the 296 GTB, I have a fairly shrewd idea about which is likely to sound better…
Indeed, the SP3 is rarely likely to emerge well from any objective cost-benefit analysis, which is fine, because that's not what this car is about. It's not a car in which to see how fast you can go, nor how rapidly you can circulate a track. To that end, Ferrari doesn't even bother publishing a Fiorano lap time for it. But were it to do so, it would probably be far from the fastest.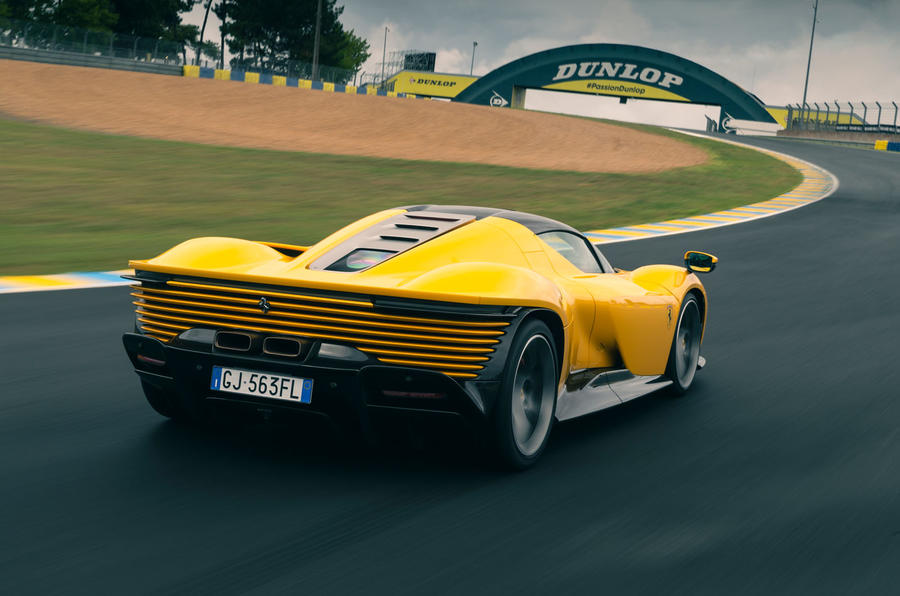 Emphatically, it's not the 'what' but the 'how' that matters here. Before we can sample that, however, we do need briefly to examine what we have, which is a kind of Ferrari's greatest hits of the 21st century packed into one car. Its greatest chassis, the carbonfibre monocoque of the LaFerrari, housing its greatest engine, the V12 from the 812 Competizione, squeezed into a body of dazzling beauty. Turn up at the right place in it and you will create a stir. Turn up at the Le Mans Classic, as photographer Luc Lacey and I did, and you will get a glimpse of what The Beatles experienced turning up at the Albert Hall.
You get mobbed, and when you move away, the mob moves with you. Getting in isn't particularly easy via the dihedral door aperture and getting out can be painful: Lacey and I both hit our heads on said door. Once inside, you discover that the cabin is simple and quite spare. It's not a place where you will find surfaces polished to a mirror finish and little slivers of unobtainium ostentation scattered artfully around. It's attractive and purposeful – not the cockpit of a $3m car, perhaps, but there are more important things to be thinking about here.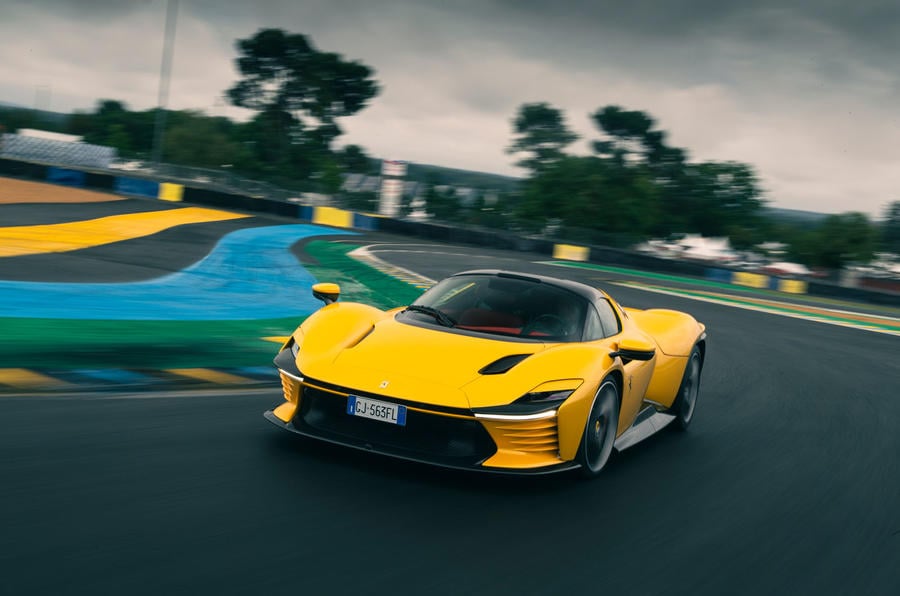 Ferrari's most powerful street V12 (they've found 7kW more than the same motor produces in the 812 Competizione) fires behind you. (The LaFerrari has more power, but only thanks its hybrid system. No Ferrari Formula 1 V12 got close to the SP3 Daytona's 620kW, either.) You sit in same fixed seating position provided by the LaFerrari, pull a lever, slide the pedals towards your feet and wonder why all cars aren't configured like so.
It's perfectly happy to be driven slowly. Despite its exotic looks, price and limited number, this is no irascible curmudgeon, only happy when driven as fast as it can go. The ride quality is adequate and refinement would be good were it not for the sound of the gravel being spat into the wheel arches by the fat, bespoke Pirelli tyres. But goodness, it's wide. A wildly driven replica Jaguar C-Type lurches out of a corner on an approach road, and for a moment there seems to be no space between it and the high kerb for me. Take the side off the Jag or the wheels off the Ferrari? No contest: I aim for the C-Type, whose owner slews back onto the correct side of the road at the last moment.
We're free of the Classic now, and the SP3 Daytona is on clear, empty roads. It's of course unfathomably fast by most standards, but it's far less explosive than a car like the McLaren 720S, whose twin-turbo torque will fire you across the countryside like an artillery shell from a field gun. You need to work the Ferrari engine, which doesn't make peak torque until a stratospheric 7250rpm. But from 6000rpm to when the ignition starts trimming sparks at 9500rpm, this is a magnificent motor, belting out its inimitable V12 song but with a hard edge of fury. Others that Ferrari has made in the past are perhaps more tuneful, but few if any pack more purpose.
The chassis is superb, despite the old-school direct and slightly too light steering. In the dry, it provides ludicrously more grip than you would ever use in public; and when it rains and you're brave or stupid enough to twist the little manettino all the way clockwise, it slides amiably enough. I would probably have done more of the latter were it not for that width. Even on these big and quiet roads, I'm waiting for that moment when it starts to shrink around me, but that never comes.
Perhaps it's fear of the value, but the thought of encountering another luridly driven car, or even a perfectly sensibly driven bus, is more than enough to rein in my enthusiasm. Were you to give its engine and chassis full range of expression on a circuit, my strong hunch is that a driving experience as rare as it is special would await, like that which I enjoyed during my laps of Fiorano in a LaFerrari in 2014, but sadly I never got the chance.
Even so, I'm so glad that I got to drive it, and as fast as I safely could. Yes, the 296 GTB is probably as quick, far more usable and a heck of a lot cheaper, but that's not the way to look at the SP3. It is instead simply a car for the senses, a car to look at, to listen to and to feel. And in all these regards, it's a worthy wearer of that Daytona title. It's not a P4 nor anything close, just a beautiful, fast, sonorous and rare Ferrari. And for the billionaires who've bought it, that will be more than enough.
Andrew Frankel