Can the Ineos Grenadier really fill the mud-splattered void left by the old Land Rover Defender? We take a first drive in a prototype to find out…
Many modern SUVs are suitable for dirt roads at best, but the new Ineos Grenadier is actually the first new car in a long time that explicitly and uncompromisingly wants to go off-road.
You can see that at first glance. Even if the appearance clearly resembles a certain role model from Solihull – in the end, an off-road vehicle simply has to look like the Grenadier looks. Practical, clear and functional. And aside from the latest Defender, it's a car with few real rivals, save for the expensive Mercedes G-Class and the more lifestyle oriented Jeep Wrangler.
At Magna-Steyr in Austria, Ineos' development partner, the final tweaks are being made before production. And we've been for a spin on and off-road in a late prototype.
Ineos has sourced two excellent engines to power the Grenadier. Both are 3.0-litre six-cylinder turbo units from BMW. There's a diesel with 183kW and 550Nm, and a petrol engine 209kW strong and with 450Nm. The permanent four-wheel drive with shiftable low range and a central locking diff is Ineos' own design, but power is transferred via an eight-speed ZF automatic gearbox.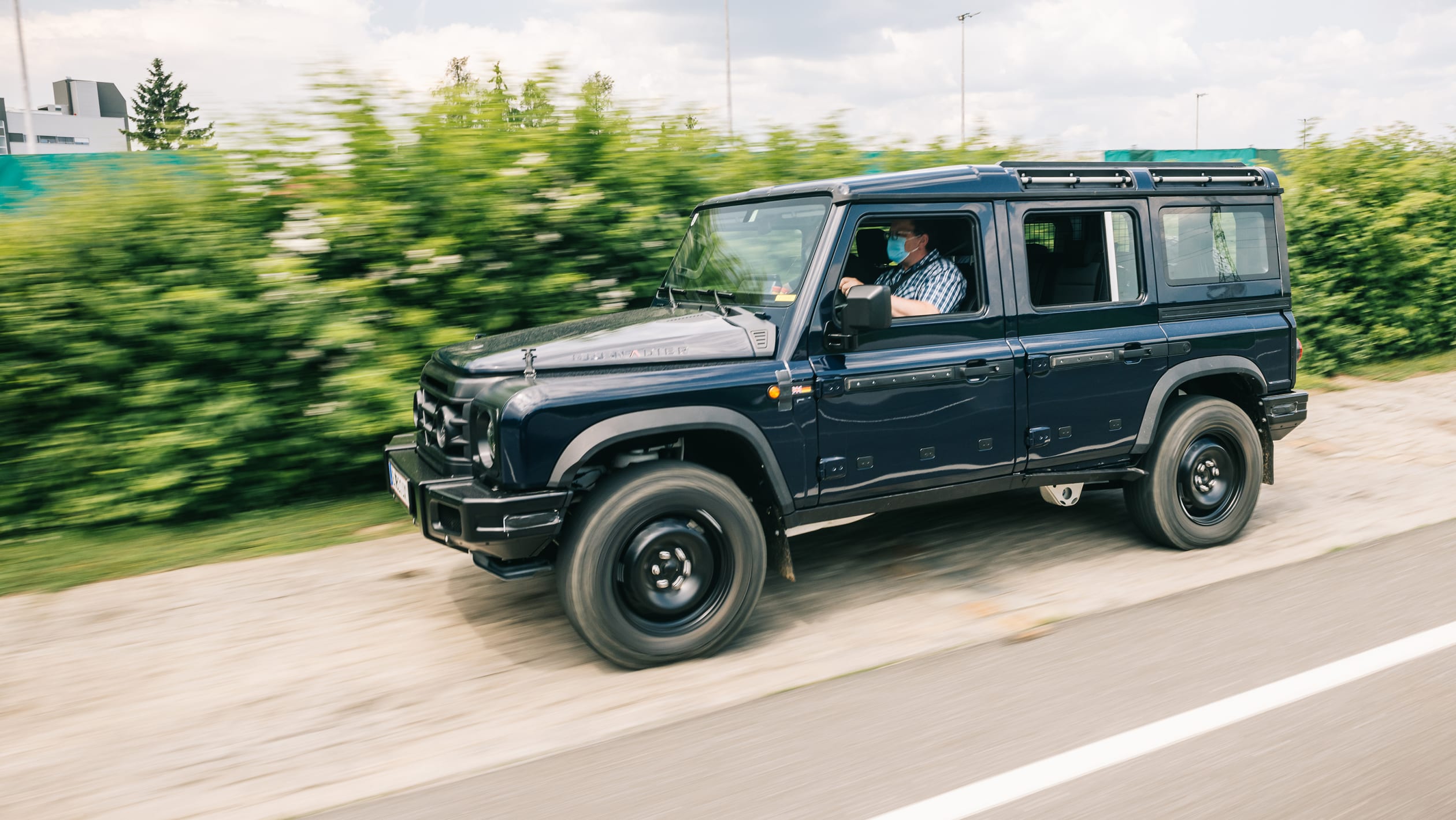 Rigid axles from tractor maker Carraro are fitted to the front and rear of the Grenadier. Look between them and the enormous differential housing illustrates the value Ineos has placed on durability.
The engines have been detuned from their BMW applications, but the throaty-sounding petrol engine pleases with its constant torque and smooth performance. In contrast, the diesel feels more suited to the Ineos' image. It's noticeably torquer and punchier – the amount of power is mighty, but there is a slight coarseness to the engine, a loss of refinement from its BMW beginnings.
Much fine-tuning of the chassis will still take place, but as a car the Grenadier feels surprisingly focused on stability, and it feels like the engineers have tried somewhat to make sure it isn't compromised on road. A tendency to roll in corners is there, but the Grenadier straightens up rapidly, too, so it isn't too wallowy.
But it is off-road where this new car really shines. The Grenadier is in its element on the extremely challenging off-road section at Magna's facility in graz. This torturous track is peppered with huge potholes, boulders and rocks. You immediately notice that the suspension is harsher than that of a Mercedes G-Class, and we're told it won't get much softer for production. But traction is excellent, thanks to two-axle diff locks (optional extras) it demonstrates remarkable climbing talent on huge, slippery, mountainous inclines. What's more, it feels well built, too – even these hand-built pre-series models are largely rattle-free even at speed.
Exactly what the Grenadier will look like inside is still being kept secret by Ineos; it will not be revealed until July. We're not really allowed to say much, but we can tease: it won't be all utilitarian, and there will be some pretty funky details in the cabin. In any case, it feels like there is more space inside than in a Defender – unsurprising given it's a little longer and taller than the 110 varant of the Land Rover. This also applies to boot, and until now we didn't know just how fantastically wide the two asymmetrically rear doors can open to access the rear space.
When the Grenadier is launched, it will be unrivalled in its segment. Buyers who have been waiting for precisely such a car won't be disappointed, but just how many out there want something like the Grenadier remains to be seen. BMW engines promise performance and durability, and while the suspension tuning focuses on safe road use, it does come at the cost of reduced comfort in tough off-road conditions, where it excels.
Torsten Siebt