A triumphant return to the supercar ranks: it's fast, thrilling and engaging yet also wonderfully approachable and easy to drive.
Maserati knows it can't mess this one up. There's just too much at stake. The MC20 is described as the start of a whole new era for the fabled Italian car maker, the performance figurehead for a new generation of models intended to cement its standing among some very creditable competition and lead it into the future.
The importance attached to the new car, the first in-house developed mid-engined Maserati in a generation, is reflected in the way it has been developed.
This is not a Maserati in the traditional sense. Rather, it has been engineered using new digital processes that have enabled the new two-seater to go from conception to production in just two years. They're borrowed largely from motorsport, ensuring rapid prototyping through a combination of computer-aided simulation and conventional road testing.
"When we started the project, we decided to go a different way to that used in the past," says Federico Landini, MC20 vehicle line executive. "A lot of the development has been carried out digitally with new partners, many from motorsport. It didn't just involve the car, but a new engine as well. The processes involved have been key to allowing us to deliver the car on time in a period that has otherwise been very challenging."
A fresh new start for Maserati, then. The MC20 name, however, adheres to convention first established by Maserati early this century: MC stands for Maserati Corsa (Racing), with the numeral designating the year the new model was revealed.
Priced at $438,000, it's aimed at some mid-engined rivals with very strong credentials, among them the Ferrari F8 Tributo, Lamborghini Huracán and McLaren Artura. Production has started in Modena earlier this year, and the first examples, which are all sold, have landed in Australia. Maserati is looking at annual volumes of around 1500, split between the road-going version driven here and upcoming racing versions of the MC20 that we will test in the future. The idea is the leverage their standing within the ranks of the supercar and motorsport elite for the more volume-orientated Ghibli, Levante and Quattroporte models, in the process establishing a more engineering-led and sporting image for the brand.
It's a strategy Maserati has tried before, of course: the first mid-engined Maserati was the Bora, launched in 1971.
The basis for the new car is an advanced carbonfibre monocoque. It is designed to underpin both petrol and pure-electric powertrains, with substantial aluminium subframes at either end. The structure is claimed to be the most rigid that Maserati has placed into production so far, exceeding even the high engineering standards of the ultra-low-volume Ferrari Enzo-based MC12 launched in 2004. It's relatively light, too, helping the MC20 to achieve a kerb weight of 1475kg.
The body is predominantly carbonfibre and carbonfiibre-reinforced plastic. It's one of those cars that you have to see up close to fully appreciate the various nuances with its styling, which takes certain cues from Maserati's past, including its low-set grille and chromed trident symbol. The upper section is quite sculptural.
It's the lower part, though, that more effectively influences the performance. It's very technical, with various measures aimed at ensuring efficient cooling and downforce without the help of any active aerodynamic devices. There's a highly functional look to elements such as the turned-up corners of the front splitter, vertical fins integrated within the leading part of the doors, structured nature of the sills, vents with the top of the rear haunches and the full-width diffuser at the rear. It is also fully panelled underneath, with vortex generators and vertical fins to manage airflow.
It's not a big car: 4669mm long, 1965mm wide and 1221mm tall, which makes it 58mm longer, 14mm narrower and 15mm taller than the F8 Tributo. It rides on a 2700mm wheelbase, with 1681mm front and 1649mm rear tracks.
The butterfly doors hinge forward and high on substantial hinges, revealing quite a large aperture and an easily negotiated sill. Tuck yourself inside, and you find a relatively simple but tremendously effective cabin mostly in dark hues. The design doesn't aim for glitz. Rather, it's fittingly minimalist, with two high-resolution displays for the digital instruments and infotainment functions as well as an absolute minimum of switchgear on the narrow centre tunnel.
The carbonfibre-backed Sabelt seats get electric adjustment. They're race grade in purpose, with substantial bolstering and loads of lateral support. The driving position is superb, placing you low and with excellent forward visibility. The rear-view mirror projects real-time video provided by a camera mounted on the bootlid. The car isn't big on luggage space, though. There's a shallow, 100-litre compartment at the rear and a 50-litre recess up front.
A press of the steering-wheel-mounted starter button brings the MC20 to life with a mild crackle of exhaust. Gear selection is via a button on the centre console: D gives you automatic, M for manual.
To appreciate just how serious Maserati is taking its return to the mid-engine supercar ranks, look no further than the MC20's engine. Known as the Nettuno (Italian for Neptune), the twin-turbocharged 3.0-litre V6 is all new. It is not adapted from any existing unit but has been developed from the ground up around a 90deg architecture that is set to play a big role in new road-going Maserati models and underpin its return to motor racing. Forget any connection with old partner Ferrari. The engineering has taken place wholly in-house at the new Maserati Engine Lab in Modena.
There is impressive breeding to the specifications, with quad camshafts, variable valve timing, two IHI turbochargers, Bosch-developed direction injection, twin-spark cylinder heads, patented pre-chamber ignition technology from Formula 1 and dry-sump lubrication. Although a pure-electric MC20 is in the pipeline and due to see production in 2023, you don't find any electrification measures here beyond the operation of the turbocharger wastegates.
Maintaining a rich tradition for delivering engines with high specific outputs, Maserati claims 154kW per litre, giving the MC20 473kW at 7500rpm. Torque peaks at 730Nm between 3000rpm and 5500rpm. It is sent to the rear wheels via an eight-speed dual-clutch gearbox produced by US firm Tremec – the same unit used by the Chevrolet Corvette, with steering-wheel-mounted shift paddles and a mechanical limited-slip differential. There are four driving modes: GT, Sport, Corsa and Wet – all accessed via a rotary controller.
Be in no doubt: this is a truly special engine, equally rewarding below 4000rpm in GT mode, where it relies on the heady torque loading to provide wonderfully flexible cruising properties, as it is chasing the 8000rpm redline when you're hard on it in Sport mode.
The advanced ignition system ensures outstanding response and great elasticity right across the rev range. There's broad and instant thrust when the driver demands it, and it builds quickly and with great force in lower gears, providing the MC20 with explosive mid-range acceleration together with outstanding top-end qualities. The delivery is linear and, as with the best combustion engines, it becomes more determined the harder you work it.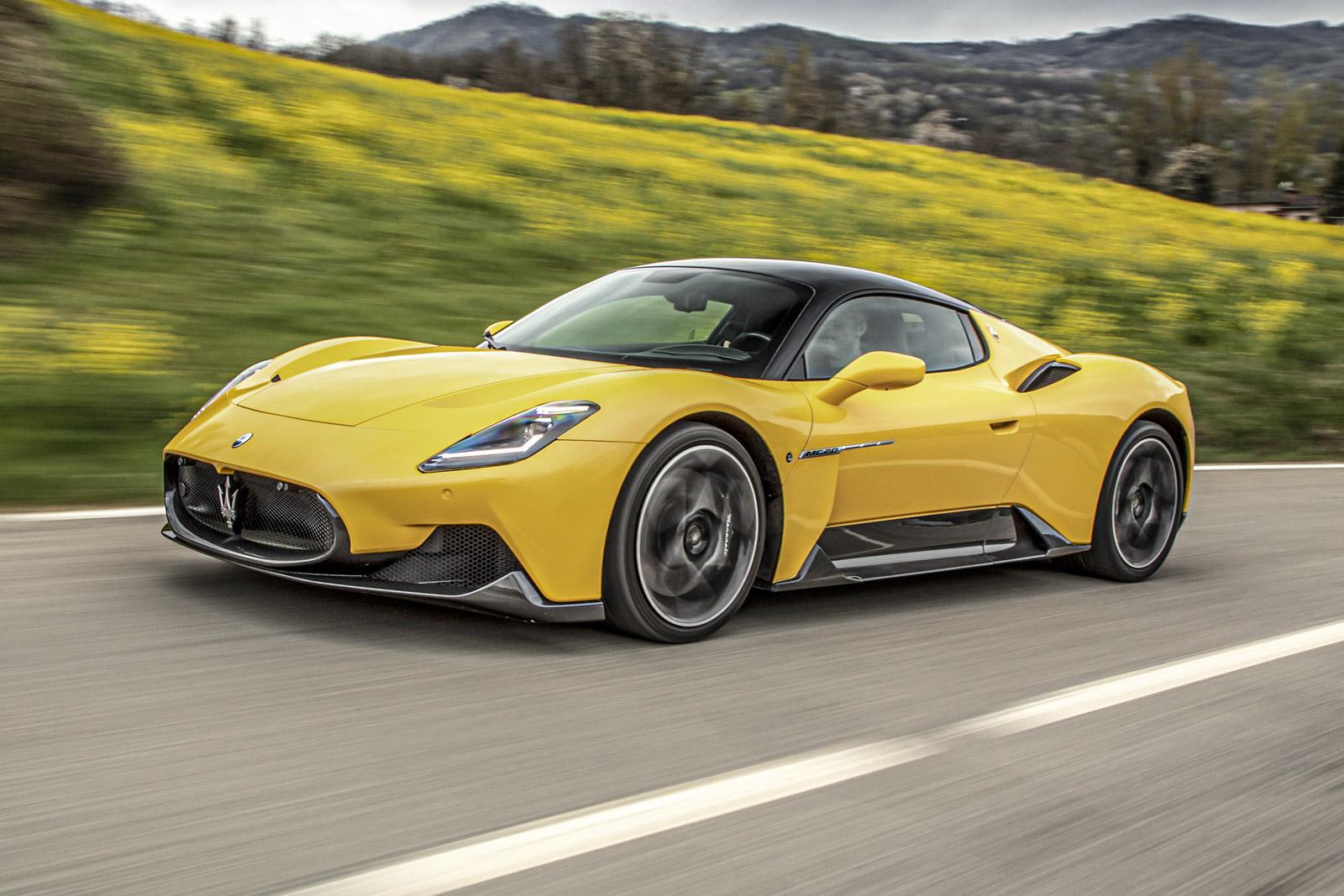 It's a shame the gearbox doesn't always match the new V6 for outright effectiveness, though. The speed of the upshifts is excellent, whether on part throttle or under full load. However, the dual-clutch unit sometimes lacks smoothness, occasionally resulting in an odd moment of hesitation on downshifts in automatic mode. It's a small criticism, but discerning customers will notice.
Another moot point, for this tester at least, is the sound the engine makes. It's authentic enough, going without any synthetic enhancement unlike some supercars rivals, but it lacks the sheer excitement evident in other aspects of the MC20. Given how good it is in other areas, you expect the new Maserati to deliver a spine-tingling aural experience, especially on the overrun. While melodic at times in Sport mode, I can't help but feel it could do with some additional sound tuning to fully underline its intent. There is a raspy timbre to the exhaust, and you also get a whoosh of turbochargers and some faint wastegate whistle when you're pushing the V6. But it lacks the aural specialness of some rivals.
Not that it is reflected in the straight-line performance, which is top shelf by any standard. The MC20 is among a very select group of rear-wheel-drive road cars to boast a 0-100km/h time of less than 3.0sec. It is brutally fast off the line using the launch control system. The heroics of the engine combined with huge levels of traction ensure it doesn't let up until you're well into three-digit speeds. Maserati claims it hits 200km/h in less than 9.0sec. Top speed is put at 327km/h, just 3km/h shy of the earlier MC12.
Obviously, it's fast when you want it to be, but the MC20 is arguably at its best when dialled back a bit. There's so much torque that you can ride the mid-range in taller gears and still wonder at the strength of the performance. A timely downchange and short stab of the throttle are all you need to overtake a line of cars in GT mode. Focused as it is, it still manages to deliver a broad appeal.
Maserati says it has developed this new mid-range model as much for everyday driving as for race track outings. The ride certainly reflects this. We discovered this on some awfully rough roads through the hillsides and villages to the south of Maserati's home town of Modena.
There are two levels of damper stiffness for each of the driver modes. It's not exactly smooth, but there is an impressive degree of suppleness to the MC20's on-road qualities in the more forgiving settings. Small-bump compliance is particularly impressive, as is the isolation of road shock on larger bumps. The tuning of the double-wishbone suspension (front and rear) is outstanding, providing a deft combination of compliance and control.
It's the steering, though, that really stands out. The electromechanical system, with 2.2 turns lock to lock, is extraordinarily good. There's an easy lightness to its operation. Free of drive forces as it is, it remains wonderfully consistent and very pure in feel. There's genuine feedback, allowing you to feel the suspension load up and keeping you well aware of the limits of adhesion, during cornering.
The overall involvement is quite something. It is easy to establish a flow. There is very little dive under braking and only a slight amount of body movement on turn-in. The centre of gravity feels very low and, with it, the inertia, too. The delicacy of the steering allows you to place the new Maserati well and it is all supported by a grippy rear end that provides great traction under acceleration at the exit.
It's on a circuit, though, that the new Maserati really comes together. There's clearly greater intent to the characteristics of the steering, throttle, gearbox and damping in Corsa mode. But importantly, the MC20 retains the approachability that makes it such a fine car on the road. The standard 245/35 ZR20 front and 305/30 ZR20 rear tyres have been developed specifically for the new Maserati in partnership with Bridgestone and they provide great purchase on smoother road surfaces.
There's a touch of understeer in higher-speed corners when you're really pushing. But you can carry a lot of speed to the apex and adjust the line easily. It's tremendously responsive on the throttle. It tucks in and rotates the rear with great clarity. The actions are communicated remarkably well, progressive and reliable in a way that makes the MC20 quite playful, which is something I never would have thought I'd ever say of a 463kW supercar.
The brakes are quite something, too. They combine 330mm front and 350mm rear carbon-ceramic discs with six-piston and four-piston calipers respectively. The pedal initially feels a little firm, but once you've got some heat into them, they deliver massive stopping power. They're not on/off, either. There's quite a bit of modulation in the pedal, which is appreciated in everyday driving conditions.
Maserati's return to the supercar ranks is a rousing triumph. After a period where its future looked tied to a range of volume-market saloons and an SUV, it has silenced its critics – and there were many – with a supercar that perfectly encapsulates the flashes of brilliance in its illustrious past, establishing a new level of performance for the brand and taking it into direct competition with Ferrari, Lamborghini and McLaren for mid-engine supercar supremacy.
The MC20 is world-class – fast, thrilling, engaging and, to these eyes, rather special to look at. It is the perfect foundation for the company to build on as it seeks to fulfil its potential as a force among premium brands under the wing of its parent company, Stellantis. Let's hope it is not a one-off burst of brilliance.