We test the new Skoda Fabia Monte Carlo ahead of its Australian arrival to see how it drives.
These days you're more likely to see Skoda making headlines for its SUV line-up than for its traditional sedan or hatch models, but the modern brand's reputation owes much to the success of staples such as the Fabia supermini, which has routinely competed near the top of its segment since it first arrived back in 2009.
In the past there have been various iterations of the high-performance Fabia RS hot hatch, but not for a while. Instead, it's been the sporty but approachable feel of the Monte Carlo variant that's arguably done more to raise aspirations amongst mainstream supermini buyers. The Monte Carlo name has undeniable cachet, even if you don't know too much about Skoda's historic triumphs on the local rally stages, or have no wish to relive them for yourself with a thrash along a favourite twisty lane. And that's just as well, because to enjoy the latter activity properly you really need a hot hatch, and the Monte Carlo is no such model.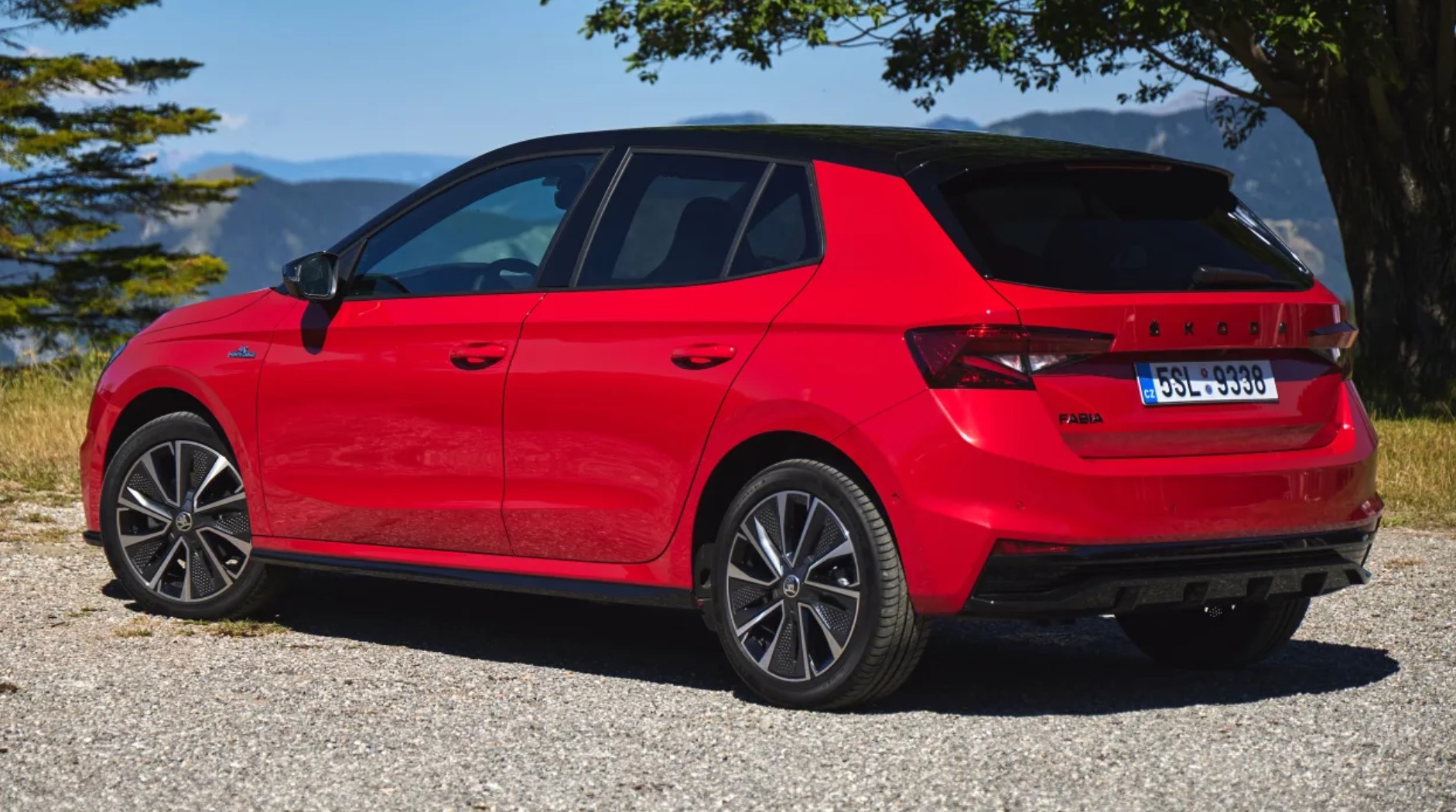 Think of it as the most snappily dressed trim level in the Fabia line-up though, with undeniably strong performance from the most powerful engine option available in a Fabia – and it's an approachable and engaging car for drivers who take a more pragmatic approach to their driving.
Let's address the looks first, and the first thing most observers will notice about this fourth-generation Fabia Monte Carlo is the black roof panel, because it has been a constant feature of the Monte Carlo offer since the trim level arrived on the first Fabia in 2011, and it looks great – although it's not quite a 'trademark' as many rivals offer similar contrasting roof treatments on their models these days.
Other bespoke elements of the Monte Carlo design package include uniquely styled bumpers at both ends of the car, and a range of black detailing including the grille surround, wing mirrors, and aerodynamic spoiler and side skirts. There's a black diffuser-style rear apron, black lettering on the tailgate, and privacy glass to help complete a sporty makeover. Full LED headlights are standard, which is expected at the $37,990 driveaway pricing, as are 18-inch alloy wheels. Only metallic paint ($500) and self-parking ($1000) are optional extras.
Inside, the Monte Carlo treatment extends to a red horizontal trim line running across the dash, which is picked up in the door handles. The seats get a sporty striped motif – those up front have a sporty 'bucket' feel – and there's a black headlining. Parts of the door and dash get a racy carbon-fibre-effect finish, and shiny metal pedals and a leather-trimmed sports steering wheel complete the picture.
The Skoda Fabia Monte Carlo is powered exclusively by a 1.5-litre TSI turbo engine producing 110kW and 250Nm through a seven-speed dual-clutch auto to the front wheels. There's plenty of torque to generate punchy acceleration from around 2000rpm, and the DSG clearly works effectively with the punchy engine.
The 0-100km/h time of 8.0 secs and a 225km/h maximum speed are impressive, but the relatively softly sprung Fabia doesn't have the taut suspension set-up or – hopefully – feelsome steering of a decent hot hatch, so this isn't a car for thrill-seekers.
Incidentally, there are no steering wheel-mounted shift paddles for the DSG, but we're not yet sure whether that's a tacit admission that this isn't a car with sporting pretensions, or a means to help Skoda scrimp through the semiconductor shortage by using fewer parts.
Either way, you can change gear manually with the DSG shifter, if you have to, but the lever and its gate aren't really configured to encourage frequent interaction.
Above 4500rpm, things get a bit boomy and raucous, so it's better to let the turbo do the work from lower revs and relax into the Fabia's comfort-focused chassis.
The Fabia doesn't isolate its occupants quite as much as big siblings such as the Skoda Octavia or Skoda Superb, but overall it's definitely set up for comfort over handling. A plus point is that body roll is well controlled. Minus points are that it doesn't pivot around you like the best hatches and the steering is inert. It's a grown-up thing, but not exciting.
On our test drive in France ahead of Australian deliveries this year, the journey back from the Col de Turini to Nice once out of the mountains was much more akin to the work most drivers will put their Fabias through, and this well-rounded supermini's core strengths shine on motorways, A-roads, and in traffic jams. It's comfortable, roomy, quiet, and well-appointed, and we wouldn't have batted an eyelid if asked to drive on a 12-hour road trip.
Overall, the Skoda Fabia Monte Carlo's sporty styling and high spec is icing on a palatable cake, although it's still no hot hatchback.
| | |
| --- | --- |
| Model: | 2023 Skoda Fabia Monte Carlo |
| Price: | $37,990 driveaway |
| Engine: | 1.5-litre four-cylinder turbo petrol |
| Power/torque: | 110kW/250Nm |
| Transmission: | Seven-speed dual-clutch automatic, front-wheel drive |
| 0-100km/h: | 8.0 seconds |
| Top speed: | 225km/h |
| Economy: | 5.7L/100km |
| CO2: | 129g/km |
| On sale: | Q3 2022 |
Chris Rosamond