Maserati's reborn Granturismo will be detailed with the choice of EV and V6 power in the coming weeks.
The design of the new Maserati Granturismo has finally been revealed in a new suite of official images which show the twin-turbo V6 variant lapping Modena ahead of an imminent full debut.
The latest images show Maserati's long-awaited Mercedes-AMG SL rival completely unwrapped, giving us our clearest look yet at the acclaimed first-generation, V8-powered Granturismo, which bowed out in 2019 after a successful 12-year production run.
The V6 car shown here uses a variation of the raucous, twin-turbocharged 'Nettuno' unit first deployed in the mid-engined MC20 supercar and new Grecale SUV. Like the Grecale, the combustion-powered Granturismo will be offered in Modena and range-topping Trofeo forms, the latter likely tuned to match the MC20's 457kW and rival similarly potent, bigger-engined rivals like the SL, Aston Martin Vantage and Ferrari Roma.
The Granturismo is also set to follow the Maserati Ghibli and Maserati Levante in adopting a hybrid option, but its positioning makes their mild-hybrid 2.0-litre four-cylinder petrol engine an unlikely option, so it is a possibility that Maserati will hybridise the Nettuno motor.
The new images have landed just days after a prototype of the nearly identical but all-electric Maserati Granturismo Folgore was spotted without any camouflage, charging at the side of the road in California as Monterey Car Week got under way.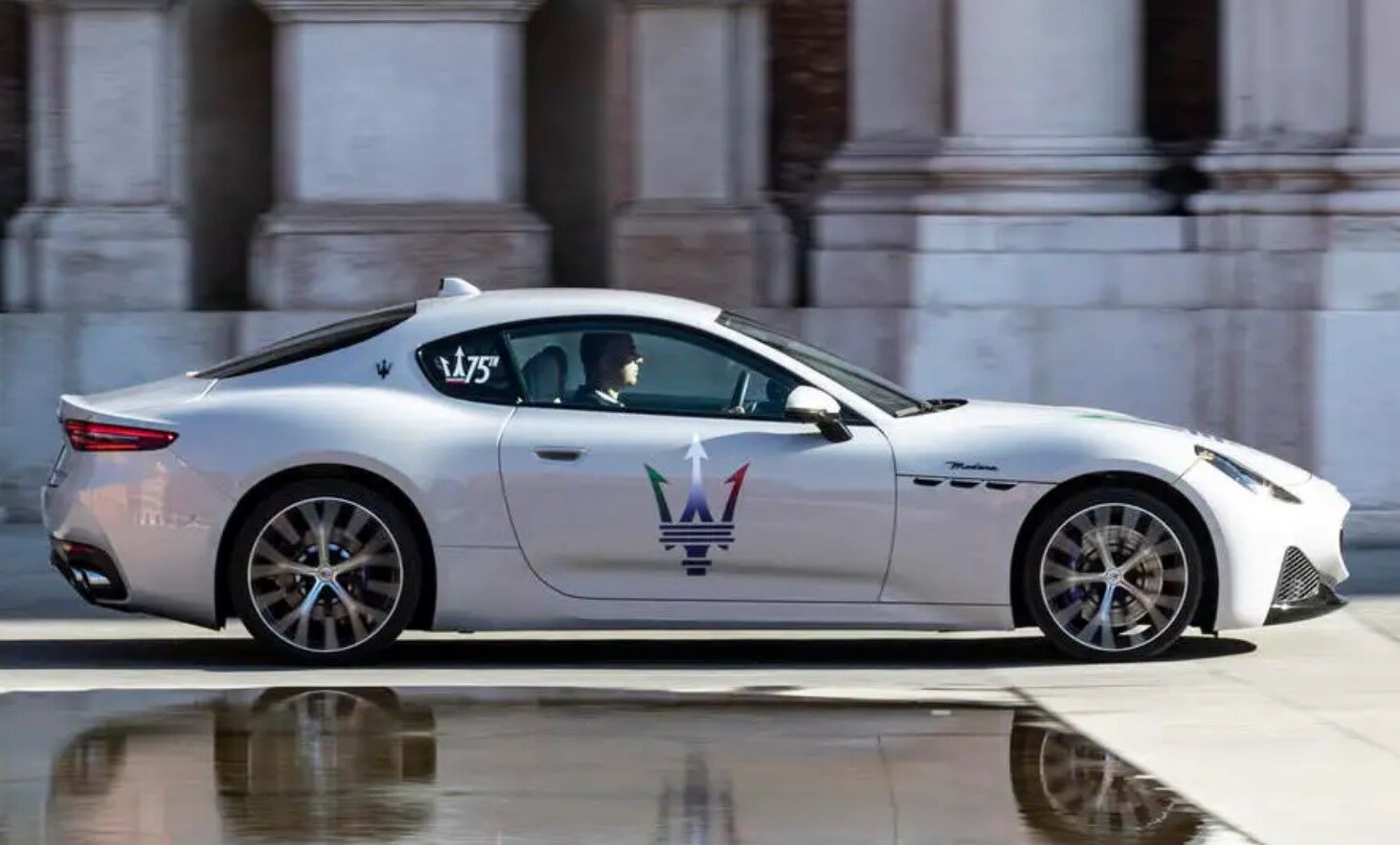 Technical details remain unconfirmed, but the electric variant will no doubt be the quickest and most potent in the Granturismo line-up. Maserati has already confirmed that the electric version of the Grecale SUV will pack up to 800Nm and a 105kWh battery – which could be expected to make for a 0-100km/h time of around 4.5sec and a range of more than 560km. The lower-slung and probably lighter Granturismo will no doubt be slightly quicker and longer-legged, with the same underpinnings.
Maserati says that it's working to ensure the EV's powertrain has "a distinctive sound, already a unique attribute of all Maserati cars equipped with traditional combustion engines". It's not yet clear how this will be achieved, but it's unlikely that the firm will artificially recreate the noise of its V6 or V8 engines.
The electric Granturismo and Grecale will launch in 2023, while a promised third EV due next year is likely to be the drop-top Maserati Grancabrio grand tourer – technically identical to the Granturismo. Electric versions of the Quattroporte, Levante and MC20 will follow by 2025 – in line with Modena's plan to phase out combustion models over the next three years.
Felix Page