Is AMG's G63 4×4² the ultimate off-roader? We test drive this new model with a V8 engine, portal axles and huge ground clearance.
Mercedes-Benz says the G63 4×4² has undergone all the various tests of other existing Mercedes G-Class models, including dynamic development at the Nürburgring circuit in Germany and an arduous programme on the Schoeckl trail near Graz in Austria, where prototypes were run up and down the demanding 5.6km trail 300 times before the new super-SUV was signed off for production.
The G63 4×4² is where Mercedes-Benz's traditional off-roader frees itself of all semblance of decorum and takes an unapologetic turn towards the extreme.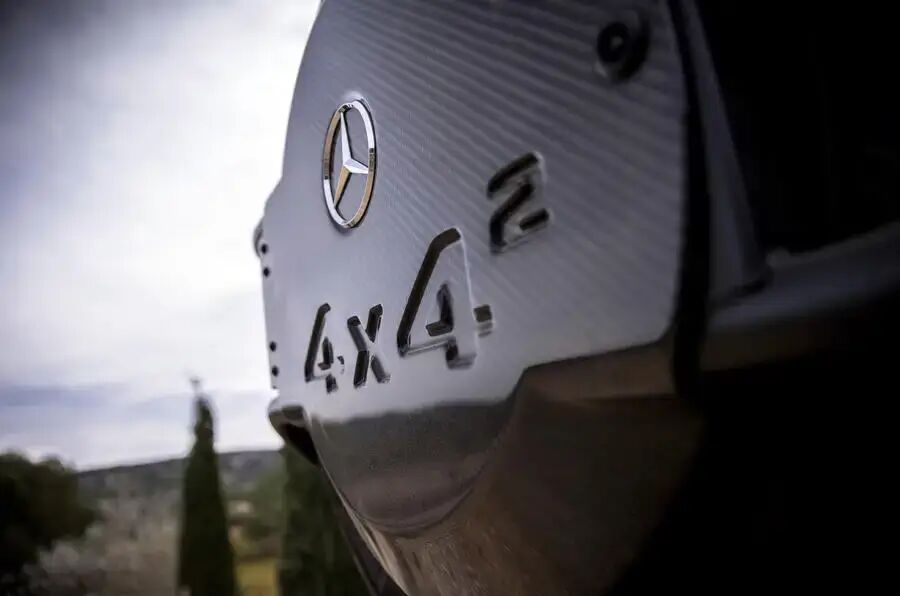 The new super-SUV has been developed by a dedicated team of G-Class engineers in close co-operation with their colleagues from the Mercedes-AMG performance car division and its traditional military-grade appearance, powerful V8 petrol engine, trick portal axles and huge ground clearance combine to set it apart from just about every other new car on the road. And off road, for that matter.
This successor to the Mercedes G500 4×4² is based on the latest Mercedes G63 4Matic, alongside which the G63 4×4² is produced at Magna Steyr in Graz, Austria. It exists, according to Emmerich Schiller, CEO of Mercedes-Benz's newly created G-Class sub-brand, due to the unexpectedly high demand for its predecessor, launched in 2015.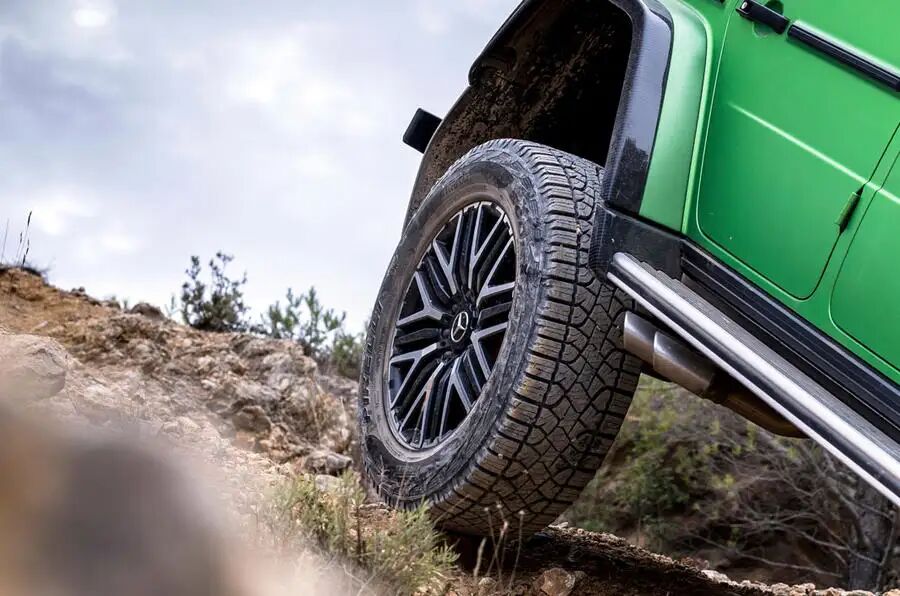 "We developed the G500 4×4² around an original sales projection of 150 worldwide. But such was the demand, we ended up producing over 2000. It was a huge success and the catalyst for the G63 4×4²," he says.
It is hard to overlook the G63 4×4². And not just because of the vivid colours in which it is offered. The colossal ground clearance is the key design signature, helping to make the new Mercedes-AMG model 286mm higher the G63 4Matic. In combination with giant, 9.5-inch-wide, 22-inch wheels shod with 325/55 R22 Pirelli Scorpion tyres as standard, this gives it a great amount of presence and a huge 4×4.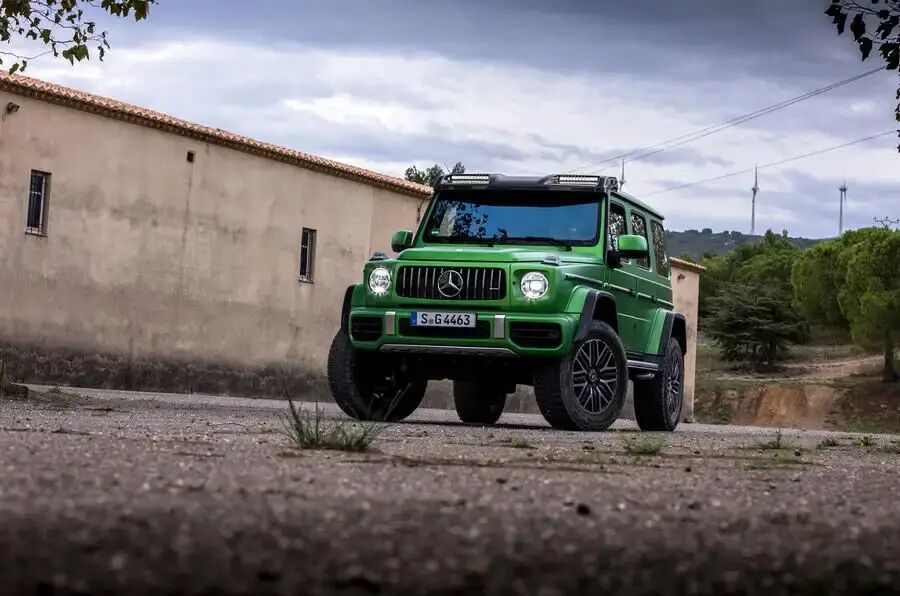 Love it or loathe it, there's no denying the big off-roader's visual impact.
To look at, it has as much in common with a monster truck as it does with the standard G63 4Matic. Carbonfibre is used for the wheel-arch extensions, spare wheel cover, along the wings and doors and within the roof-mounted spoiler positioned above the windscreen. Buyers can specify an optional roof rack with its own uniquely styled roof spoiler, integrated LED driving lights and a load rating of up to 90kg as well as a rear-mounted ladder.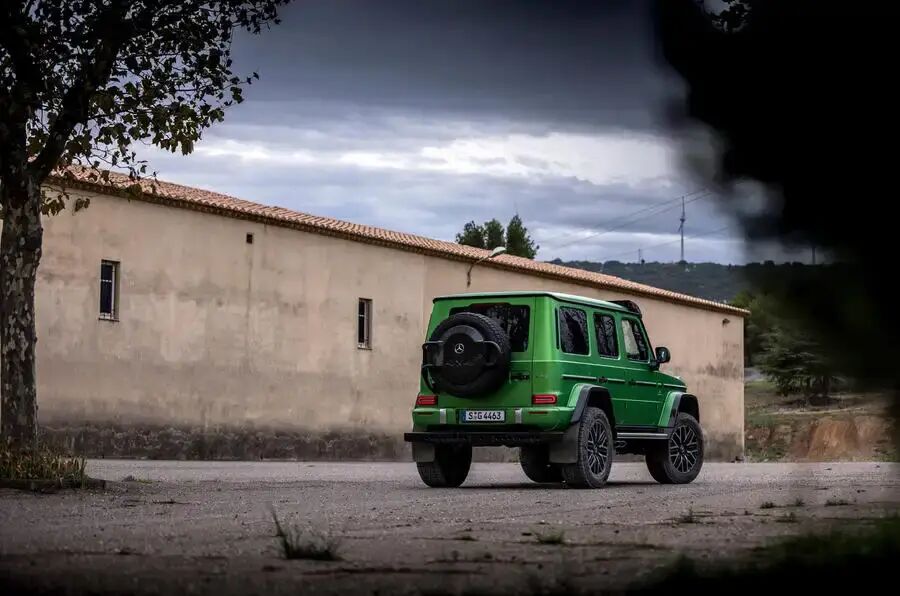 The G63 4×4² retains the traditional body-on-frame construction of the G500 4×4², but as with the latest G63 4Matic, everything else is new. Much of the ladder frame is now made of hot-formed high-strength steel and aluminium. Despite growing moderately in size, the kerb weight is actually 131kg less than its predecessor's, at 2865kg. Torsional stiffness is also claimed to have improved by 55 per cent.
Underneath, the former rigid-axle front suspension makes way for a new double-wishbone arrangement, providing greater levels of wheel articulation than before, as on the G63 4Matic. The rear retains a rigid axle located by four separate links on each side and a Panhard rod. The twin-tube dampers of the G500 4×4² make way for new single-tube dampers. They use magnetic actuation to constantly vary the damping characteristics.
A considerable 113mm increase in ground clearance over the G63 4Matic to 351mm is achieved through the adoption of portal axles, the idea for which originally came with the development of the even more extreme G63 6×6 launched in 2013. Developed specifically for the G63 4×4², they use sturdy-looking gearsets at each end to offset the axle centre line and raise the chassis and body. Also contributing to the greater clearance is the added rolling radius of the tyres.
The result is a 210mm increase in fording depth over the G63 4Matic, which appears rather tame when parked next to the G63 4×4². The approach, departure and ramp angles are also extended by a respective 14.3deg, 7.2deg and 20.3deg over the standard model, at 41.3deg, 36.8deg and 42.0deg.
Extreme? Yes. But not quite as extreme as the earlier G500 4×4², which had a further 99mm of ground clearance, at 450mm, because of the inherent design of its less advanced front axle.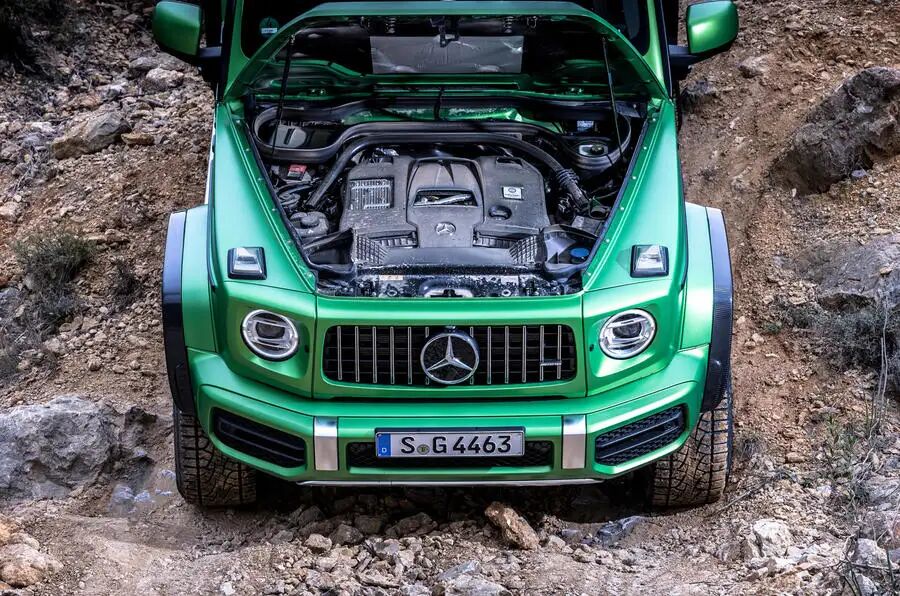 Underneath the bonnet, the latest evolution of AMG's twin-turbocharged 4.0-litre V8 petrol engine provides the G63 4×4² with 430kW and 849Nm – 120kW and 239Nm more than the similarly specified but less advanced unit of the G500 4×4². It runs the same tune as the G63 4Matic and drives through a nine-speed automatic transmission in combination with a four-wheel drive system that features three separate differentials, each of which can be automatically locked via prominently placed switches within the centre console. A Dynamic Select system provides five on-road driving modes (Individual, Comfort, Sport, Sport+ and Slippery) as well as three off-road modes (Trail, Rock and Sand).
So is the G63 4×4² the ultimate G-Wagen?
The idea of driving something as big and powerful as the G63 4×4² might seem daunting to some but it is surprisingly straightforward when it has sufficient room to move. It is clearly not as easy as the lower-riding G63 4Matic in tight spaces and when you're mixing it with other cars out on the open road. Once you've become accustomed to its sheer size, though, you can confidently tick off the miles with a genuine feeling of ease.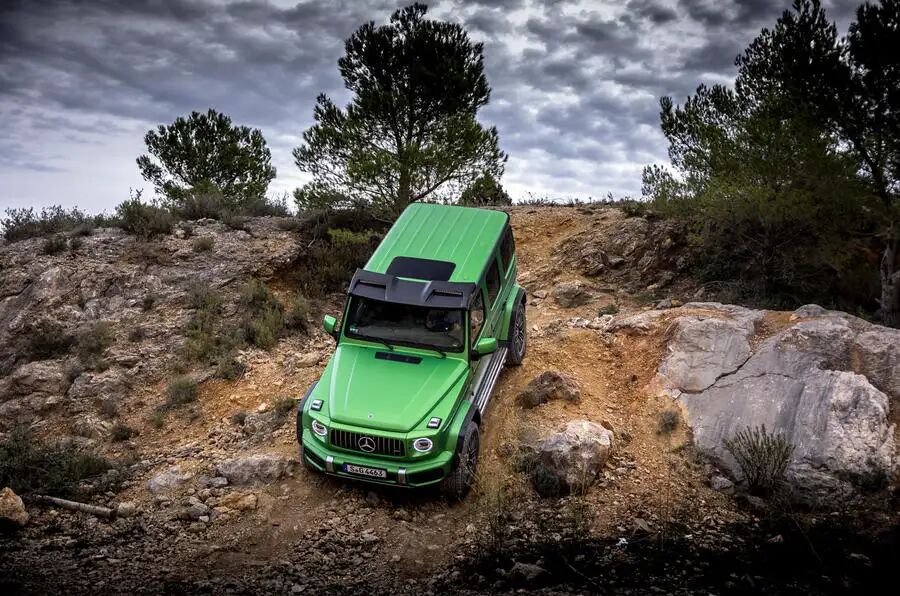 It is getting inside that requires the biggest effort. The sheer height requires you to first step up onto the running board, a task made easier by grabbing the steering wheel from ground level and heaving yourself upwards, before stepping up again over the sill into the cabin, where you find the firmly cushioned squab and supportive backrest of the AMG sport seats fitted up front.
It is only when you're seated that the true effect of the added ride height really hits home. Even with the driver's seat adjusted to its lowest position, you sit a long way from the ground. Still, the visibility, at least forwards over the flat bonnet and to the sides, is excellent. The packaging of the spare wheel on a structure attached to the tailgate impedes rear vision, though, necessitating a digital rear-view mirror.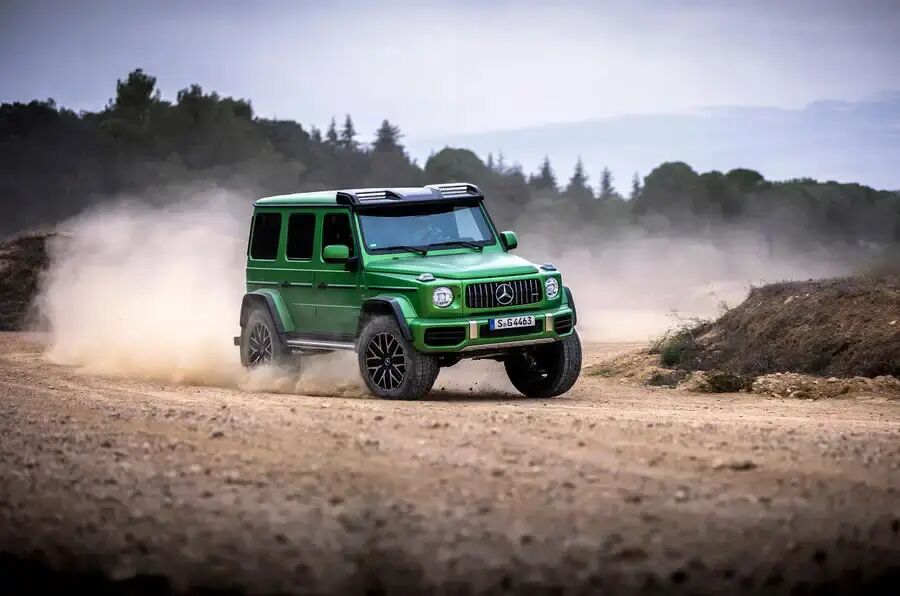 The interior is the same as that of its standard sibling, with noticeably greater width (so more front and rear elbow room) than that of the old G500 4×4². With an upright windscreen and shallow dashboard, it is curiously old-school in layout. However, there are modern touches such as a digital instrument and touchscreen infotainment panel with model-specific graphics and a flat-bottomed multi-function steering wheel. Together with tactile controls and a whole palette of expensive-looking materials and lavish trims, they help to lend the G63 4×4² an upmarket air – as one might expect in a car costing almost half a million dollars (AUD$466,000 at current exchange rates).
There is seating for five and those in the rear have a rather flat 60:40-split folding bench. Mercedes-AMG puts the load capacity at 667 litres, extendable to 1246 litres. Loading is, however, complicated by a heavy side-hinged door and the sheer height of the loading lip.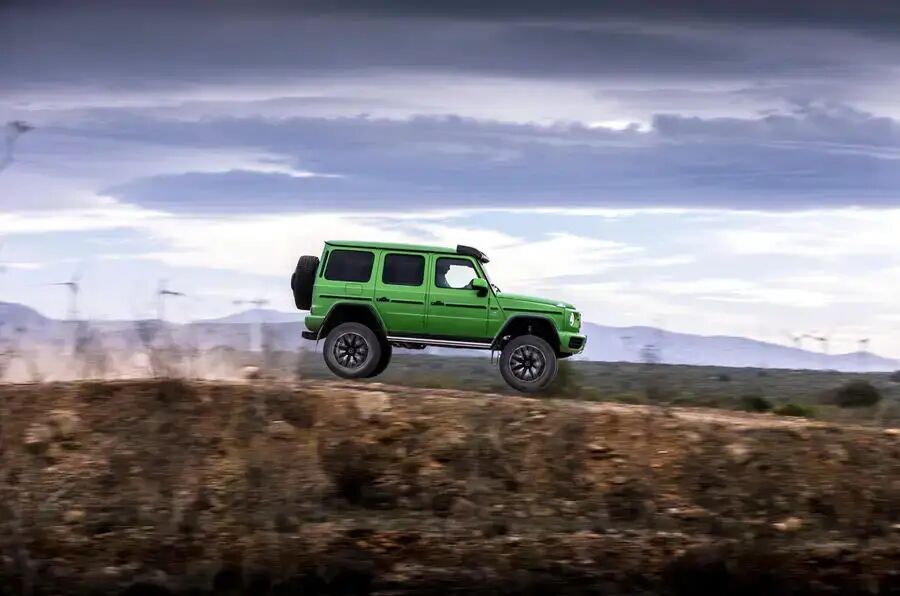 The AMG-developed V8 unleashes a deep blast of exhaust through the four side pipes positioned ahead of the rear wheel arches when fired. With all its torque arriving at 2500rpm, it endows the G63 4×4² with compellingly urgent properties in lower gears and great flexibility in higher ratios. The acceleration is little short of astonishing for an SUV weighing close to three tonnes on a loaded throttle. The really impressive thing is it achieves this not only on bitumen but also on loose gravel. The four-wheel drive system works with a distinct rear bias and traction is fantastically strong.
Mercedes-AMG quotes a 0-100km/h time of 5.0sec and governed 211km/h top speed, which is just 0.8sec and 11km/h slower than the 370kg-lighter G63 4Matic. The G500 4×4², by comparison, achieves respective figures of 6.5sec and the same 211km/h.
The G63 4×4² is noticeably more responsive than its high-riding predecessor at all times. This can be attributed in part to the adoption of a new electromechanical steering system in place of the archaic recirculating ball set-up used by the G500 4×4². With a more direct ratio, it brings added enthusiasm on turn-in. The large wheels and tyres bring substantial unsprung mass, so it is never going to be whip-crack sharp. But the new Mercedes-AMG model tucks in to corners with real zeal for something so big.
Added precision allows you to place the vehicle with a good deal of confidence. It is not a car you consciously steer with your fingertips. Muscle is required to guide it along winding roads.
Perched at a height of almost two metres, you're always aware of the vast distance to the ground. However, body roll is exceptionally well controlled. The speed you're able to carry into a series of fast, open bends is startling, given the ultra-high centre of gravity, and the front-end grip is terrifically strong. The electronic stability control system is also quick to operate when adhesion is breached, but it does so in a way that rarely impedes your progress.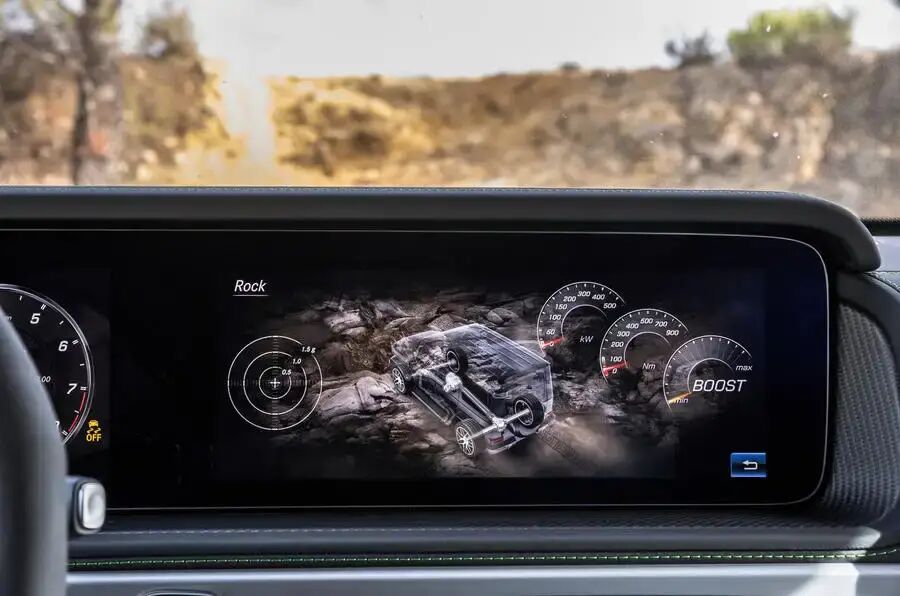 Deep ruts and nasty bumps are absorbed with real authority. The long-travel suspension and generous aspect ratio of the tyres soak up all but the worst impacts with little trouble.
Off road, there's virtually nothing that will stop it. Equipped with low-range gearing engaged by a button on the centre console and those three differential locks, the G63 4×4² will take you almost anywhere. With all that ground clearance and outstanding traction, it ascends steep rocky grades with great authority.
Its width denies it the ease of manoeuvrability of the G63 4Matic on narrow trails. But with a turning circle that is actually 0.1m less than its standard sibling's, at 13.4m, the latest and most extreme take on the existing G-class rarely if ever feels challenged or stretched for sheer ability away from the bitumen.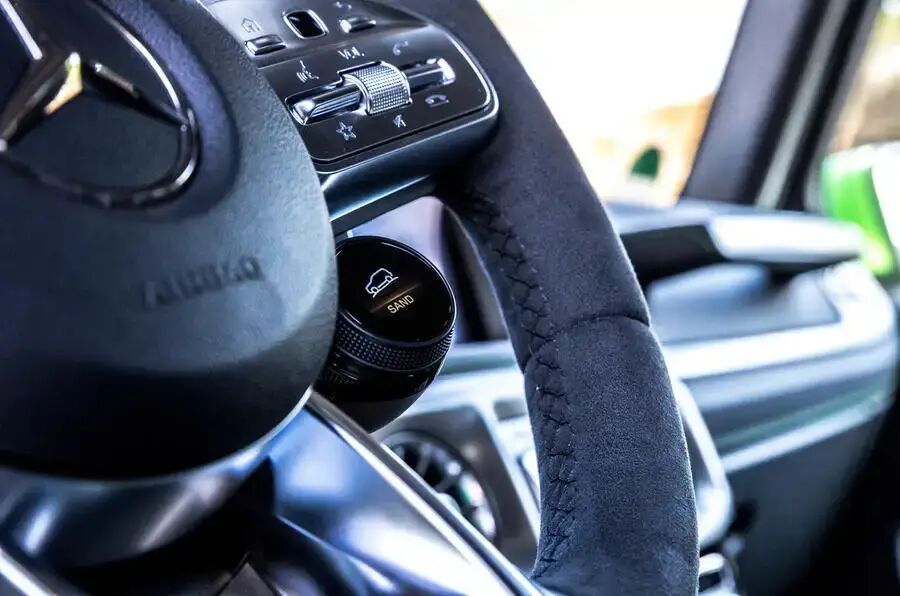 The G63 4×4² is not a car that can be assessed by traditional standards. A good deal of its appeal comes from its arresting appearance, truly luxurious interior, outstanding quality and inherent durability. But it is also hugely exciting to drive when given room to move in road use. In off-road driving, it arguably possesses greater ability and is more fun than the regular G63 4Matic, feeling invincible over rough terrain.
At the same time, it is much more sorted and engaging than the old G500 4×4².
More's the pity, then, that Mercedes-AMG plans to produce its new super-SUV in left-hand drive only, which rules out any chance for an Australian introduction. Plus, Schiller says orders for the new model are already filling fast.
"We're confident we'll match the production numbers of the G500 4×4²," he says.
Automotive Daily