We test out a production version of the new Nissan Qashqai e-Power hybrid SUV ahead of Australian deliveries.
Despite a huge focus on its all-new Ariya SUV and full electrification in the future, Nissan knows that not all of its customers are ready to make the jump to an EV just yet. That's why the brand has developed this intriguing and advanced e-Power powertrain for its bread and butter model in Australia, the Qashqai. It arrives locally towards the end of 2022, but we've had our first proper drive of a production model in Europe (media has previously driven a prototype version).
Think of e-Power as a kind of range-extending hybrid and you'll be somewhere close to the engineering concept that's seen this tech find its way into Nissan's most popular model. Adapted from a similar set-up in the Japanese market Note hatchback, much further development and tuning has since gone on at Nissan's technical centre.
As a result, e-Power uses a clever 1.5-litre three-cylinder turbocharged petrol engine with a variable compression ratio that can be altered to deliver maximum performance or maximum efficiency depending on driving conditions. However, the petrol engine never drives the wheels directly, instead charging a compact 2.1kWh lithium-ion battery or driving a generator that in turn feeds a front-mounted electric motor.
The result is a car that feels very much like an EV to drive in how it delivers its performance. With 140kW and 330Nm from that e-motor, the Qashqai will complete the 0-100km/h sprint in 7.9 seconds, but it's the e-Power's smoothness off the line, step-free acceleration from low speed and easily accessible performance that's most impressive.
Refinement is strong, and under normal conditions, it's not immediately apparent when the engine cuts in to generate electrical current. In fact, Nissan says the Qashqai e-Power spends 64 per cent of the WLTP test cycle with its engine off, resulting in claimed efficiency of up to 5.3L/100km and 119g/km of CO2 emissions.
Even when you ask for maximum power, the engine doesn't roar like some hybrid set-ups such as the latest Honda Civic hybrid, even if the clever 1.5 unit's sound signature is more audible. This is down to Nissan's "Linear Tune", with the brand's engineers calibrating the system in such a way that engine speed and what little noise you do hear rises with road speed as you accelerate, giving a greater connection to the powertrain and a more natural feeling.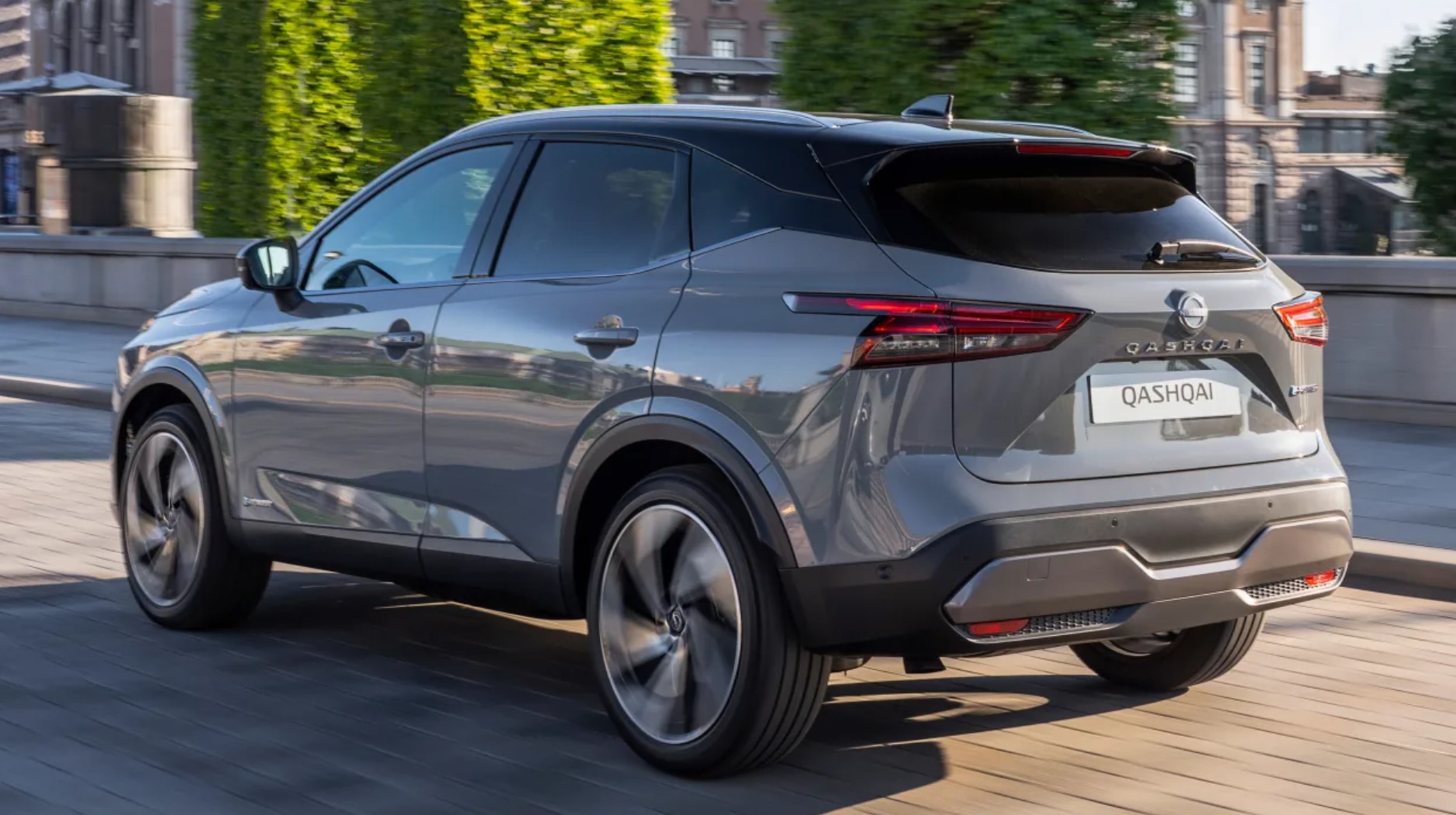 Coupled with Nissan's e-Pedal Step regenerative braking which lets you can modulate your speed by just easing on and off the throttle, it's a relaxing car to drive. Plus, with no transmission and therefore less vibration passed through to the cabin – and still offering more performance than any other Qashqai variant – refinement is good.
The steering is also a nice weight, with sufficient speed to its response and a chassis that can keep up delivering respectable driving dynamics; the Qashqai feels safe and composed rather than fun and engaging, but despite the e-Power set-up's extra weight it's agile enough for a car in this class.
It also rides relatively well. Our Swedish test route was on mostly smooth tarmac, but lumps and bumps in the centre of Stockholm proved that despite the new engine option's extra mass, the chassis still absorbs imperfections relatively well, delivering enough comfort.
This is where the third-generation Qashqai's lightweight aluminium panels come in, helping save a total of 60kg in the body compared with the previous model, offsetting the new powertrain's extra mass and helping maximise efficiency, too.
The brand calls the e-Power option a transition technology that's bridging the gap between petrol and pure-EV, with claims that this could be the last car buyers might go for with a combustion engine before turning towards a fully electric model. The play is that once customers sample the characteristics of an EV-like drive – instant torque, refinement, lower running costs – they'll be encouraged to make the switch.
The on-board tech could still be better compared with the best; a Kia Sportage offers sharper graphics, faster responses to inputs and a more intuitive interface. Neither is the boot the biggest, at 504 litres. But it's also far from the smallest in this sector, and at least clever practicality points such as the 85-degree-wide opening rear doors remain, meaning it should be easy to strap small children into their seats.
The Qashqai gets plenty of kit too, underscoring Nissan's transition towards a brand known for value rather than volume. While Australian specifcations for the Qashqai e-Power are yet to be confirmed, some of the available equipment includes 19-inch diamond-cut alloy wheels, a pair of 12.3-inch displays with Apple CarPlay and Android Auto, Nissan's Around View monitor, lots of safety kit, and all-round parking sensors.
Overall, Nissan's e-Power tech is a very well-implented hybrid drivetrain and good to drive, and while the car still falls short in a couple of areas, the extra refinement, efficiency and performance e-Power brings a strong package.
| | |
| --- | --- |
| Model: | Nissan Qashqai e-Power Hybrid |
| Price: | TBC |
| Engine: | 1.5-litre 3cyl turbo petrol hybrid |
| Power/torque: | 140kW/330Nm |
| Transmission: | Single-speed automatic, front-wheel drive |
| 0-100km/h: | 7.9 seconds |
| Top speed: | 168km/h |
| On sale: | Late-2022 |
Sean Carson