The Bugatti Chiron has spawned countless special editions since its launch in 2016, ranging from the retro-rehash Centodieci to the Pur Sport and record-breaking Super Sport 300+. Now Bugatti has launched the extreme Bolide concept, wrapping a bare-bones, lightweight body around its mighty W16 powertrain.
Previously spied testing at Circuit Paul Ricard in France, the new model bears little resemblance to its road-going siblings, with a set of proportions that differ markedly from the Chiron. Bugatti's trademark horseshoe grille does make an appearance, but fronts an entirely new body which has been designed with weight savings, aerodynamics and cooling in mind. Sitting just 995mm off the ground, the marque says its design is reminiscent of the famous Bell X-1 aircraft piloted by Captain Charles 'Chuck' Yeager, the first person to break the sound barrier.
At the rear, a complex, stacked rear wing setup can be found, with a central fin mounted on the engine cover likely there to increase stability. An aggressive new diffuser, rain light and mammoth 400-section Michelin slicks are also clear to see; for reference, the Chiron is fitted with 355-section rear tyres.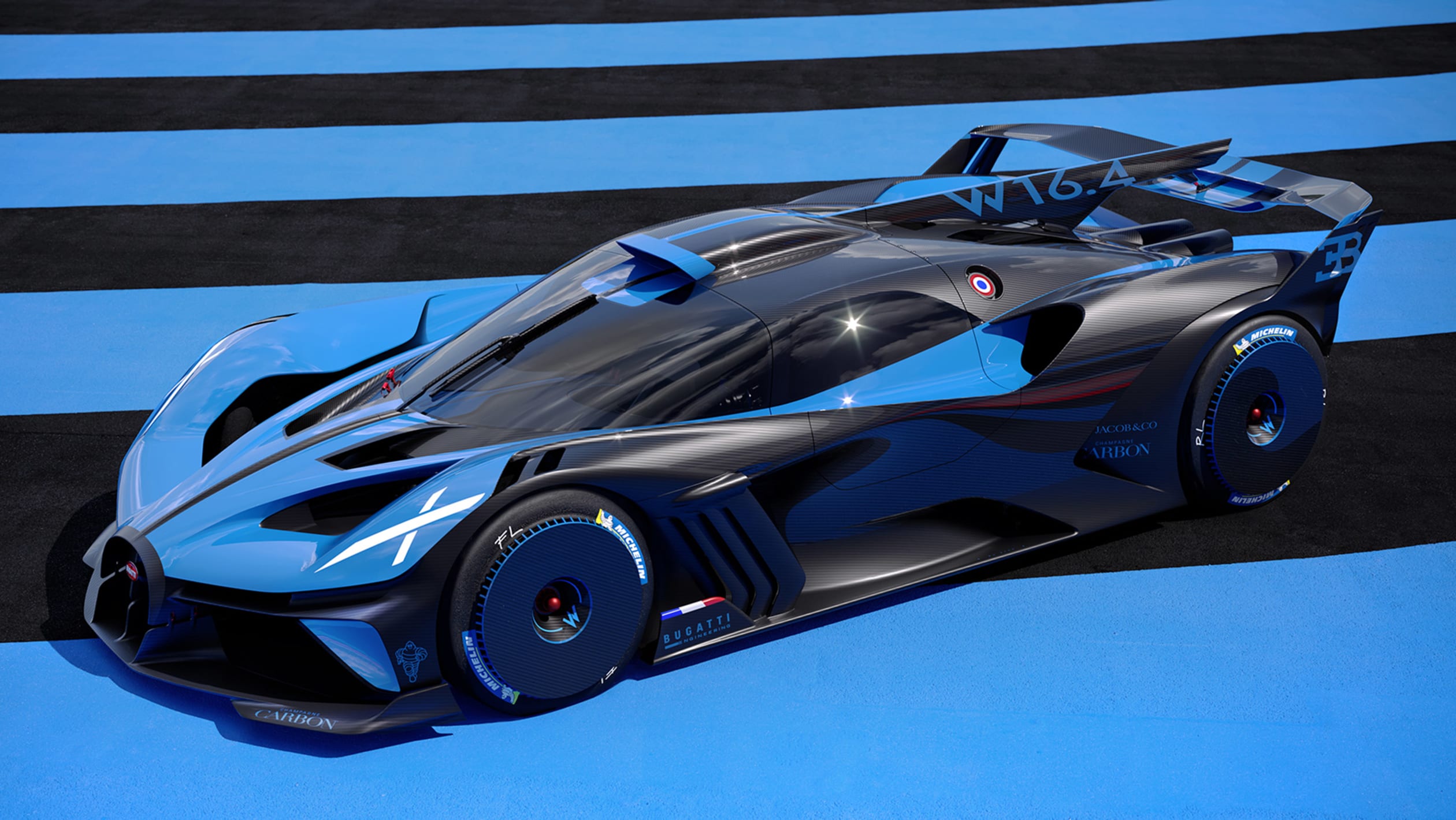 At its core is Bugatti's 8-litre quad-turbocharged W16, now sending 1360kW and 1850Nm to those Michelin slicks for a quoted 2.17sec 0-100km/h time and top speed of over 310mph. The Bolide is also said to go from 0-400km/h and back to standstill in just 24.64sec, 6.84sec faster than the current record holder, Koenigsegg's Regera.
To ensure the unit can withstand the toils of a track session, Bugatti has optimised its cooling and oil systems whilst also upgrading the four turbocharged to produce more boost at higher engine speeds. A total of three air-cooled charge coolers are employed to help keep the engine, transmission and differential at within suitable operating temperatures, and there's also a water pre-cooling system there to give the system a helping hand too.
The Bolide's real party piece is its 1250kg kerbweight, astonishing considering the immense near-500kg weight of the powertrain. To streamline the weight as much as possible, Bugatti switched from water-to-air cooling to air-to-air, utilised 3D-printed titanium components throughout the engine's construction, included a wound carbonfibre driveshaft, forged magnesium wheels and a completely stripped cabin. Combine this weight figure with its 1360kW output, and you get an unrivalled 1098kW/tonne power-to-weight ratio, or the 0.67kg per metric horsepower teased in Bugatti's initial communication.
Suspension is of a pushrod design with the horizontal dampers visible through apertures in the bonnet. Extreme aerodynamics were also high on the agenda, with a peak downforce rating at 320km/h reaching 1800kg on the rear axle and 800kg at the front. A 'morphable outer skin' is also used for the roof-mounted intake, altering the surface texture at speed to reduce drag by 10%. Bugatti claims that this all allows the Bolide to achieve an incredible lateral acceleration of 2.8G.
Bugatti hasn't decided if it will put the model into limited production, but with the brand claiming it will lap the Nürburgring Nordschleife in just 5:23.1 (just a few seconds off the record-holding Porsche 919 Hybrid Evo), it'll be fascinating to see if it can pull it off.
Sam Jenkins