Another entertaining Aston Martin arrives, then.
It was always the plan that this Vantage Roadster, a drop-roof version of Aston Martin's most sporting car, would turn up at the same time as the DBX, its least sporting car. A spot of yin and yang, perhaps. Yes, see the SUV, but also don't forget we still make sports cars. As if we would. The Vantage Roadster is all you'd expect a drop-topped Vantage to be, plus a little bit more, which we'll come back to.
Among the expected things are an all-electric soft hood that adds some 60kg to the Vantage's kerb weight but otherwise you get largely the same platform, mechanicals and interior that do a fine job in the coupe, which we already like a great deal.
There is the same 375kW 4.0-litre V8, sourced from Mercedes-AMG but with Aston tuning, driving the rear wheels through an eight-speed transaxle automatic gearbox and electronically controlled differential (you can spec a seven-speed manual, too). In the coupé, those give the aluminium structure a 49:51 weight distribution front to back, while the roadster shifts another 1% rearwards.
One suspects of more significance is that the centre of mass is higher, too. So in come retuned damper and spring rates, giving increased rear roll stiffness. There are also new rear subframe mounts, and the steering has been remapped mildly.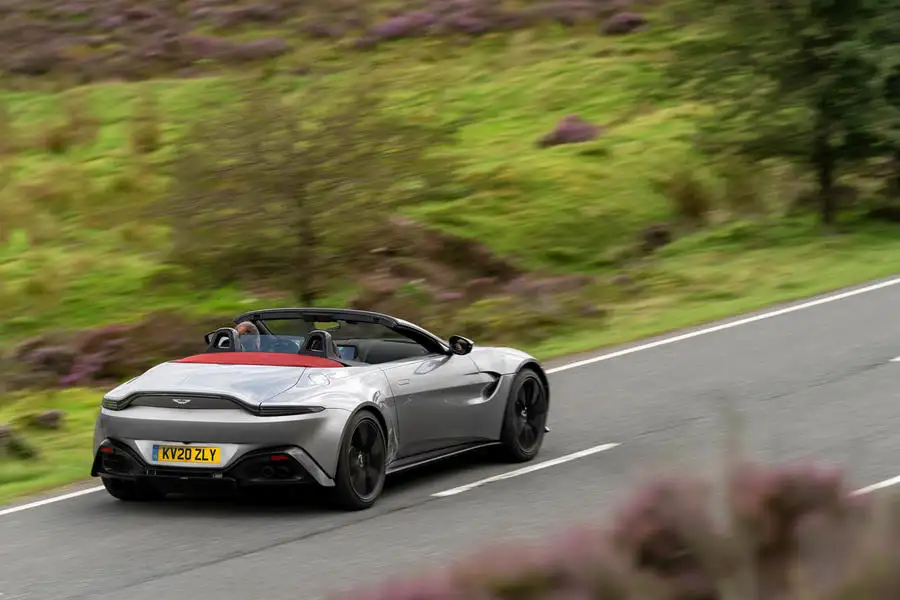 If the aim was to make the roadster drive much like the coupé, I'd say Aston has managed it, albeit with a just-noticeable drop in body rigidity. The company says the Vantage is its most aggressive, predator-like model but these things are relative when you're in the ballpark of something as brutally accelerative as a Porsche 911 Turbo, or as wild as Jaguar's fastest F-Type, or perhaps even harbouring thoughts of a mid-engined McLaren Sports Series model.
In that company, the Aston doesn't seem so aggressive. (Aston's forthcoming mid-engined supercar should remedy that.) The interior gets a lot of lovely leather and the odd less lovely plastic and feels as much like a grand tourer as a sports car. I don't know why more car makers don't do what Aston does with the gear buttons: they're mounted high on the dashboard, freeing up space here for a last-gen Mercedes infotainment wheel on the transmission tunnel. From your viewpoint, the bonnet dips away from you, there's a high window line and the Aston sometimes feels a bigger car than it is.
Its dynamics, though, remain as charming and well sorted as in the coupé. Because the brawny engine is out the front, developing its 685kW from just 2000rpm, there's a GT-ish demeanour to the way it feels. You're not at the pointy end of something, but pleasingly in the middle.
The ride is composed – and the three ride modes are sufficiently supple that even the hardest one is acceptable on a smooth surface. It steers with a natural feel and weight, and measured speed too, at 2.4 turns between locks. And when you get into the realm of handling, it does the lovely thing that Astons do rather well: lets you turn in to a corner with reassuring responses and drive out with the broad powerband troubling the rear tyres as little or much as you choose.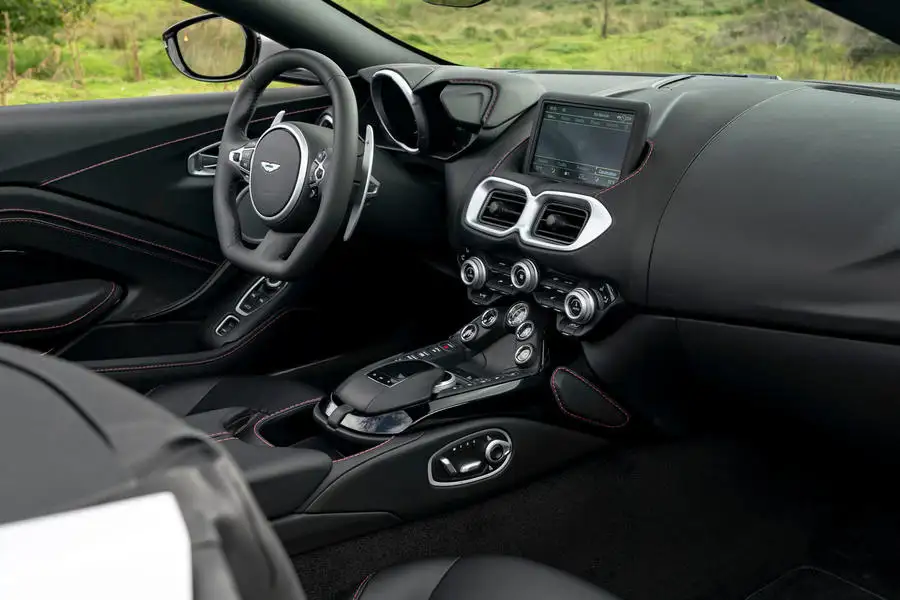 Everything as noted, then, perhaps bar three things. One, the hood cycle – open-close or vice versa – takes less than seven seconds (up to 50km/h), which is remarkable. Two, you can consider the claimed 1628kg 'dry, lightest options' weight to be more like 1780kg full of fuel, given we weighed a coupé at 1720kg. And lastly, there's a new grille.
What Aston calls its 'vane' grille, it is reminiscent of its classic grilles of old. It requires a new bumper, too, so it's quite a big investment. I think I'd just become used to the initial track-inspired rowdy one, but if you like your Astons to be more traditional, well, the classic one suits the car's predictable demeanour well enough.
Aston Martin Vantage Roadster
Price: $252,744 plus on roads Engine: V8, 3982cc, twin-turbocharged, petrol Transmission: 8-speed automatic Power: 375kW at 6000rpm Torque: 685Nm at 2000-5000rpm Driveline layout: front-engine, rear-wheel drive 0-100km/h: 3.8sec Top speed: 305km/h Kerb weight: 1628kg Fuel economy 24.4mpg CO2: 262g/km Rivals: Jaguar F-Type R Convertible, Porsche 911 Turbo Cabriolet
Matt Prior