The privileged few who live cosseted in their own sumptuous little world? That's not fair.
More accurately, those who can afford to buy and race Ferraris have their own universe in which to play and indulge, judging by the astonishing scale of the company's end of season Finali Mondiali extravaganza, held last month. A voyeuristic dip into the World Finals, run this year at Ferrari-owned Mugello in the tranquil hills of Tuscany, revealed an insular motorsport dimension that tends to sweep straight past our general consciousness – because it doesn't exist for our benefit. It's a creation for those who continue to feed and breathe life into the most famous car maker in existence: the precious Ferrari customers without whom the prancing horse would have been put out to grass years ago.
To be fair, it's only the ongoing effects of Covid-19 that thwarted Ferrari from opening the green banks and grandstands of Mugello to those who dwell in the real world: the fans who, even all these years on, are still swept up by the old mystique. Finali Mondiali is usually mobbed. But this time, attendance was limited to Ferrari employees and those deep-of-pocket customers, plus members of the Scuderia Ferrari Club, which is open to those who don't own one of the cars. Still, there's enough of a throng to ensure the place is dripping in a crisp atmosphere of anticipation, excitement and awe – because that's what Ferrari creates when it gathers its greatest hits en masse. No other car maker comes close to successfully feeding its own legend, and while it's easy to dismiss a commercial cynicism that glares through the scarlet haze, somehow you can't help finding yourself caught up in the moment – simply because, well, it's Ferrari.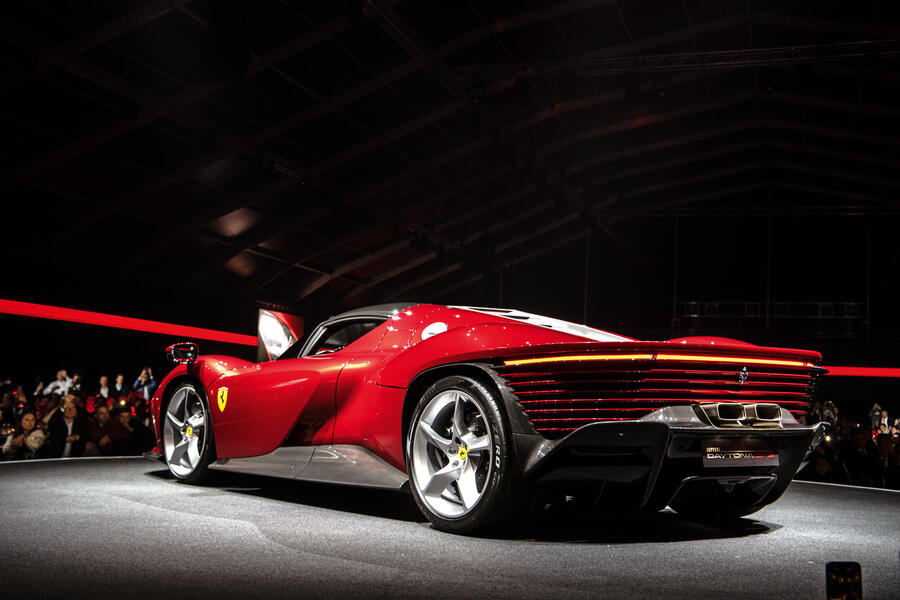 I arrive by bus the day after the latest Icona model, the AUD$3.14 million Daytona SP3, has been unveiled to the media in Florence and here at Mugello to those who might buy one. Suitably, it's a car that's preaching to the converted, limited to a run of just 599, most of which will head into the collections of those already fully immersed in the Ferrari myth. Giant red structures give the paddock a theme-park air for the rich and gauche as we head to the main grandstand and its views of both the start/finish and back section of Mugello's sweeping contours. First, there's the business of Ferrari Challenge one-make racing to conclude.
Unless you're invested, either literally or figuratively as a watching family member, it's hard to care too much about the Ferrari Challenge. But its scale is still impressive. Regional series run in mainland Europe, North America, the Asia-Pacific and the UK, and here at Finali Mondiali, they all come together. There was even a bit of history made on the opening day when Dane Michelle Gatting became the first woman to win a Ferrari series, the Pirelli Trofeo for 488 Challenge cars. On the Saturday, the main European series concluded and now a pair of bumper races finish the season, the winners of which are ostentatiously titled as FIA-endorsed world champions. For the record, Finland's Luka Nurmi becomes the youngest Ferrari 'world champion' in the Trofeo Pirelli. He's just 17, which at least breaks the perception that such racing is just for paunchy, 'mature' businessmen – while Ernst Kirchmayr completes a double in the Coppa Shell series, adding the world title to the European crown he had clinched the day before. The racing is spirited but peppered by too many safety-car periods as drivers, perhaps out of their depth, keep burying themselves in Mugello's old-school gravel traps.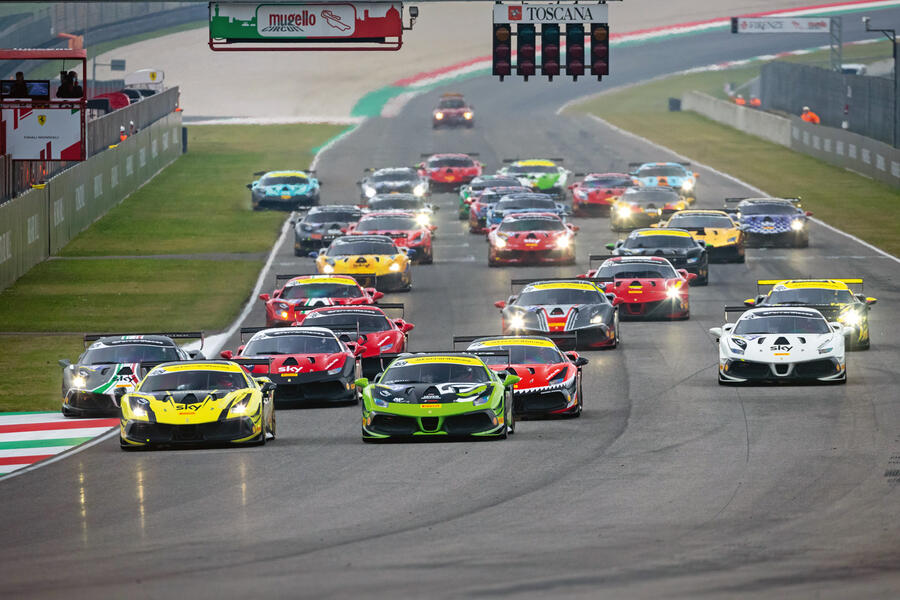 Of far more interest is the Ferrari Show that follows the racing, capping what has been a successful year for the company's wares on the race track. You scoff… Yes, on a day when Carlos Sainz Jr and Charles Leclerc will toil to a forgettable seveneight finish in the inaugural Qatar Grand Prix, it's impossible to ignore Ferrari's current lethargy in Formula 1 – and for most of us, that counts far beyond anything else. It has been a strange season for the Scuderia: ahead of the final two races, it has risen back to third in the constructors' standings this year, comfortably outscoring McLaren. But there hasn't been a sniff of a win, the gap to Mercedes-AMG and Red Bull-Honda is a chasm and Leclerc in particular continues to be wasted in a car operating far below his significant potential.
But while there's nothing to celebrate in F1, Ferrari can savour a monumentally successful campaign in GT endurance and sports car racing. The factory AF Corse team swept to a Le Mans and World Endurance Championship double-double, winning both the GTE Pro and Am classes at the 24 Hours and in the series. There was further title success for the Iron Lynx team's drivers in the GT World Challenge Europe Endurance Cup for GT3 cars, champions Alessandro Pier Guidi, Nicklas Nielsen and Côme Ledogar also claiming Ferrari's first win at the Spa 24 Hours since 2004; and young Kiwi Liam Lawson was a standout star of the DTM's first season run to GT3 regulations in an AF Corse-run 488 in Red Bull colours – even if he was muscled out of title contention at the final round in controversial fashion. Ahead of its return to the top class of endurance racing with a Le Mans Hypercar in 2023, Maranello is firmly back in love with the long-form codes of motorsport.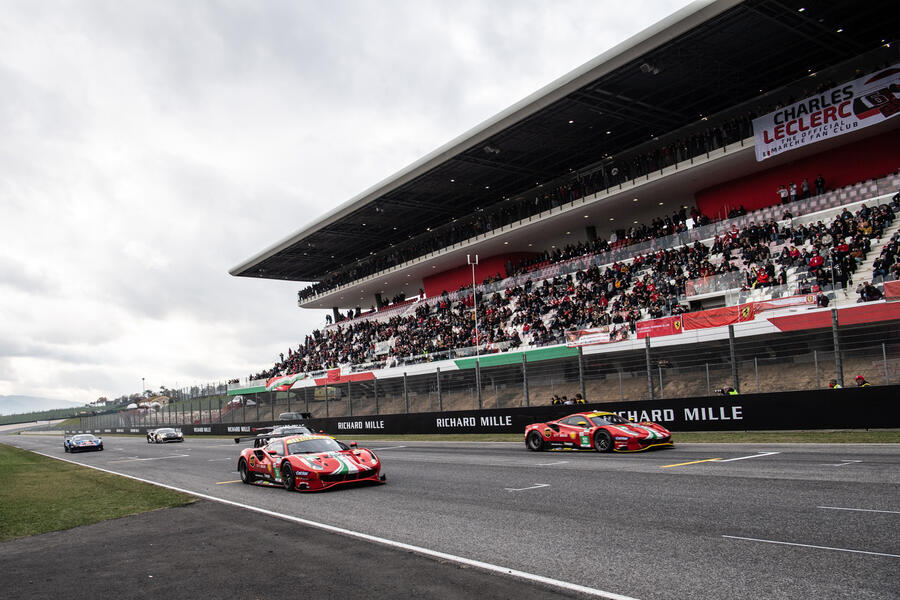 Britain's James Calado has raced for AF Corse since 2014, and at Mugello he enjoys soaking up the deserved plaudits for his second Le Mans class win and WEC title, following a stressful and contentious climax to the season. The Bahrain double-header involved complicated and opaque Balance of Performance rows with Porsche and the FIA, then a title-deciding collision between his team-mate Pier Guidi and the 911 RSR of Michael Christensen. AF Corse's title wasn't confirmed until days after the final round, so Mugello is Calado's first opportunity to celebrate with his team – and he looks a tad green around the gills when I catch up with him a day after Ferrari's awards evening held in a (posh) giant hangar specially erected in the paddock.
"This is a huge event, and it always gives you a special feeling when you do the show in front of the grandstands," says Calado. "The people here love it, and coming here as world champions and Le Mans winners makes it extra special. It has been seven years for me at Ferrari, and it's a second home for me. I know all the guys, we fit in well together and the 488 GTE Evo is always quick. We've won a lot of races, so it's great to be a part of Ferrari."
The show begins with an impressive, if left-field, medieval pageant featuring the local flagbearers of Castel San Barnaba, before a trio of modern F1 cars are let loose around Mugello. This begins the best bit of Finali Mondiali, as a 2017 SF70H and a pair of 2009 F60s are let loose, driven by three-time grand prix winner and latter-day AF Corse ace Giancarlo Fisichella, Andrea Bertolini and Olivier Beretta. The turbo-hybrid F1 car that Fisichella drives is comprehensively outsung by the squalling V8-powered F60s, before the new Daytona SP3 leads a glorious 1960s 330 P4 and 412P – two of the cars that inspired its form. Comparisons are unfair but unavoidable when they're on track together.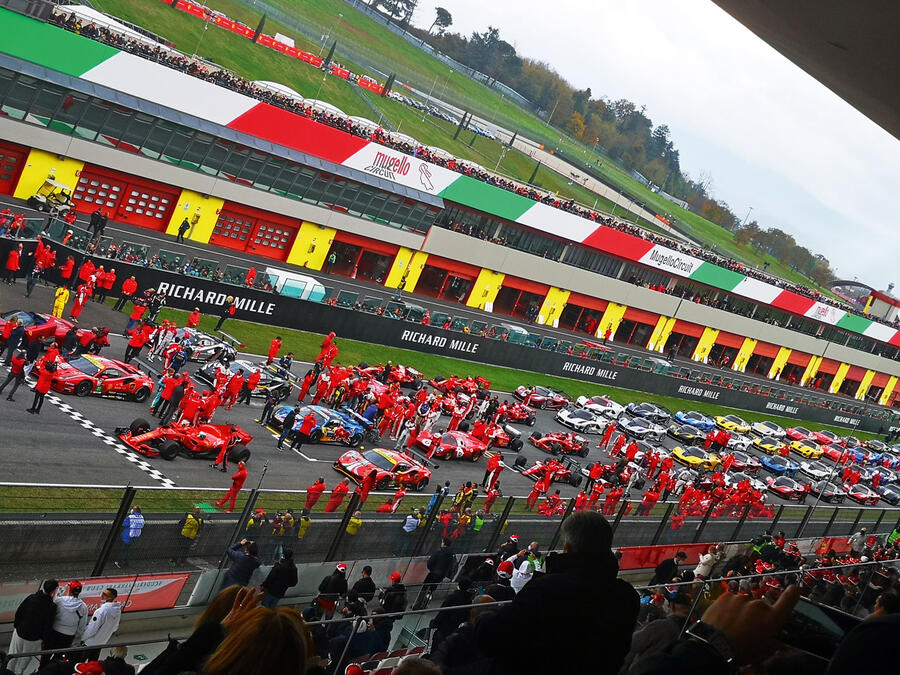 Once the GT title winners complete their demonstration laps, a complete armada of F1 cars, GTs, FXX track cars and Challenge racers are meticulously arranged on a grid that stretches far back along Mugello's straight – and once the photos are taken, the track is left to the customers to indulge themselves for the rest of the afternoon via the FXX and Corsa Clienti programmes. We retire to the paddock to watch the Qatar GP as a cacophony of Ferrari horses let rip around the track before the late November light begins to fade.
No other car maker puts on a show like this, because no other car maker has such a heritage and back catalogue to draw on. Yes, it's easy to be cynical and dismiss such days as an indulgent money-making exercise, a garish beacon for the pampered, privileged few. But isn't selling cars and making money a fair target for an automotive business? We all know Ferrari people live in a different universe, but should we begrudge them? (Don't answer that.) But beyond the glitz and the pomp, what Ferrari always comes back to is the cars, and whether you're drawn to the old or new, the stodgy real world is a much brighter place for their existence. Next October, Finali Mondiali will be held at wonderful Imola, all being well with the public welcomed back. Autumnal road trip? Now there's an idea.
These are a few of our favourite things
The day after the awards, Ferrari's giant hangar was free to house the greatest collection of Formula 1 Ferraris that we've ever laid eyes on. It was simply jaw-dropping to see so many under one roof. Picking our favourites wasn't the work of a moment, so we took our time…
1974 312 B3: Mauro Forghieri masterpiece that reignited Ferrari as an F1 force. Niki Lauda's first F1 winner. Clay Regazzoni finished a close second in the points to McLaren's Emerson Fittipaldi.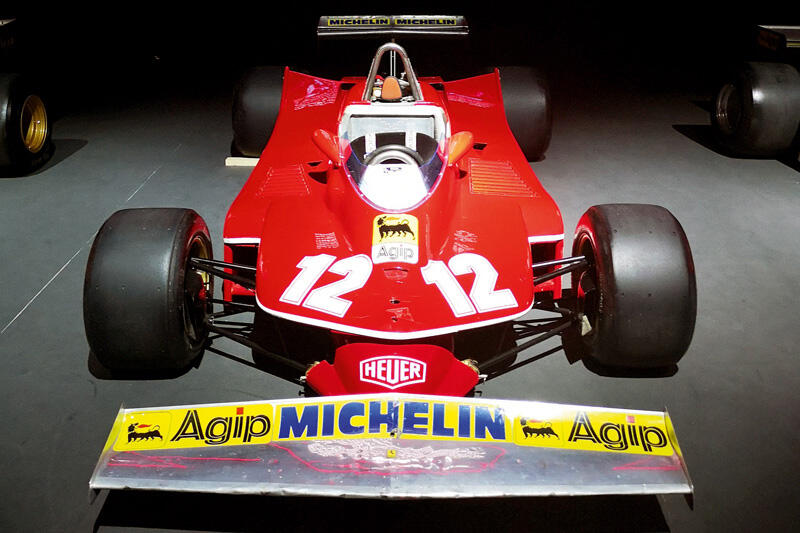 1979 312 T4:
T for transverse gearbox. Penultimate model of Forghieri's epochal series carried Jody Scheckter to title glory, but Gilles Villeneuve won our hearts when racing René Arnoux at Dijon.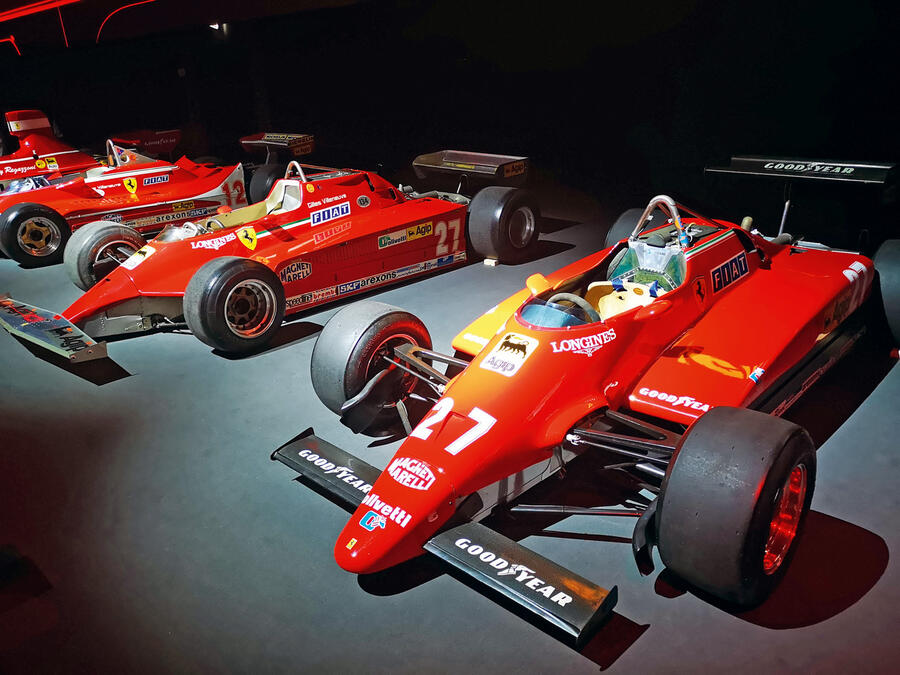 1982 126 C2: Bittersweet. Villeneuve died in one and Didier Pironi's leg-smashing crash in another at Hockenheim ended his career, then Patrick Tambay kept their flame alive.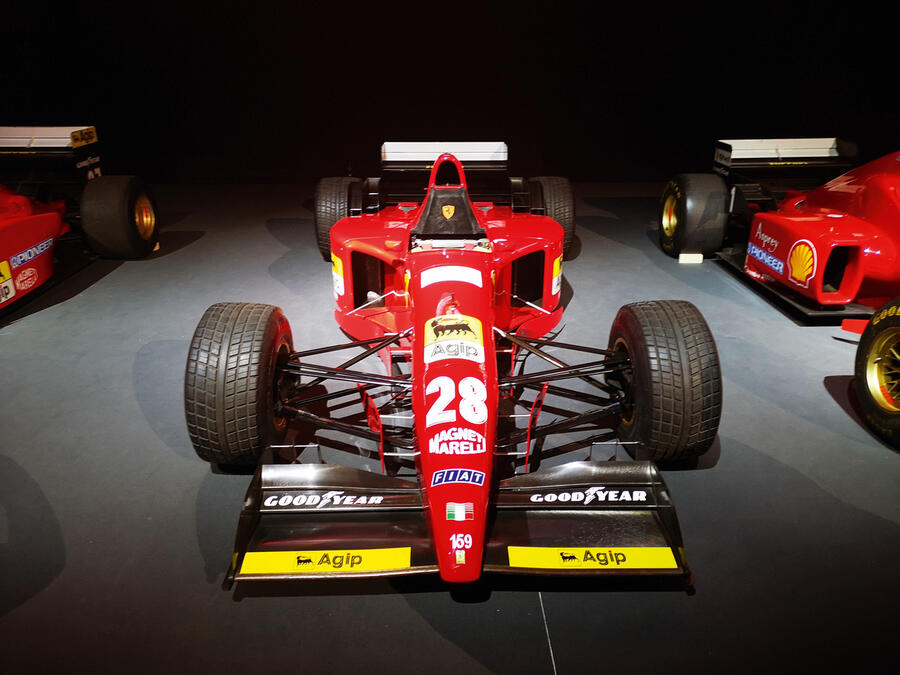 1995 412 T2: Pretty John Barnard-designed car and Ferrari's last F1 car powered by a V12. This is Gerhard Berger's. Jean Alesi won his only grand prix in Canada, the last V12-powered F1 win.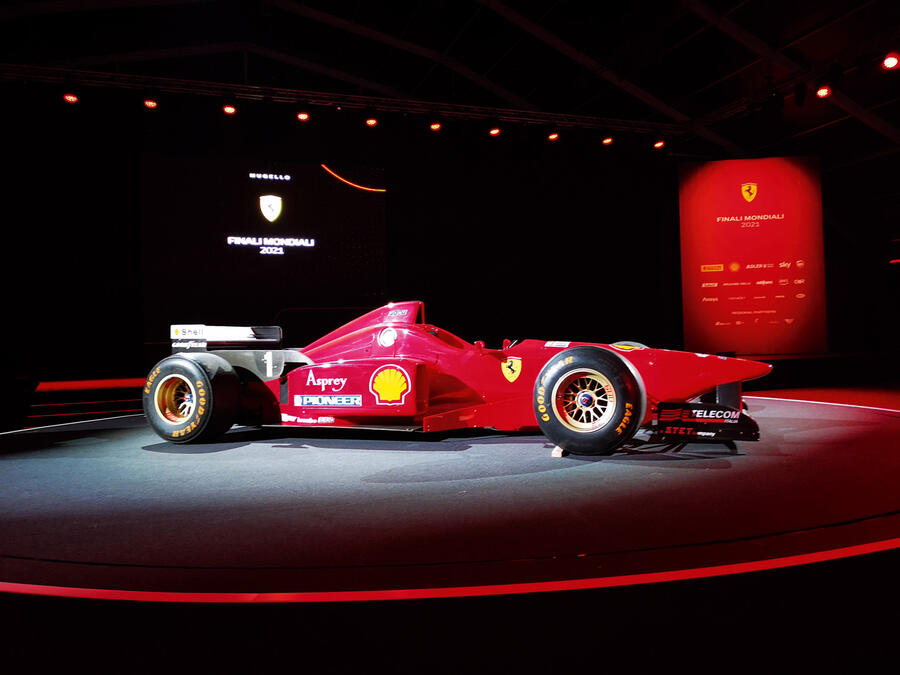 1996 F310: Barnard's ugly duckling, but significant as Michael Schumacher's first Ferrari. Driven to the German's brilliant maiden Ferrari win in the rain in Spain; also won at SpaFrancorchamps and Monza.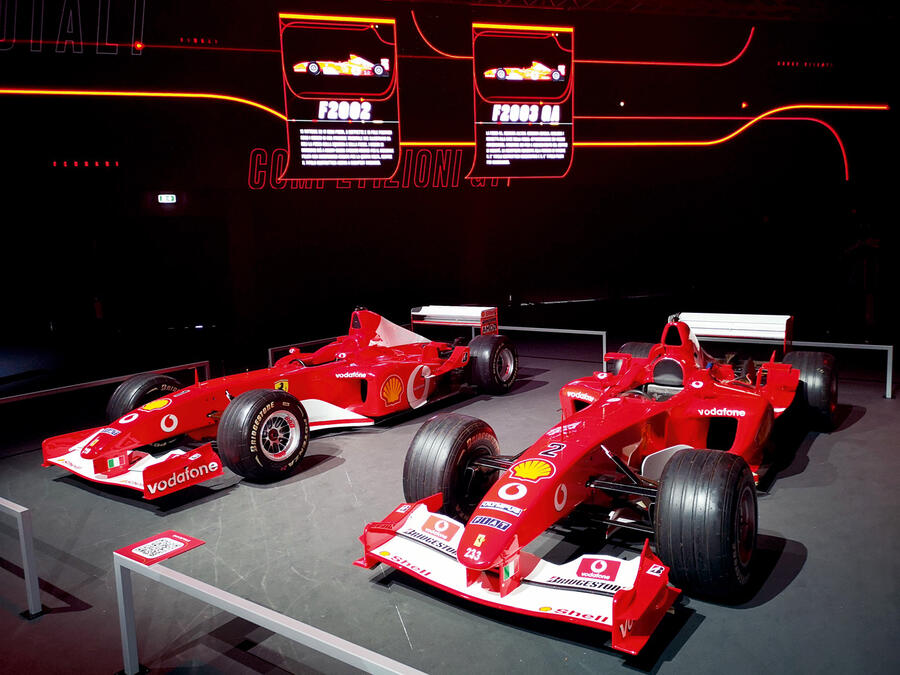 2001 F2002 and 2003 F2003 GA: Two Rory Byrne masterpieces in which Schumacher claimed his third and fourth Ferrari titles. The F2002 won 15 of 17 races – 11 to Schumacher and four to Rubens Barrichello.
Damien Smith