Chiron Super Sport is a truly epic finale for pure-ICE Bugatti hypercars. We contemplate what will come next.
You may know Andy Wallace for a few different things.
If not for recently taking a Bugatti Chiron Super Sport to 483km/h, it will be for taking a McLaren F1 to 386km/h, winning at Le Mans on his first try or winning the Daytona 24 Hours three times. Bugatti's 'pilote officiel' has enjoyed – and is still enjoying – quite the career.
These days, many weeks it involves climbing into his own Volkswagen ID 3 in Buckinghamshire and driving to the Bugatti factory in Molsheim, a town in Alsace, north-eastern France, taking less than an hour to charge. So perhaps it feels like he hasn't entirely stopped endurance racing, where the less time you spend stationary the better.
The Molsheim gaff is cool. It's the original home of the Bugatti factory and, despite Croatian EV specialist Rimac taking some kind of control of the company alongside Porsche (of the Volkswagen Group), it looks like it will stay that way.
When the Volkswagen Group revived Bugatti in 1998, group bosses thought that customers would probably go to Wolfsburg – group headquarters – to take delivery of or specify their cars, have them serviced and so on. Not so. The leafy Molsheim campus, with a small museum and reception rooms in a few stable blocks and an orangery, roaming deer and its original château alongside a contemporary assembly plant and servicing operation, has become the draw for owners of the multi-million-dollar hypercars constructed on site.
One of them was then driven up to 483km/h by Wallace at the Volkswagen Group's Ehra-Lessien test track in Germany. So how was that, Andy?
"Well," he says, with a pause and an infectious laugh. "You could lie and say 'it's fantastic; you should try it'. But in all honesty, it really does get your attention, because we're talking about 140 metres per second, which is a kilometre in seven seconds and a mile in around 11 seconds, so it's all happening pretty quickly
"Here's one of the things I had never thought about. As kids, we played with spinning tops: you spin it up, then it's got a mind of its own and it's off all over the place. Well, that happens to a car at 480km/h. The wheels are turning so fast that they become large gyroscopes, and the force is so great that it overcomes the suspension geometry. So effectively it's as if you have no caster angle [the Chiron has -2.5deg, helping stability normally]. So once the car starts to go left and you want to correct it, you put a small amount of corrective lock and it brings it back, but it just keeps going, so there's a constant correction of your correction. Whereas at 450km/h, it's almost a walk in the park."
One suspects that it isn't really, but given that Wallace's duties include sitting beside customers and journalists while they drive this 1177kW car, maybe it's less stressful doing 480km/h himself.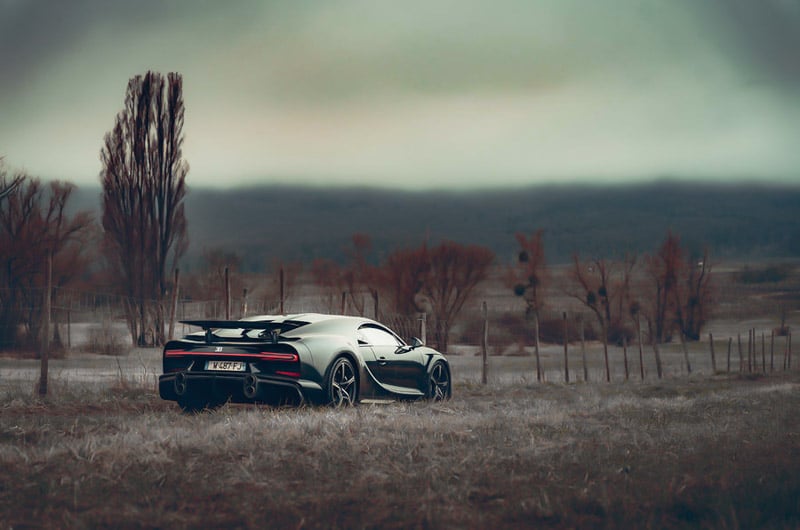 He sits beside me while I drive around the greater Molsheim area. Bugattis may be made here, but they're still a rare enough sight to turn heads and drop jaws.
The first Chiron Super Sports are about to reach their buyers, which means Chiron production is nearing its end. All 500 examples are sold (and there's a waiting list, just in case any buyers find their assets suddenly seized, perhaps), closing out the purely internally combusting era of Bugatti.
Rimac is a world leader in high-performance electrification and Porsche knows a thing or two about it too. I'm here ostensibly to drive the Chiron Super Sport and revel in the astonishing numbers (it eats 1000 litres of air a second at maximum revs and throttle), but can we talk electrification too?
One thing that strikes me about this Chiron is that, even though two of its four turbochargers are throttled off at low revs to improve response, the W16 engine still makes nearly 150kW per litre, so some lag is inevitable. It whooshes and builds in the way that an EV, well, doesn't.
"The acceleration [of EVs] is immense, and they can beat all the numbers on the zero-to-whatever," Wallace points out, but they struggle to reach or maintain a really high top speed.
"In order to reach 300mph (483km/h) in any car, basically you're wide open over quite some seconds," he explains. "During that event in a combustion car, you will be putting a lot of energy into the water and oil, but the cooling systems are such that you can stabilise that temperature.
"When you're drawing energy from the battery [in an EV] and then the inverter is converting that into the power that the motors need, the inverter is getting hot. You can draw the energy out over a certain period of time but then, in order to save itself [from the heat], you get a power reduction. So you don't have it for long enough to reach 300mph (483km/h) – although I'm sure in the end it will happen."
Does a future Bugatti with a plug-in-hybridised version of the W16 engine have to have a top speed as high – or higher – than the Chiron's?
"Throughout history, that has been the case," answers Wallace. "I think we're a bit too early in the programme to know the full answer to that; but every time a new car comes out, a new Bugatti comes out, it's a big jump over the one before, and I've no reason to think that it won't be again."
And what with his ID 3 bought through choice, Wallace is, one suspects, already on board with what's coming next.
"I'm not at all worried," he says. "I'm a big fan of electric [cars] anyway. It's coming. There's nothing you can do about it. So if you embrace it, get your head around it, some fantastic things can happen."
Meanwhile, though, I'm slightly distracting us from the machine at hand. We're on an autoroute on the way back to the factory. Traffic is light. "If we find space," Wallace says, "go down a couple of gears and just send it." So I do.
What's it like to drive?
It's only 6.4km between the factory and a car park where Andy Wallace gets out of the Chiron Super Sport's driver's seat and I get in, but he has already shown how it makes over 670kW at less than 4000rpm and can navigate France's biggest speed bump without cracking its undertray.
We're testing it on public roads "because it's a road car," he says. It's just one with 1177kW and a 440km/h speed limiter.
The Super Sport is slightly more habitable than the limited-edition Super Sport 300+, which replicated the prototype Wallace took to 483km/h. It's mechanically identical but has an interior like the regular Chiron: leather-lined and comfortable.
Most significantly, the Super Sport cars have their rear extended by 250mm. The exhausts are turned vertically and separated, rather than sitting horizontally in the centre of the car, so the diffuser can be wider and stretch closer to the upper body. This extends and closes the tail, making it closer to the ideal 'teardrop' shape.
The numbers are ludicrous, of course. It will do 0-100km/h in 2.4sec and 0-200km/h in 5.8sec; 0-300km/h in 12.1sec and 0-400km/h in 28.6sec. The Super Sport could maintain its 440km/h top speed until its fuel tank had emptied. Eight minutes, if you could find a long enough track.
These figures are impressive if you believe in the point of engineering $4.85m hypercars, which I sort of do, even if I think a Morgan 3 Wheeler would be more fun more often.
But Bugatti's real achievement isn't those numbers themselves; it's that, as with other Chirons and Veyrons, they come with an integrity that makes the Super Sport as straightforward to drive as a Volkswagen Golf.
None of that is evident as you slide into the snug driver's seat. The fairly small, thin-rimmed steering wheel manually adjusts generously. The gearlever is beautifully machined from aluminium. A strip that runs down the centre console similarly from one piece. There are cubbies, door pockets and a glovebox. With its small, shallow boot at the front, the Super Sport is almost a grand tourer.
It's quite loud. The engine isn't over dramatised, just naturally dramatic, because it's a quad-turbo 8.0-litre W16 making 147kW per litre. The peculiar layout isn't silken like, say, a V12. It makes an imposing noise, like a ship or a tank. There's a lot going on.
But it's still a Volkswagen Group car, so it creeps from rest easily, while the steering is medium-weighted, nicely geared at 2.2 turns between locks and electrically assisted and has a good blend of response and stability around the straight-ahead.
There's a bit of road noise – not unusual in carbon tubbed cars with tremendous rigidity. But the plush interior mutes it more than in, say, a McLaren.
It rides firmly at any speed, with tremendous body control and little roll. Yet the steering builds weight as cornering forces increase, so there's something reassuring to lean on. Balance is good and feedback strong, which isn't always a given in a four-wheel-drive car. It's wide and, at nearly two tonnes, heavy, but it's still a pleasing sports car at ordinary speeds.
Traction is phenomenal. And the Super Sport is sensationally, uncomfortably, absurdly fast, like a Porsche Taycan Turbo S from rest but starting at speed. The noise is ever angrier, the 'box shifts just after 7000rpm and it all starts again. It would keep going and going and going, were we not on a road; so the experience takes considerably less time than it took you to read this paragraph.
Braking is exceptional, too. Heave the anchors and the rear wing becomes an airbrake, acting like a calming hand at the back of the car and maintaining stability. It's an extraordinarily capable car.
But for me, its greatest achievement isn't that it could do 300mph. It's that it could do that while being no harder to drive the rest of the time than a Golf.
Article continues below advertisement
Back to top
Inside the Bugatti factory
There's a new ownership structure at Bugatti, but it shouldn't make a difference to the customer experience. Rimac owns 55% and Porsche 45% of Bugatti Rimac. Rimac itself, meanwhile, is owned 35% by its founder Mate Rimac, 22% by Porsche, 11% by Hyundai and 32% by others.
What comes after the Chiron is down to 615 people: 300 in Croatia, 180 in Wolfsburg and 135 in Molsheim, Bugatti's original and enduring home.
It's here where cars are assembled, taking six weeks at a time and at a rate of around 70 per year. About 40 more Chirons were left to make when I visited, so production will stop in 2022.
There are old buildings and new. The service facility and assembly plant make up the new. Founder Ettore Bugatti never lived in the château, but he did host parties there. He kept stables, too, plus he had a building set aside for pilgrims; there had been a monastery on the site from the 1300s.
What strikes me as we tour the assembly plant is just how much needs putting together. I knew there was no foundry or carbonfibre facility, so I had imagined big modular lumps arriving. But there are small individual pipes and clips and intricate components to fit as the cars are built.
Bugatti "is very much part of the history of this area," says Andy Wallace. "We're dripping with German engineering and will be with Croatian engineering as well. But the way of the Chiron is: wherever you can get the best, that's where it's sourced from. So we have French tyres, a German engine, a gearbox from the UK, glass from Finland, leather from Austria, a carbonfibre tub from Italy…"
Bugatti's first EV
As well as cars, Ettore Bugatti was big into diverse new technology. There's a surprising amount of archive video footage available from the time, because he thought it was important. And a company derived from his original one (unrelated to the car stuff) still makes aircraft componentry locally.
In 1927, Ettore Bugatti made his first EV, the Type 56. He designed it for running around his estate without disturbing his horses or wildlife and so he could surprise staff, but some people wanted one, so he made more – reputedly six.
Ten years ago, Bugatti bought one, made for the Queen of Luxembourg, at an auction in the US to display in the factory's small museum.
The two-seater drives. It has new batteries, of course. Eight of them, powering a single motor. Our guide suggests it could do almost 65km/h but, it being directed by a tiller rather than a wheel, I'm not sure I would want to try that.
Whatever happens to the next generation of Bugatti hypercar, then, it won't be the first Bugatti to be electrically powered.
Matt Prior