Bentley's Continental GT3 has proved an unlikely force to be reckoned with on race circuits around the world. Now there's a new, improved version, and we've driven it.
It's one of the more eye-surprising factoids relating to Bentley's centenary that a marque so apparently steeped in racing has actively participated in top-level motorsport for a total of just three of its ten decades. More remarkable is the fact that much of the folklore that surrounds Bentley's competition successes still centres on the legendary exploits of Sir Henry 'Tim' Birkin and the flamboyant band of 'Bentley Boys' who between them secured so much success at Le Mans, with four consecutive wins between 1927 and 1930.
Those colossal machines and charismatic drivers were where the marque's reputation was forged, but it would be more than 70 years before Bentley would once again tackle the world's most famous endurance race, thanks to investment from new owner Volkswagen. Victory in the 24 Hours was seen as the perfect springboard from which to relaunch Bentley as a competitive and thoroughly modern brand, while also honouring the company's successes of the past.
It would take two years finishing behind VW Group stablemate Audi before the spectacular closed-cockpit Speed 8 scored a historic 1-2 finish in the 2003 race. The fact there was no factory Audi team competing that year helped Crewe's cause. It also played into the hands of conspiracy theorists, as did the fact Bentley didn't return to defend its win. Smash-and-grab raid or not, this 21st century racing reboot was the perfect way to promote Bentley as a relevant, reinvented world-class brand.
It would be a further 11 years before Bentley went racing again, with a bold and rather unexpected GT3 programme. With the brand's previous competition endeavours being very much factory-led efforts focusing on Le Mans, the lower tier, customer racing nature of GT3 was something of a departure. It was also handled by a third-party outfit – Malcolm Wilson's M-Sport – which made its name not in circuit racing but in the World Rally Championship.
That first-generation Conti GT3 was a sensation, both for the remarkable transformation permitted by GT3's regulations and for its speed and success straight out of the box. Consider GT3 racing's minimum weight is circa 1250kg and you can see why the 2220kg Conti didn't seem like the natural choice, but the latitude to ditch the all-wheel-drive system and push the V8 motor back and down so it was literally knee-high and up against the bulkhead worked wonders. That and ditching all the luxurious trim, complex wiring loom and myriad ECUs. Oh, and replacing much of the metal bodywork with carbonfibre panels.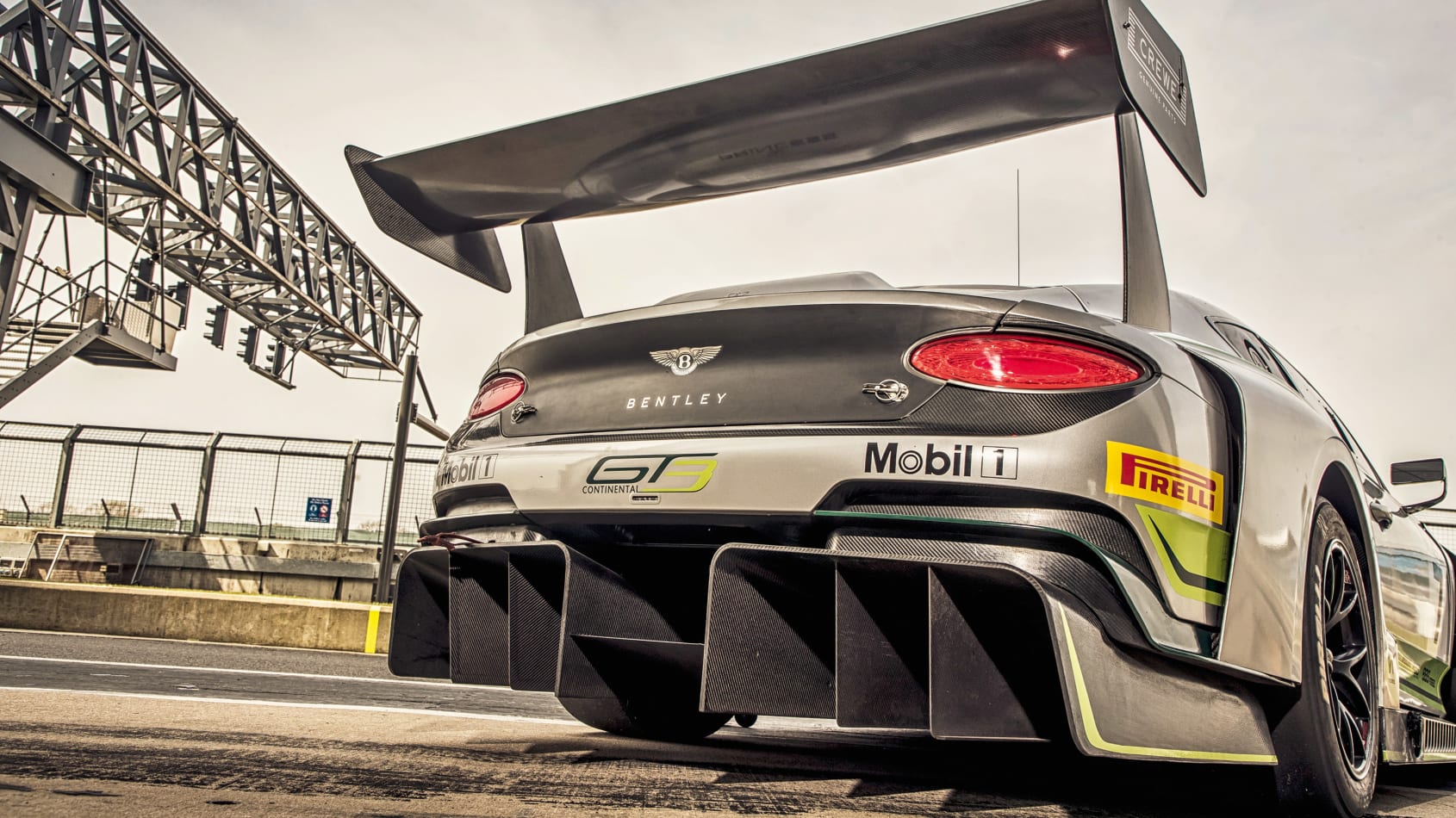 The result was a formidable-looking machine. One that weighed over a ton less than its road-going counterpart, but looked just as out of place amongst the Porsche 911s, Audi R8s, Aston Martin V12 Vantages and Lamborghini Huracáns as the Blower was amongst the Bugattis back in the 1920s. Nevertheless, thanks to M-Sport's transformational skills, GT3's sophisticated Balance of Performance measures and a talented roster of drivers that included 2003 Le Mans winner Guy Smith, the GT3 would go on to win 45 top-level races and score over 120 podium finishes in five seasons.
That was then. This is now – standing in the imposing 'Wing' pitlane at Silverstone to drive the second-generation GT3. Still designed and built by M-Sport, but using the much improved road car platform (shared with the Panamera), the starting point for this car is inherently lighter thanks to an aluminium-intensive structure, and due to its familiar, yet more aerodynamically efficient shape. Light enough to need ballasting to meet GT3's weight limit, this Gen 2 GT3 has a more rearward weight distribution. Not only does this make it more agile, it also gives better traction so the car is a little easier on its tyres and less reliant on the finely adjustable motorsport TC system, which in turn makes it more consistent across a stint and more confidence-inspiring for the wealthy amateur drivers who are the lifeblood of modern GT racing.
All of this is welcome news to me, for although I've driven GT3 cars before, these 'come and have a go' sessions always tend to throw you in cold, with little time to get genuinely comfortable with the car's handling, but more than enough for overconfidence to tempt you into making too great a leap in the few laps available. Even without the context of its low-slung, mid-engined GT3 rivals, the Conti is a hulking machine. Magnificently so, actually, its noble form pierced by huge vents and festooned with aerodynamic addenda that leave it recognisably related to its road-going sibling, but endowed with the exaggerated physicality of the late Stan Lee's Marvel Comics' superheroes. Wolverine without the whiskers.
Take a closer look and it's clear just how far removed from a road car these new GT3 machines are. Peer beneath the bonnet and the engine looks like it has fallen off its mounts, the twin-turbo V8 – good for at least 410kW in unrestricted tune – hard against the firewall and set way down between the front wheel houses. Ahead of it are two reclined intercoolers, which are fed through the big mesh grille, but vent through cavernous holes in the surface of the bonnet. It's like a turn-of-the-millennium Super Tourer built from heavier ordnance.
Sharks' gills in the tops of the front wheelarches allow high-pressure air to escape in an effort to minimise lift, while a flat underbody feeds air to a gargantuan diffuser, which works in unison with the equally monstrous rear wing. And, of course, it's rear-wheel drive, not four-wheel drive. Something that focuses the mind in the moments immediately prior to strapping in.
The cockpit has a few nice touches that offer clues to this car's origins, but leather door pulls and paddleshifters from the Mulsanne apart, there's precious little else to place you in a Conti GT. Certainly not the driving position, which pushes you back to the centreline of the car, so far from the dashboard and windscreen that you feel like a rear seat passenger. The seat is fixed but the oblong wheel adjusts for rake and reach, and the pedal box also moves on runners. As you bring both these critical points of contact within reach of hands and feet so you connect with the car, the last vital component is plugged in and ready to go.
And go you most certainly do, at least if you use the launch control as we're encouraged to do by the race engineer. There's no clutch pedal, rather you engage drive via a clutch paddle on the steering wheel, having first activated the LC system with a button and held your right foot pinned on the throttle. I'm not sure the resulting rolling burnout is strictly necessary – indeed the 'no wheelspin' rule in most GT championship pit stops suggests today's recommended technique is more for giggles than anything else. It certainly amuses me.
Generally speaking, once you've got over the immediate shock of both how easy a GT3 car is to operate and how immediate its delivery is compared to that of a road car, you quickly understand that the art to driving them is entirely contained within the brutal few seconds that pass between hitting the brake pedal, rotating the car into the corner and getting back on the throttle. Of course, this could be said of any car – straights are easy, after all – but whereas a GT3 car's straight-line speed soon feels a little bit flat (at least if you've experienced the searing through-the-gears pace of a modern supercar), its ability to stop, combined with its capacity to carry speed into the heart of a corner, presents a set of challenges alien to anything on the sane side of a McLaren Senna.
Initially you struggle to summon the belief to brake late enough. And even if you do you struggle to summon the brute strength required to smash the brake pedal anywhere near hard enough. When (or if) you do, the likelihood is you then over-brake the car rather than letting the slicks and aero carry you through. And if by some miracle you manage to do this, then you're likely to be so shocked or pleased with yourself that you don't get back on the power quickly enough, or with sufficient confidence.
The margins between nailing each of these phases is Rizla slim, yet is as plain as the nose on your face if you look at a data trace. The Bentley's balance is inherently good, so even in a handful of laps it's possible to fleetingly probe the limits, or, as is more likely, overstep them and gather things up. Likewise the effectiveness of the Bosch motorsport TC and ABS systems are so finely adjustable you soon trust them implicitly, even though you know you need to rely on them as little as possible if you're to get the best from the car and tyres.
It's an addictive process. Albeit one that is too serious to be described as fun, even when you've jumped in and basically slung it around for a few scruffy but enthusiastic laps. And the Conti GT3 itself? Well, it's a fabulous thing, of course, with a significant part of its appeal undeniably rooted in simply being a competition Bentley. What the next hundred years holds for the marque, or indeed motorsport in general, is uncertain to say the least. For now, though, it's reassuring to see the two go hand in hand. Same as it ever was.
Richard Meaden