David Brabham's BT62 is a machine his old man, the late Sir Jack, would surely have loved. We try it
It's taken five years or 50, depending on how you look at it. It's been five years since David Brabham won a lengthy court battle for the right to apply his family name to a car once more, and 50 since his dad, legendary triple Formula 1 world champion Sir Jack Brabham, sold his stake in the business.
However you look at this car, the first new Brabham since the F1 team fizzled and died midway through the 1992 season, it really matters. For this is not a one-off Gavin & Stacey-esque appearance before heading back to retirement: it is intended to be the start of something big for Brabham. Something very big if you ask ex-F1 driver and Le Mans winner David Brabham. He has talked freely about plans to be racing at Le Mans in 2021 so people have naturally assumed this new BT62 will form the basis of that car. But it won't because it can't: the Brabham Le Mans car will race with the likes of Ferrari, Porsche and Aston Martin in the GTE category, which means it will need to be based on a road car. A road car we've not seen yet.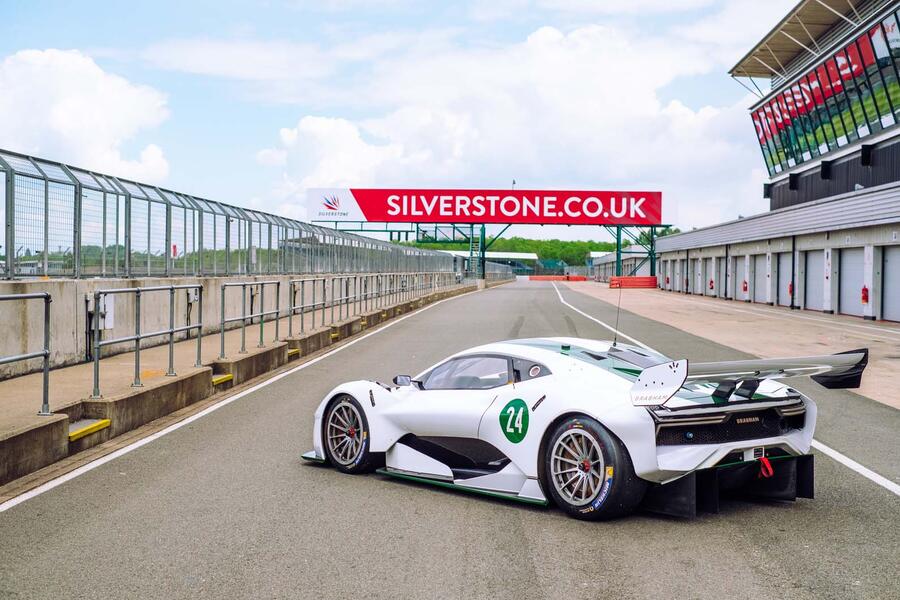 But that's all for the future. For now, I'm squeezing my way into the BT62's reasonably spacious cockpit, squinting at the hi-def screen in front of me and wishing there was a bit more room in the pedal box for my size 11s in this, the first prototype. Production cars will be more accommodating.
David leans in and talks me through the spec. I've done my homework but there's no harm in being reminded what you're about to take on. The car has a tubular structure to which is bolted a carbonfibre body. The brakes are carbon-ceramic discs clamped by carbon pads. The engine is a V8 that started lide as a 5.0-litre Ford motor but has now been modified beyond recognition. It displaces 5.4 litres and produces 515kW. And, no, there is not a turbo in sight. It drives through a six-speed sequential race gearbox to rear wheels controlled by pushrod suspension and clothed in simply enormous Michelin slicks. The whole thing weighs 975kg and produces, wait for it, 1200kg of downforce at 270km/h. Which means it could happily drive upside down.
Just 70 will be made to commemorate the 70 years that passed between Sir Jack's first race in 1948 and the project's announcement in 2018. Each will cost $2.17 million, or $2.44 million if you choose to have the road version. To be clear, that buys you a road-legal version of a pure racing car, so those expecting civility on the school run will likely soon be disabused of that notion.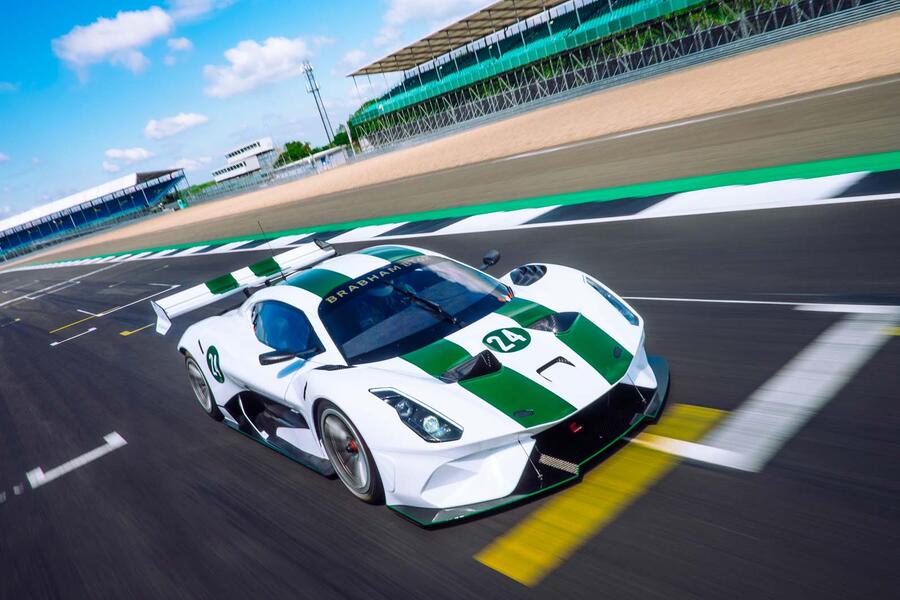 Except that it's not a racing car, insofar as there is no series in which it is suited to race. Instead, it's a track day toy. So now you may be wondering why, if you simply want to be quickest at the track day, you wouldn't just buy a fairly fruity Radical and go almost as fast for a fraction of the money. And the answer is because that's not the market for this car: the multi-millionaires who will order a BT62 are buying not a car so much as its name, scarcity and heritage.
But surely it still has to be a credible thing to drive? It's what I'm at Silverstone to find out. A finger describing a circle in the air from the man standing in front of the car tells me it's time to fire it up. Master on, ignition on, starter pressed and jump straight out of your skin. The noise is like putting your head in the bass bin at a Motorhead gig. And it's only idling.
Pull a paddle, lift the clutch, try not to stall, and with enough proficiency to make it at least appear that I know what I'm doing, the Brabham and I roll down Silverstone's old pit lane and onto the National Circuit. I am lap limited so there's no time for easing my way into this. Someone else has kindly warmed the slicks, so there's no excuse not to go flat out straight away. Apart from the fact that this prototype is worth millions and, at this time, is the only functioning BT62 in the world. But we'll just ignore such small details and press on regardless.
It is an utterly brilliant car, and I say that from the fortunate perspective of having driven a large number of GT3 racing cars, which in terms of track performance are the machines to which the BT62 comes closest. Actually, it's far quicker than any GT3 car because it has more power, better brakes, a lot less weight and, I expect, more downforce, but that's not why I loved it.
The first thing that enthrals you is the engine. It has the heart and power of something that should belong in a 1980s Group C racing car. It's a little lethargic at low revs, as you'd expect from a normally aspirated motor producing 103kW per litre, but from 4000rpm to 7500rpm, where all sorts of lights start flashing at you, it's a proper maniac and all the better for it.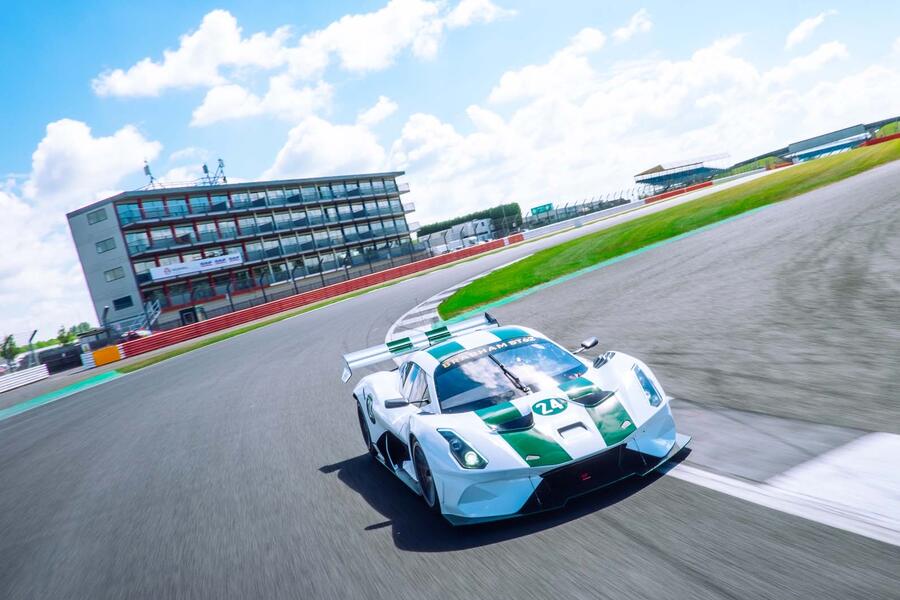 But then you've got to lose that speed and here I confess I struggled. I'm 6ft 4in and not slight in construction, but there's no force my leg could apply to the pedal at high speed that came close to triggering the ABS. If you could make a road car slow like this, you'd set the airbags off. Seeing how late you could leave landing on the brakes became a twice-a-lap odyssey for every lap I was out there. At first, I was awed, then entertained and finally just very curious to see exactly what was needed to distress those discs. I never found out: at least for those few laps, the Brabham's brakes were better than its driver's ability to apply them.
Even so, that's not what I'll remember most about this car. It's the way it handles. GT3 cars tend to be set very stiff, require quite an aggressive driving style and always move around. You get into them ready for a fight. The Brabham could not be more different. With slicks and wings, grip levels are such that they make any road car feel like you're driving on ice, but it is the confidence it inspired that is so much more impressive even than this. You can brake all the way into an apex and it won't so much as shrug its shoulders; you can pick up the power beautifully early; and even over the bumps you find as you accelerate onto the Wellington Straight, it places it all where it's needed.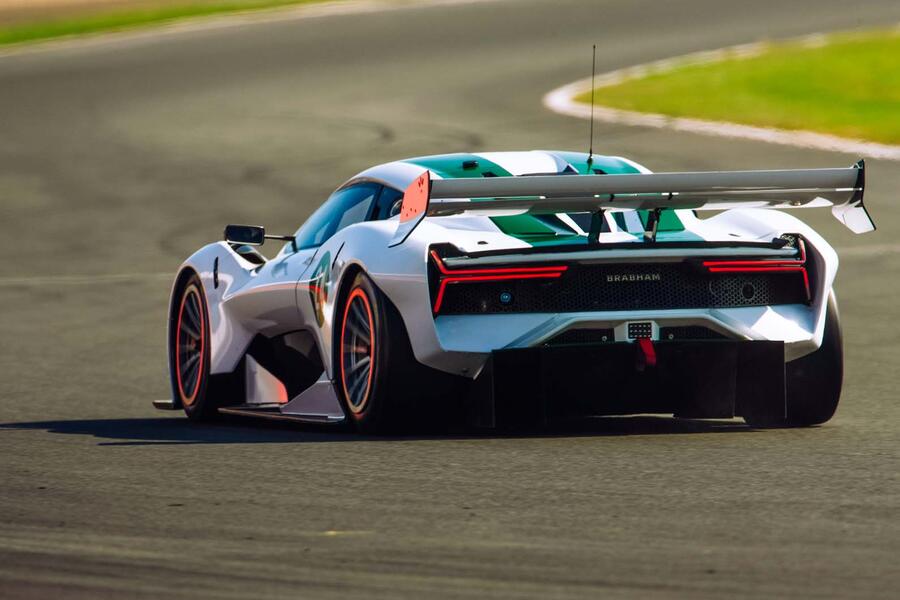 Doubtless, you could extract even better lap times by really nailing it down on its springs but the result, while faster, would also be less fun, and when it's so ludicrously quick already, what would be the point of that? For the fabulously wealthy amateurs who'll buy one, I'd say the BT62 is near perfect as it is. And for a rather less wealthy amateur like me, I'd say it was pretty damned good too.
The 'road-going' Brabham BT62
David Brabham says that the BT62 was conceived from the start as a pure track car but that Brabham also built its name by listening to its customers. And enough of them have said they'd like a street-legal version for it to be viable to create one. The road version will have axle lifts, air conditioning, a tighter turning circle, a fully trimmed interior, door locks and proper protection from burglars. The car will be able to pass Individual Vehicle Approval and therefore be registered for the road, at least in the UK.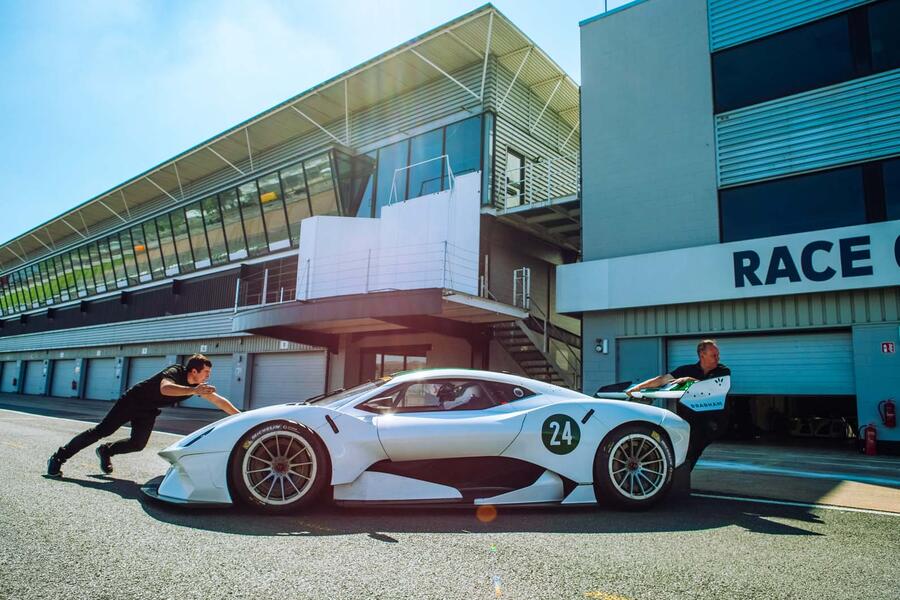 However, the engine stays the same – although I'm guessing it must be silenced at least to some extent, and there's no talk of street-spec suspension so I'd expect springs that feel beautifully compliant on the track will soon be undermining the integrity of your dental work on the road. I imagine some will consider that a price worth paying for the right to be able to go to the pub in a Brabham…
Andrew Frankel