Down the years, many cars have been notably incongruous inside their makers' showrooms. We pick out the best selections.
To truly understand the appeal of cars like the Nissan Nismo GT-R, Toyota GR Yaris and Alpine A110, as we've just done in our three-way track visit seen elsewhere on this site, you have to consider their standing in their respective showrooms.
The GT-R, for example, can be found nestled between Micras and Qashqais; the GR Yaris jostles for forecourt space with the RAV4 and Prius; and to test-drive the A110, you might well have to shunt the odd Renault Mégane or Captur out of the way.
In short, all three cars share little more than a badge with their respective range-mates (or, in the case of the Alpine, not even that), and you have to imagine there were some accountants none too pleased that they ever got signed off.
Here are a few other automotive sore thumbs that we're glad made it past the sensible sorts.
Ford RS200
Motorsport homologation is responsible for some of the most fearsome and wildly styled road cars of all time, and the Ford RS200 is a prime example. It performed not too well in its sole WRC season and its Cosworth powerplant was heavily downtuned for the 200 road cars, but 183kW feels plenty in a non-electronically assisted, sub-1200kg, mid-engined two-seater, while its dustbin-size turbo makes turn-to-turn sprints a heck of a lot quicker.
Lamborghini LM002
Oh, to have been at the meeting in which this V12-powered super-truck was approved for production. Regarded as the pioneer for luxurious performance SUVs in the vein of the Porsche Cayenne and its Urus descendant, the LM002 took its thunderous 5.2-litre engine from the equally mad Countach and injected a healthy dose of leather, electrickery and off-road capability into the bargain. Tipping the scales at nearly three tonnes, the Rambo Lambo's near-8.0sec 0-100km/h time won't set your heart racing today, but its unquenchable thirst for premium unleaded just might. Oddly, it wasn't a big seller, with a little over 300 cars built over seven years.
MG xPower SV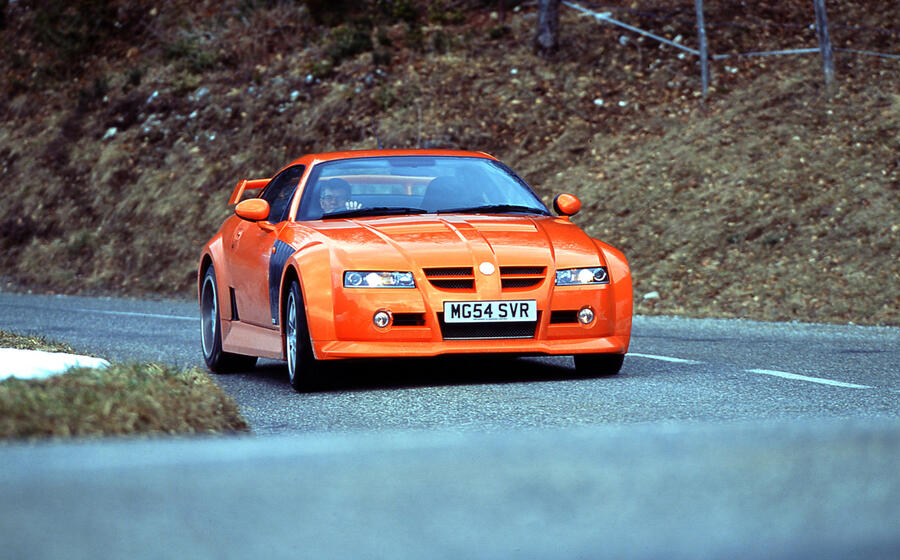 Forget how bizarre it seemed at launch in 2003: can you imagine if this snarling thug were added to MG's current line-up of low-cost run-arounds? Freed from the shackles of their BMW overlords at the turn of the millennium, MG's executives decided to recapture some of the brand's sorely missed sporting cachet, and although the nippy ZR, ZS, ZT and TF sold strongly, it was the rare SV that came closest to bedroom-poster material. Based on the Italian Qvale Mangusta, this carbonfibre-clad coupé took 239kW from a 4.6-litre Ford V8 and was styled in part by Peter Stevens of McLaren F1 fame. A protracted production process and slow sales meant it never even got it into triple figures.
Peugeot RCZ-R
What's this, a sporty French coupé with a little over 186kW and squat, rotund styling? Alas, that's as far as the similarities between the Alpine A110 and the RCZ-R go. Nonetheless, this was for a while Peugeot's fastest production car, sending 199kW from its 2.0-litre turbo four to the front axle by way of a manual gearbox and Torsen diff. It was quicker than most hot hatches but, more important, its vastly improved dynamics over the standard RCZ didn't come at the cost of comfort or refinement.
Morgan Aeromax
Irrespective of their dynamic prowess or punchy performance, Morgans tend to be ruled out of contention for sports car supremacy on the basis of their olde-worlde styling and wooden frames, but that's not to say Malvern hasn't dabbled in modernity. The Aeromax built on the formula of the already shockingly up-to-date Aero 8 with a 270kW reworking of BMW's revered 4.8-litre V8, a sweeping boat-tail and, for better or worse, brake lights from the Lancia Thesis. It's a brutally loud and stunningly fast tribute to British-European relations at their best and one of Morgan's finest all-rounders. Just 100 were made and they rarely appear in the classifieds, so patience is a virtue.
Lexus LFA
You can wax lyrical for hours about the shriek of the LFA's atmo V10, its sky-high 9400rpm redline or its ability to corner at up to 2g with no loss of lubrication, but that would be to gloss over the less commonly celebrated details that make this one of the finest cars of its generation. For instance, the door mirrors were painstakingly shaped to funnel air down special channels (themselves serving as hand grips for the doors) to the gaping rear intakes, the engine is signed by the engineer who hand-built it and the key is made of carbonfibre. Sure, it wasn't as quick as the Ferrari 458, but as a technological tour de force, its legacy will endure more potently
Jaguar XE SV Project 8
Like the Toyota GR Yaris, the XE SV Project 8 shares little beyond certain elements of its bodyshell with the mainstream car upon which it's based. Unlike the Yaris, however, it retains its rear doors (even on the two-seat Track Pack car) and is rather more geared towards full-bore circuit use than spicing up your commute. Power – all 441kW of it – comes from a supercharged 5.0-litre V8, the outlandish aero package can generate up to 122kg of downforce at 300km/h and the suspension springs are 4.5 times stiffer than those of the standard XE. If all of that sounds a bit too hardcore, track down a run-out Touring model to lose the enormous rear wing and keep the back bench.
Renault Sport Spider
Had the Sport Spider been sold in greater numbers (or with any sort of protection from the elements), it might have achieved cult status like the similarly conceived Mazda MX-5 and Lotus Elise. After all, it's not as if it would be embarrassed by either on a twisty B-road. Its mid-mounted 2.0-litre atmo motor makes just 110kW, but it has only 930kg of aluminium frame and plastic body to propel so, with help from its snappy five-speed gearbox and unflappable chassis, this quirky canyon-carver set the nascent Renault Sport brand on a path to greatness. Just 96 were built in right-hand drive, so it's a collector's item; but for the keen driver after something different, little else would provide such joy.
Bentley Continental GT Supersports
"Cars can be green without being small, slow or boring", said Bentley in 2009 as it unveiled this amazingly large, quick and exciting creation. The application of Lotus ideas to a big luxury GT may sound ill-advised (think lightweight chassis and no rear seats), but this was unexpected proof that such a formula can offer an unparalleled blend of dynamic capability and refinement. And because its 463kW 6.0-litre W12 can run on 85 per cent ethanol, it can emit 70 per cent less CO2 than a pure-petrol model.
Felix Page