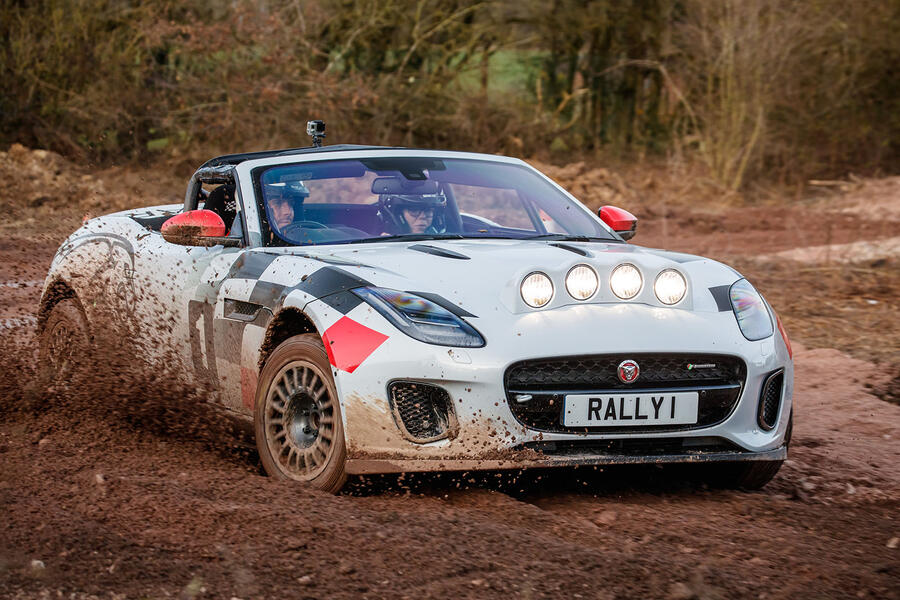 Jaguar's bespoke open-top creation was built to tackle gravel and mud, and it's brilliant fun over both.
Having finally driven Jaguar's roofless rally car, which was basically a present to itself on the 70th birthday of the XK120, the model that was both a game-changing sports car and a competitive rally machine, I now know the F-Type Convertible is unsuited to rallying for two main reasons.
The first is weight, because while a conventional rally car weighs around 1200kg, this one is more like 1500kg. The second is that even with a 40mm increase in ride height, it still doesn't have quite enough ground clearance to breeze over really rutted gravel tracks nor sufficient suspension travel to absorb the biggest divots and bumps.
But those things only make the F-Type less rapid along a rally special stage. In this instance, that's entirely immaterial, because this car hasn't actually been developed for competition. We'll never see it go up against a stopwatch. Instead, its only objective is to be fun to drive on mud. It's a gravel-kicking plaything, which explains why it has only two driveshafts, rather than the four that would invariably make it faster. And does too much weight or too little suspension travel mean it isn't fun to drive? Not a bit of it.
The loose surface underneath, the extra ride height and the knobbly rally tyres make the car's steering less responsive than the roadgoing model's. So you work the wheel a little harder and learn to be patient with the front axle on the way into a bend. The trick Exe-TC dampers marry astonishing body control with impressive bump compliance within what travel they do have, while the fluid and progressive oversteer that meets you at every corner exit is so easily controlled, and with it so entertaining, that you soon find yourself sliding the car at every opportunity.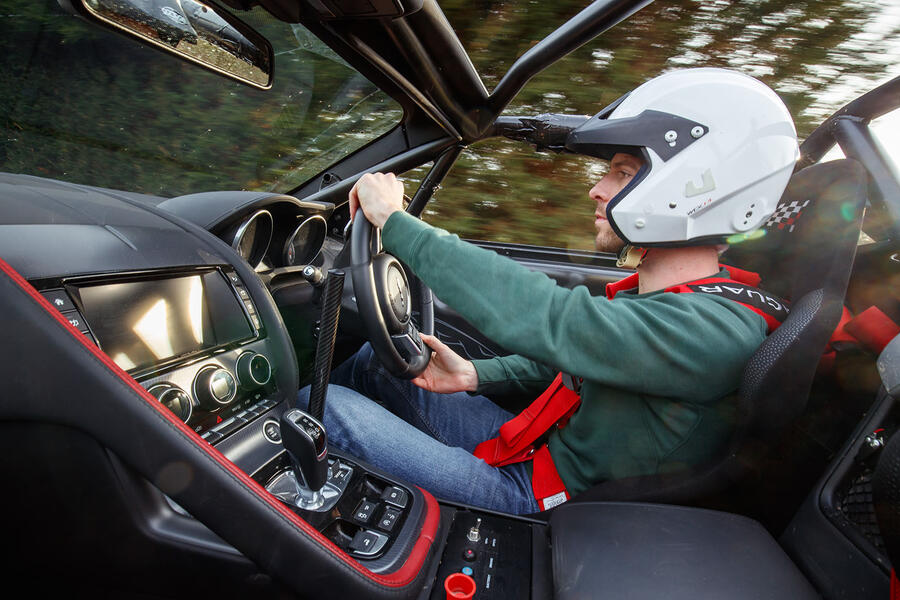 As effective as the rally tyres are on the loose, they're still no match for the turbocharged four-cylinder engine's 221kW, particularly with only two wheels by which to divide it. If you're leaden-footed with the throttle (which you will be, because that's far and away the most amusing method), the rear tyres will spin up all the way through third gear. With a little throttle sensitivity, it's possible to coerce the rear tyres into biting into the mud so that they slingshot the car forwards quickly and neatly, but that hardly seems to be the point of the exercise. Much better to clog it and make the car slide.
Wanton oversteer aside, what makes this F-Type so absorbing to drive is exactly what makes any gravel rally car so much fun. It's the sensation of it moving around on the loose surface, of it skating across the road in a bend and of the tail wagging left and right, even on the straights, all while being cradled by a proper competition seat and clamped in position by a six-point harness. It means that you feel the car beneath in a way you simply never do in any car on a grippy Tarmac surface.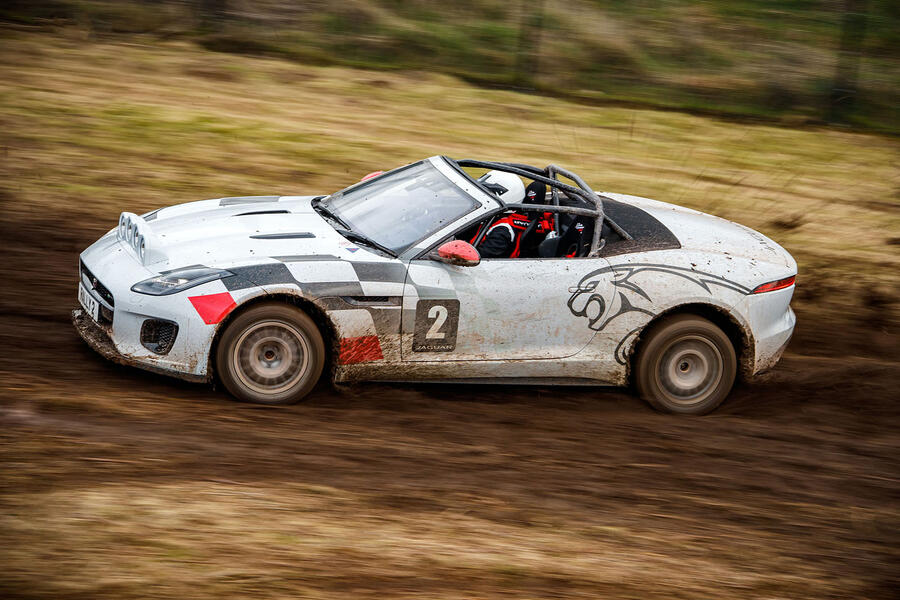 The anti-lock braking, traction control and stability control systems have all been disabled, so you're out there on your own. It never feels as though it wants to snap around into a spin, but locking the wheels under heavy braking is very easy to do. The key is to jump off the brake pedal and quickly ease back onto it.
That's just one of the ways in which this car is challenging, and rewarding because of it. If I have more fun driving anything this year, I'll be surprised.
Dan Prosser