Many vehicles claim to be the king of the road, but in the English countryside right now, the Plasan Sandcat is the emperor of all vehicles.
Modestly described in its brochure as a light tactical vehicle, the Sandcat is actually an invincible-looking armoured 4×4 featuring bulletproof glass and a hardened-steel body festooned with cyberpunk boltheads, loopholes for weapons and a predator-like face. In everyday traffic, it towers over common-or-garden SUVs and looks totally nails.
Automotive Daily is at the wheel, in a world first, because Plasan's demonstrator is visiting the UK for evaluation by security forces looking to replace stalwarts such as the Jankel Guardian, which is nearing the end of 20 years' sterling service.
The bones of the Sandcat are the heaviest-duty Ford F-550 commercial chassis, commonly used in North America as a tow truck and endowed with a huge 8845kg gross vehicle weight that frees designers to load the basic chassis with a bespoke armour-plated body plus a squad of six tooled-up police marksmen.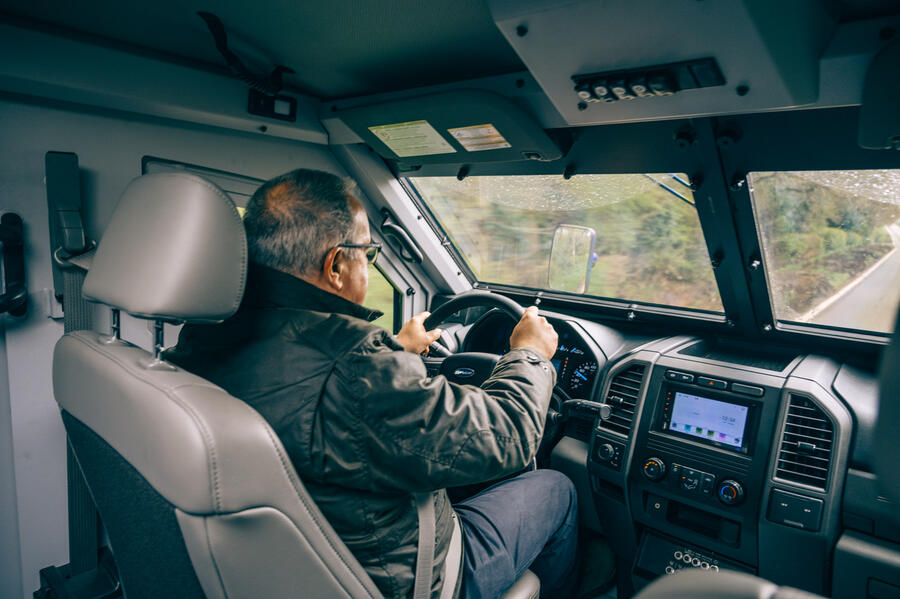 On test is the latest Mk4 Sandcat, which sits on a Super Duty chassis shortened to a 3.43-metre wheelbase. It features an easier to build version of Plasan's 'kitted hull', whose modular, easy-to-fit, bolt-on-bolt-off panels can be customised during the design phase and make for easier maintenance at front-line depots.
The exact specification of the armoured protection remains a necessary trade secret, but essentially the Sandcat's body consists of 12mm of hardened steel and composite armour, backed up in key areas by a third composite layer separated by an air gap to catch fragments of ordnance. Plasan reckons a body made from steel only would need to be 4mm thicker for equivalent protection.
Our test vehicle is rated Stanag 2+ (a Nato standard) and is proofed against grenades, armour-piercing AK47 rounds and Dragunov sniper rifle bullets, all from any angle, oriented 360deg around the body.
Despite the reputation of the surrounding area, I'm not expecting any of these threats to be actively deployed during Automotive Daily's test today. After clambering into the high-set driver's seat, the first surprise is the effort needed to shut the door, as I learn that armoured steel is as heavy as its reputation. That translates into a satisfyingly authentic metallic clang as the door shuts solidly.
As expected, the forward view is very commanding, with no distortion through the four-inch-thick armoured windscreen, but the side view (also through thick bulletproof glass) is restricted by the narrow opening that's dictated by the need to keep weight up high to a minimum.
The dashboard is lifted straight out of the Ford truck, complete with steering wheel boss indentation for a blue oval and 'Super Duty' proudly moulded on the passenger side.
Thanks to this mass-production componentry, the interior feels immediately user-friendly, with clear instruments. A quick glance around confirms that the major controls, pedals and stalks are in their expected positions, then a turn of a pleasingly ordinary key fires up the 6.7-litre Power Stroke diesel V8 and its no-nonsense, industrial rumble.
Rated at 242kW and a generous 983Nm, the V8 takes a determined push on the accelerator to overcome the inertia of the Sandcat's 7200kg kerb weight. Initial acceleration is leisurely, but there's a surprising surge of speed when it's demanded, as the 10-speed automatic transmission kicks down a couple of gears, accompanied by a loud roar from the engine compartment and exhaust.
Typical traffic speeds can be maintained with a bit of forward planning, up to a limited 105km/h maximum, and it's possible to imagine a single-minded police driver making good progress towards a conflict, especially with blues and twos blaring and traffic startled from the Sandcat's path.
No matter your speed, the brakes require a firm push to retard the plentiful momentum, and there's no escaping the weight and the high centre of gravity in corners, as body roll builds and the steering's precision fades as the weight loads up the outer wheels. Mind you, with all that weight to crush road imperfections, the Sandcat rides surprisingly comfortably.
The tyres play their part in the dynamics, of course. The Sandcat is shod with 285/70-profile, 19.5-inch Michelin X Multi D rubber – a widely available truck tyre that's designed for heavy-duty loads more than car-like steering responses. A bigger tyre is available, but this one affords a tighter turning circle.
The tyres aren't bulletproof, but they can run when flat, thanks to Hutchinson hard-rubber inserts inside the tyre, which allow mobility at up to 80 km/h for up to 80 kilometres after being punctured by gunfire.
The Michelins have an on-road tread pattern (appropriate to the Sandcat's likely urban operations), so they quickly become clogged with clay during our off-road photoshoot, requiring the Ford shift-on-the-fly 4WD low range to be swiftly engaged to maintain forward progress.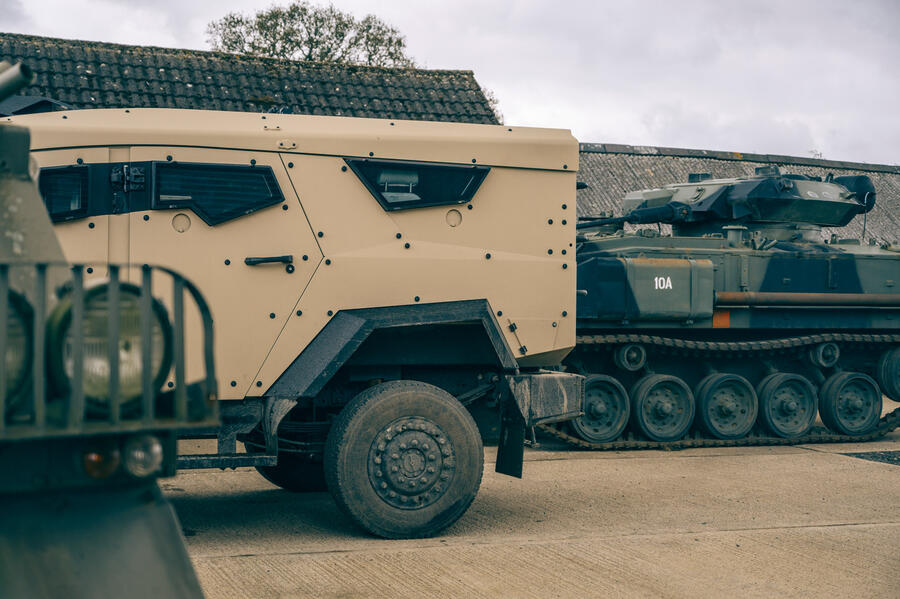 Of course, we can't test the key role of the Sandcat, which is to transport a squad of fully equipped security personnel safely into a hail of bullets, but the interior feels spacious, with its compact fold-up seats making the most of its floor space and sufficient head room for you to walk about inside at a gentle stoop.
Vehicles like this also need to carry equipment and mount weapon racks, riot shields and a plethora of communication gear, including links to helicopters, so free space will be at a premium once it's fully fitted out.
If there's anything that might need addressing for right hand drive use, it's the side and rear-three-quarter visibility, which are compromised by the narrow side windows, although it's easy to understand why that design trade-off is necessary.
And that's what the Sandcat is about: providing a secure, intuitive-to-drive mobile base for security forces facing lethal threats. Think of it as an agile, impregnable truck, rather than a hazy 4×4, and it feels brilliantly suited to its objective.
Who designs armoured vehicles?
Three years after graduating from the UK's Coventry's vehicle design course in 1998, Nir Kahn moved to Israel. He then approached Plasan, one of the country's few car-related businesses, and eventually landed a design job.
He joined nine days before the 9/11 attacks in New York and went to work immediately on the project that would change his and Plasan's fortunes: the 'fastback' Humvee. The shape stemmed from the need to maintain clearance from a blast from a rooftop missile launcher, and the curvy body was possible thanks to Plasan's composite armour technology.
"It was a bit of a shock in design terms at the time, and I remember the boss saying: 'It can't look like this. A military truck has to be a big, square practical shape,'" recalls Kahn. "But he also recognised that if we could pull it off, it would be a breakthrough."
When the US military launched its MRAP programme for mine-resistant vehicles in response to the deepening war in Iraq in 2006, Plasan's retrofit-armour Humvee became one of its key vehicles, as it was effective and quick to put into production at scale.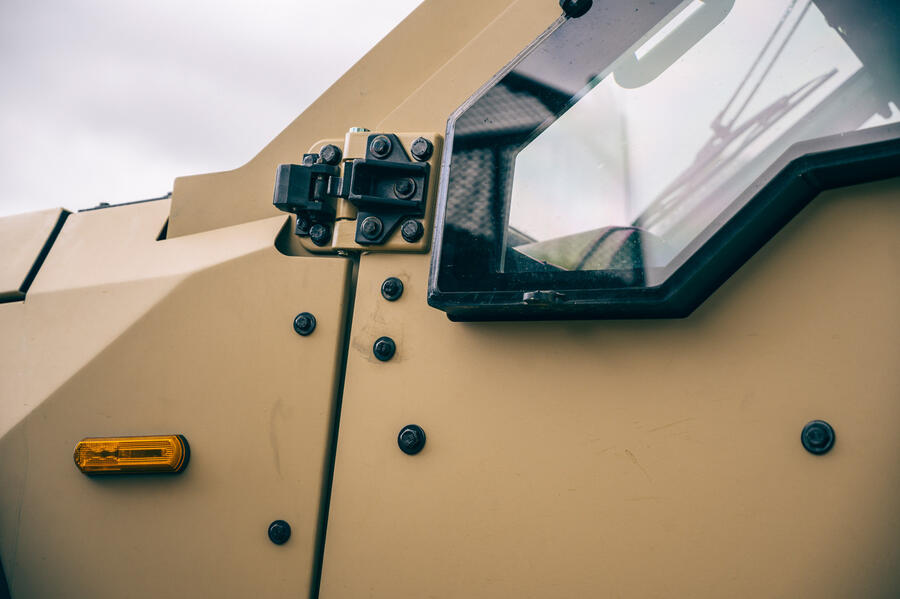 This drama is a long way from Manchester, where Kahn spent his early years and had the light-bulb moment aged 12 while reading Automotive Daily's partner title Autocar every week that he wanted to be a car designer.
A visit to Lotus's design studio at the age of 16 played a role, too: "It blew my mind and made my decision to study car design at university."
Today, Kahn oversees a department of four designers, he has introduced the latest digital design techniques at Plasan and his work saves lives. The angle of the Sandcat's panels contribute to its safety rating, and Kahn's design takes advantage of the composite armour, which is about 25% lighter than equivalent protection in solely armoured steel.
Julian Rendell