Two decades ago, McLaren teamed up with Mercedes to create the SLR. Now Woking has attempted to remedy the McMerc's flaws. We evaluate the update
The kraken has awoken. That's the nickname that the good people of McLaren Special Operations (MSO) have given to their lately updated version of the deliciously mad, fire-breathing, front-engined supercar that many of them actually helped to produce more than a decade ago.
They did it under a brief that McLaren didn't write, of course; in circumstances that many in the company might not have chosen; and for a very different customer than the one for which the modern McLaren Automotive now caters. And yet it happened; it lived. And what a thing it remains. Earplugs at the ready then, folks, for the still bonkers-looking and now even more bonkers-sounding Mercedes-Benz SLR McLaren… by MSO.
This is a car so unlike any that the subsequently founded McLaren Automotive has made since that, to look at it, you might not believe there could be any association between them. The SLR is long and low, noisy and nosey and cartoonishly extravagant. There's a thundering supercharged V8 under its huge, cantilevered bonnet, and the rest of the car looks like it's somehow being sucked along behind it.
It has that instantly recognisable, almost naive 1990s sci-fi look about it, as if it's being spaghettified in a Wachowskis film or jumping to warp speed to do battle with a Romulan warbird. But while it was clearly intended to reference the 300 SLR sports car racer of the 1950s, the SLR was much less retro than Mercedes' own SLS AMG that came after it. It may not be as pretty as the SLS, but it's so much more original.
The SLR was designed as a wide-eyed concept by Mercedes, of course; as a defiant statement of confidence just after the big Daimler Chrysler merger and in the run-up to Mercedes' own centenary. And it was then made real, out of carbonfibre and aluminium and lots of sums, by the brain of McLaren's Gordon Murray, who only recently talked so fascinatingly about the circumstances of its creation.
The story is about as close to pure soap opera as the car business gets. Murray's long courtship of BMW throughout the early 1990s had been with the aim of making that German manufacturer McLaren's key partner on its journey to becoming a proper player in the exotic sports car world, following the end of production of the seminal F1. His plan unravelled, though, after Ron Dennis struck an engine deal with Mercedes for the 1995 Formula 1 season. Then, later, in lieu of the cars that he had wanted to make most, Murray was given the challenge to engineer and build this long-nosed, carbonfibre-constructed, mega-Mercedes super-GT instead. He called it his hot rod but subsequently walked out on it before the end of its life and plainly now has quite mixed feelings about it.
And now? Well, as downright weird as the SLR was made to look by those cars that Woking would subsequently bring to market itself, its owners do perceive a connection between the modern McLaren Automotive and their Mercedes-badged GTs.
According to Tom Reinhold, McLaren's heritage manager and the key business driver for its MSO division (which exists to maintain, update, preserve and even gently enhance the company's old road cars and racers), it has been a common occurrence for SLR owners to ask whether the company could "put a bit more of the modern McLaren" into their old 'McMercs'.
So that's just what MSO has done. Having come up with a package of mechanical revisions to the car's suspension and steering systems for the very last SLRs off the production line back in 2009 (the limited-number Mercedes-Benz SLR McLaren MSO Edition), it has been busy since developing a more aerodynamic bodykit, a weight-saving exhaust, new wheels, a new intercooler and a retrimmed interior.
It has now corralled the lot together and launched it as the upgrade package, called SLR by MSO. SLR owners can spend up to AUD$225,000 on the lot if they want. Interestingly, that gets you a full repaint (the SLR's carbonfibre panels are notoriously difficult to strip back and repaint, and for a long time the only colours it came in were silver and black) as well as all the mechanical, bodywork and interior changes.
"Early cars can still be bought for less than AUD$500,000 in Europe," explains Reinhold, "and when you think of the prices that the car's noughties-era contemporary supercars now command (the Porsche Carrera GT, Ferrari Enzo and Pagani Zonda), that's relatively decent value. Sooner or later, SLR prices are going to have to start rising, and lots of owners see the financial sense in upgrading and updating their cars now, perhaps with a view to a bigger return later."
I'm sure that many of them also see the sense in the upgrades for practical reasons. I was too young to drive an SLR back when they were new, but contemporary road tests all make similar criticisms. That the regular car's body control was soft and crude; its steering nervy and confidence-sapping; its carbon-ceramic brakes fuzzy-feelingand short on bite; and its old-school five-speed torque-converter gearbox (the only one in the Mercedes technical armoury that could handle the V8's monstrous torque) clunky and slow.
MSO would certainly seem to have made quite a difference to the SLR's driving experience. The SLR by MSO steers progressively and intuitively, not nervously or unpredictably. It still has a clunky gearbox and pretty rubbish brakes, although not because the latter aren't tuned properly, but because they were Mercedes' Sensotronic electrohydraulic stoppers, which didn't actually put any direct physical connection between pedal and caliper. The bite problems associated with carbon brakes also figure, but MSO is working on a steel brake that might better suit the car.
The SLR is undoubtedly still at its best at a fast, intercontinental cruise, when the torque of its monumental V8 makes its tall fifth gear feel like it might be the only one you will ever actually need.
Even on MSO's revised suspension, the SLR doesn't exactly ride well. There's still a certain unreconstructed grouchiness and fidget about its low-speed ride, while the dampers can grab and snatch at the car's mass on the motorway, rather than closely cradle it.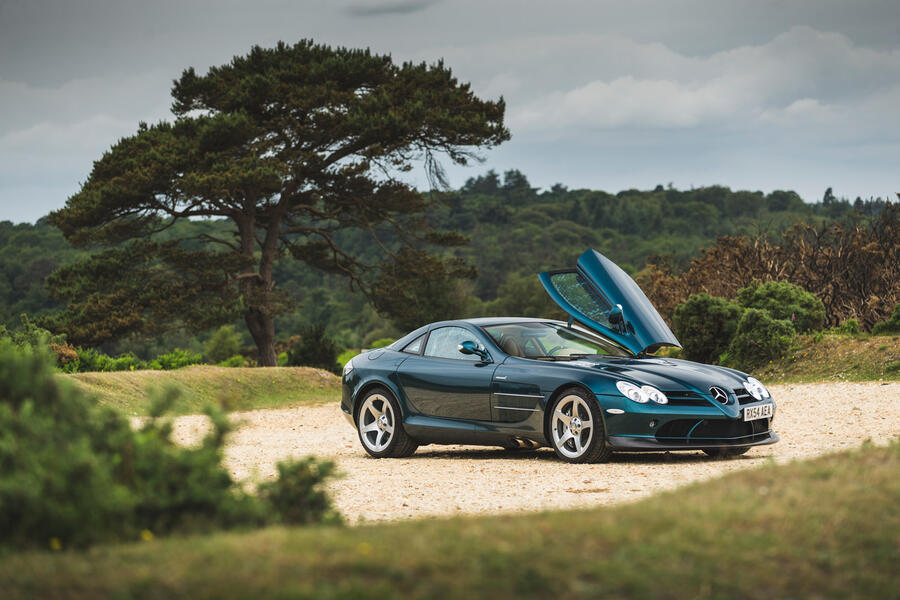 The body control does improve when you put some speed and load into the chassis, though, and give it something to do. You can lean on this SLR with some confidence and place it quite precisely. You wouldn't take liberties with it: it's still too intimidating for that. But there being a certain perceptible muscle and attitude about the SLR is all part of the charm, which is as intoxicating now as ever it must have been – and I dare say that MSO wouldn't have wanted to change it too much.
Two things mechanically characterise the car more vividly than anything else, and the first is the way it sounds. Lord above. MSO's new active exhaust has a 'straight through' mode that lets the burnt gases straight out of the V8 but for the catalytic converters. Honestly, it makes the SLR sound a bit like an artillery exchange at close quarters.
On the motorway, because as the driver you're only three feet from one set of front-wing-mounted, side-exiting pipes but about twice as far from the other, it also makes you feel like you've gone deaf in one ear. It's such a wonderfully genuine, absurdly detailed noise that it's very hard indeed not to like it. I swear you can hear every cylinder detonation – and by gum they're loud. Remember the character that Catherine Tate used to play who would scream when her husband rustled his newspaper? I suspect she was perfectly normal until an SLR buzzed her at some traffic lights.
The other thing that will stay with me about the SLR? It sounds quite pedestrian, this, but it's the heat wash off those front-mounted exhausts. Unlike other cars, this is one in which you leave the side windows tightly closed if you want to cool down. Roll them down and gun the throttle and the wave of heat that gradually fills the cabin as the heat from the exhausts is swept out of those enormous front wing vents, through the open windows and straight into your lap is a delicious and tangible reminder of the prodigious mechanical power of which you're in command.
Is it strictly ethical of McLaren to now be profiting off the back of the shortcomings of a car that it engineered and built itself, and not that long ago? You can make up your own mind about that. Whatever you think, the car that MSO has breathed new life into remains utterly unique – and rediscovering it in the age of increasingly anodyne, synthesised and tame electric cars in which we now find ourselves was a genuinely eye-opening and wonderful thing.
Matt Saunders