Pininfarina is opening a new chapter in its 90-year history by turning to hand-built, craftsman-based production of luxury electric cars at its factory in Turin, Italy.
Its new production line opens this month and the first car off it will be the 350km/h Battista battery-electric hypercar. Following the Battista will be a crossover previewed by last year's Pura Vision concept.
The move is part of a €1 billion (AUD$1.552 billion) investment plan funded by Indian car maker Mahindra, which took control of Pininfarina in 2015. It's a bold step for the firm so Autocar was keen to take an in-depth look at the production operation that will underpin this new chapter.
Newly created car-making division Automobili Pininfarina (APF) has turned an assembly shop previously used for prototypes and concept cars into a low-volume production hall for the extreme, €2 million (AUD$3.1 million) Battista at Pininfarina's Cambiano headquarters in Turin.
"This is a major project for us," says chief engineer Paolo Dellacha. "We started planning three years ago, building the company, developing the Battista and building the drivable pre-production cars. In a few weeks, we will have the first customer cars ready from our new assembly facility."
The Battista is based on the tub and running gear of the Rimac Nevera, so APF's assembly process starts with a rolling chassis, complete electric powertrain/battery and a built-up, unpainted carbonfibre body being transported from Rimac's Croatia HQ to Italy.
"The first task is to dismount the body and go through a thorough check of the rolling chassis and electrical system from our partner [Rimac]," says Andrea Novello, who runs the body, trim and closures operation and joined the firm from Maserati.
One of the key operations for any BEV assembly line is to manage the battery safely because a shock from the 800V battery could prove fatal, so the assembly process has specific 'go live' and 'de-engage' operations.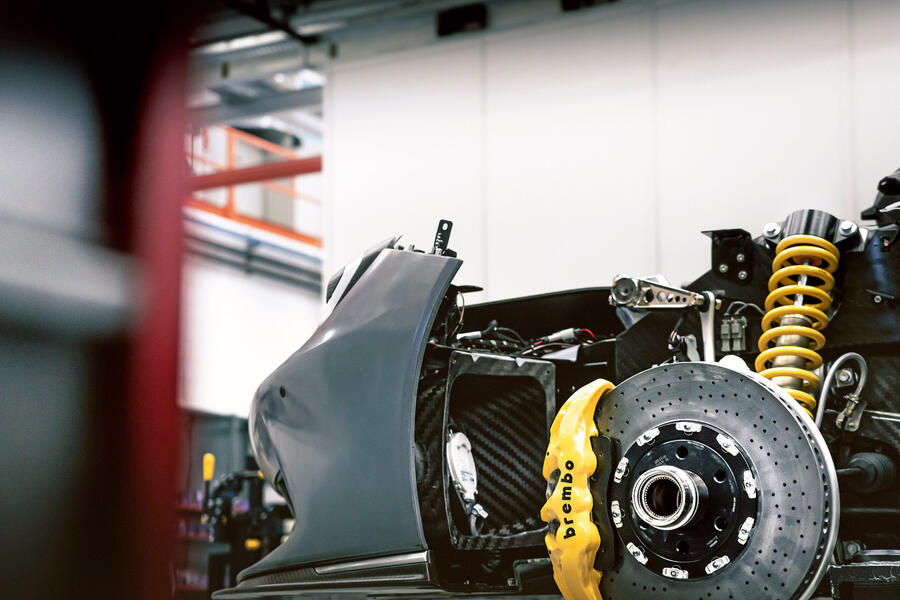 "The first go-live is performed by Rimac," says Novello, "but the battery is de-engaged for transport to us. We then go live at the start of assembly to check all the systems. Then we de-engage because we must build with the high voltage off. De-engaged is essential to safety."
Production at Cambiano is broken down into a methodical, step-by-step workflow, just like a typical car line, and it has nine main work areas.
But given the low production volume – 150 cars over three years – the business plan hasn't had to fund a capital-intensive, moving production line to transport vehicles between assembly stations. APF is coy about the investment at Cambiano, although the whole Battista project is reputed to cost the thick end of €1billion (AUD$1.56 billion), a figure that's comparable to similar ICE projects.
As such, instead of a fixed production line, APF moves Battistas by hand. Cars are mounted on castor-equipped dollies that support the bodies with precision production jigs to maintain dimensional stability.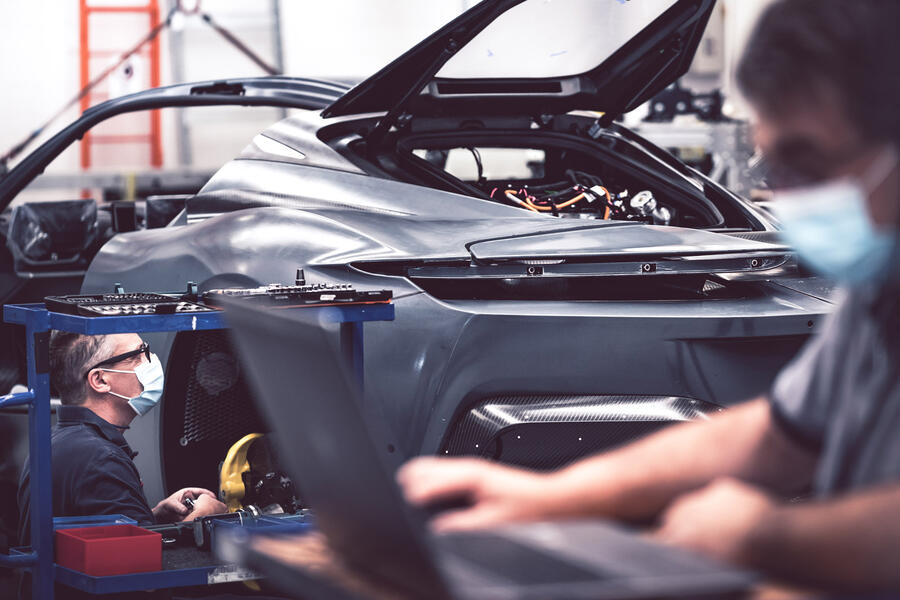 Novello quotes a 10-week build time, equivalent to a substantial 1250 man-hours per car, which rises to a lavish 2000 man-hours when paint shop time is included. For comparison, a luxurious Bentley Mulsanne is in final assembly for around 500 hours – less than the time the Battista spends in paint.
This high proportion of hand-finishing certainly fits APF's description of itself as an atelier and 2000 hours demonstrates a labour of love that will arguably be needed to justify the Battista's AUD$3.21 million price.
Novello says the hypercar's body, for example, is around two weeks in assembly: "The body-in-white is where we invest a lot of time and skill." The body-in-white requires fitting the body onto a precision jig to hold the 20 body panels in their exact finished position, panel gaps and fit adjusted, before they are transported off site to a contract paint shop for application of the three-layer paint finish, followed by re-assembly onto the rolling chassis. Special-edition cars, such as the Furio and Anniversario, will be painted at Cambiano.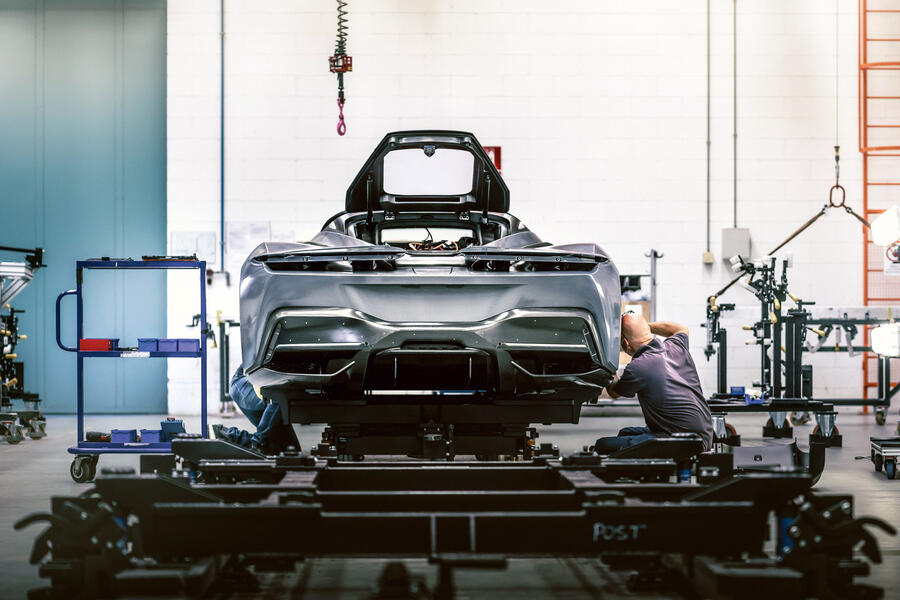 The factory is run lean, with just 16 assembly craftspeople and 13 managers and production engineers to oversee the process.
Little mechanical handling gear is needed on the line. Even the heaviest parts of the Battista, such as the fully built door assembly, can be positioned by hand. Then trimming the body takes a further four weeks.
With one finished car expected out of the plant per week, there are "between 10 and 13 cars in production at any one time", says Novello.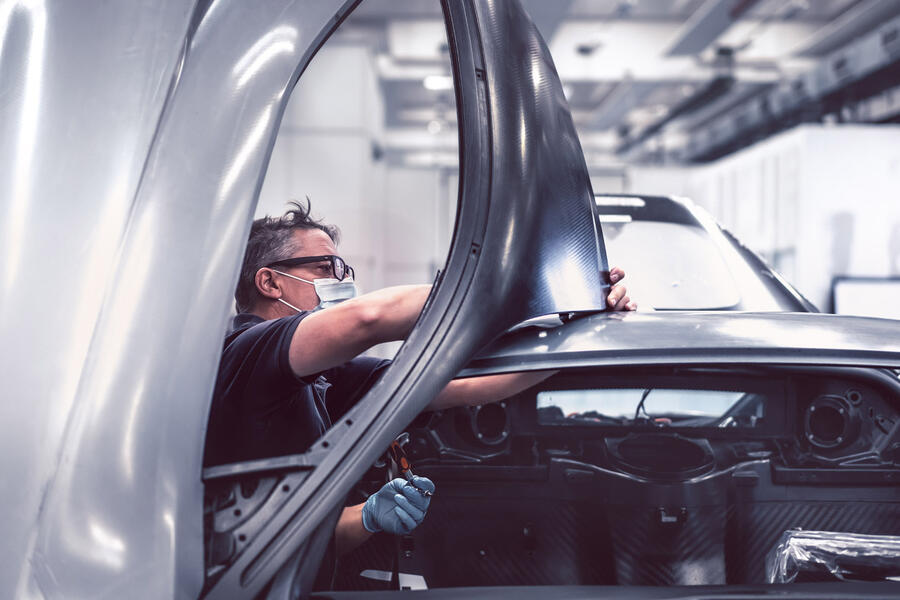 Another difference from a standard production car is the dashboard assembly. Because the carbonfibre tub is torsionally very stiff, the Battista dispenses with a cross-car beam, which braces the body behind the dashboard on most metal-bodied cars. Deleting this makes the dashboard easier to fit, according to Novello.
The Battista's suspension is also subject to a deep dive on quality, so although the Rimac-supplied rolling chassis arrives with springs, dampers, anti-roll bars and tyres that are unique to the Battista, APF goes through the set-up to ensure that it meets specification, including the all-important geometry.
"Yes, we are buying in the elastokinematics from our partner and it is all built up by Rimac," says Dellacha, "but totally to Pininfarina specifications."
With quality at the top of the agenda, every Battista spends four weeks in end-of-line quality and systems checks, including a 40-minute water ingress check, before being released to customers.
Given the business and financial difficulties that Pininfarina went through in the late 2010s and new ownership in 2015, the imminent arrival of the first Battista off a new production line in Turin is the vital sign that the company is on the way to a more prosperous future.
Now it's building cars for itself, not other car firms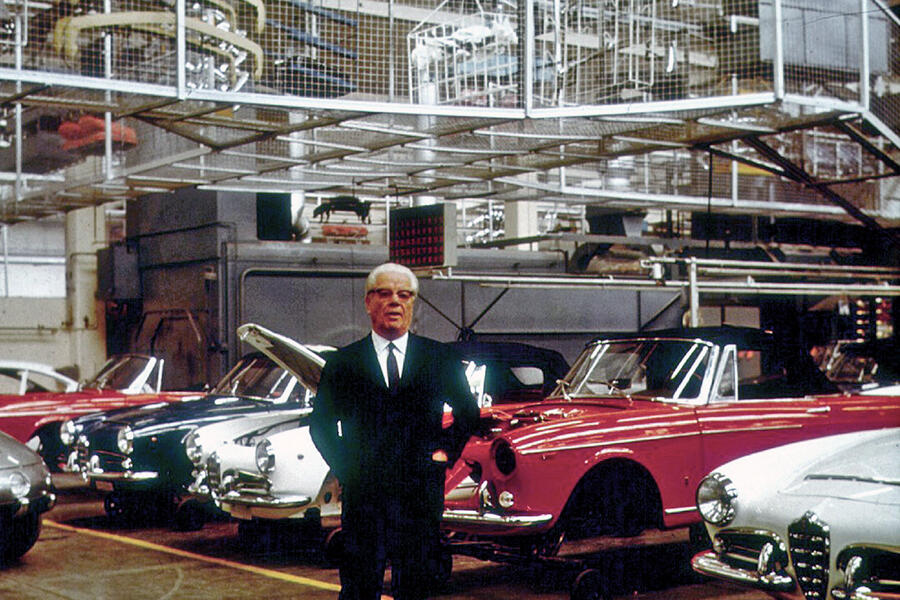 Better known as the designer of glamorous sports cars, including Ferraris up until 2012, Pininfarina's origin as a coachbuilder in the 1930s meant that, for 90 years, it had a significant capability to build bodies and finished cars.
It started with a site in central Turin that was destroyed by bombing in World War II and peaked with a network of plants in the 2000s but has contracted today to be concentrated at an HQ in Cambiano, southeast of Turin, where the Battista is built.
At its height in the mid-2000s, Pininfarina operated three body or assembly plants in Turin, plus a joint venture in Sweden with Volvo, and employed nearly 3000 people in production.
In the 1990s, for example, it had capacity for 60,000 units and contracts for a wide range of production cars, from Bentley's Azure to the Mitsubishi Pinin.
The bulk of the work was concentrated at Grugliasco, which opened in 1958 initially as the home of the Alfa Romeo Giulietta and went on to make some of the world's most memorable cars, including the Ferrari 250 GT and Fiat 124 Spider.
Twenty-eight years later, a second plant was opened at San Giorgio, also in Turin, to satisfy a contract with GM for Cadillac Allante bodies.
Pininfarina's third plant, at Bairo Canavese, opened in 1999 exclusively to assemble up to 20,000 units per year of the Pinin 4×4.
However, strategic shifts in global car makers' production capability in the mid-2000s were not kind to Pininfarina, and as manufacturing work dried up, financial losses grew, hitting nearly AUD$937 million in 2008 and resulting in the end of production work on behalf of car makers at all three plants at the end of 2013.
This led to the AUD$262 million takeover by Mahindra in 2015, the firm subsequently establishing the Automobili Pininfarina subsidiary to build the Battista.
Grugliasco shut in 2009 and the last Alfa Breras and Spiders were built in November 2010 at San Giorgio while Bairo Canavese limped on until 2013, building the Bolloré Bluecar BEV.
While medium-volume production is no longer economic, Pininfarina has reinvented itself as a builder of very high-value, specialist hypercars, and that's the immediate future for this long-lived Turin automotive powerhouse.
Julian Rendell