Why did the UK's richest man pull the plug on his electric car and was it any good? We gain unrivalled access to the car and its creators.
The sudden demise of the Dyson electric car project last October was one of the most shocking events of postwar car history in the UK – mainly because after so much hype it was so unexpected. Backed by £2.5 billion (AUD$4.56 billion) of personal investment from Britain's richest man, Sir James Dyson, the all-electric seven-seat luxury car had seemed set for the same shining future as most of Dyson's previous projects.
But in an email announcing the project's closure, sent to employees on 11 October last year, the inventor revealed that "we simply can no longer see a way to make the project commercially viable".
The nub of the problem, he claimed, was that most current electric cars were loss makers whose manufacturers were using them as a way of lowering fleet average CO2 so they could continue selling conventional cars profitably. They were serious about their electric cars for the long term but for now profits were not the priority. These cheap EVs would price the £150,000 (AUD$275,000) Dyson electric car out of the market in its critical launch years, Dyson explained, and he could see no way around it. So he took a fateful decision that "tore all our hearts out" but protected the rest of the Dyson business.
At the time, precious little was known about the Dyson EV outside the company: no details on size, powertrain, running gear and mechanical layout apart from some loose descriptions of a "possible" concept issued about six months before the demise, apparently to support patent applications.
However, Automotive Daily's exclusive partner Autocar recently obtained exclusive access to the car's prototypes and creators at Dyson's R&D base in Hullavington, Wiltshire, talking remotely to Sir James Dyson and to the company's vice-president of automotive, Ian Minards, who as a long-serving former chief engineer at Aston Martin brought vital car-building expertise to Dyson when he joined in 2016. Another important source was Ian Robertson, a Dyson director who until mid-2018 was a main board member at BMW and an important supporter of BMW i electric car programme.
The Dyson car we saw turned out to be remarkably true to the patent illustrations: a large, seven-seat 'crossover' style, exactly five metres in length, with short front and rear overhangs and unusually generous ground clearance, riding on convention-busting 24in wheels and relatively high-profile tyres giving a wheel/tyre diameter approaching a metre. Despite the car's size, and the fact it delivered the 'command' driving position that was one of Dyson's first requirements, it was much lower (at 1690mm tall) than a Range Rover. It looked radical, but it also looked 'right'. Most outstanding of all its specifications was a mighty, 150kWh lithium ion underfloor battery pack taking up most of the 3275mm wheelbase and giving a 600-mile battery range, Dyson's unbeatable answer to range anxiety.
To design, develop and test the car – before manufacturing regular production models in Singapore – Dyson acquired and restored hangars and runways at the former RAF Hullavington airfield, a 1937 training base for WW2 pilots close to his existing business in Malmesbury, Wiltshire, where despite assertions about the company 'moving to Singapore', 5000 engineers continue to research and develop new Dyson products. Indeed, the airfield facilities are already being repurposed for group expansion into other areas.
Developing the concept
Sir James Dyson says the idea to build an electric car dates back to 2014, when Tesla was the only premium manufacturer seriously pushing EVs. "I thought most of the industry had it wrong on electric cars," he recalls. "I was pretty sure people would start voting with their feet and buying them, encouraged by peer pressure, legislation and an interest in green issues. We already had expertise in electric motors and were developing new batteries. And the science of air management – heating, cooling and purification – was a big part of our business. So I saw a commercial opportunity and a design opportunity."
Dyson says his idea for a big-wheeled car was oddly related to his friendship with the late Alex Moulton, an enthusiast of small-wheeled cars (the Minii) and bicycles (his own successful designs). "I'd often heard his arguments for small wheels – low unsprung mass and minimal intrusion into the cabin – but it seemed to me there was an argument for the opposite extreme," says Dyson. "And I liked the idea of an SUV-type vehicle because they were popular in China, where there's a big demand for EVs and where rear accommodation is particularly important because many owners are chauffeured through the week and drive their families on weekends."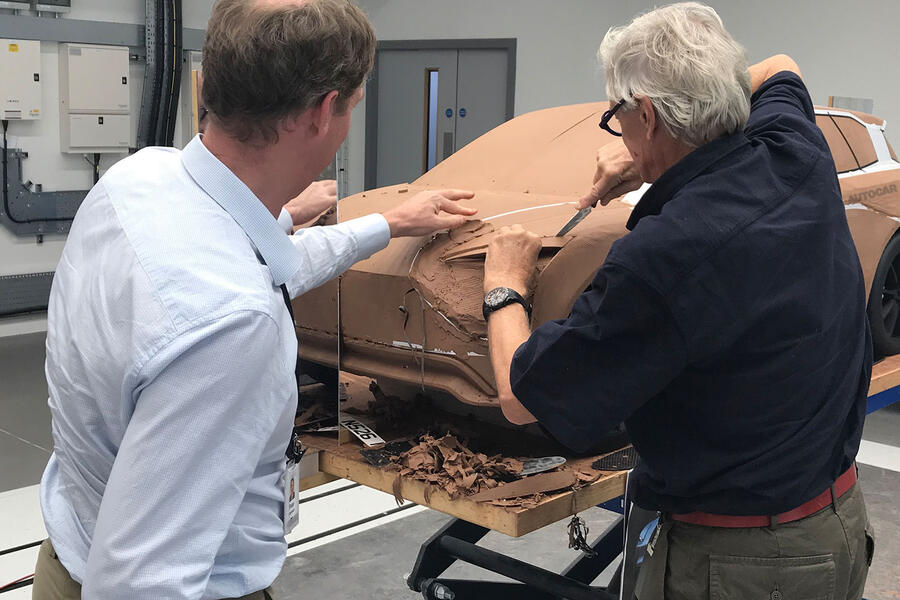 Big wheels delivered good ground clearance, he argued, while a long-wheelbase, wheel-at-each-corner design left space for the large battery pack under the cabin floor, with seven occupants carried above it and an adjustable second row of seating so Chinese owners could be carried luxuriously behind the chauffeur. The key advantage, Dyson felt, was that the layout offered space and command driving without the huge, energy-killing frontal area (thus aerodynamic drag) of 'normal' SUVs.
Give him half a chance and Dyson will reel off more big-wheels advantages: quiet running, low rolling resistance ("I think we found about an 8% advantage there") plus their ease at dealing with bumps and potholes ("we had surprising results with run-flat tyres; despite their stiff walls, ride comfort was fine"). There are also aerodynamic wins ("they're fairly skinny") and roadholding and traction are good in snow and on wet roads. And with the wheels at the extremities and some advantage from EV packaging, wheel intrusion into the body wasn't an insurmountable problem. Several tyre manufacturers, notably Bridgestone and Michelin, embraced the big-wheels idea, conducting research to confirm that it was practical.
However, Dyson's final big-wheels advantage is the most noticeable of all: the visual benefit to the car that every car designer knows. "They just look great," he says enthusiastically. "We kept viewing our car against others – and I own a Range Rover so I'm not just being bitchy – and after a while, the others' wheels looked almost stupidly small. We concluded that we had a real advantage."
Dyson's business case was based on an initial annual volume of 5000 cars, sold at a base price of £150,000 each, the earliest few of which would be built in Hullavington before production transferred to Singapore. The designer doesn't reveal his target volume, but it must have been at least twice the initial figure. "It's dangerous to start a business expecting the volume in your dreams," Dyson says. "When I started my vacuum cleaner business, I was conservative about my predictions and they were accurate for the first couple of years. Then they went off the scale, which was good…"
Mechanical details
Once the broad layout of the car was decided, the mechanical design followed logically: an extremely rigid 'aluminium-intensive' monocoque body/chassis carrying the 150kWh battery in a two-layer stack of 8500 cylindrical cells, 174mm tall, located beneath the floor. When bolted into place, the battery's housing made its own contribution to the car's impressive total structural rigidity of 25kN/deg.
In these first iterations, a lithium ion battery stack was specified, its tray-like chambers deliberately designed so it could be 'depopulated' when more compact, lighter solid-state batteries came on stream as they were expected to do during the platform's estimated 12- to 14-year life. When solid-state batteries arrived, the current car's kerb weight of about 2600kg would fall "significantly".
Dyson believes his car's long range was one of its conclusive advantages, even against Tesla: "Our research showed that in our part of the market, you were only considered if you could offer a very long range. I know people argue that many drivers only commute 30 miles a day, and that may be true, but we found that everyone does a 1,000-kilometre trip once a year and sometimes more often. And having to stop to recharge on a trip simply wasn't on."
Two identical Dyson-designed 197kW digital electric motors – configured for lowest mass and with efficiency up to 97% – are used (one front, one rear) to drive all four wheels via sophisticated traction control and torque vectoring systems. With a combined torque output of 650Nm available from standstill, the car has an estimated 200km/h top speed and 0-100km/h acceleration of about 4.6sec. But although two prototypes reached a driving stage, they didn't do any serious performance testing.
Body design
Sir James Dyson and his long-time colleague Peter Gammack did the body design themselves. "We were on a steep learning curve," says Dyson. "We didn't involve outside design studios, but we did get some experienced car people in to show us where we were going wrong. There are all sorts of tricks to designing cars that Pete and I didn't know about. We learned them partly by trial and error, partly from the advice of the experts."
The first running car, which the Dyson team knew as the EDV (for Experience Demonstration Vehicle) shows the result of one of the errors: it's a lesser-known fact of car design that if you draw a shape that incorporates prominent straight lines on the body sides, it ends up looking 'saggy' in the middle. This one did just that, and had other inadequacies such as untidy aerodynamic addenda.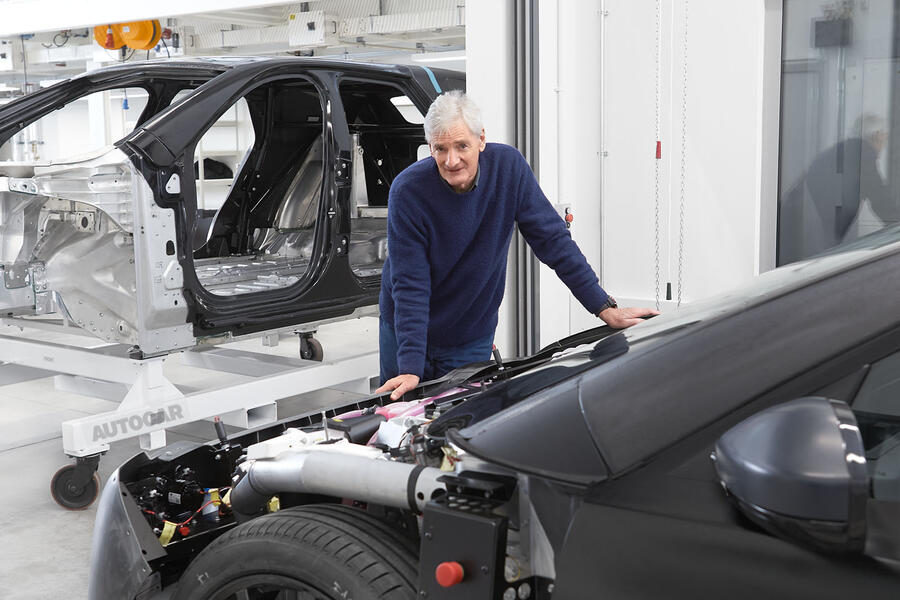 Dyson and Gammack corrected their mistakes in a series of steps, ending up with a simple, credible and nicely detailed shape that uses a radical front screen rake, the comparatively low roof and the big wheels to disguise its bulk, while incorporating luxury car niceties such as frameless side glass and coach rear doors to help justify the anticipated premium positioning. "It's a huge car that thinks it's small," says Dyson aptly.
Suspension
The suspension, developed in-house, is all independent by air springs and has a cross-connection anti-roll system that, as Minards points out, is reminiscent of Moulton's pioneering Hydrolastic system and takes the place of the steel anti-roll bars that most cars use.
The front suspension uses widely spaced double wishbones and the rear is a multi-link system. The car was built to ride higher even than a Range Rover in standard guise but, as Minards explains, its air suspension makes it configurable in three different heights: 270mm as standard, 235mm at motorway cruising speed (to lower the car and thus the frontal area) and a driver-selectable 290mm for wading or traversing rough ground.
Interior
The Dyson crossover is vast and futuristic inside. The design of the fascia and extremities is arrestingly simple, with carefully chosen colours and materials to give it a reassuringly expensive look, with radically shaped and firmly upholstered seats commensurate with the £150,000 price (AUD$275,000) that Dyson needed to put on the car. With its three rows of seats evenly spaced, the car has adult seating for seven, but with the second row pushed back, there is a throne-like space for owners who prefer to be chauffeured. "This is a car to be driven in as well as to drive," says Dyson.
The seats themselves are akin to pieces of avant-garde sculpture. "In a way, the seat design was the boldest thing we did," says Dyson. "I hate what car seats have become, a kind of pastiche of the 1930s armchair. Our seats are the antithesis of that. We tried to express in visual terms the ergonomic qualities a good car seat should have, especially effective lumbar support."
Dyson and his engineers put much effort into keeping the fascia low as a way of enhancing the sense of command driving. "In some cars, the fascia is almost at eye level," he says, "and I've never liked that. The last thing you want is to feel you're submerged in a car."
Design simplicity extends to the controls and instrumentation: Minards describes the central design objective as being "hands on the wheel, eyes on the road, mind on the drive", which is why every control the driver needs is mounted on the steering wheel centre boss, an area repeatedly redesigned for feel, finger reach and hierarchy of use until Sir James Dyson was happy. The car also has a rectangular multi-function screen in the middle of the dashboard, above the centre console, but both Dyson and Minards dislike it, pointing out that it's only because some countries' legislation requires it. In the prototypes, information reaches the driver via a comprehensive and well-organised head-up display, and there was a plan within a year or two to adopt a forthcoming hologram-like display that simply hovers in space.
Another key cabin feature is a revolutionary HVAC (heating, ventilation and air conditioning) system that uses 'zoning' to heat and cool occupants rather than the cruder and less efficient approach of uniformly changing the air mass of the entire cabin. Dyson built a whole prototype just to develop this system. Twin heat pumps in the car's nose provide cooling for cabin, battery and drive motors all in one, using power very sparingly. "We took a group of engineers who'd never seen an automotive HVAC system," says Minards, "and watched them develop something really special, with the emphasis on energy optimisation."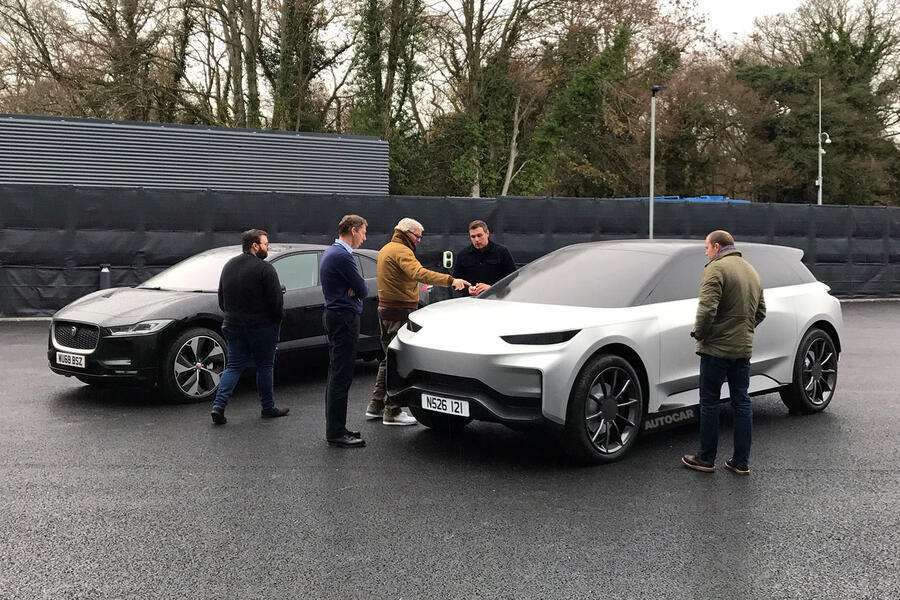 Driving the prototype
Dyson did get to drive his brainchild before the axe fell, although not very far or fast. He was satisfied with its elevated driving seat and looked approvingly over its low fascia. "Driving it was fun," he says, "though we didn't go very far or fast. But most of the time, we drive cars slowly, don't we? I had a good impression of how easy it'd be to drive our car in a traffic jam. And it was good to see it outside the studio and know we had chosen the right concept."
We were still talking animatedly when, after nearly two hours, we ran out of time. The designer was being urged by his aides to join other meetings; the fact that he rebuffed them repeatedly showed just how important the car project had been to him. But suddenly, with a flicker of the screen, he was gone.
Although the Dyson electric crossover prototypes are manifestly unfinished, they were clearly within sight of production. I was impressed enough with their shape and specification – and heedless enough of a need for impartiality – to comment to the designer that it seemed a crying shame that such fine machines, so close to completion, would never see production. "Join the club," said Sir James with feeling. "Join the club."
MY OTHER CAR IS A CITROEN
When a billionaire builds a car that carries his own name, one question rises above all others: what cars do you already own? It turns out that, following "a Ferrari period which I greatly enjoyed" and aside from "a small collection of Land Rovers", Sir James Dyson's favourite car is his 1970s Citroën SM – which, interestingly, is a long car with long-wheelbase, interconnected suspension that rides on big wheels, rather like his Hullavington creations.
"It was designed in the late 1960s," Dyson says, "and what with the wonderful shape, the suspension and the swivelling headlights, it was incredibly futuristic. We have sleeping policemen to slow the traffic on several of our roads at Hullavington but you can take them at 50mph in the Citroën and hardly feel a thing. Mind you, there are some things about it that are very old-fashioned indeed. One is that its V6 engine produces a really wonderful throaty roar. Another is that it hardly ever starts first time…"
Steve Cropley