Developed by the founder of Formula E, the outlandish new electric super-SUV series Extreme E is aiming to reinvent motorsport.
The whole concept of Extreme E is ludicrous. Utterly, utterly ludicrous.
Consider: it's a new series for lightweight electric off-road racers producing 400kW and 920Nm that will compete in a series of contests in five of the world's most remote locations, spanning four continents. So far, a little unusual.
The X Prix events will take the form of qualifying, semi-final and final sprints, staged on a two-lap run over on an off-road track around 8km in length. Teams of two – one male driver, one female – will take part, with a mid-race driver switch at the end of the lap. Okay, that's quite odd.
The five event locations have been selected because they've all been damaged by human activity and climate change, with the goal of the Extreme E organisers being to raise awareness of such issues and support sustainability projects to repair their environments for the future. These efforts to promote sustainability will be overseen by an expert independent panel of scientists, drawn from Cambridge and Oxford universities. Right, then. It's getting crazy now.
Anything else? Oh, yes: instead of flying to each location, the entire operation will be carried on a specially converted Royal Mail cargo ship that will double as a mobile environmental research laboratory. See? It's absolutely ludicrous.
It's a concept that's like no other motorsport championship previously conceived – and one that seemingly stretches the boundaries of credibility. So why should we be taking Extreme E seriously? Well, for starters, because the man who created it has a proven track record of pulling off the seemingly impossible. That man is Alejandro Agag, the 49-year-old Spanish politician-turned-businessman-turned-motorsport team boss and the founder of Formula E.
While it's now in its sixth season and supported by some of the world's biggest car manufacturers, the basic concept of an electric single-seater championship met plenty of scepticism and doubt when Formula E was launched back in 2014. Many doubted it would even get to launch. And even when it did, some didn't think it would survive.
"Extreme E is only possible because of what happened with Formula E," says Agag, who remains chairman of the single-seater series.
"It has been motivation for me: people have questioned whether Extreme E can actually happen, but less than they did when we launched Formula E. It has been key to giving us energy, and we've gained credibility."
Extreme E was also shaped in part by Agag's desire to create a series as far removed from Formula E as possible.
"Formula E is based around single-seater racing cars," he says, "so we wanted to do something based around road cars, and SUVs are an increasingly big market for manufacturers.
"And Formula E was designed to take part inside cities, so we went to the other extreme and sought out the most remote locations possible."
Those five locations are key, with each based in a different environment – ocean, desert, glacier, arctic and rainforest – to showcase a range of ecological issues. While Formula E is designed to take electric cars to the public, Extreme E is about taking the public – virtually, at least – to the environment.
"From the beginning, a real priority has been to base the project in science," says Agag. "Of course Extreme E is a race, a car race. But we want to use it as an instrument to tell the story of what's going on in some of the most damaged ecosystems on the planet."
That's where the Scientific Committee comes in. Its four members will advise Extreme E bosses on how to minimise the environmental impact of the series, on research and education programmes and on legacy initiatives to support communities in each region visited. For example, for the 'rainforest' event in Brazil, Extreme E is working with a local project called The Nature Conservancy to restore several hundred hectares of the Amazon.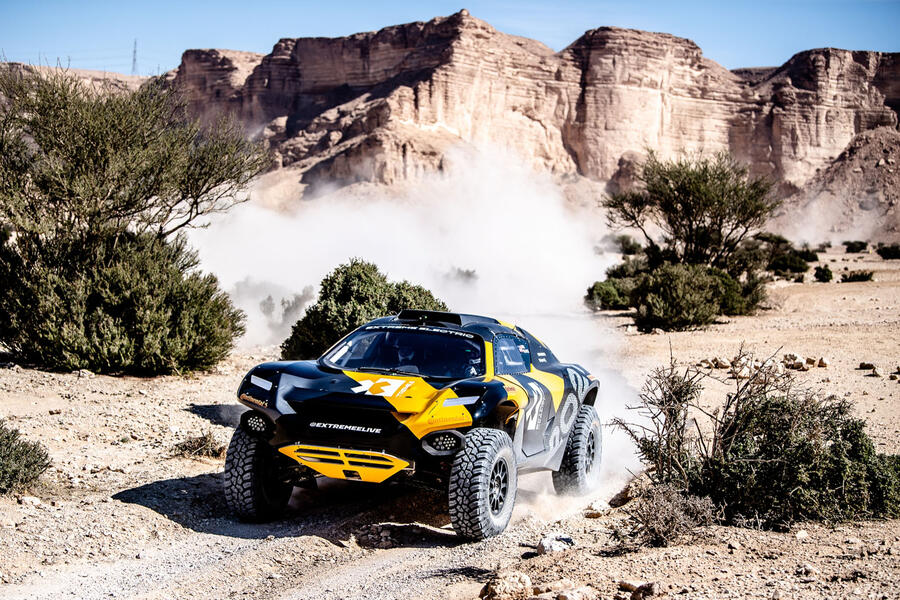 It's perhaps fair to mix some cynicism in with your scepticism here: surely motorsport and conservation don't mix? "There are people who think we're taking big SUVs to beautiful places and destroying them," says Agag. "But what's important here is the reality: the places we're racing in are already damaged. It's impossible for a car to damage a beach full of plastic or a deforested region. And if we looked at racing in a place we could damage, the Scientific Committee would stop us.
"The important thing is that by going and racing there, we're going to raise awareness – and then we're going to help fix it."
To get to those regions, Extreme E will use the aforementioned RMS Saint Helena. Built in 1989, the 150-metre-long, 6767-gross-tonne vessel was primarily used by the Royal Mail on a route between Cape Town in South Africa and the isolated Atlantic island of Saint Helena. It has now been extensively reworked (including being given a bold new paint job) to become a mobile paddock that will ship the entire Extreme E circus around the world. A built-in environmental laboratory will allow scientists to conduct work in the regions the championship is visiting.
Of course, international shipping is a major contributor to environmental damage, and the RMS Saint Helena is powered by diesel engines. But Agag responds: "Any human activity has a carbon footprint. If you don't want to create one, you need to stay in bed – and even doing that has a carbon footprint.
"The aim is to minimise your carbon footprint, and using a ship will produce about a third of the emissions of flying. We've installed state-of-the-art filters to make the engines as clean as possible."
Extreme E's remote locations means that its events won't be open to spectators, which is another reason for scepticism. Formula E's city races give it a high profile that has helped draw in major manufacturers, but it still struggles to attract substantial television audiences. So can Extreme E?
"The interesting locations will get people to their screens to watch," says Agag.
"People will want to watch the locations, and that will be a big hook for fans. And when they do watch, we need to make sure we get a real race, and we need a competitive race with high performance – and the performance of these cars is huge and crazy."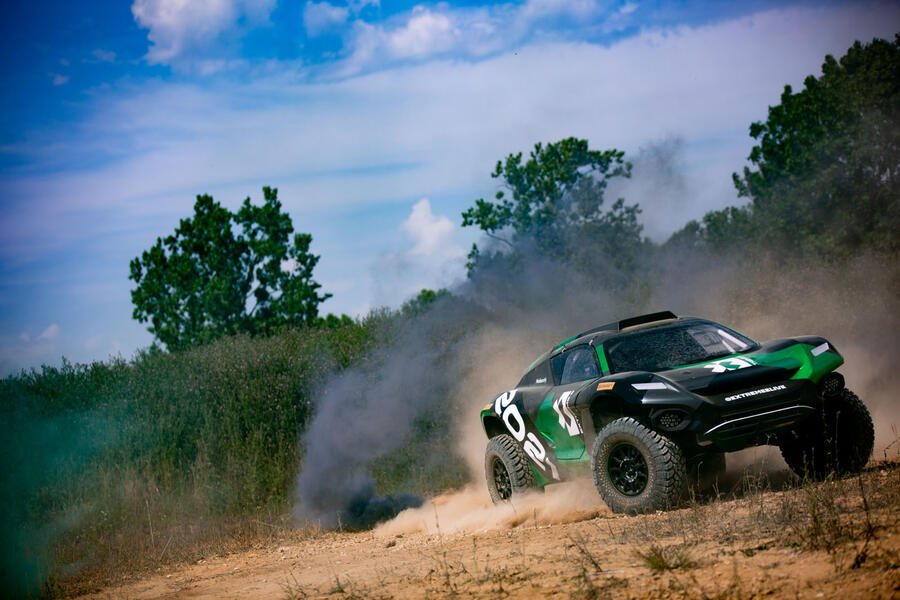 As with Formula E, Extreme E will effectively start as a single-car formula, using what's officially known as the Spark Odyssey 21. Built by French company Spark Racing Technology, which also makes Formula E chassis, it's a bespoke 1650kg, four-wheel-drive machine built around a steel-alloy tubular frame.
It has beefed-up double-wishbone suspension with 385mm of travel and Continental off-road tyres. A mid-mounted electric motor gives it a total output of 400kW and 920Nm for a 0-100km/h time of 4.5sec; its top speed is limited to 200km/h. Teams and manufacturers will be able to use their own bodywork so the racers can be linked to road-going SUVs.
"They're monsters," says Agag. "They have power and acceleration that you've never seen before in an SUV. We had a couple of drivers who've done the Dakar Rally test the car, and they were in absolute shock afterwards. The power-to-weight ratio and handling are off the scale. They're pure race cars.
"We're using the ultimate in Formula E technology. When we started Formula E, we were starting from scratch. For the first season, we looked at what we could do in terms of performance, but we put the focus on reliability: to ensure credibility, we needed cars to finish the race. Then we've slowly increased performance as the series has grown. But with Extreme E, we're starting with six years of Formula E technology."
Extreme E also starts with the benefit of six years of Formula E credibility. When that championship started, the major questions surrounded the technology. Given the advances in EVs since 2014, that won't be an issue for Extreme E; the questions for the new series concern its environmental message.
Agag is aiming to draw interest from those with an interest in the environment who are new to motorsport, as well as general motorsport fans "who get a fix from any sort of combustion engine or EV competing".
He quips: "There will be hardcore petrolheads who will be impossible to win over, so why should we try?"
But for those who do tune in? "Extreme E can grow into a valuable platform to raise awareness of environmental issues, which is the main target," says Agag. "And it's also going to become a really fun format that fans will want to watch. It's the future of off-road racing."
It's also, as we mentioned before, utterly ludicrous – and yet it's absolutely worth taking seriously.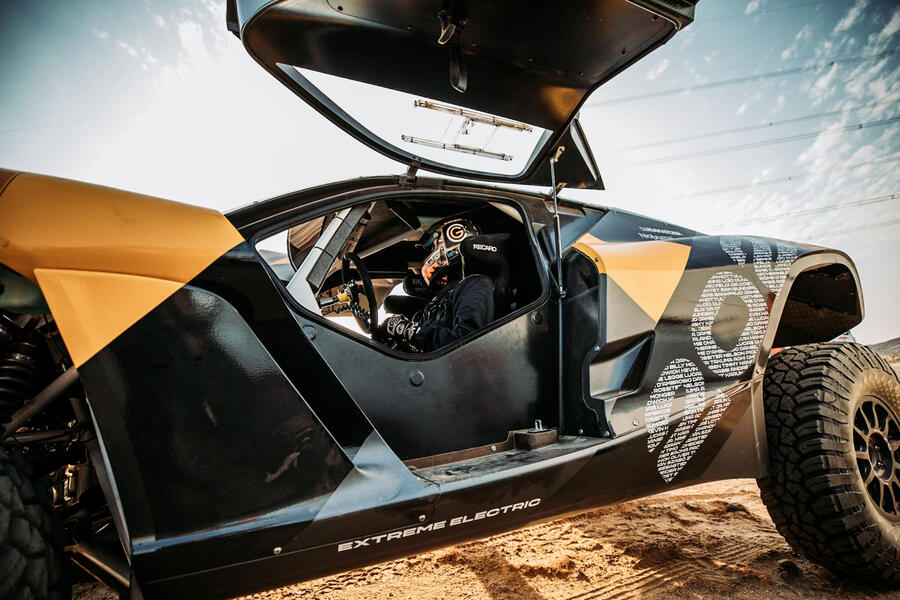 The Extreme E format
X Prix events will run over two days, on an off-road course around five miles in length and marked out by a series of five or six 'virtual' gates that must be passed through. Each race will take place over two laps, with a driver swap required at the end of the first.
The opening day will feature two qualifying rounds, each with two four-car races. That means the eight teams will each take part in two races, with the line-ups shuffled for the two qualifying rounds. The fastest four will progress to the first semi-final, with the bottom four competitors moving into the second semi-final – known as the 'crazy race'.
The top three finishers from semi-final one will progress to the final, where they will be joined by the winner of the all-or-nothing 'crazy race'.
Competitors can also benefit from the Hyperdrive feature, which will be offered in each race to the driver who perfoms the longest jump on the course's first crest. In a similar fashion to Formula E's fanboost, it will give that driver a temporary power boost.
A number of drivers have signed up to an Extreme E drivers programme to show their interest in competing in the series. They include six-time world rally champion Sebastien Ogier, double DTM champion Timo Scheider, Formula E champion Lucas di Grassi, Le Mans winner and Formula E racer Andre Lotterer and W Series champion Jamie Chadwick.
The first confirmed driver is Sara Price, a dirt bike champion and former X Games medallist who now runs in off-road desert truck racing. The 27-year-old Californian will compete for the Chip Ganassi Racing squad.
The 2021 Extreme-E calendar
22-24 Jan Lac Rose, Senegal (ocean)
4-6 Mar Al-'Ula, Saudi Arabia (desert)
6-8 May Kali Gandaki Gorge, Nepal (glacier)
27-29 Aug Kangerlussuaq, Greenland (arctic)
29-31 Oct Santarém, Brazil (rainforest)