Just after the turn of the century, a Swedish newcomer burst onto the scene with an impressive new supercar. Here is the original road test from 2003.
As everyone knows, supercars come from Britain, Italy and Germany.
Sure, the Americans have their Vipers and 'Vettes, but if you're looking for cars to whom 320km/h is just another figure on the dial, all of them, from McLaren F1 to Jaguar XJ220, past Pagani Zonda and Ferrari Enzo to Mercedes-Benz SLR and Porsche Carrera GT, come from these three countries. They own the state.
At least, they did until now. The €425,000 (AUD$671,000) Koenigsegg CC8S may well have the silliest-sounding name since Nissan's Pantryboy Supreme, but that doesn't mean it should be treated with anything other than deadly seriousness.
And here's why: its makers claim it has 482kW and weighs 1275kg. To save you the maths, that gives it a power-to-weight ratio of 378kW per tonne – just shy of the McLaren F1. On this basis, what you're about to read should be a road test of one of the fastest production cars the world has ever seen.
And it is Swedish.
The Koenigsegg has an impressive set of engineering credentials. At its heart lies a carbonfibre tub, laid up and cured at the factory, that Koenigsegg says is stiffer than that of any other supercar. Yet it weighs just 62kg.
There are subframes at either end and a front fashioned from chrome, molybdenum and steel, while at the rear, the engine and gearbox are carried by milled aluminium brackets. The bodywork is carbonfibre and in places it has been left unpainted, adding a sense of purpose. It is beautifully finished.
Power comes from a Ford 4.7-litre V8 which has been entirely reworked by Koenigsegg.
Inside you'll find forged pistons and con rods, while the headers are made from titanium and its induction system crafted from carbonfibre. A Vortec supercharge offering up to 1.2bar boost is fitted, a considerable figure given the engine's high 8.6:1 compression ratio.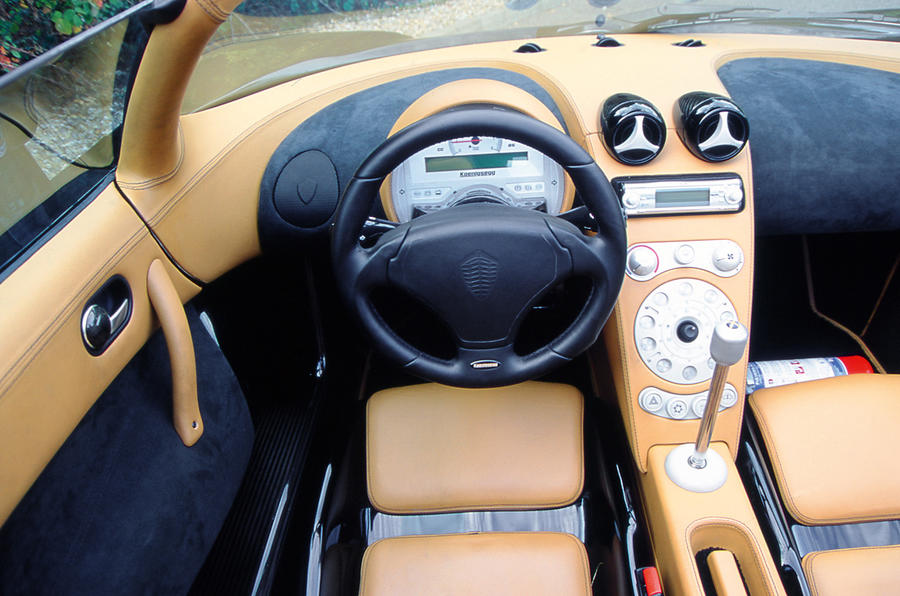 Its headline figures of 482kW at 6800rpm and 750Nm of torque at 5000rpm appear to speak for themselves, but these monstrous outputs need some interpretation. For instance, every litre of this engine is being asked to provide 102kW, which points to a mighty state of tune.
Though the torque peak is roughly what you might expect from the engine, it's not where you might expect it. Supercharged engines are renowned for producing great torque from idle, but this one is the exception.
At 3000rpm, where you might expect a car such as this to be shredding the tarmac, the Koenigsegg is producing barely half its maximum torque and nothing like as much as, say, a BMW 530d. The ramifications of this will shortly become clear.
Looking after all this power is a six-speed gearbox made by Cima in Italy. It finds its way to the road via 335/30 ZR 20 rear Michelins (those at the front are of considerably more modest 255/35 ZR 19 proportions, and our test car wore older 18-inch rims), which are suspended by wishbones at each corner and serious horizontal spring/damper units.
They contribute to an appearance under the engine cover that owes more to a Le Mans racer than a street machine.
One look at how the doors open reveals how thoroughly engineered this car is.
Press an electric button hidden in the side scoop and the door angles out and pivots forward until it is perpendicular to the ground and almost entirely ahead of the door opening.
As well as proving a talking point, it also provides superb access to the cabin, particularly if you are in a tight space. This is just as well for, once you're through the aperture, the Koenigsegg is none too easy to climb aboard.
This should be seen in context – compared to slipping into the McLaren's driving seat it's a doodle – but the wide sills, narrow seats and limited head- and leg-room make the interior a place best inhabited by those under six foot. Taller drivers can get comfortable, but not without first enduring an undignified entry.
The steering wheel adjust for rake and reach, but is set pretty close to the driver with the gear lever a mere hand's span away. The beautiful aluminium pedals are displaced considerably but not uncomfortably to the right, while the thinly padded carbonfibre seat tilts as well as slides.
Once in, the Koenigsegg is a thing of beauty. The hand-stitched leather contrasts well with the aluminium and carbonfibre trim to create a classy caving fully in keeping with the car's lofty price. And you can almost forgive the confusing labelling of the minor controls for the neatness of their arrangement in a circular pattern on the centre console.
There is little stowage space in the cabin, but the boot in the nose is surprisingly large, at least when it's not playing host to the carbonfibre and glass roof panel that can be removed by flicking two catches. This is one supercar you could contemplate driving for long distances.
Do so and you'll also find the Koenigsegg is admirably refined for a car capable of well over 320km/h. Those vast Michelins do make a bit of a fuss, but the engine is quiet unless you floor the throttle, and wind noise is only obvious once you're well into three-figure speeds.
Neither we nor Koenigsegg were happy with the performance figures we extracted from the CC8S. This may seem an odd thing to say about a car that will hit 240km/h from rest in 17.6sec, but when the F1 needed just 12.8sec to do the same it's clear something was not right.
There was no way it possessed anything close to its claimed 382kW and had Koenigsegg allowed us more runs we'd doubtless have lowered the 100km/h and 160km/h times. But even so, it's quicker than its headline figures suggest.
A 0-100km/h time of 4.4sec is unremarkable in the extreme for such a car, but that figure would be cut dramatically if, like the Pagani, it had extraordinary traction off the mark and would do it all in first gear.
The ton comes up after another gear change in 8.4sec, but with a torque curve that rises almost as steeply as the power curve and just 1800rpm spanning the gap between peak torque and peak power, keeping the engine on the boil is nigh-on impossible. Gear ratios spaced to accommodate speeds well in excess of 320km/h don't help. Our car had the close-ratio gear set; with the longer gearing, the Koenigsegg claims a 386km/h maximum.
Credit to the Koenigsegg for matching a feat achieved only by the McLaren in our testing: a genuine 320km/h. But 380km/h? We know the McLaren is a genuine 380km/h car and we also know how savage its acceleration was at 320km/h. Clearly the Koenigsegg's impressive high-speed acceleration owes a lot to a phenomenally low drag co-efficient (0.3), but we still can't see the test car getting near the McLaren's marker.
Further insight into the Koenigsegg's character is provided by its in-gear figures. Further comparison to the McLaren would serve only to rub the Koenigsegg's nose in it, but it is instructive to see how it performs relative to the Zonda. From 80-110km/h in top gear takes 10.2sec, compared to the Pagani's 4.4sec. The Koenigsegg's 6.1sec run from 50-80km/h in fourth compares to the Zonda's 3.1sec.
Nor does the Koenigsegg's Ford-based engine offer the aural satisfaction of its V12 rivals from Ferrari or the Pagani's AMG-made motor. At least the 'box is precise and satisfying to use, and there is no quibbling about the brakes. The disc are huge and clamped by six- and four-piston callipers respectively, and the result is one of the best stoppers we've ever encountered.
Pedal weighting and feel are near perfect even after repeated stops from over 270km/h. A 100-0km/h time of 2.4sec speaks for itself. Our only niggle is that such treatment produces sufficient front-end dive for the splitter to scrape the grounds, and as we neared 320km/h, Bruntingthorpe's less-than-perfect surface caused the front wheels to abrade their carbonfibre arches.
The Koenigsegg may not be a 380km/h car, but if it were, it would have the handling to match. At first it's not promising: its two-metre width is intimidating and will inevitably restrict its effectiveness on country lanes, while at low effort the power-assisted helm feels overly light and lacks feel. Give the chassis some work to do, however, and it instantly comes alive.
Grip is never going to be an issue with a car this low, wide and light when allied to such colossal tyres, but that's just the start of the story. There's real feel here, too. You can sense the loads building through your fingertips and that moment when the front tyres are no longer able to follow your precise chosen course could scarcely be more clearly signalled.
Visibility ahead and to the side is also superb thanks to that panoramic front screen and super-skinny A-pillars, meaning you can place the car on the road with such sufficient ease that before long its formidable dimensions become less of an issue.
Correctly, the Koenigsegg is an inherent understeerer, though if it's dry you'll need to be on a private facility even for this to be apparent. It's more neutral at higher speeds, suggesting a tight limited-slip differential is at work, but you'll never start the back wandering without an aggressive right foot. If you are the owner of one of these, you'll need to be quick and accurate to catch the resultingly fast-moving tail.
The ride is uncompromising but stops short of uncomfortable. Some mid-engined cars are quite softly suspended but this isn't one of them, and the price you pay for being kept on such an even keel is a firm primary ride with occasional jolts from transverse ridges.
Even so, it's not so stiff that progress is painful, nor is the suspension so unyielding that it makes the car skip and bounce off the bumps.
In many critical areas, particularly its build quality and chassis, the Koenigsegg is on a par with the best.
Even its performance, which is convincingly shaded by the allegedly less powerful Zonda, is still mighty by almost any other standards; and that with an engine that may have been some distance from being truly on song.
If there is disappointment, it stems from the promise of at least McLaren-equalling performance in a half-priced package.
And, with the best will in the world, the Koenigsegg never looked or felt like dislodging the F1's nine-year grip on the title of 'world's fastest car'.
Still, it's a welcome and impressive newcomer to the growing ranks of 320km/h super cars, and unlike any other since the Mclaren, it has proved its claim in our road test.
That, given its origins, is a remarkable achievement.
Kris Culmer