Lewis Hamilton struggles to recall all of his best Formula 1 wins, and perhaps that's understandable, given that they number in three figures. But there's little doubt that his 101st, secured in spectacular style at the São Paulo Grand Prix at Interlagos on Sunday, was right up there among his best.
This was a triumph from the depths of desperate adversity. In the wake of a thrashing from Max Verstappen and Red Bull Racing in Mexico, Hamilton was hit with a double whammy in Brazil. The need for an engine change, his fifth ICE of the year, landed him a five-place grid drop for the grand prix itself. And then for the Saturday Sprint, he was then relegated to the back of the grid over a contentious rear wing infringement.
The gap between the planes that make up the Drag Reduction Systems (DRS) was too wide – by just 0.2mm. The stewards accepted that it was unintentional, didn't allow Mercedes access to inspect it – and penalised Hamilton anyway. Already 19 points down on Verstappen in their fascinatingly intense title duel, it appeared his hopes of an eighth world title were slipping through his fingers.
But Hamilton's performance in the Sprint – from last to fifth in just 24 laps, including arguably the pass of the season on Lando Norris into Turn 1 – was sublime. The grid drop then kicked in, which meant he still faced starting 10th for the grand prix proper, yet it didn't seem to matter. There's no doubt that Mercedes had a clear straight-line speed advantage at Interlagos, which is a rare circuit that actually encourages good motor racing… But even so, Hamilton was flawless on Sunday – and utterly relentless.
Up to third by lap five, he passed Sergio Pérez, then honed in on Verstappen. After their second stops, it came down to a straight fight, and it took Hamilton three goes to unlock his rival's defences. The first left both scrabbling wide at Turn 4, and Verstappen can count himself lucky for not picking up a five-second penalty by the letter of F1's racing rules.
He did receive a black-and-white warning flag for extreme weaving when Hamilton attacked again. But by the time he did so, Hamilton was already ahead, setting up the move by forcing Verstappen into defence at Turn 1 and gaining the momentum to sweep around the outside of the Red Bull on the run to Turn 4. This was a truly majestic performance, heralded by Damon Hill as "one of the best drives I've ever seen in F1 – by anyone".
Pérez nicked the point for fastest lap late in the race, which means Verstappen's advantage is reduced to just 14 points – less than a third-place finish – with three races to go. But the battle is not only being fought on the track by these mighty racing warriors. Relations between Mercedes and Red Bull have now deteriorated to a point of all-out war – at least between the chiefs Toto Wolff and Christian Horner.
The former was incensed by the DRS penalty and Verstappen's lack of censure for driving Hamilton off the track in their battle; the latter and his chief designer Adrian Newey remain convinced that there's something fishy about Mercedes' straight-line speed – but have yet to back it up with an official protest.
It was Red Bull's suspicions that Mercedes is using a flexing – and therefore illegal – rear wing that led Verstappen to fiddle with Hamilton's in parc fermé after the Sprint and earn himself a €50,000 (AUD$77,000) fine.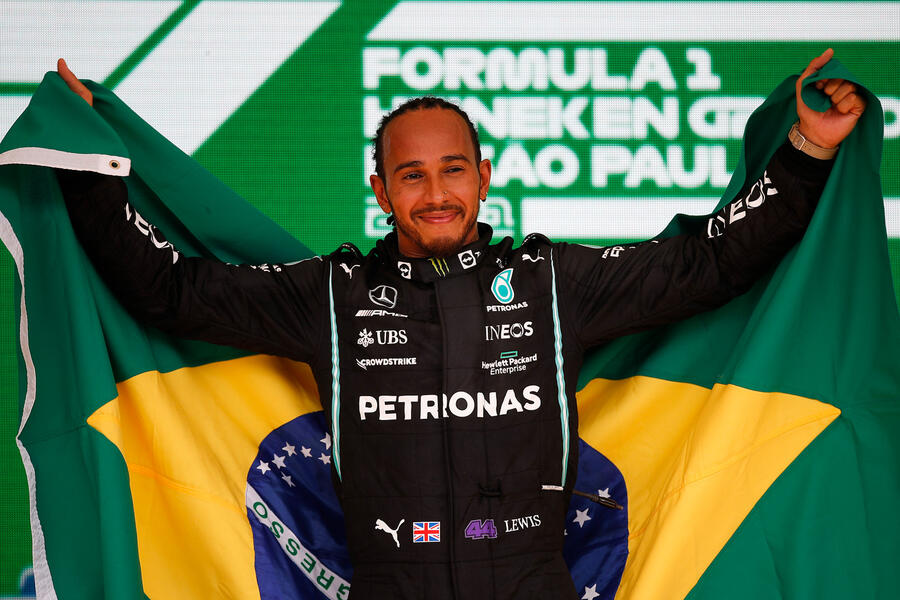 It has been tense between the teams all season, but over the course of the Middle Eastern triple-header to come, we can expect the fight to become truly ugly. All we can hope is that the two drivers avoid a third collision of the year, following their clashes at Silverstone and Monza.
There's little between them on performance and who has the upper hand will likely swing from track to track. But will the best man win, or is F1 heading for recrimination, fury and tears at bedtime? We're gripped to find out.
Damien Smith