Mazda hits 100 this year, which is some achievement given the marque's history. Not only did it start out never intending to make cars, but its factory is also one of the only car plants in the world to be hit by an atomic bomb. And the company has never had quite the world-beating size and budgets of domestic rivals Toyota, Honda and Nissan.
Despite this, though, the brand has flourished into one of the most innovative car makers of the past century. Of course, it's best known for its dedication to the Wankel rotary, making the technology work commercially while rivals collapsed under the weight of development costs and warranty claims. Yet there's so much more to Mazda than this – as we're about to discover.
To celebrate, we've thrown a birthday bash of sorts. We've driven some of Mazda's finest cars of the past 100 years, delved deep into the firm's unconventional beginnings and taken time to pick out some great used buys.
Mazda Cosmo 110S
This is the machine that put Mazda firmly on the sports car map and established a long line of great driver's cars that continues to this day with the MX-5. It was also the firm's first car to feature a Wankel rotary engine, the novel powerplant that would become synonymous with the brand over the following decades.
The curvaceous Cosmo was launched in 1967 and followed the traditional racer-for-the-road template of a two-seat layout with a front engine and rear-wheel drive. This beautifully restored example is a Series II, which had its debut in 1968 and featured a host of upgrades, including a more powerful 95kW (up from 82kW) version of the 10A 982cc twin-rotor engine that revved to 7500rpm, along with a five-speed manual gearbox, larger 15-inch wheels and a now powered disc and drum braking set-up. The wheelbase was also stretched for greater interior space, plus the grille was made larger for improved engine cooling.
Both the original and the second-generation cars look like proper Italian exotics, although all the design work was done in-house at Hiroshima. It's neat and delicate with exquisite details, such as the faired-in headlights and the rotary-shaped badge at the front.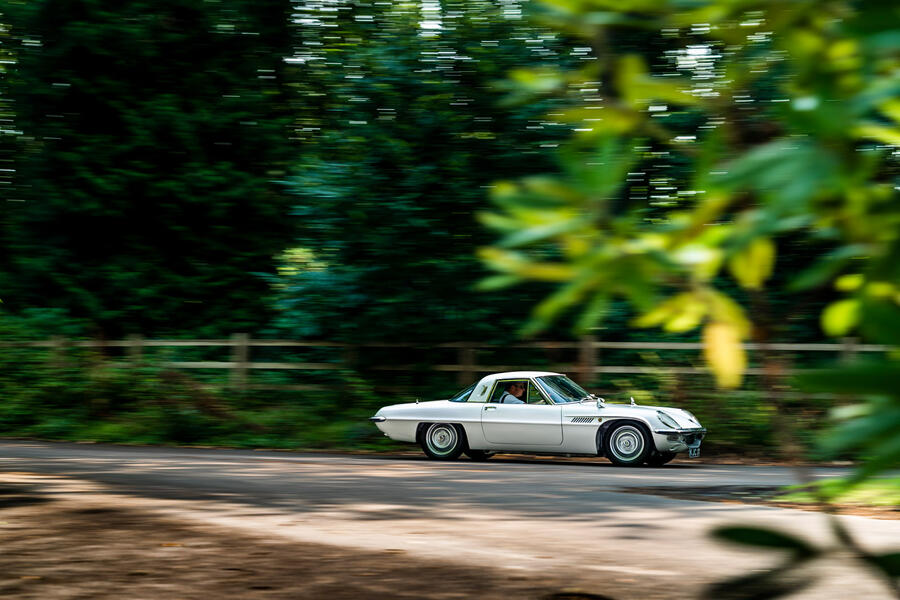 You sit low in the Cosmo but access is surprisingly easy, and once you're in there's space to stretch out. The skinny wood-rimmed Nardi wheel feels good, as does the similarly timbered knob that sits on top of the stubby gearlever. Coaxing that twin-rotor motor into life takes delicate choke work, but after coughing and spluttering it soon settles to a fruity, rasping and rather loud idle.
Perhaps the biggest revelation is just how 'modern' the Cosmo feels on the move. There's some low speed hesitancy and driveline jerkiness (traits that all the rotaries share), but the throttle response is sharp. Once moving, the engine pulls strongly from low revs and spins smoothly and sweetly as you work up and down the slick-shifting gearbox. There's some low speed heft to the steering but as your pace quickens it becomes light and direct, and the Mazda dives into corners with enthusiasm. It feels beautifully balanced, the coil-sprung double-wishbone front suspension and leaf-sprung De Dion rear helping the skimpy 165-section tyres find surprising grip.
Only the brakes really date the experience, requiring a firm shove for any meaningful retardation. That and the lack of any real cabin ventilation, making it a sweltering experience on what turns out to be one of the hottest days of the year.
It wasn't cheap when new, but with its gorgeous looks and rewarding driving experience, it's hard to understand how Mazda only managed to sell around 1500 examples before winding up production of the Cosmo in 1972.
Mazda RX-3
On the surface the RX-3 looks like a fairly sedate family saloon, but the addition of a light and powerful rotary engine made it something of a Q-car on the road and a giantslayer on the track. Mazda was keen to boost its profile during the early 1970s, so it took to saloon car racing. The RX-3 proved to be a surprisingly potent weapon and took multiple class wins in Japan and Australia as well as regularly beating the contemporary Nissan GT-R.
The rotary-powered RX-3 was based on the humdrum – and conventionally powered – Familia range of saloons, estates and coupés, and it hit showrooms in 1971. There's more than a hint of American mini-muscle car about this two-door, which isn't a surprise given the US was a big market for Mazda. Even the chrome hubcaps ooze Americana.
Early cars used the same 10A twin-rotor engine as the earlier Cosmo, albeit detuned to 78kW. From 1972, all rotary blocks were treated to the Transplant Coating Process that used sprayed-on steel to improve reliability and avoid the weaknesses that killed off the Wankel-engined NSU Ro80.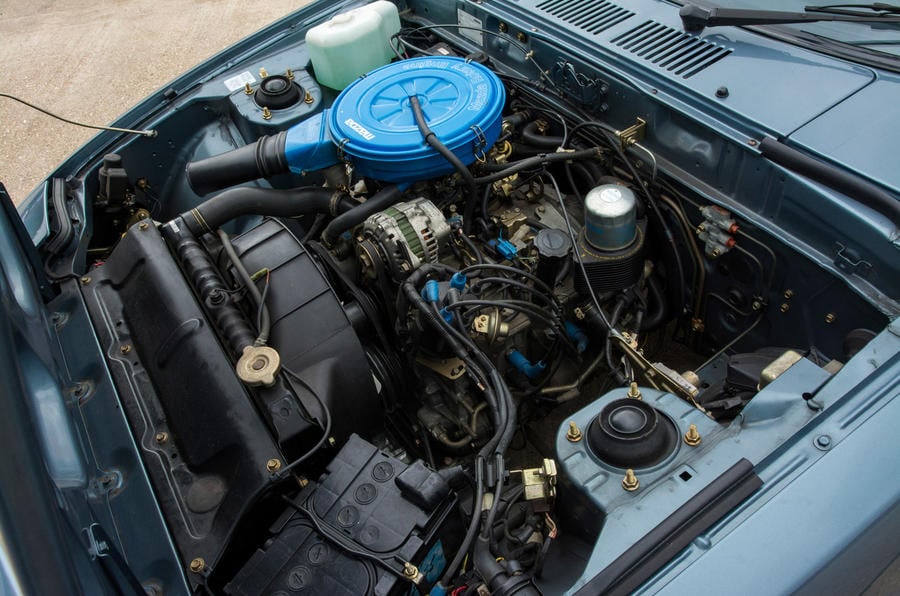 This 1973 example is a gloriously named Super Deluxe, which means the heavily vinyl-trimmed interior is decked out in 1970s must-have upgrades including a clock and heated rear window. You sit higher than in the Cosmo, while the steering wheel rim is plastic wood-effect rather than the real thing. There's a comprehensive array of dials and, crucial for a rotary, a rev counter.
A pump of the throttle, turn the key and – wowzers! – what a noise. An aftermarket exhaust means the rotary idles even more loudly than the Cosmo, with blips of the throttle eliciting hilarious rasps and crackles.
It's not the only modification, because this car's standard 10A engine has been replaced by the larger 1146cc 12A found in later models, while the factory-spec carb has been ditched in favour of a larger item complete with intake trumpets.
With around 82kW and just 884kg to haul around, the little Mazda goes hard. The engine pulls with real vigour and there's no tingly harshness, even all the way to 7000rpm. Lift off quickly and you're occasionally treated to a flame-spitting crack from that over-sized tailpipe. Allowing you to make full use of the performance is a five-speed manual gearbox that has a delightfully quick and clean action.
Unlike the Cosmo, the chassis isn't quite as up to the challenge. The steering is heavier and more vague, the skinny, high-profile tyres quickly squirm into squealy understeer and the RX-3's leaf-sprung live rear axle hops and bounces over bumps. Yet it's safe and secure enough, plus on the bits between the corners you can get back to enjoying that howling, rev-hungry rotary engine all over again.
Mazda RX-7 Mk1
You'll do a bit of a double-take when you climb behind the wheel of this 1984 RX-7 and spot the numbers on the odometer. Currently there are just over 500 kilometres logged, which essentially makes this a new car.
It was discovered in a barn in 2017 and is arguably the best-preserved example of the machine that signalled Mazda's seriousness about taking on the European sports car elite.
The RX-7 was launched in 1978 with Porsche's 924 firmly in its sights – a fact highlighted by its similarly wedgy profile and glass hatchback. It's also the car that is perhaps most synonymous with the rotary engine. Once again it was the venerable 1.1-litre 12A motor that appeared under the bonnet, delivering 78kW in early cars and 85kW in this Series 3. Eventually the RX-7 would be treated to the larger 1.3-litre 13B that would then be carried over to the second- and third-generation machines in twin-turbocharged guises.
Climb aboard and it's genuinely like taking a step back in time, right down to the plasticky new-car smell. The light-grey crushed velour seat trim and cabin plastics are slices of pure Japan, as is the LCD-heavy Clarion cassette deck and the orange-on-black dials, complete with large rev counter front and centre.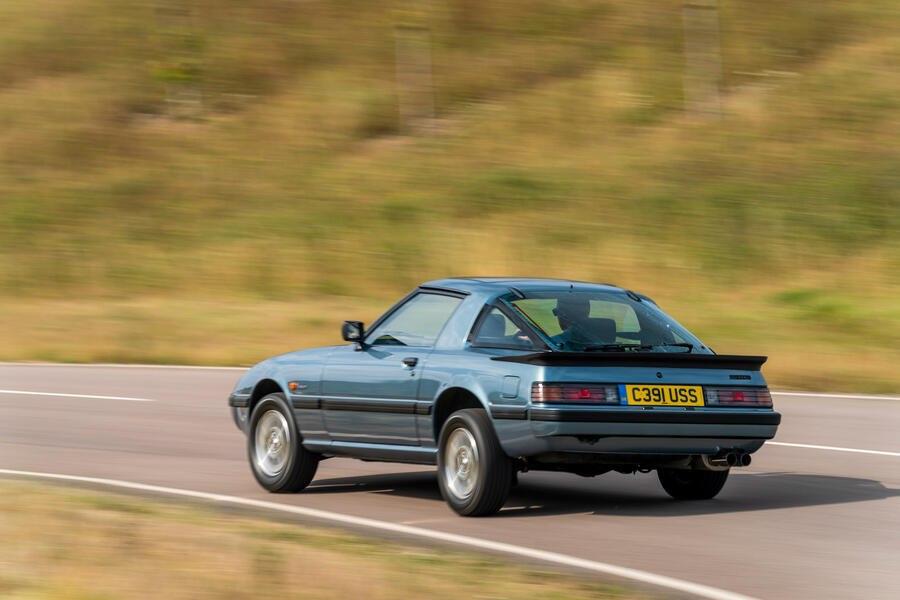 As you'd expect, it feels tight and responsive – or as tight and responsive as any 1970s design can be. There's real heft to the unassisted steering at low speeds, and it weights up again as cornering forces build, but it's quick enough and has real feel. The RX-7 clings on gamely, too, the combination of four-link rear suspension and modest engine outputs negating any rear-drive waywardness. It's nicely balanced, with gentle understeer easily dialled out with a throttle lift.
Yet once again it's the engine that impresses. It feels a little tighter than the other rotaries here (unsurprising given it's hardly run in). There's not as much low-speed torque and acceleration is modest, but work it hard (Mazda's minders told us to) and it spins with eerie smoothness to the redline and that trademark buzzer that reminds you to shift up before the engine revs itself to oblivion. To drivers schooled on fizzing, vibrating piston-engined machines, it's a revelation.
Mazda MX-5 Mk1
If there's one car that has come to define Mazda, then it's the MX-5. Like the 911 for Porsche, this compact two-seat roadster is an icon for the brand, and its DNA is distilled into everything from superminis to SUVs.
The history of the MX-5 is well known. The quick version is that it was launched in 1989 as a niche model, but four generations and three decades later it has become the world's best-selling roadster, with its incredible success ensuring it sits at the top of a class of one. Early criticism of it as nothing more than a pastiche of a 1960s British sports car quickly evaporated as drivers were beguiled by the MX-5's elementally brilliant driving experience.
Thirty years later and nothing has changed. In terms of its dimensions and close to 1000kg kerb weight, this immaculate Mk1 (known as the 'NA' to Mazda disciples) is almost identical to the latest fourth-generation version. The now familiar MX-5 visual cues are all there, too, helping to give the original car a near timeless quality. And the details are delightful, from the dinky chromed door handles through to the faux Minilite alloy wheels and cast alloy cam cover that wouldn't look out of place on a 1960s Alfa.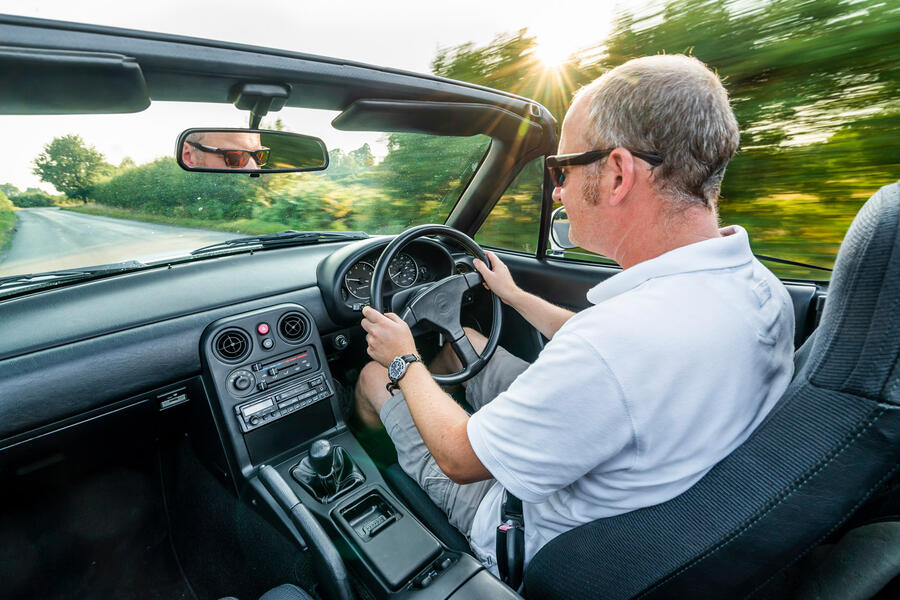 The non-adjustable but nonetheless lovely Momo three-spoke steering wheel sits a little too close to your lap, but the chrome-ringed dials and the eyeball air vents look great, plus there's that fabric – and watertight – roof that can be lowered in seconds to open you up to the elements.
In keeping with the car's simple brief, any thoughts of a rotary were quickly abandoned in favour of a light, revvy and, crucially, reliable 1.6-litre twin-cam 16-valve four. On the move, it responds crisply to the throttle and feels just lively enough thanks to good mid-range urge and that wrist-flick five-speed manual gearbox that helps keep it on the boil.
The unassisted steering isn't heavy but it is quick enough, with a natural rate of response and plenty of feel. Dive into a corner and the MX-5's trademark softness is there, the body roll helping you to judge more easily the relatively modest levels of grip. There's not quite enough grunt for sideways silliness in the dry, but the Mazda is beautifully balanced and benign, and its mid-corner trajectory is easily adjusted with a lift or a squeeze of the throttle. In short, it's brilliantly simple fun.
And that is at the very heart of the Mazda's appeal: fantastic to drive, affordable and easy to live with, it remains to this day one of the most brilliantly conceived driver's cars of the past 30 years.
Mazda RX-8
Until recently, the RX-8 was seen as the final chapter in Mazda's 40-odd-year love affair with the rotary engine. But news of a plug-in hybrid MX-30 that uses a version of Felix Wankel's finest suggests the story is set to continue. That said, it's unlikely that this novel unit will be seen again in a sports car – which makes the quirky RX-8 worth celebrating.
It wasn't just its engine that made this Mazda a left-field choice when it rolled into showrooms in 2003. There was also the way it looked, its bold lines giving the impression it had driven straight off the designer's drawing board. And, of course, there are those suicide rear doors, which made the four-seat RX-8 a surprisingly practical choice.
Under that long, sculpted bonnet was an updated Renesis version of the 13B twin-rotor unit from the last two RX-7 models. Emissions regulations meant no turbos this time, but numerous tweaks resulted in 140kW for the four-port (two induction ports per rotor) version and a healthy 170kW for the six-port (three induction ports per rotor) model. Crucially, the engine was set as far back as possible, giving the rear-wheel-drive RX-8 near-perfect weight distribution. That advantage was further enhanced by the use of double wishbones at the front and a sophisticated multi-link axle and limited-slip diff at the rear, plus a kerb weight of just under 1400kg.
It really is delightfully engaging to drive, and even now, a decade after the last RX-8s left showrooms, the chassis feels bang up to date. The steering is meatily weighted and just chatty enough, while mid-corner grip, poise and balance are exceptional. It corners flat and fast and direction changes are dispatched with the speed and agility of a rabbit trying to shake off a fox. It's a riot.
What it lacks is the explosive energy of the turbocharged RX-7s. Below 4000rpm there's more muscle in a butterfly's kneecap, but beyond this it begins to accelerate with beautiful linearity, cracking 100km/h in just 6.4sec along the way. And it spins with turbine smoothness all the way to a dizzying 9000rpm, while the quick, short shift of the six-speed manual 'box makes it easy to exploit what performance there is.
In the end, an unhealthy appetite for fuel and reliability concerns over the rotary's alarming oil consumption did for the RX-8. It was an unfortunate end, because Mazda had truly mastered the rotary, and this convention-defying coupé was one of its boldest and most brilliant efforts yet.
James Disdale