The Hyundai Ioniq 5 scores a full five-star ANCAP rating that is up to date with the latest 2021 testing criteria.
Australian New Car Assessment Program (ANCAP) has awarded the new Ioniq 5 electric car a full five-star safety rating. The testing was performed in Europe by EuroNCAP and ANCAP has adopted the same criteria to pass on the full five stars.
Helping it achieve full marks was a comprehensive active safety suite from the base model up and a centre airbag that minimises occupant collision in the far-side impact test. While some vehicles have been awarded a five-star ANCAP rating without a centre airbag, it is because the rating was performed before the test was introduced (such is the way ANCAP's carry-over scoring works from previous years) or if there is enough shoulder room between the front occupants to minimises collision.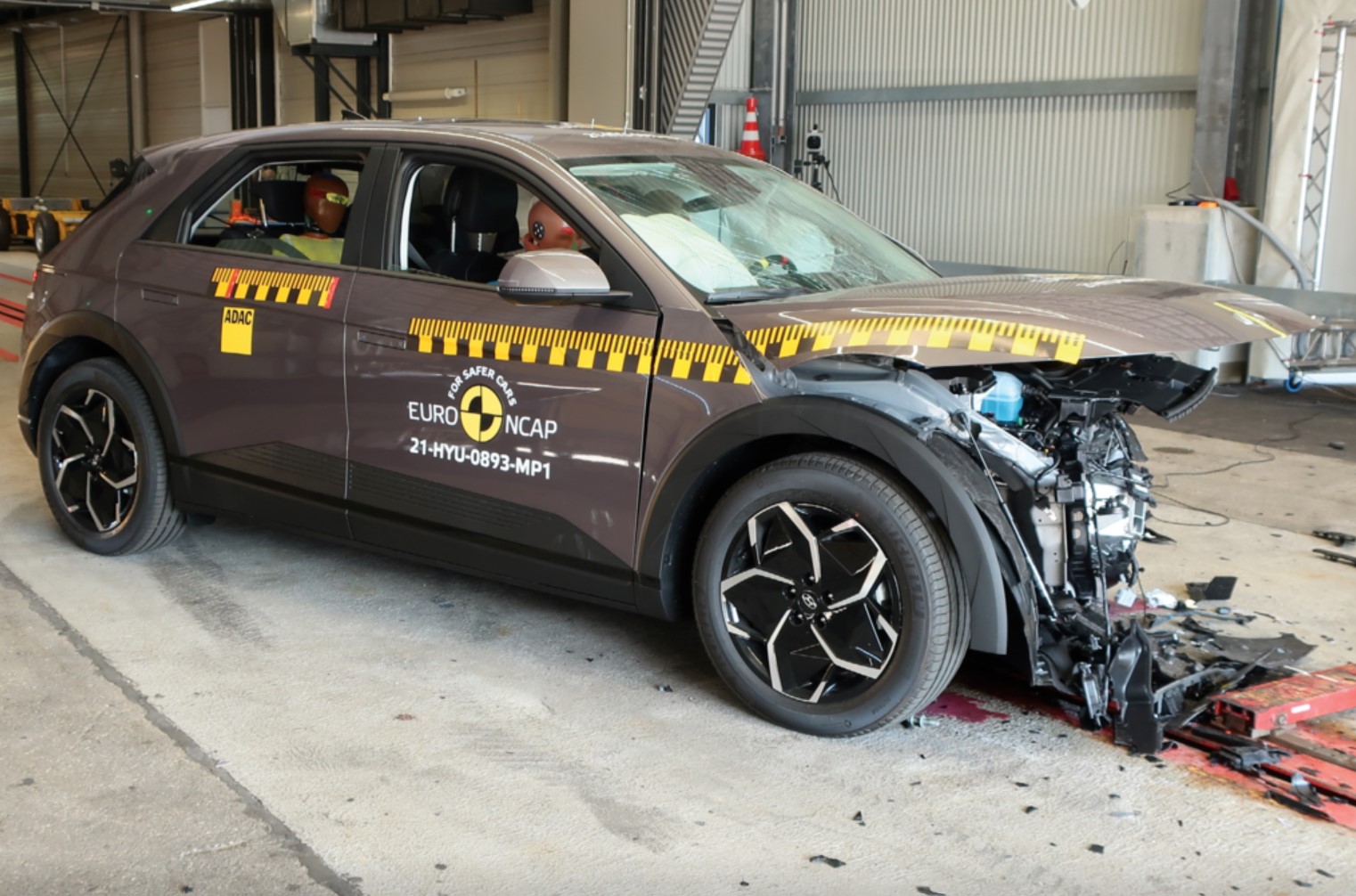 Overall, the Ioniq 5 performed well across all tests (results below).
"We know safety and environmental performance are top-of-mind considerations for the majority of new car buyers today, and it's pleasing to see Hyundai prioritise 5-star safety in this new market offering," said ANCAP Chief Executive Officer, Carla Hoorweg.
Model tested: Hyundai IONIQ 5 (Left-hand drive model tested by EuroNCAP)
Airbags: Dual frontal, side chest-protecting and side head-protecting (curtain) airbags are standard. A centre airbag which provides added protection to front seat occupants in side impact crashes is also standard on all variants.
Active safety systems as standard: Autonomous emergency braking (Car-to-Car, Vulnerable Road User, Junction Assist and Backover) as well as a lane support system with lane keep assist (LKA), lane departure warning (LDW) and emergency lane keeping (ELK), and an advanced speed assistance system (SAS) are standard on all variants.
Adult Occupant Protection: 88%
Child Occupant Protection: 87%
Vulnerable Road User Protection: 63%
Safety Assist: 89%
The full crash safety results can be viewed at ANCAP.
About the Hyundai Ioniq 5
On launch in Australia, the Ioniq 5 is offered, initially, with one 72.6kWh battery and the choice of either rear or all-wheel drive. The entry-level $71,900 (before on-road costs) model has a single electric motor mounted on the rear axle, with 160kW and 350Nm of torque. It has a maximum range of 450km and a 0–100km/h time of 7.4 seconds.
The range-topping model ($75,900 before on-roads) features the same battery pack, but an extra electric motor on the front axle which gives the Ioniq 5 all-wheel drive and an output of 225kW and 605Nm of torque. The extra grunt slashes the EV's 0–100km/h time to 5.2 seconds, although its maximum range figure takes a slight hit at 430km. Both cars feature the exact same equipment beyond the driveline, so there's a sensible saving in opting for the FWD model.
You can read the full Hyundai Ioniq 5 review here.