i30 N – vs the Nurburgring:

The i30 N 'grew up' on the daunting and demanding Nürburgring. Now it's on a pilgrimage back to where it all began.
WE'RE BIG FANS OF TRACKDAYS. OUR roads are all too often just too crowded to safely enjoy a car's performance and hone your own skills; it's why most track events in Australia are always sold out. The same is true for events at circuits around the world.
But there is one track that remains the holy grail – the Nürburgring. The Nordschleife. Or, as it was christened by three-times Formula 1 world Champion Jackie Stewart, the Green Hell.
Not only is it the most famous racing circuit on the planet, it's undoubtedly the most gruelling, too. Its 20.8km twist, turn, dip and rise through the heart of Germany's Eifel mountains. Considered too dangerous for Formula 1, it's now home to the VLN endurance series that sees triple-figure grids of race cars, ranging from factory-entered Porsches to Hyundai's i30 N and Renault Clios, take on the daddy of all circuits. And when there's no racing taking place and the manufacturers aren't testing their prototypes, us mere mortals can take our own cars on track to experience one of the biggest thrills possible in a road car.
If a manufacturer wants to build a performance car that works well on any road, it needs to test on and around the Ring. It's why Hyundai expanded its European operations and opened a test facility a stone's throw from the circuit to allow its N team to develop the i30 there – and all future N cars. And it's why, when we wanted to reacquaint ourselves with Germany's iconic circuit, we thought we'd also put the i30 Fastback N through its paces at the venue where it spent a large proportion of its development time.
As with any trip to a circuit that requires crossing a border or two, the journey there is as anticipated as the time spent at your final destination. The UK, France and Belgium streak past, and a brief diversion via Spa whets the appetite. But there's no time for a lap and Germany's autobahns beckon.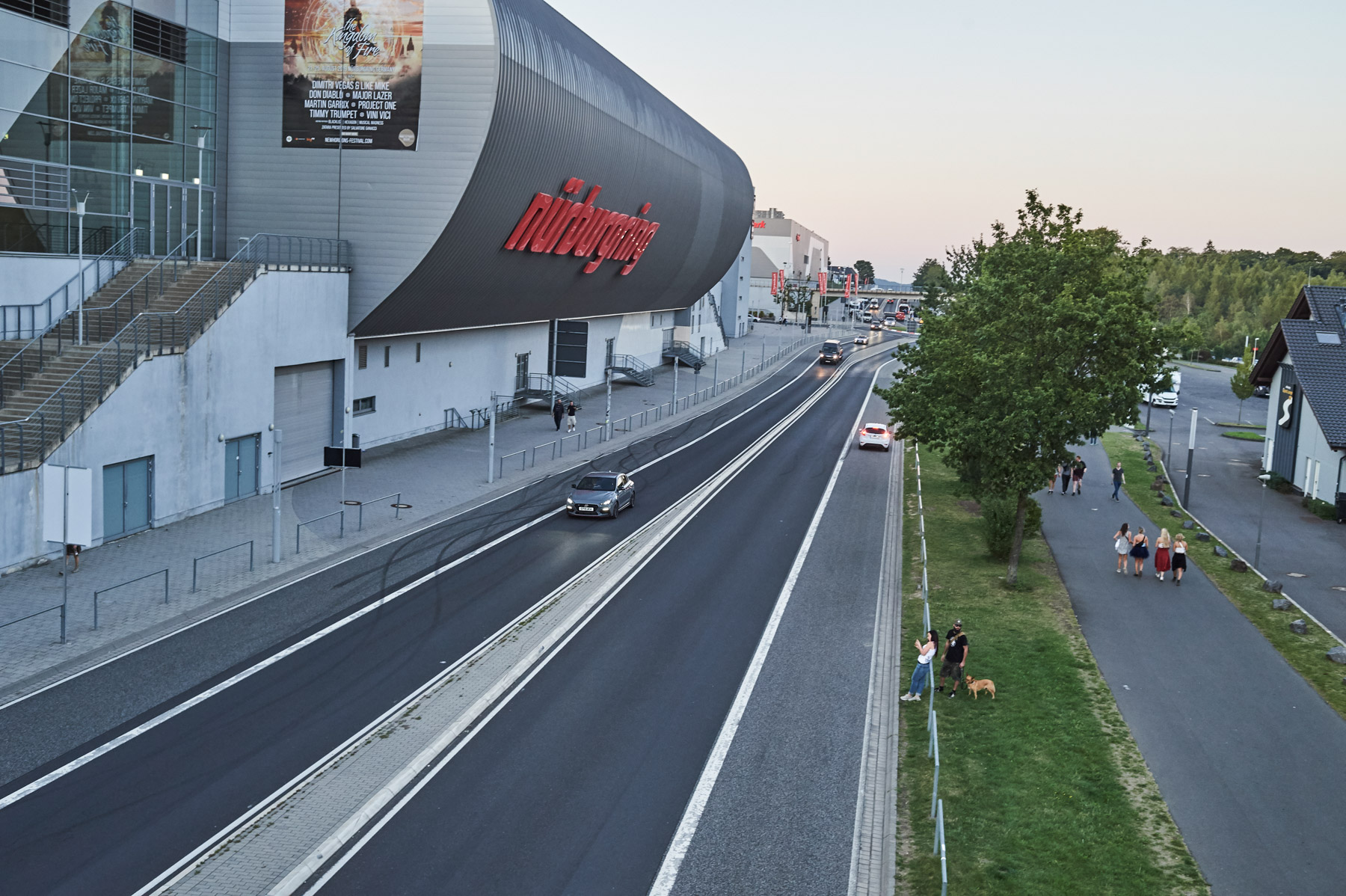 Just down the road from Nürburg is a section of the A1. An almost arrow straight strip of unrestricted autobahn nirvana, it is literally a road to nowhere, ending abruptly near the town of Brück, where it presumably awaits planning permission or budget to carry on. Today it feels like our own private high-speed test track.
It'd be rude to come all this way and pass on the opportunity to test Hyundai's claimed top speed of 250km/h for the i30 Fastback N. There's a slight dip into a valley, but without too much effort we're soon into the 230s and out the other side: 240, 243, 247, 251km/h… 257. 260. 263. A quick blink and 265km/h flashes up followed by 266… 267. It's taking a second now to clock each increase and at 269km/h the needle stops. The i30 carries on, rock solid, the aero balance demonstrating it's more than just a claim.
You know when you're approaching the Ring because the cars become instantly more interesting, supercars mixing with classics and tuned 1990s hot hatches and Bavarian supersedans. It's a public day at the circuit today, so anyone can buy a ticket and do a lap, and the mix of cars and bikes queuing to head out onto the track is astonishing. The most amusing choice is a UK-registered Daewoo Matiz – its occupants are braver than us.
Instead of mixing it with this mishmash of bangers, bikes and bewildered tourists, we've treated ourselves to an RSR Premium trackday the following morning. These days limit the number of people on track and the briefing makes sure they know what they're doing. So after enjoying today's spectacle, we head off to get some dinner and a good night's sleep.
There's a relaxed queue at dawn to get in the paddock with a wide variety of machinery. Porsche 911s of various vintages and specs are by far the most popular. Nissan GT‑Rs are next, followed by Suzuki Swifts. These are available to hire, so drivers can fly in, drive a Swift and fly home again with little risk. Other hire cars, complete with instructors, are available too, including a pair of i30 N hatchbacks from organisers RSR.
The chat starts straight away, with guys from all over the world swapping experiences about cars and the circuit. This is why we make the schlep over from the UK. Not only is there great driving, there is a real camaraderie and respect that transcends barriers of language and wealth. Owners of Huracáns and GT2 RSs are as enthusiastic about the hot hatches parking up as others are about their supercars.
RSR doesn't do briefings for its Ring event, preferring instead to undertake a 'track walk', which is essentially a slow drive stopping at key parts of the circuit to provide instruction as to how to drive them, and also how to avoid coming a cropper. You can't describe a place such as the Ring in a classroom – you need to see it.
Briefing over, we sign on. Now, it's time to see if those days Hyundai spent developing its first N cars here have paid off.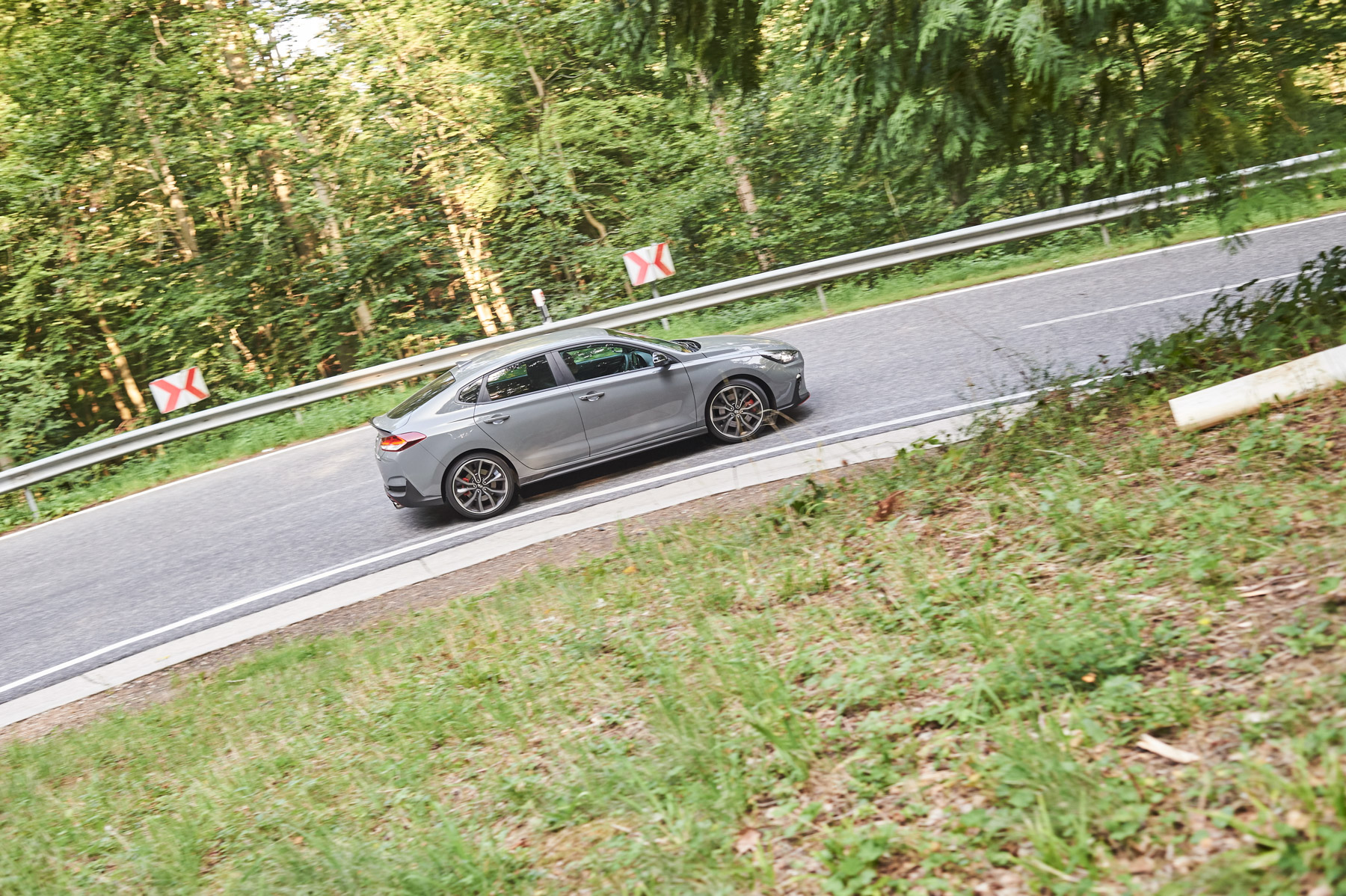 It's easy to think that it is irrelevant for engineers to develop a car to drive quickly around here as it makes no difference on the road. But Hyundai didn't test here with the intention of setting the fastest time (few do). It knew that the Ring will reveal problems with a chassis, brakes, tyres or engine that you wouldn't spot on any other test track, let alone the road. The variety of corners, cambers and inclines here means if a car works on the Nordschleife, it will work on any road.
And the i30 N does work here; it feels like it has come home. It's fast, of course, and we are soon mixing it with the huge variety of machinery you find on such well organised events. We even claim the scalp of a few gently driven supercars. Its real strength is its dynamics. Through every curve, no matter what the radius, the e-differential is constantly working – not intrusively, but you can feel it in the background, shuffling torque, dispensing power where it's needed and can be utilised. As a novice it provides great confidence; if you've more experience you can appreciate its application and work more with the sharp front end N has developed for the i30.
And the brakes always feel strong, with zero fade, their ability to soak up pressure so impressive for a car with such humble origins. And while the Ring isn't overly harsh on brakes, when required they never leave you wanting.
But it's the combination of aero and suspension settings that really allow you to enjoy yourself and find a rhythm. The i30 always feels planted, its stability providing huge confidence, even through the notorious Schwalbenschwanz – a corner Albert Biermann insisted all N cars should feel stable and confidence-inspiring in. Through Flugplatz it's unshakable, over the crests and over the jumps the damping soaks up everything thrown at it. Before the lap ends we're plotting a scheme to convince Hyundai to let us race a car in the N24…
Back in the paddock the talk is of tyres, brakes and shared experiences. Those who aren't ready for another lap are heading for the passenger seat of GT-Rs, McLarens and our i30. Some are regulars, others have come here for the trip of a lifetime. Two have travelled from India, another pair from the US. One Skoda Octavia owner has driven over from the Isle of Wight – the day a 40th birthday present from his wife. All will we back.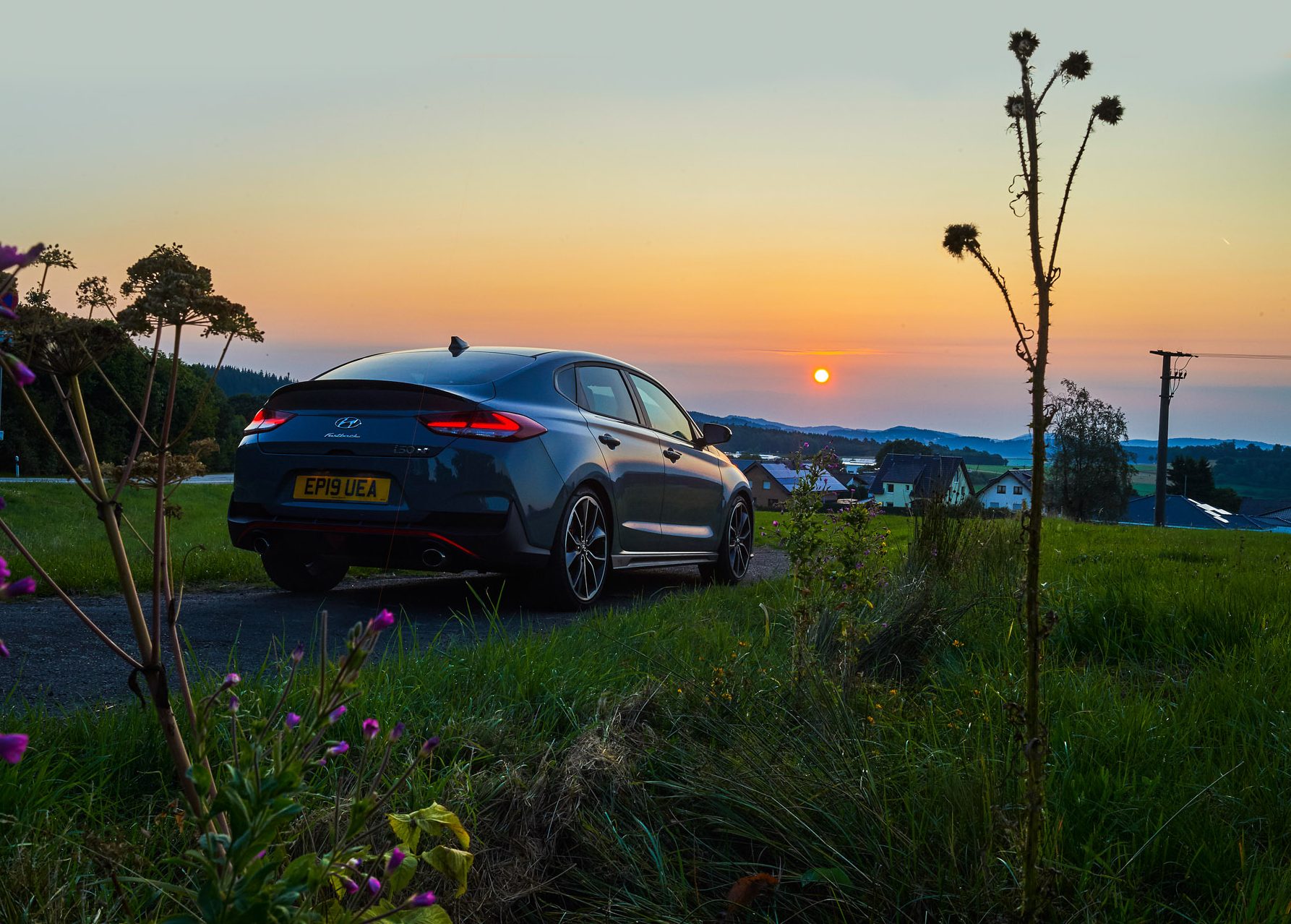 Sunset calls time on our track driving. While others stay for another night of steak on a stone in the Pistenklause, for us deadlines loom, so we refuel, apply our Nürburgring sticker to the i30's rump and head for home. We could have brought any supercar you care to mention here, and it would have fitted right in. But we felt after demonstrating with great aplomb what it can do on our favourite roads, we owed it to the i30 Fastback N to let it show us what it can do at home.
i30 N – Nurburgring tips:

Get the best out of the Green Hell with the advice of these experts.
RON SIMONS
Founder, RSRNürburg
'Remember, the Nürburgring is a big circuit; that's why it is so challenging and fascinating. You can't hope to learn it in one day, so don't try.
'Be realistic, don't race anyone or think you have anything to prove when you first start. So, start slowly and build up your speed gradually.
'The track has many surprises, and dips and turns in places you might not expect. Even if you know the track well, you might come across another driver doing something crazy or out of control.
'If you can afford it, don't think there's any shame in getting an instructor to help you learn the circuit or just improve your driving. Even the best of the best need help at this place, and you'll enjoy the track far more as a result.'
DICKIE MEADEN
Contributing editor, evo
'Firstly, enjoy yourself. There's nowhere else like the Nürburgring. The circuit is epic, the atmosphere truly electric. You'll meet some fellow car nuts and make some new friends.
'Just because you "know" the track on your PlayStation doesn't mean you're Stefan Bellof in your real car.
'Even if you've been to the circuit before, don't push too hard on your first lap. It changes every year – trees are felled, surfaces repaired and kerbs reprofiled – so you need to be sure your old reference points are still valid.
'If it rains, be ultra-cautious, as the circuit can be incredibly slippery. Don't get drawn into chasing other cars either, unless you know and trust the drivers ahead of you.
'Try to avoid public holiday weekends if possible as the place gets absolutely mobbed. Red flag stoppages are common and driving standards tend to be random at best, downright dangerous at worst. If you can get there for a weekday evening you'll have a blast.
'Give some thought to insurance. It's an unwanted expense, but it pays to know what your liabilities are if you do crash or are involved in someone else's incident. Likewise, if you damage barriers you have to pay for them, and they're not cheap!
'Oh, and one last tip: I never use the last lap on my ticket. If you've had a great time and your car is in one piece it's better to leave that final lap to the Gods of the Eifel and toast them with a cold beer in the Pistenklause.'
STEVE SUTCLIFFE
Contributing editor, evo
'If your first experience of the Ring is on a public day, be hyper-aware of the other cars around you, especially the ones with GT3 RS written on their engine covers. There will be quite a few and they take no prisoners.
'Watch out for the slow zones on the circuit: there are often traffic jams leading up to these on busy public days.
'Be alert to the tight left-hander at the top of the hill after the Fuchsröhre. It frequently catches first-timers out. As does the fast left-hander at Metzgesfeld not so long afterwards. Same goes for the late apex final corner leading onto the main straight. Turn in later than you think so you don't run out of room coming onto the straight itself.
'And finally, Schwedenkreuz. Don't try to be too brave first time out. It's one of the most fearsome corners in the world – even the best of the best sometimes come unstuck here.'
GABRIELE TARQUINI
Touring car racer, Hyundai
'The Nordschleife is probably the very best track to test a sports car. A modern track such as Valencia, Barcelona or Monza is not very good to test a road car – they are completely flat, with only 10 corners. On the Nordschleife you have more than 100.
'I discovered the Nürburgring very late, as I'm not German. The first time I drove it was in 2014 in the WTCC. For me it was a strong challenge. I'm not used to a simulator, so I became sick like all the old-generation drivers. So for me it took a long time to learn, and I'm still not a specialist.
'My suggestion is to learn as much as you can on a simulator, but even the best ones which cost millions of euros can't give you the same feeling as actually being there, feeling the dips and the crests. So when you drive it for real, go easy at first and have a lot of respect for the circuit – any mistake can cost you a lot.'