McLaren is one of the sporting world's great sleeping giants, but recently it has stirred. While winless in eight Formula 1 seasons, it was the third-best team in 2020, and if and when it does return to winning ways, there's every chance that Lando Norris will be integral to that success.
A young British driver potentially hitting the big time with McLaren? Given Sir Lewis Hamilton's astonishing achievements at the start of his F1 career, that story has a familiar ring to it, even if Norris's trajectory is a very different one.
The 21-year-old from Somerset is already a McLaren linchpin. In just two F1 campaigns, he has stood on the podium, racked up consistent points and stacked up well against Ferrari-bound team-mate Carlos Sainz. While Norris's all-round performance didn't match that of the more experienced Spaniard, there wasn't much in it.
This year, Norris has the chance to establish himself as McLaren's main man for the long term. The trouble is, Sainz's replacement is Daniel Ricciardo, a seven-time grand prix winner with a big reputation for being one of the best in F1.
"That's my aim for the next few years, to be the main guy in the team," says Norris – often a light-hearted interview subject but one who switches into a far more serious mode as you probe for detail. "There are going to be things Daniel will bring to the team; he's going to be able to say some things that I can't add, because I don't have the 10 years of experience he has. He has been with different teams, he has won races and he has many more podiums [than me], and I can't pretend to be better, because experience is a huge factor.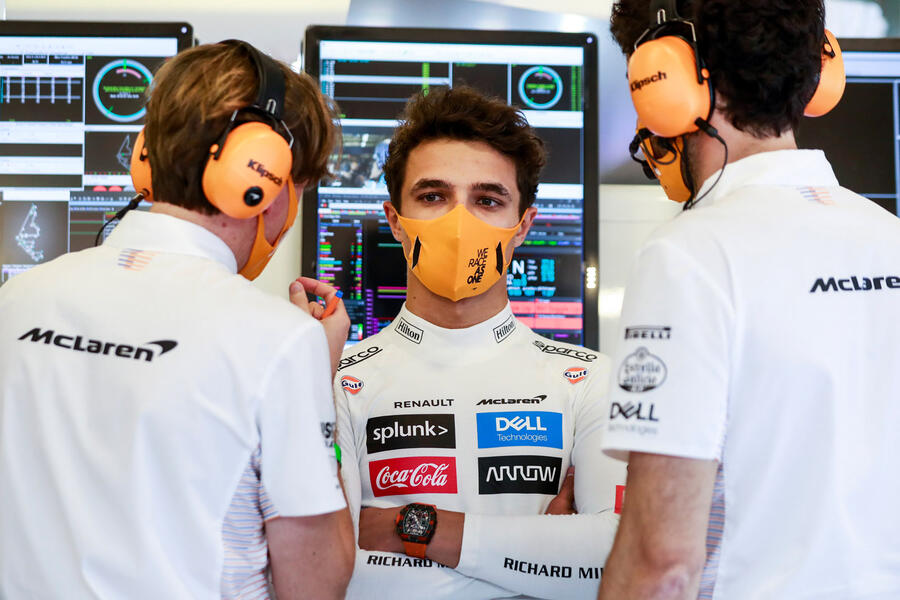 "But there are also a lot of things that I know and am able to lead on that Daniel can't, because of my time with McLaren. It's not just on-track stuff; it's the mentality of the team and how I've impacted the team itself from a mental point of view, [with the] mechanics and engineers and the charisma and characters that we have within the team.
"I feel very much at home with McLaren, so absolutely my aim is to stay with them and be on this journey from struggling those few years ago, being part of that improvement and, over the next few years, taking those next couple of steps."
Norris has no shortage of weaponry with which to take on Ricciardo. He's undoubtedly fast, and that's the most important element of any racing driver's armoury. In raw numbers, he has just had the better of Sainz over the past two years on that score – although if you adjust last year's figures to remove anomalies when external factors distorted the picture, Norris was on average just over four-hundredths of a second slower. Even in F1, where fractions are everything, that's not a big deficit.
Where he's particularly impressive is in his ability to hustle a tricky car. When he was first up for the McLaren race seat, having been signed as a junior in early 2017, he showed his prowess in seven free practice runs on grand prix weekends in 2018. He showed that he could extract pace from the car that otherwise needed Fernando Alonso's superhuman talents to make work. Watching his first outing at Spa-Francorchamps from Les Combes, the difference between the way he hung onto the car and incumbent Stoffel Vandoorne's struggles was impossible to ignore. So the raw material has always been there.
Norris's race pace is also consistent, but the main challenge is just ensuring that he's attacking enough in battle. That was an objective McLaren set for him in 2020 and one he sporadically lived up to. But that will come with experience, and he sharpened his skills across the board last season.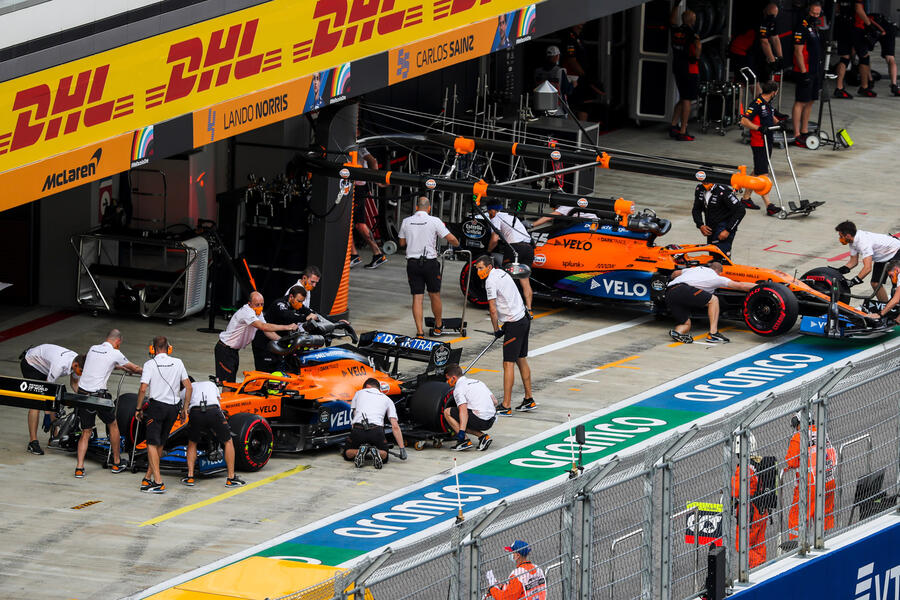 "I've not ticked all of the boxes; there are things I need to improve on and still get better in," says Norris. "But the big ones I feel I've ticked are the most important. The racing in general, I've been a lot more competitive; my race pace and my tyre saving, which were my focus coming into the year, I'm very happy with.
"I've been in positions to capitalise with a podium or bigger points. It doesn't have to be a lot, just a combination of some small things. You're one or two seconds ahead and can score a lot more points because of it. I've been in those positions a lot more often, and it all adds up over time. I'm very happy with how I've done, but of course there are always things I'd like to do that bit better on."
That's what makes the difference in F1. While there's a range of ability across the 20 drivers on the grid, the overall standard is sky high. Even today's much-derided pay drivers have to attain a good standard in F1 feeder categories, winning races and achieving high championship finishes, so the devil is in the detail when it comes to the difference between being the best or worst on the grid. And while Norris certainly has wealth behind him (father Adam has cropped up on the Sunday Times Rich List in the past), his formidable CV unquestionably makes him worthy of an F1 seat.
Right now, Norris is in what might be called 'upper-middle' territory as a driver. And he will be more than aware of the myriad tiny limitations that add up to be the difference between him and Hamilton or Max Verstappen. That's what makes going up against Ricciardo, a proven top-liner, such a big opportunity for him. While the pair have a reputation for tomfoolery when on camera out of the car, they're both deadly serious about their craft under the surface. And Ricciardo will be as determined to assert himself as the big dog in the team as Norris is to upset the natural order.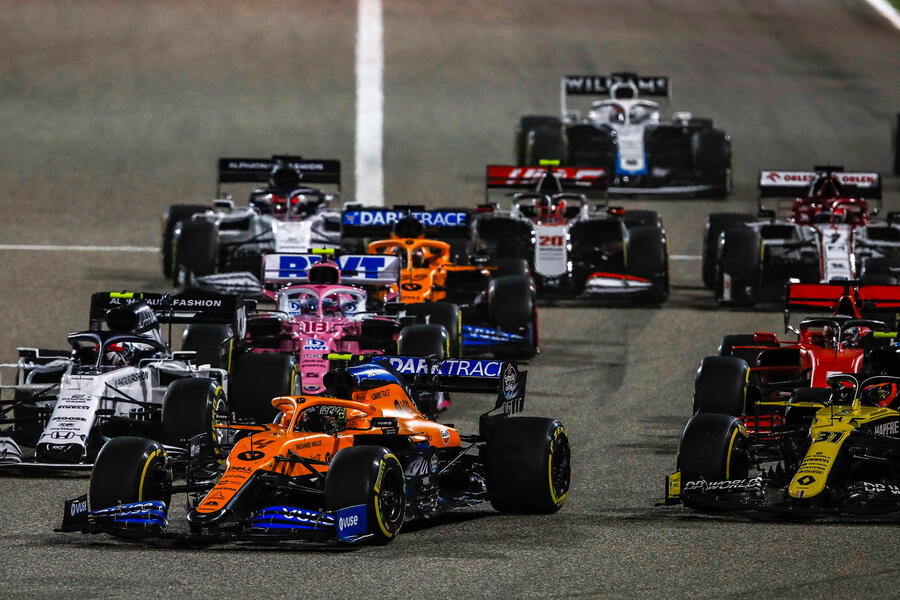 McLaren won't fight for wins on merit this year, with the 2020 cars being mostly carried over, but the battle with Ricciardo will rage. Forget formal 'number one/number two' arrangements: performance dictates who is seen as any team's spearhead, so this could be a fight that dictates who is best placed to benefit from McLaren's hoped-for success.
Realistically, repeating third place in the constructors' championship would be a triumph for McLaren. To achieve that, it needs to stay ahead of Aston Martin (née Racing Point) and a recovering Ferrari, which is no easy feat, even if it does have the advantage of switching from the Renault power unit to market-leading Mercedes-AMG propulsion.
"It's going to be a step," says Norris of the 2021 season. "We've still got a lot of work to do in terms of the car performance. We need a car that's more convincingly third on merit, and we weren't really able to do that in 2020. That step isn't just going to come from the engine; it's going to have to come from the car as well.
"We'll make some improvements over the winter and throughout 2021 but obviously look ahead to 2022, where there's a new opportunity for everyone. It's going to need to be a combination of car improvements and drivability, because I think our car is one of the most difficult to drive."
He's right to point to the importance of 2022, when the biggest chassis rule changes in F1 history will kick in. That's McLaren's big opportunity to take a giant step forward – provided, of course, that it gets things right technically – and Norris's best hope of becoming a grand prix winner.
Norris has already proved himself to be a very good F1 driver. He has served his apprenticeship, achieved some good results and proved he can cut it at the top table. But what he has to show in 2021 is that he is the driver who can follow in Hamilton's footsteps and, to paraphrase a discredited slogan, make McLaren great again.
Cutting the clown act
Lando Norris made his F1 debut in 2019, aged 19, capturing the imagination with his performances on the track and youthful exuberance off it. But with that came the inevitable downside of being a sporting star: he was criticised by some for apparently not taking things seriously enough.
Ahead of 2020, Norris consciously modified his approach. The benefit transcended improving perceptions of him, because it also ensured that he was a more focused and rigorous operator.
"I dialled it back a bit. You don't see as many jokes," says Norris. "I'm hoping people will see me a bit differently.
"I've also shifted more time to working with the team: understanding how to improve my driving and the car, spending time with my engineers to gain that performance.
"I changed a bit, but in a better way to get more performance out of myself. I've not been as jokey and laughing as normal, the nerd I am. It's not just to look better; it's also for my own benefit."
That benefit has been made clear on the track. There's still more to come, but it's proof that Norris has already learned a key lesson about the laser focus required to thrive in elite sport.
Edd Straw