Jaguar's iconic E-Type roadster is upgraded for 21st century life, but not so much that it loses its original appeal. Quite the reverse, in fact.
This is more resto than mod, if you want to disassemble the portmanteau. It's the Unleashed, a restored and part-modified Series 3 Jaguar E-Type roadster from the descriptively named E-Type UK, a restoration and sales (and now modification) specialist based on a pretty farm in the British countryside of Kent.
Ten cars passing through its doors will become these Unleashed models, all of them Series 3 roadsters, which will have 4000 hours lavished on them to become like the car you see here. For this, E-Type UK asks £390,000 (AUD$727,000) plus a donor car, which, going by recent prices, means it could cost up to almost $1 million. Three are left unsold. All but one so far is destined to go overseas.
Built between 1971 and 1974, Series 3 models rounded out the E-Type's life and came with a V12 to retain appeal in an American market hungry for cylinders and displacement but they are perhaps the least loved of all E-Types. With nerfable bumpers mandated in the US and a big chrome ring around the grille, plus the fact that all the coupés were the bulbously glassed 2+2 versions, to my eyes they look the most clumsy of all E-Types.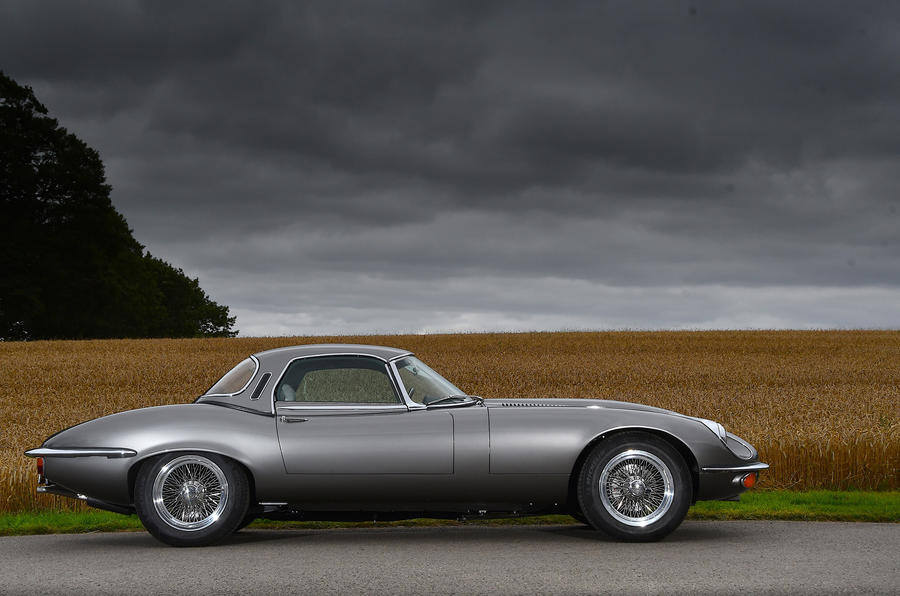 That might be what's behind E-Type UK picking roadsters for this Unleashed series. Even with the removable hard-top fitted here, the clean and elegant profile of the earlier cars has been revived and the more ungainly parts of the bumpers have been removed, chrome taken away from around the grille so it 'floats' again. Plus, one suspects, quite a lot of working hours have gone into getting the panels to the right shape and fit again. The panel fit and paint finish are absolutely spot on.
You might notice that there are more louvres in the bonnet, necessary given the mechanical upgrades we'll come to, while wheels are still wire and, at 16-inch diameter, an inch larger than the originals – but, thankfully, nothing like the dreadful big modern ones fitted to, say, the David Brown Speedback GT.
Metalwork extends to lowering cross-members to gain some head room and strengthening the car's sills to increase chassis rigidity, which I'm pleased to hear. Torsional rigidity is one of the biggest reasons modern cars drive better than old ones. (And it's something that Alfaholics nails with its GTA models, where it fits a subtle cage to bring about race car levels of rigidity.)
While the Unleashed's exterior has been modestly restyled, the interior has had a much bigger makeover. The basic dash architecture is similar but while, in the 1970s, the industry was getting on board with textured mouldings, E-Type UK has reverted to piano black wood, aluminium and leather, all beautifully assembled. The air vents are cute directional aluminium things with an aerospace vibe and there's a perfectly integrated stereo that looks period but has Bluetooth and DAB. There's even air conditioning.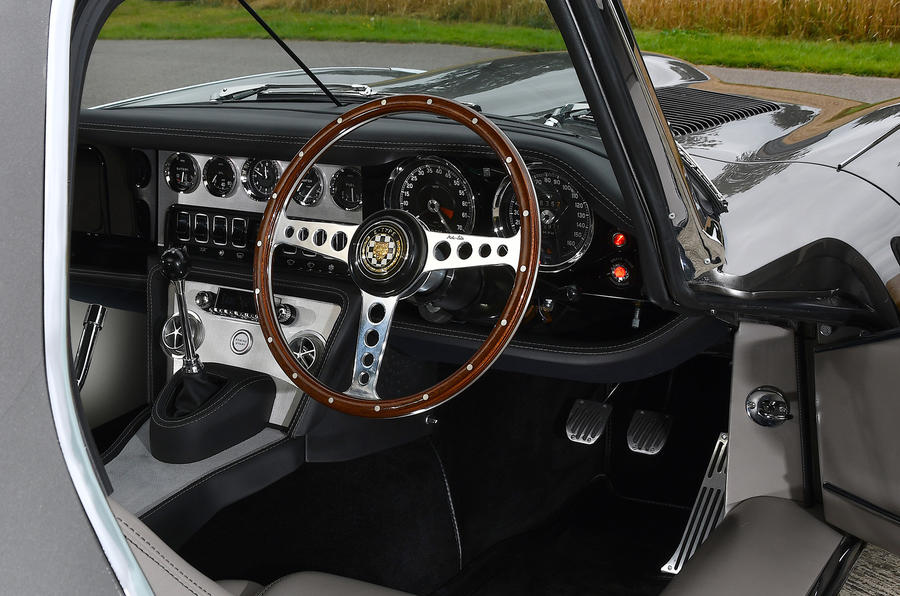 The theme is the same under the bonnet: classic styling with a modern edge. The period engine is retained (cars with matching chassis and engine numbers remain more desirable) but capacity is increased from the original 5.3 litres to 6.1, mostly by increasing stroke. There are new cylinder liners but the block isn't rebored. The engine runs fuel injection and independent throttle bodies (the management system, like the air-con gubbins, is located in discreet boxes on the bulkhead) and it gets a bigger radiator and that increased array of louvres to deal with the increased heat.
Originally, Series 3 E-Types made 200kW, and if you pick an unrestored car, it's a reasonable bet that a few horses will have expired on the way. E-Type UK's number for the Unleashed is 294kW, with torque up by less than I expected, given the stroke increase: it's now 427Nm rather than 412Nm of the originals.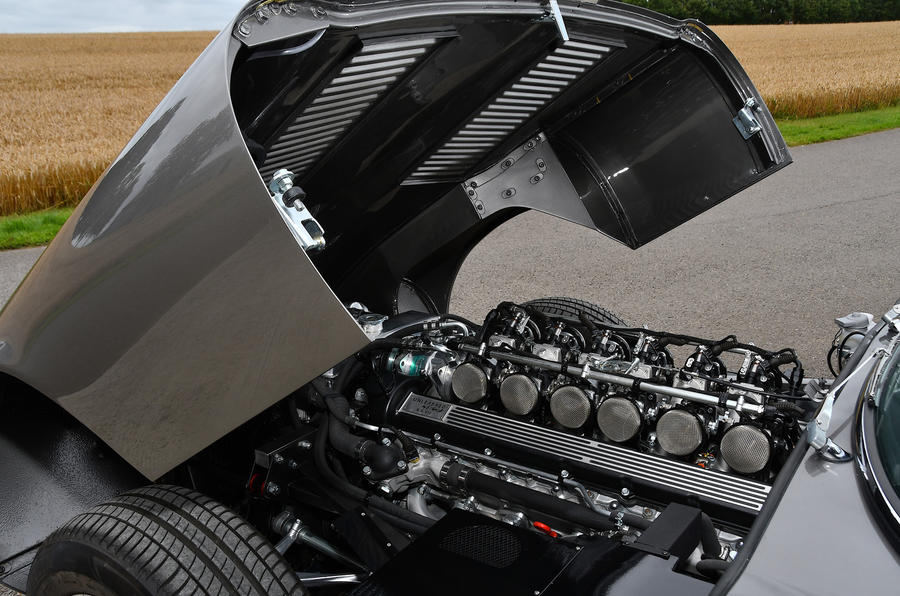 It drives through a five-speed Tremec gearbox, although E-Type UK retains the original four-speed manual (or three-speed auto) and includes it in the sale should you ever want to revert to stock. Knowing what the original shift is like, I wouldn't. There are also adjustable dampers alongside refreshed suspension (new springs, bushes, stiffer torsion beams), and larger brake discs with four-pot front calipers, and braided hoses – but no driver aids.
It is, I found, quite easy to get comfortable. The Series 3 roadster has an 8in-longer wheelbase than early cars, so it's spacious enough, although not roomy by modern standards. The view out is still letterboxy and there's a lot of bonnet spearing in front of you. But still, rotate a collar on the steering column and the wheel adjusts, the flat seats are soft and the gearlever pokes so far to the sky that it's almost level with the steering wheel spokes. The rim is thin and the wheel large. Not a modern-feeling interior, but nor uncomfortably ancient.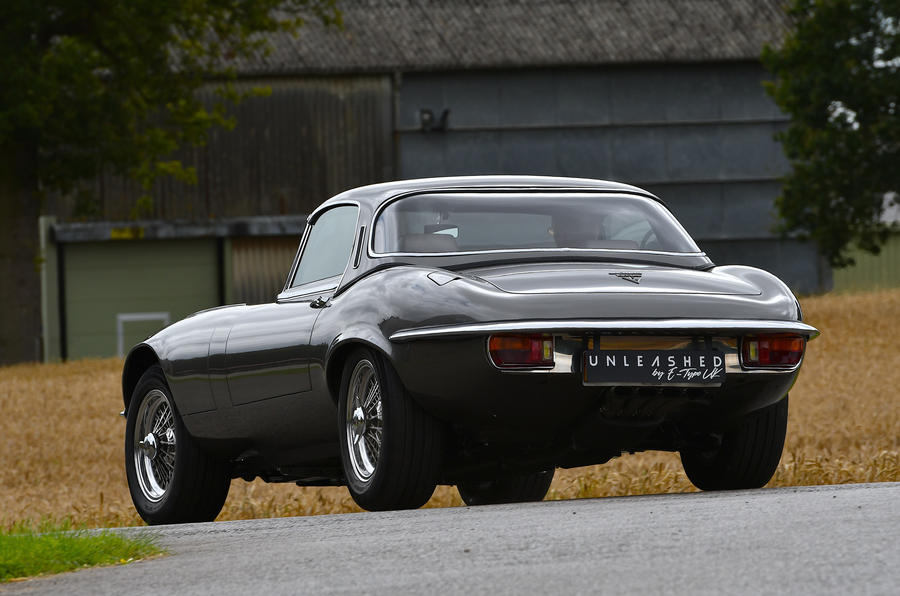 With the push of a button, the engine pours to life with plenty of culture but no dramatics. The clutch is a touch heavy and, in this example, the throttle has some stiction (though its makers plan to sort that before the car heads to its customer the day after our drive). Pedal spacing and heights are good, though, and the gearshift is lovely – long but ever so smooth. The steering, power assisted, is light and three turns between locks, but also silkily smooth. The vibe is very much cruiser, which is what I read the Series 3 had become, a decade after the E-Type's sensational launch at the 1961 Geneva motor show.
The Unleashed rides pliantly, too. More softly than most new grand tourers, but over bad surfaces, you can feel, despite the strengthening, that there are chassis shimmies because it's a half-century-old design with a big open area. Even modern cars struggle when all the strength is in the sills. But if you can put that, and some wind noise from behind your ear, out of your mind, there's still stacks to enjoy – such as the smooth steering and balanced ride.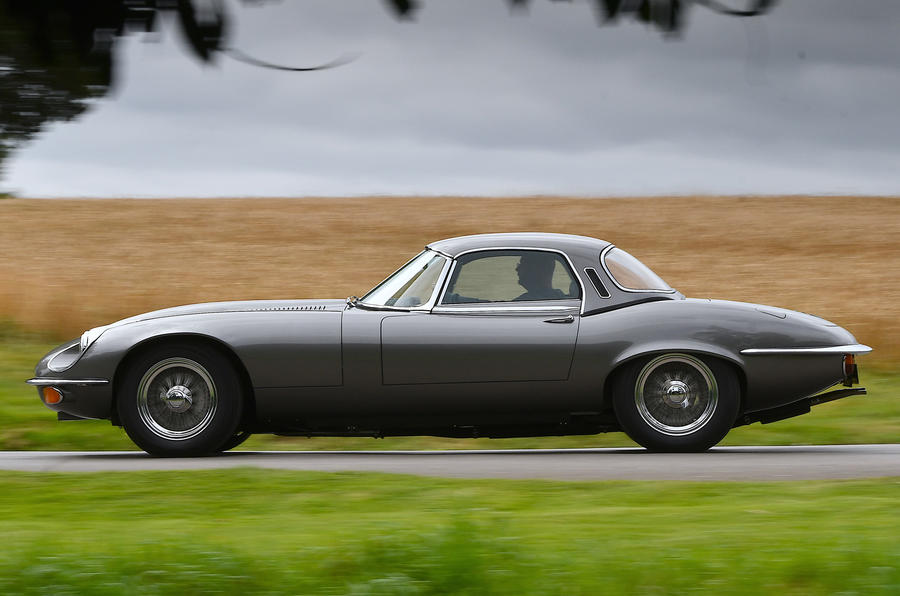 And the engine. It's wonderfully smooth at low revs, but when you push it towards its 6500 limit, it becomes the loudest and most intoxicating Jaguar V12 I've driven that wasn't in a Le Mans or Group 44 racing car. It burbles wickedly on the overrun and, while it is fast – I'm guessing it'd do 0-60mph in around 5sec if you nailed the getaway and lengthy shifts – it's not so fast that the fun is all over in a heartbeat. Come out of a roundabout in second and there's enjoyment through three gears before you settled back in fifth for a sufficiently relaxed cruise that you could happily cross a countryin it.
It's evocative, enjoyable and alluring, while still retaining a lot of feel of the original, which makes it aptly named. Unleashed, though not transformed, is where it is.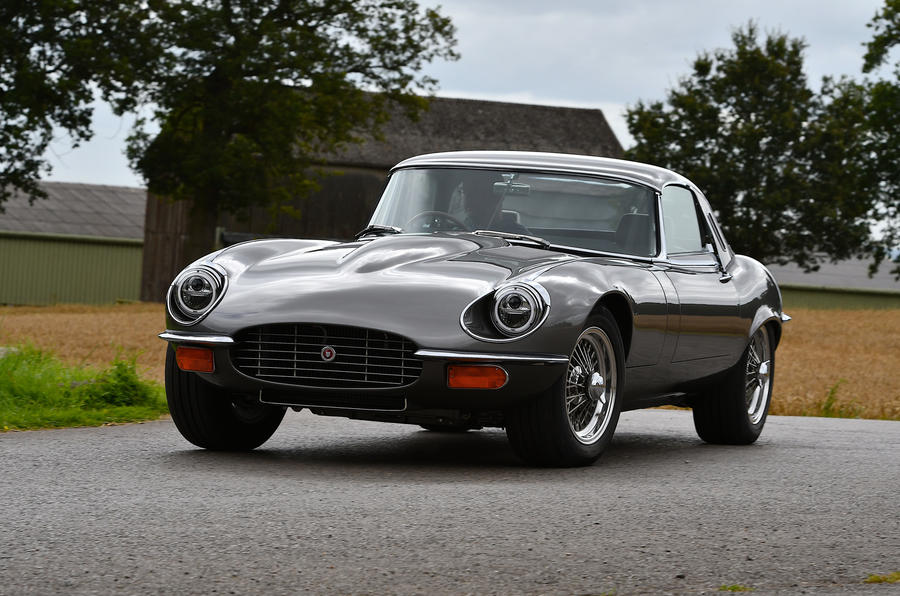 Matt Prior