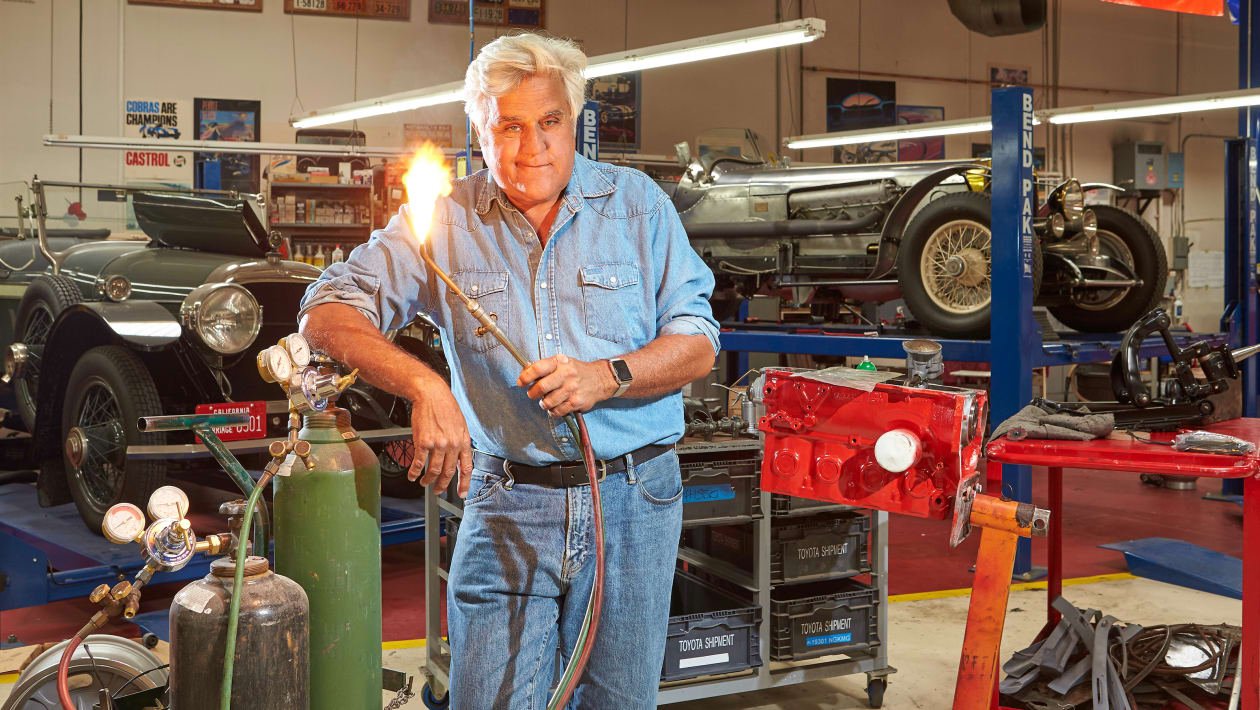 Pretty much everyone has heard of Jay Leno. After hosting The Tonight Show on NBC in the US for more than two decades, he became such a well-known figure that Barack Obama (among others) sent him a farewell message when he finally left the programme after more than 4,600 episodes.
The Tonight Show is very much a US institution, but petrolheads around the world will be familiar with Jay Leno's Garage, which has been going for around 15 years on TV and YouTube, notching up almost 700 million views on the latter platform alone.
Just as Jay opens up his vast garage and huge collection of cars and motorcycles to millions of viewers every week, so too he was good enough to give up an hour of his time to speak to Automotive Daily. Once we'd got over the pinch-yourself moment of answering an unknown telephone number to hear: "Hey, Jay Leno. How are you?", we got down to talk.
On how he got into cars and engines
We begin by asking Jay how he found his love of cars, and the story is as amusing as it is interesting.
"I grew up in New England, in a rural area about 20 miles from the New Hampshire border", he tells us. "And as a boy you were expected to learn how to fix lawnmowers or go karts, tractors, things like that. I can remember taking apart a little Briggs & Stratton single-cylinder engine from a lawnmower to find out what was wrong with it. I took the head off, and said to my dad: 'I've found out what's wrong: there's a piece of paper stuck between the cylinder head and the block'. When I put it back together it wouldn't run and my dad explained: 'No, that was the head gasket, son'. I was a kid, I didn't know anything. But that's the best way to learn – you learn by doing."
On specifying his father's car
After learning the basics of engines, when he was 14 Jay's father bought him a non-running 1934 Ford, giving him two years to get it up and running. Now firmly set in the mould of a car guy, Jay would later apply this enthusiasm when helping his father choose a replacement for the family car.
After a Cadillac salesman refused to shift even $50 on the price of a new car, the Leno family headed to a Ford dealership to look at a Galaxie, a full-size saloon.
"So I go 'Can I pick the engine?'," Jay remembers. "And my mom goes: 'Oh let the boy pick the engine, what difference does it make?'
"So I knew what I wanted. I said: 'We want to get the Galaxie, two-door… we want the 428 [cubic-inch, or 7.0-litre engine] with the police pursuit package, we want the 3.9 rear end [differential]… the beefed up automatic, we want the muffler delete option – all this ridiculous nonsense. And my father said 'whatever son'. He doesn't even look at it.
"About six weeks later we walk to the dealership and my dad goes: 'Buckets! It's got bucket seats for Christ's sake!'….My dad puts the key in and the car goes 'BRAABRAA, BRAABRAABRAA!'. And my father goes: 'There's a hole in the goddamn muffler – it's a brand-new car and there's a hole in the muffler!'
"So the salesman says, 'No, Mr Leno, you ordered the muffler delete option.' 'Muffler delete? What the hell is that? Why would I order the muffler delete'? And the guy goes: 'No, when you got the police pursuit package…' 'What the hell is the police pursuit package?!' Then my dad looks at the thing and he sees he's been taken. He's looking knives at me. So he goes: 'Oh for Christ's sake get in the goddamn car and let's get out of here.'
"My mum gets in the car and I get in the back. My father was so p***ed. He puts the car in Drive and he just nails it, and the car goes EEEEERRRRGGGHHHSSSH! from the showroom, it streaks sideways. And he goes 'This thing is a goddamn rocketship, it's a goddamn rocketship you made me buy!'. He's just screaming… So we go home and my dad is just furious. He doesn't talk to me for like a week.
"After about two weeks I'm in my parents' bedroom looking for something, and I see a ticket on my dad's dresser drawer. He got a ticket for going 110mph. What happened was, when he got to the office with this thing – my dad was an insurance salesman, he was the manager – and all the young insurance salesmen said: 'Hey, Mr Leno, what d'you get with that car?' They were all going crazy. It was the Ford 7.0-litre. There was one model year only with that 428 engine. So my dad took four of them for a ride, and he was going 110mph, the cops stopped him. But from that point on he was the coolest boss ever."
On his collection
With such deep roots of enthusiasm for cars and motorcycles, it's no surprise that Jay's success as a stand-up comedian and TV host would lead to car collecting. But the scale of his operation is still staggering. It spans 140,000 square feet, and five staff members help Jay restore and look after his 198 cars and 163 motorcycles.
It's not just the raw numbers that impress, but also how carefully chosen his collection is. His buying decisions are partly driven by selecting cars that are "no longer in production, fascinating to look at and of technical or historical interest", but a number of models have very personal significance, including a recreation of his father's Galaxie, which is now no more ("I was in high school, I inherited it and quickly wrapped it around a tree"). Indeed, the first 'treat car' Jay bought himself after he began to find success was a Jaguar XK120, a car he'd loved since he was nine, when a local enthusiast let him sit in his example. Yet as well as exotica, including Bugattis, Lamborghinis and Duesenbergs, Jay is adamant that it's not necessary to spend a huge amount of money to get an involving car.
"I've got a Miata [Mazda MX-5] with a supercharger on it… This is all you really need. You can have all kinds of fun with this thing. The transmission is unbreakable, the engine is twin-cam, it doesn't leak oil. It's a great car, but we have this snob thing going that somehow it's a secretary's car and all this nonsense. When actually, racing Miatas – there's nothing much more fun than that."
On his McLaren F1
"I remember when I bought my McLaren. It was US$800,000, and people said, 'You're out of your mind! You're an idiot!" Well, I don't take vacations, and so I bought it. The last offer I got for it was US$17.5 million (AUD$22.5 million)… So now I look at these people and I go, 'oh, okay'… The thing I love about the F1 is that it's a road car. It was never meant to be a race car. So consequently it handles best on the road."
It's not just the car itself that appeals, though, but the man behind it. "My favourite designer is Gordon Murray. To me, the mark of a good marque is when you make your own engines. That's the heart and soul of it. Everything else is
like a heart transplant. I like the fact that Gordon found somebody to build it [the F1 engine], and they were basically building his engine, what he wanted, to his specifications. I like that Gordon has an ethos, a plan."
On electric cars
With so many petrol-powered cars in his collection, it would be easy to have Jay Leno down as a sceptic when it comes to electric cars. But quite the opposite is true – indeed he owns one of the earliest electric cars, a 1909 Baker.
EVs "still go fast and handle and race", Jay says. "I embrace it all… You've got to do something to save the planet. And if you do want to keep your Ferrari and your Cobra or your MG, if you have an electric for during the week – I mean if you live in London, what good is a Ferrari or a Lotus? So you use your electric car to commute, and then on weekends you go out into the hills in your sports car – the same way people use a snowmobile. All these Bugattis behind me are recreational vehicles as far as I'm concerned. I take them out and I drive them on weekends, and I drive in the hills and I bum around, and then I use my Tesla during the week to run errands. I use my Tesla or my Model T actually, because top speed is about 45mph. You can't go much faster than that in LA anyway."
On why driving cars is essential maintenance
While some car collectors come in for criticism for keeping 'garage queens' that rarely turn a wheel, Jay is adamant that cars are there to be driven.
"People don't realise: oil is in a vehicle. If you don't use it, it goes down to halfway up the crank. So the rear main seal below the oil is wet, and above the seal is dry. And if it sits long enough, it dries out. And eventually if you don't use it, the part gets dried out and starts to crack, and the first time you use it, it will start to leak oil. You have to use them. You have to drive them… just go round the block, just once a week. How arduous is that?"
On the scariest cars he's driven
With so much horsepower under one roof, and so many miles accumulated in his years of collecting, it's hardly surprising that Jay has had one or two hair-raising incidents.
"One day from an auction I bought a V12 Lagonda. And you've got knock-off hubs. What happened was whoever restored this put the wheels on the wrong side, so what happened was every time you hit the brakes, the knock off, instead of tightening as it should, it would loosen. I was on the freeway, and two of the wheels just, 'bunk bonk!' – just fell off. And I saw the two wheels go like a mile and half down the freeway. Luckily the Lagonda has these huge brake drums, so I fell about six inches and went along the freeway skidding on the drums. That was… pretty scary."
It's not only historic cars that can bite if not treated with care, however. "We went to Talladega [racetrack] with a [Porsche] Carrera GT… and we wanted to do 100 laps at 190mph. So I'm coming in at the end – and this is my fault – and I'm coming in at 191, 192mph and I see the guy give the thumbs up, and we're just coming out of the corner on to the straight, and I just lifted, and I realised: you don't do that at 190mph in a Carrera GT, and the rear end came around, and I was just spinning down the race track.
"Luckily I remembered that line: you always hit what you look at, so every time I saw the wall I just turned away and cut the wheel. I span about eight times, flat-spotted all the tyres, but I didn't hit anything."
On Barack Obama
Barack Obama first appeared on The Tonight Show when he was a senator, but would return after assuming office – the first time a sitting President had appeared on the programme. As a senator, Obama had driven himself to the show in a rental car, but the second time was a little more carefully managed.
"What a difference," Jay remembers. "The whole parking lot, which is acres, was tented. So when the presidential limousine came in you couldn't tell from the air where it went, because it was all covered. Secret Service had come in a week before… If you had a joint in your sock in 1981, don't come in tomorrow. They had a dossier on everyone."
Obama had become friendly enough with Jay after their first meeting to give him his mobile number. "I never used it. And then when he became president, I was telling people the story, and I told them he gave me his cellphone [number]. And they told me I should call it. I said: 'I'm not going to call it, I'm sure it's not even connected any more…' So we take out the phone, and it rings twice: 'Hello, Barack here'.
'Oh, oh. Mr President. I'm sorry, it's Jay Leno. You gave me this phone. I'm going to destroy this number'. He goes: 'That's a good idea'."
Jay Leno's favourites
1986 Lamborghini Countach
"I used the Countach as my everyday car. This is the thing that people don't get about exotics. They are meant to be used. My car has, what, 50,000 or 60,000 miles on it. It's probably in better shape and will last longer."
1972 Mercedes 300 SEL 6.9
"When I was a kid, that was a top-of-the-line car for me… it was $14,000 when a Cadillac was $6,000. It's my favourite Mercedes sedan. I ask myself if it's because it was so advanced at the time, or because it made an impression on me – it was a bit of both."
1951 Plymouth Station Wagon
"You pull up at a supermarket, people smile, and they wave, and come over and tell you their grandmother had one. It's a pandemic car. You pull up in a Countach or something like that and you look like some deposed dictator's idiot son."
1971 Citroen DS
"It's fabulous to drive… The DS is probably the most comfortable car ever built."
1994 McLaren F1
"I drive it on the road. I'm not a race car driver; I'm just a guy that enjoys driving."
1968 Pontiac Firebird Sprint
"That's a Firebird with a six-cylinder engine… I called Hotchkis and we've got a suspension package for it, and we've got a Tremec five-speed… it's the most fun car to drive because it really handles, and I can use all the power."
Hugo Griffiths