Stephan Winkelmann has taken over Lamborghini in a state of fine fettle. We hear how he'll push on.
When Stephan Winkelmann returned to Sant'Agata Bolognese to begin his second stint at the helm of Lamborghini in December last year, he took over a company that, despite everything, was in rude health.
Defying the impact of the Covid-19 pandemic, the Italian supercar maker achieved the second-highest annual sales figure in its 58-year history (eclipsed only by 2019) and set a company record for profitability. In the first three months of 2021, it also set a new record for quarterly sales, with 2422 cars delivered, and it already has orders to cover the next nine months of production. No wonder there's interest in buying Lamborghini – and why the Volkswagen Group insists it's not for sale.
And yet, since his return, Winkelmann has been plotting how to 'reinvent' Lamborghini. The result is the bold (and extravagantly named) Direzione Cor Tauri plan, which includes targets to electrify its entire line-up by 2024 and add its first fully electric model by the end of the decade.
"On my return, one of the first things we did was all sit down together to understand how we can bring the company to the next level," says the 56-year-old German, talking to Autocar before news of a takeover bid emerged. Of course, the push to further transform Lamborghini is partly because new EU emissions laws will force it to change. "One of the biggest goals, if not the biggest goal, is the reduction of CO2 emissions," says Winkelmann. "This is a challenge for all brands, but it's even more difficult for super-sports car brands. The reduction of CO2 emissions is a must, but we need to keep the DNA required to maintain super-sports car performance that's equal to, if not even better than, today's. That's the challenge we're giving ourselves."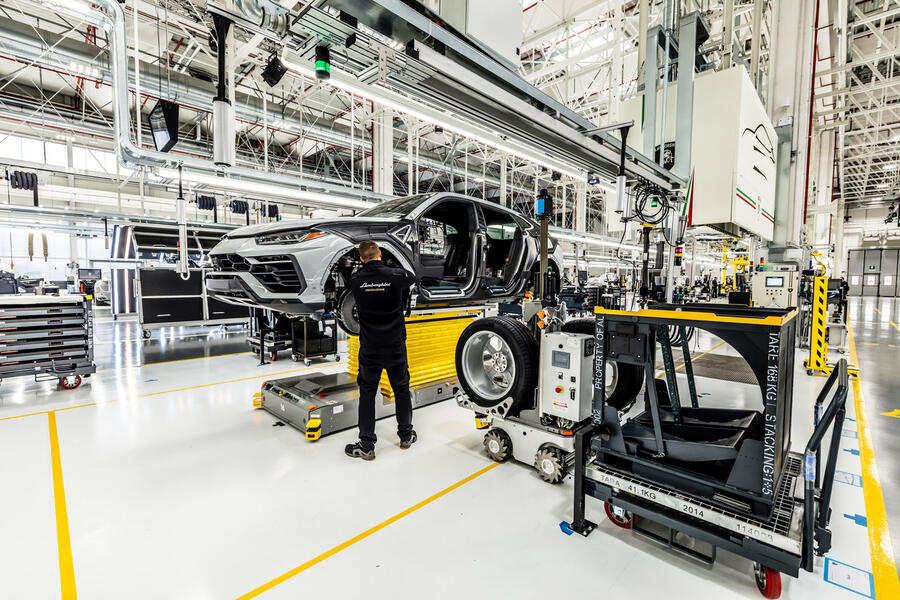 With tightening regulations making change inevitable, Winkelmann's goal is to ensure that the result is positive. He cites an example from his first spell running Lamborghini, which lasted from 2005 until he moved within the Volkswagen Group to run Audi Sport in 2016. While he grew Lamborghini's sales substantially during that time, his boldest move arrived only after he left.
"When I joined the firm the first time in 2005, we had two models and were selling around 1600 cars per year," he says. "We had to work out how to ensure we were more resilient to economic problems and downturns around the world. We decided that a third model line would be the right approach – and not just a third model line but a very different one."
The result was the Urus, which Lamborghini unveiled in concept form in 2012 before it was finally launched in 2018. It took a massive investment, including the construction of a new state-of-the-art production plant at Sant'Agata. As an SUV, the Urus was a bold, controversial step away from Lamborghini's existing supercar line-up, but with a lower price and aimed at a growing market segment, it also significantly broadened the marque's horizons.
"With the Urus, we now have three model lines, and we've increased turnover by seven compared with 2005," notes Winkelmann. The impact is clear: of the record 2422 cars the firm sold in the first quarter of 2021, 1382 were Uruses.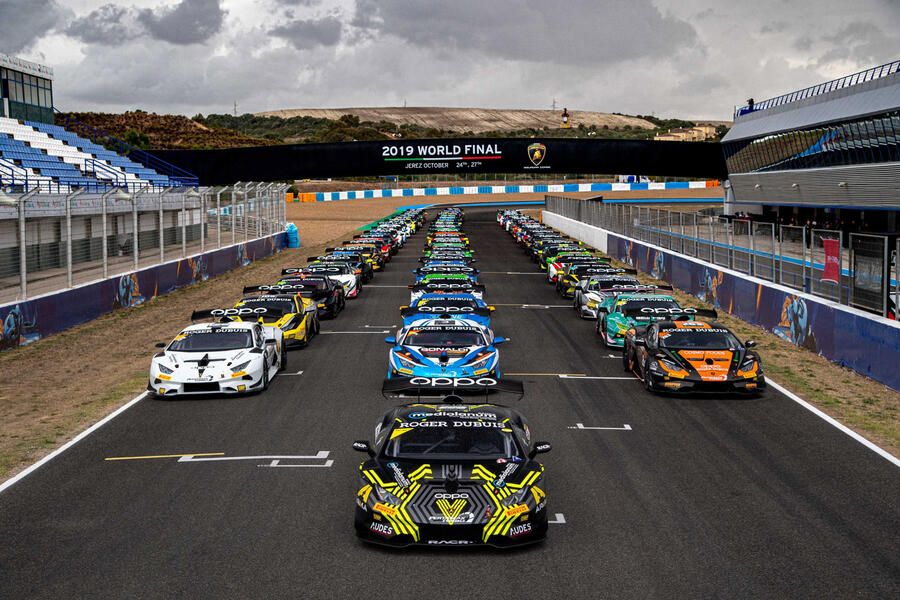 "It has been a game-changer for Lamborghini," says Winkelmann. "It enables us to be more stable, to reinvest in the future. And it proves that we were solid in forecasting what would happen to a third model that's not a sports car. We've always said that Lamborghini has been credible because its history was not only super-sports cars."
Still, the move to electrification is a major step for Lamborghini, whose only heritage in the area comes from the recently released limited-run Sián FKP 37, with its innovative supercapacitor mild-hybrid system. Winkelmann's task since returning has been to work out how a firm imbued in the rich heritage of large combustion engines navigates that transition successfully. "What is the next step? How can we start the next phase of growth?" asks Winkelmann. "We're at a crossroads. We have the choice to stay in combustion engines, and to look forward into electrification in two ways [hybrid and pure electric power].
Lamborghini's vee engines will remain for the immediate future: Winkelmann says the next two years are "about celebrating what we have today", with a range of one-offs and limited editions and new cars from its Squadra Corse motorsport arm.
Lamborghini's path to electrification will start in 2023 and 2024, when its three current model lines – the Urus and the successors to the V10-powered Huracán Evo and V12-powered Aventador – switch to plug-in hybrid propulsion.
"We will be the first super-sports car business to electrify all our models, and we will be the ones to reduce the CO2 emissions by 50% or more," says Winkelmann. "That's one of the goals: the other is to keep the super-sports car DNA and all the things that matter to our customers to keep Lamborghini as the real dream-maker."
While plug-in technology offers benefits in terms of extra torque and power, the drawbacks of adding such units to supercars in terms of added weight and mass are considerable – as is combatting reticence from Lamborghini fans drawn to its pure-combustion heritage.
Winkelmann, though, insists that "this is always a matter of time". He explains: "If you asked 10 years ago, the answer would have been different from today. Customers, in my view, are ready for hybridisation. I don't think they're ready for electric cars on the super-sports car side yet, because there are still some experiences that show this isn't working, but there are experiences that hybrids work very well. For Lamborghini, it was important not to be the first on the market but to be the best when we get there."
While Lamborghini buyers aren't necessarily ready for an electric supercar yet, they soon will be – or at least they will have to be, given the move by European countries to ban the sale of most new non-zero-emissions cars from 2030 onwards.
Crucially, though, the challenge of creating an electric Lamborghini also offers an opportunity: as with the Urus, it's a chance to grow the firm further. Winkelmann has secured approval for a long-anticipated fourth model line for the EV, due in the second half of the decade. And while it will, like the Urus, be based on platforms shared with other Volkswagen Group brands, Winkelmann insists that "the plan is to have production here in Italy"
As with the Urus, the EV will be a distinctly different Lamborghini, probably a two-door, four-seat grand tourer that highlights the benefits of an electric car (Winkelmann points to the "incredible torque and acceleration") and works around the likely packaging challenges.
As well as electrifying its fleet, Lamborghini has focused on reducing the carbon impact of its operations. The firm's Sant'Agata factory has been certified as carbon-neutral since 2015. "We focus on excellence in everything we do," says Winkelmann.
For many people, though, sustainability and electric cars aren't concepts that really fit with Lamborghini's petrol-powered supercar heritage. But while it might be anathema to those who grew up with posters of wild Lamborghinis on their bedroom walls, the younger, typically more environmentally conscious generation have different ideas.
"We're a cool brand; we're always carefully evaluating what comes next," says Winkelmann. "It's not only about the new generation, although for sure this is important. This is a game that's much bigger than Lamborghini. We don't want to say we're the ones saving the world; this would be stupid. But we need to find our own way to be socially acceptable in the future."
However it might manifest itself, Lamborghini is changing again – but Winkelmann vows that it will retain its distinct character. He concludes: "We want to foster the future and have wonderful results, to be able to face the challenges of future technology and to be able to reinvest for what's needed and what else might come up."
Previous Lamborghini game-changers
Urraco 1973: Having found success with its V12 supercars, Lamborghini introduced this 2+2 coupé as a more affordable model to rival Ferrari's Dino. It offered three different V8 powerplants, making it the first Lamborghini to eschew the fabled V12.
Countach 1974: A delayed successor to the Miura, this Bertone-penned wedge was envisaged as an uncompromising sports car a step away from the series of comfortable GTs that preceded it. Production ran until 1990, and it transformed Lamborghini's international profile.
LM002 1986: Born from a failed bid to make a military vehicle, the LM002 was a rugged off-road supercar. Heavy, lumbering and powered by an incredibly thirsty V12 (yet not even spacious), it had arguably more in common with Lamborghini's early tractors than its supercars.
Urus 2018: Much like the Porsche Cayenne with which it shares its Volkswagen Group platform, the Urus SUV caused much indignation, due to its supposed incongruity, but has spurred its maker to unprecedented sales and financial success.
James Attwood