What does it take to make a car as crucial as the 2020 Defender? We meet five people who know.
The new Land Rover Defender may not be arriving in Australia for a few months yet, but in overseas testing, in some of the toughest third-party testing ever conducted, it has already shown itself to be the most capable off-roader the company has ever built. Given the excellence of Land Rovers past, that's a huge achievement.
But if you include the fact that the Defender's accompanying on-road performance makes it a prime candidate for the most versatile off-roader ever – and that its new-age electronics also make it the best-connected off-roader ever – you really are talking about an extraordinary machine. You're also talking about a uniquely talented team who dreamed up such a vehicle and brought it into the world.
Some of these people have been working on the project for as long as seven years, fitting their Defender work between tasks with shorter deadlines. In all, several thousand people have played a part, when you include the vital efforts of leading suppliers.
To represent the achievement of everyone involved, we name five people here who have led development of a remarkable model, seemingly destined already to be one of 72-year-old Land Rover's great successes. Here are their stories…
Nick Rogers – executive director, product engineering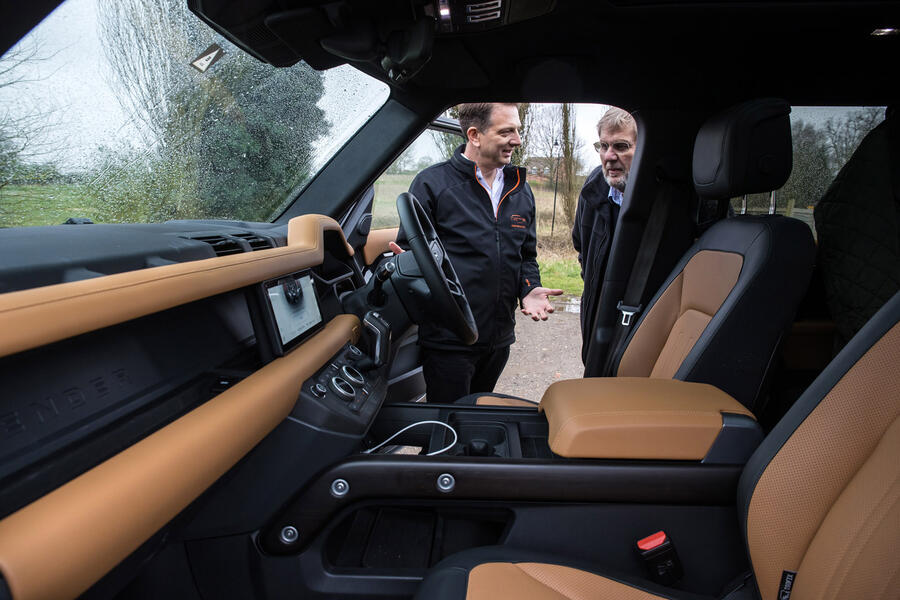 When Rogers started as an engineering trainee at Land Rover 36 years ago, the company was already talking about Defender replacements. "It's been a discussion point as long as I can remember," says Rogers. "The idea of a new Defender and I have grown up in the company together."
Rogers has been involved in two previous projects that didn't come off: one when Ford owned the company, proposed on the Discovery 3's T5 ladder chassis; and another originally scheduled straight after the first Range Rover Sport hit the market.
The trouble, he says, was that the company was having such success with its new models that replacing the icon kept being put on the back burner, especially since it continued to attract much love (if not many buyers).
"In about 2012, I had a conversation with David Sneath, another Land Rover engineer who nowadays organises our unique international launch events," says Rogers, "and we decided we really had to get things moving. We were driving through the Atlas Mountains in Morocco. I remember it well. We agreed we had to bring Defender to the front of the company's mind and make it stick."
So why has this latest project worked when others have failed? Rogers is quick to answer: "Because for the first time, we really tried to utilise the spirit of 1948. Previous attempts had involved doing something to modernise what we already had.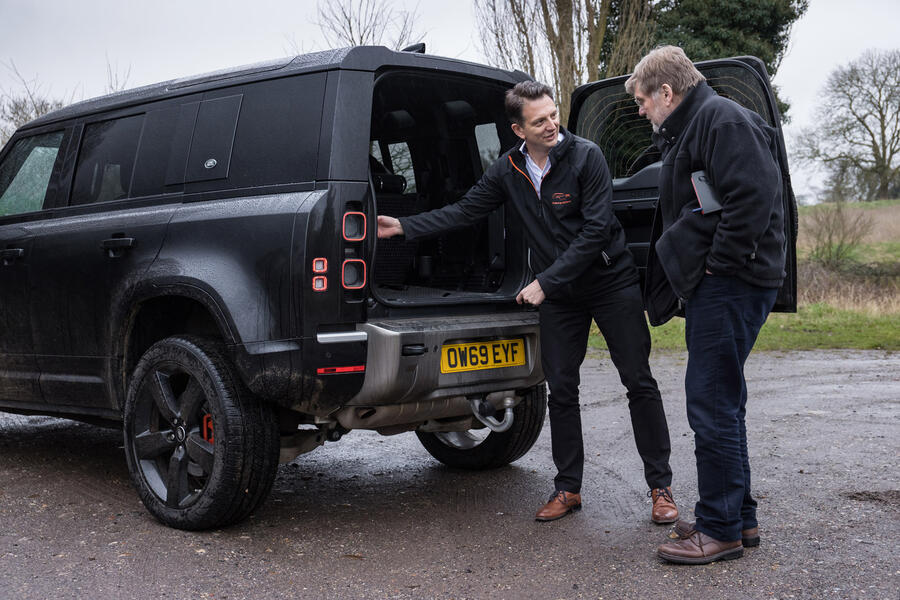 "This time, we tried adopting the mindset of the people who created the icon in the first place, but transferring it to the modern era. What would a new Defender really need in 2020 and the decades beyond? We held curry nights at my house for the people involved, discussing a new vehicle."
All kinds of decisions were taken, such as the plan to continue carrying the spare wheel on the tailgate. "If you need a steep departure angle for decent off-roading, you need a short rear overhang," says Rogers. "That means chopping the rear off, which leaves only one place for the wheel to go. Decision made."
That kind of thinking also produced the Defender's advanced connectivity, Rogers says: "The Land Rover's creators would have wanted the 2020 vehicle to be ready for anything."
Jim Morgan – chief engineer, electrical systems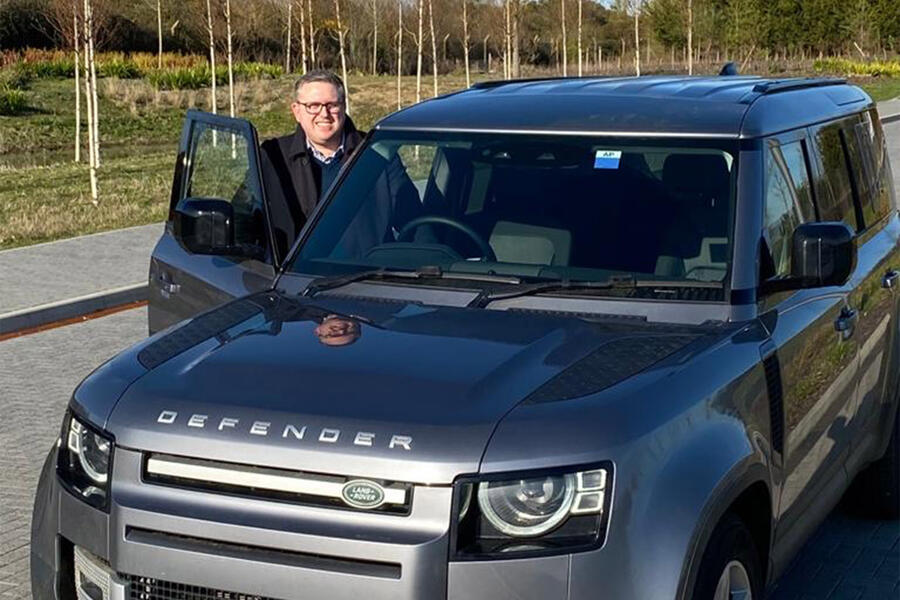 The new Defender is Jaguar Land Rover's most connected vehicle yet and that's all down to the revolutionary work of a team, led by Jim Morgan, who designed and developed what the company calls its 'Third Dimension' electronics system: always on, always connected, always up to date.
The hardware is invisible but its effects are huge. Third Dimension brings both extra versatility to the Defender's capabilities, says Morgan, and the ability to make much faster changes.
Whereas the Jaguar I-Pace, all-electric and barely three years old, has four updatable systems, the Defender has a world-beating 16. And that won't be the end of it. "Our mission is to create the newest and greatest customer experience," says Morgan. "We live in an era of periodic software releases, same as with your iPhone. That's what stands behind the whole thing."
Why has the Defender been chosen to lead this Jaguar Land Rover technology charge? Despite the connection of its name to Land Rover's earliest days, the new off-roader is viewed as the ideal target for new software techniques because it will undoubtedly last longer in production (and later life) than many conventional vehicles and is thus more likely to need periodic updating.
Which is not to say it can be given capability beyond the present level. "All cars are type approved and homologated at a certain level," says Morgan. "They have to be maintained at that."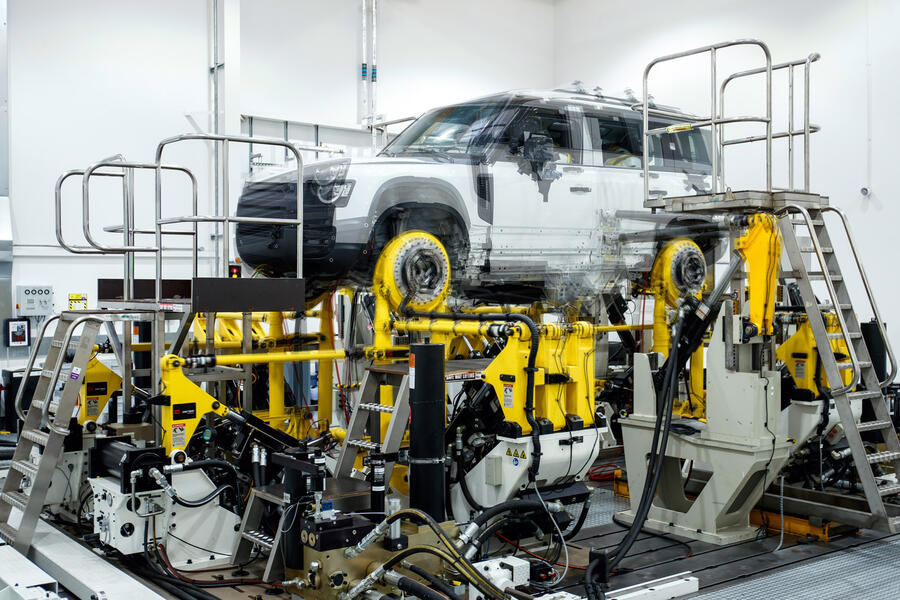 Although for some a Defender is an expedition vehicle, suitable for use in remote areas with little support, Morgan has little sympathy for the 'electronics equals complexity' argument sometimes used by critics.
He takes a contrary view: the capacity for remote diagnosis may provide help for drivers in difficult situations and, in any case, it's usually the failure of mechanical systems that has caused the difficulties of the past. "These days, mechanical systems tend to be robust," Morgan says. "Software can be shifted about, but it's usually very resilient."
Emily Greenhaugh – interior body innovations manager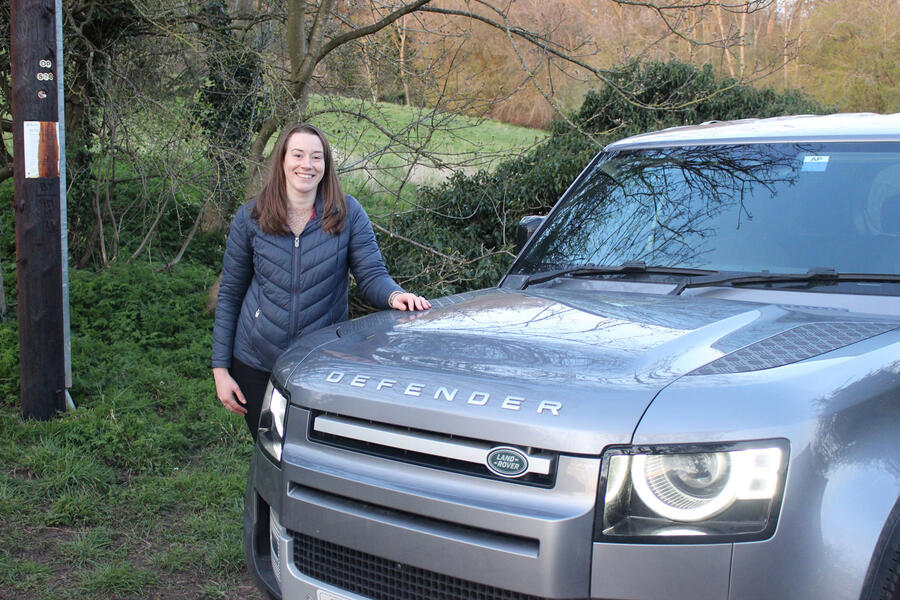 Back in 2013, Emily Greenhaugh was one of several newly hired engineering graduates tasked over a fortnight by Nick Rogers to bring new thinking to the future of the marque, an episode she acknowledges as an amazing opportunity.
"Nick had gone off on another project so we were allowed to use his office," Greenhaugh says. "He simply told us that if we didn't bring new energy to the company, nobody would, and he didn't want the future just to be about business as usual.
"We soon realised the future was really about Defender, and how it would use the influence of 1948. Whatever we did would have to involve exploration and innovation, not just creating classic competitors for products already in the market."
Greenhaugh and her team looked widely – not just at the 1948 original (Rogers brought his own Series 1 Landie to work for their benefit) but also at tractors, fire engines and even Lotus sports cars (for their external fixings). They created a list of actions under three headings: Retain, Invent, Introduce. They filled a four-metre wall with ideas and held wrap-ups every day that sometimes involved 'seniors' to help review ideas.
Out of this came suggestions like the use of a cabin cross-beam ("the designers had brilliant ideas on that"), the high-mounted gearshifter, the use of a central front seat, vertical wing mirrors ("those go back to the original"), the rear body's alpine lights, and much more. "As I look back now," says Greenhaugh, "it seems crazy to think we could influence the whole business like that. Of course, we had a lot of support from the senior team. But we all knew we had to do things differently."
Greenhaugh subsequently followed the Defender through the rest of her graduate placement – working much of the time for Rob Atkins – and now heads a new team researching the interior requirements of future Land Rover customers.
Rob Atkins – chief engineer, vehicle engineering
"I was involved with the Defender programme from the early stages," says Atkins. "My job was to pull the architecture, which is to say the main components of the vehicle, all together. My team and I work on all of our SUV models: the Defender was just one of them, though of course it's a very important one. Basically, I just know lots of people across the business and my job is to suck their expertise out of them – whatever the project needs."
Atkins says one important reason for the Defender's success is that it isn't a caricature of the original car, or of the outgoing model, but it has been created from a genuine attempt to make a vehicle for today, and looking several decades forward, that is modern in every key aspect but carries the same iconic values as the 1948 original.
"There was no way the new Defender could ever be a rebadged version of one of our other SUVs," he says. "Nick Rogers was really good at holding us to account over that. He was adamant that it had to be authentic. In any case, [design chief] Gerry McGovern and his design team had come up with a great concept for a modern machine, and we knew we needed to do justice to that."
Many of the biggest Defender decisions aren't obvious, says Atkins, such as the use of a monocoque structure instead of a traditional body-on-frame set-up, and the very advanced electronic architecture. He and his team were heavily involved in all of that. But he's proud of two particular decisions: the use of bigger tyres to raise the Defender's driving position and improve its off-road traction; and some special packaging measures needed to make the Defender's boot space as wide and uncluttered as it is, in comparison with more conventional SUVs.
The decision about the big wheels came early, says Atkins: "Even before we had a fully engineered mule, we did some testing after we fitted bigger tyres to a Range Rover Sport and it was very promising. Then we went to Dubai, where sand driving is the national sport, and were simply blown away by the performance of our Defender mule, even when we were using road tyre pressures. We knew the design was strong, but big wheels gave the vehicle extra height and presence, and a lot more grip. That was a very important moment."
Mike Cross – chief engineer, vehicle integrity
Mike Cross isn't a big talker. He prefers to demonstrate what he does – which is to bring "Land Roverness" to every model, then signing it off when he's sure it has arrived – by getting you to drive the product, or deploying his own legendary driving skills. Which is why we were circulating the Gaydon test track at 145km/h-plus as he explained his role with the Defender.
"I wanted it to drive the way it looks," he says, "to feel a bit… mechanical. It needed to be fun to drive, with the right kind of precision and so on, but in an idiosyncratic sort of way. This wasn't a sports car."
That's why the Defender has more body roll than many of the cars Cross has been involved with: an off-roader is expected to be pretty compliant over bumps. He looks pleased when I take the wheel for a bit and observe that the car feels pleasantly supple over bumps large and small, but despite its softish, all-independent air suspension, there's absolutely no body float, even at high speed. (We touch 193km/h.) The steering is pleasant and accurate, too. Not sporty, just capable. "It's supposed to feel very connected to the road," he says.
Cross and his team were involved at the two critical times for Defender: at the most formative stage, and in the last 15 months, when mules were being assessed. "In the first instance, my team works with the engineers to produce a statement of intent for the car and we guide the car's development, from a dynamic point of view, as it progresses," he says. "Then when mules become available, we start driving them. Our job is to make certain the car meets the values that we laid down and that buyers will expect from a Land Rover. That means noise, vibration, harshness [assessment] as well as steering quality and effort, brake feel, ride and handling."
On a high-speed departure from the test track, we attack a couple of evil-looking concrete jumps, one after the other, at 90mph. The car gets airborne each time but tracks dead straight when it lands and feels like it's alighting on a huge, firm cushion. There's no sign of bottoming and Cross allows himself a faint smile. "I think this is one of the best vehicles we've done," he says.
Steve Cropley