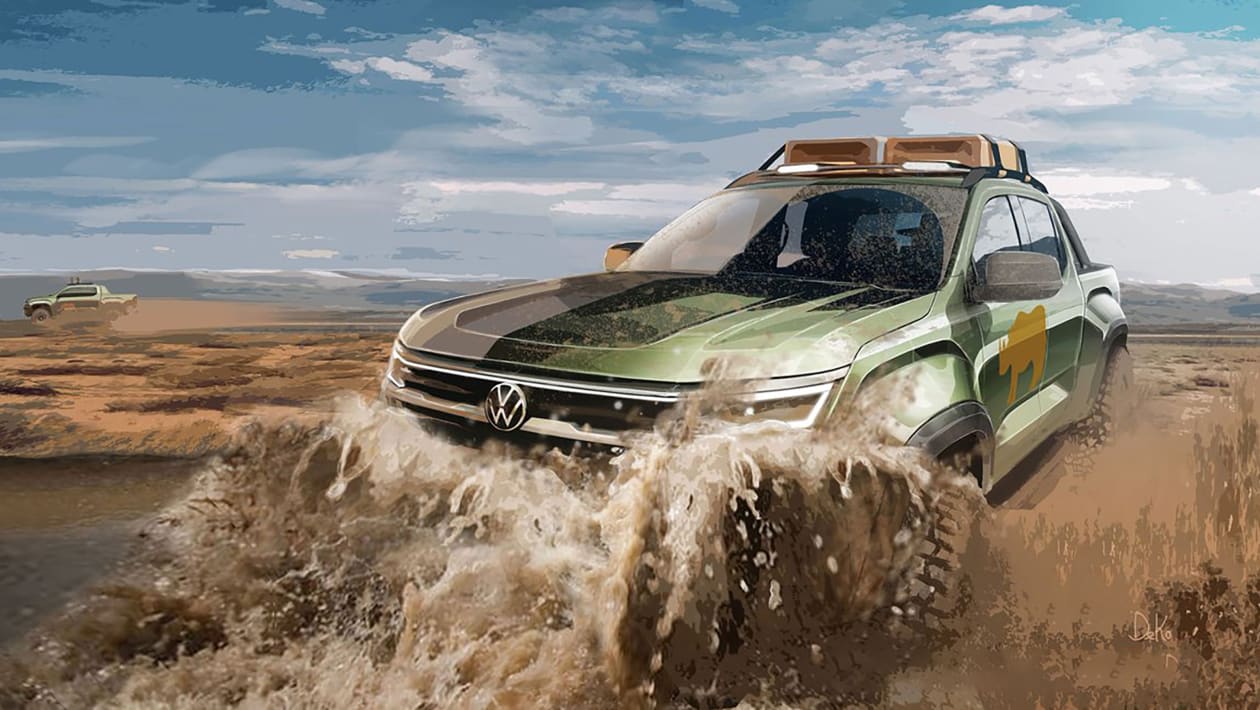 Volkswagen's Commercial Vehicles arm has released further details and sketches of the next-generation Amarok ahead of its debut next year.
The model will share its platform with the next-generation Ford Ranger as one of the key vehicles to emerge from a technical collaboration between VW and Ford. VW has also confirmed that the new model will be built in South Africa, alongside continuing production in Argentina. The model will be exported globally from those two locations.
The new sketches show the latest Amarok engaging in wildlife-preservation activities in South Africa, a role the previous model had as part of VW's partnership with the Wilderness Foundation Africa. They show that while it has evolved in design, it still remainins recognisable as an Amarok.
The teaser sketches also give a glimpse at the Amarok's interior, revealing a completely new dashboard design featuring the latest VW steering wheel and the brand's 'Virtual Cockpit' digital instruments. A new central infotainment system also features, and it appears the brand will retain some physical switchgear, unlike in some of its latest passenger models.
VW describes its Ford Ranger rival as having "a completely new appearance inside and out" and "even more extensive equipment on board", including "significantly more driver assistance systems" and new connectivity features. The company also claims it will feature "innovations that have not been seen before in this segment".
Technical details for the new Amarok remain thin on the ground, but VW lists the V6 diesel engine as a feature, making the model unique in its segment.
Volkswagen Commercial Vehicles' Chairman of the Management Board, Carsten Intra, said: "It's not just going to be a fantastic pick-up; it's going to be a genuine Volkswagen– with clear DNA in both technology and design."
Volkswagen and Ford confirmed plans to collaborate on the engineering of commercial vehicles and pick-up trucks last summer, as part of a large-sweeping tie-up between the automotive giants across a number of aspects of their businesses.
"Volkswagen Commercial Vehicles has taken a major strategic step by establishing its cooperation with Ford. The successor to the Amarok will be one of the first fruits of this collaboration," said Volkswagen Group CEO Herbert Diess last year.
At the time, the firm revealed that its first jointly developed pick-up trucks would be released in 2022, with a new Ford Ranger based on the same platform to follow the next Amarok into production.
The two brands have also announced a multi-billion pound investment in autonomous drive technology start-up company Argo AI, while from 2023, Ford will produce electric vehicles on the Volkswagen Group's MEB platform.
Lawrence Allan