Ineos Automotive has unveiled the interior design and initial specifications for the Grenadier off-roader.
The new Ineos Grenadier 4×4 will take on a rugged approach that mixes practicality and durability with the latest technology and plenty of comfort, the company claims.
Almost every element of the Grenadier has been designed from a clean sheet of paper, including the cabin. With the car's focus on being easy to operate in the most extreme conditions (e.g. when wearing gloves) – as both a commercial vehicle and a lifestyle off-roader – the Grenadier's cabin features big buttons and controls that have been inspired by maritime set-ups and heavy machinery, according to Ineos Automotive's Head of Design, Toby Ecuyer.
The idea behind this approach is to boost ease of use and how logical the layout is; with that in mind every switch is labelled with writing rather than an icon, so it's obvious what function it operates.
A number of trim levels will be available, including two and five-seat commercial variants; the former can swallow a pallet in its load bay. All models will feature the same centre stack of toggle switches and an overhead row of toggle switches on the headlining. This will be home to functions such as the front and rear electronic differential locks, while the centre diff lock is operated manually via a lever on the centre console next to the BMW-sourced gear selector.
Extra panels in the roof are available to control electronic extras such as roof lights or a winch; pre-wiring for these panels and accessories comes fitted as standard, while the Grenadier will also offer an optional 2,000-watt AC power converter to run various different accessories, such as power tools.
Alongside the BMW turbodiesel and turbocharged petrol powertrains that have already confirmed, Ineos Automotive has sourced the infotainment system from the German brand, with the 12.3-inch touchscreen (also controlled through a rotary dial on the transmission tunnel) uses BMW's operating system. However, the Grenadier's graphics are bespoke.
Navigation will be through either Apple CarPlay or Android Auto connectivity – a move Ineos claims will help boost usability, integrating with owners' devices, and stop the tech dating. There's also an off-road pathfinder function given the Grenadier's intended use and capability.
The cabin materials are hard-wearing with an element of luxury – touches such as a saddle leather option for the steering wheel add a tactile feel but will also age with the car, "giving it a patina" according to Ecuyer.
Splashproof fabric upholstery is standard for the Recaro-sourced seats, which is treated to repel spillages and stains, while leather will be an option focused more at lifestyle buyers.
Isofix points will also be fitted, while storage inside has been maximised, with a clever use of space to stow anything from phones, wallets and keys. Items needed for lifestyle pursuits can also be stowed in areas such as the cubby within the tailgate-mounted spare wheel's hub, a lockable centre console and a sliding dry storage area underneath the rear seats.
A rubberised flooring with drain plugs will also be standard, while buyers will be able to spec carpet as an extra. The former boosts the Grenadier's utility, allowing the car's footwells to be hosed out. All switchgear inside the cabin is splashproof, too.
It's all part of the relatively young car company's promise that the Grenadier – and everything inside it – will stand the test of time, helped by Ineos removing complexity from the car. There are around half the number of ECUs inside the Grenadier next to a comparable vehicle, which means there's less to go wrong and less to fix if there is a problem.
The fledgling brand is still to nail down exactly what the Grenadier trim structure will look like, but Ineos says that a range of packs and other options will be offered, giving buyers the scope to tailor their car's specification.
Of course, this will add to the price, but indications suggest the Grenadier is still on track to start from around AUD$80,000 for the two-seat entry-level commercial model. Deliveries are expected in Europe from July 2022.
The Grenadier was designed by Toby Ecuyer, who started his career as an architect and recently moved into designing super yachts. It shares the same boxy proportions as the old Defender, with similarly angular doors and window glass. It also shares the Land Rover's slatted radiator grille, flat bonnet, round headlamps and upright windscreen – and, under the front bumper, there's a thick sump guard.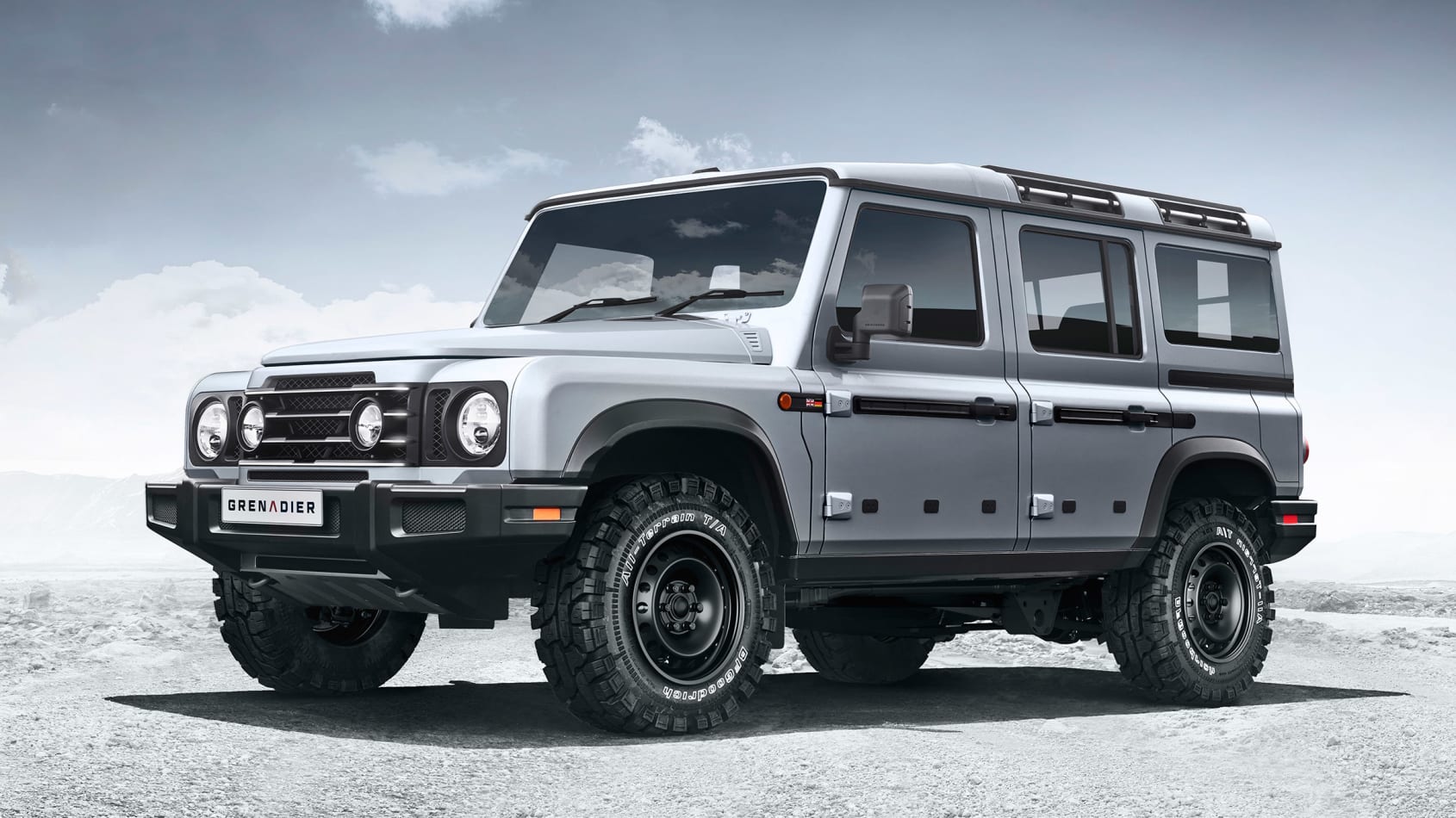 There are some elements of the Mercedes G-Class mixed into the Grenadier's design, too, which is no surprise considering Ineos's partnership with the Austrian engineering company, Magna Steyr. The firm has handled the production of the G-Wagen since 2018 and will also help Ineos piece together the Grenadier.
At the helm of the company is Dirk Heilmann. He's been an Ineos employee for the last two decades but, like the company's design chief, Toby Ecuyer, he has no previous experience in the car industry – other than being a self-confessed petrolhead. So, is that a problem or a benefit for someone leading a new car company?
Heilmann told us: "A bit of both, really. We've got a very talented bunch of automotive designers and engineers we're working very closely with, which is massively beneficial and helpful. But equally, I think, being from a different industry and thinking about things in a slightly different way, I think that's also helped a lot as well."
Ineos has sourced two BMW engines to power the Grenadier. Both are 3.0-litre six-cylinder turbo units. There's a diesel with 183kW and 550Nm, and a petrol engine 209kW strong and with 450Nm. The permanent four-wheel drive with shiftable low range and a central locking diff is Ineos' own design, but power is transferred via an eight-speed ZF automatic gearbox.
Sean Carson