All-new Landcruiser 300 Series has been revealed, with new V6 turbo engine and equipment upgrades; expected in Australia later this year.
Toyota has unveiled an all-new version of its flagship large off-road SUV, the Landcruiser, in the Middle East.
Called the Toyota Land Cruiser 300, the new model is the first wholly fresh iteration of Toyota's iconic go-anywhere vehicle since the 200 Series was introduced back in 2007. The 300 gets a different platform called GA-F, new V6 engines, a 10-speed automatic gearbox and redesigned suspension.
A new GR Sport models brings a more rugged off-road look and parts.
The looks are typical Land Cruiser – which is to say that the car is imposing and robust, and clearly designed with off-road approach and departure angles in mind. The cabin gets a more sophisticated look, with a widescreen infotainment system incorporating smartphone integration, and comes with claims of more appealing plastics and finishes.
The new vehicle marks the first time that Toyota's TNGA platform – the modular architecture that forms the basis of most of the firm's models these days – has been used to support a body-on-frame car. The two new six-cylinder engines, both twin-turbocharged, are a 3.5-litre petrol and a 3.3-litre diesel; both are claimed to offer better driveability and efficiency than a conventional V8 – the bent eight now axed from the 4×4.
The new diesel V6 twin turbo produces 227kW and 700Nm, so it is a mighty replacement for the old, larger V8. Weight-saving measures help too, since the new model is around 200kg lighter than its predecessor.
The Landcruiser 300 is designed to be capable enough off road to justify its nameplate, while also delivering an easier driving experience on both rough terrain and smooth paved roads. It has what Toyota is calling a 'world-first Electronic Kinetic Dynamic Suspension System' – likely to be a development of the old car's technology but now using processing power to help the system to adapt more quickly to changing surfaces.
A camera-based terrain monitoring system will allow occupants to see the road conditions surrounding the vehicle, while the vehicle's own technology will judge the quality of the road surface and change the car's operating mode accordingly.
The latest Toyota Safety Sense active safety package for LandCruiser incorporates a pre-collision system that helps avoid a collision or reduce damage by detecting pedestrians (daytime and night-time) and cyclists (daytime).
It can also detect oncoming vehicles at intersections and pedestrians crossing the street when the vehicle is turning in either direction.
An emergency steering and crash-avoidance function, which assists with steering and lane-keeping, is triggered when the driver performs a steering manoeuvre to avoid collision.
The new Landcruiser is expected to launch in Australia later this year.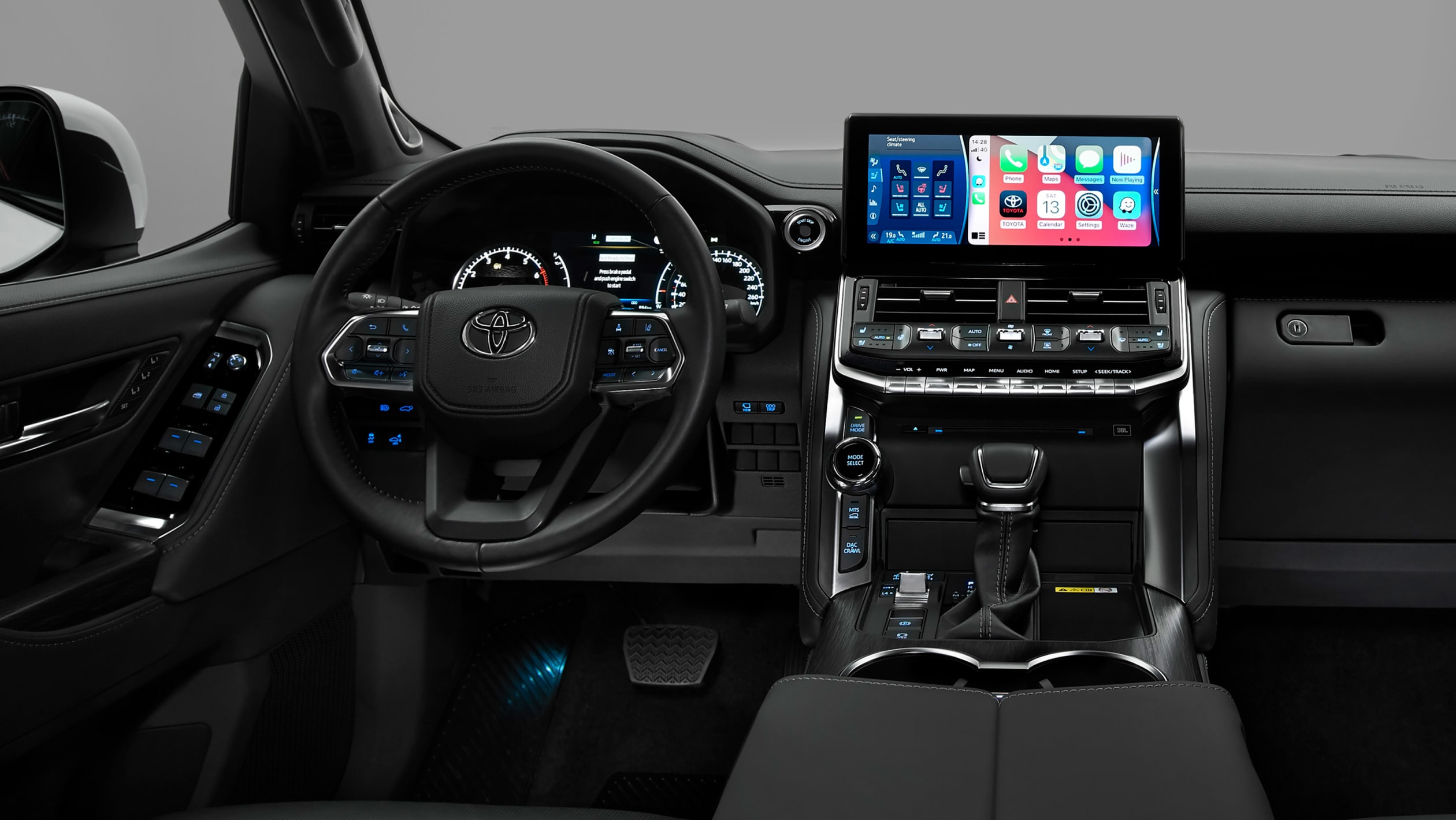 Toyota Australia Vice President Sales, Marketing and Franchise Operations Sean Hanley said the new LandCruiser once again raises the standard by which other 4WDs are judged for reliability, durability and off-road performance.
"Incredibly reliable and capable, LandCruiser enabled Toyota to establish its foothold in the world automotive market, evolving from a basic 4WD utility into an upmarket SUV," Mr Hanley said.
"It is an indispensable tool that supports our customers lives and livelihoods by enabling them to travel almost anywhere – and return – in safety and comfort.
"In our quest to make LandCruiser tougher and more capable than ever, we have taken feedback from customers from around the world. This includes extensive input from Australian owners who have experience in some of the world's harshest environments.
"The new LandCruiser range brings improved design and advanced new technologies that advance its performance in all conditions while enhancing its comfort, convenience and safety as a luxury vehicle."
John McIlroy