Nearly 50 years split these two sports cars, but the lineage of a Porsche 911 Turbo is undeniable – and there's good reason for it.
Guards Red Turbo. Three words that mean little or nothing to most people, but everything to people like us. And with good reason, for the 911 Turbo has been the very definition of next-level performance since the original 3.0 930 Turbo arrived way back in 1975.
Since then the 911 Turbo has continued in its forced-induction quest to humble more powerful and more obviously prestigious machinery. It's safe to say it forever changed Porsche's brand trajectory, not to mention the bedroom walls of generations of car-obsessed kids, such was the seismic effect this whale-tailed machine had on the fast-car landscape.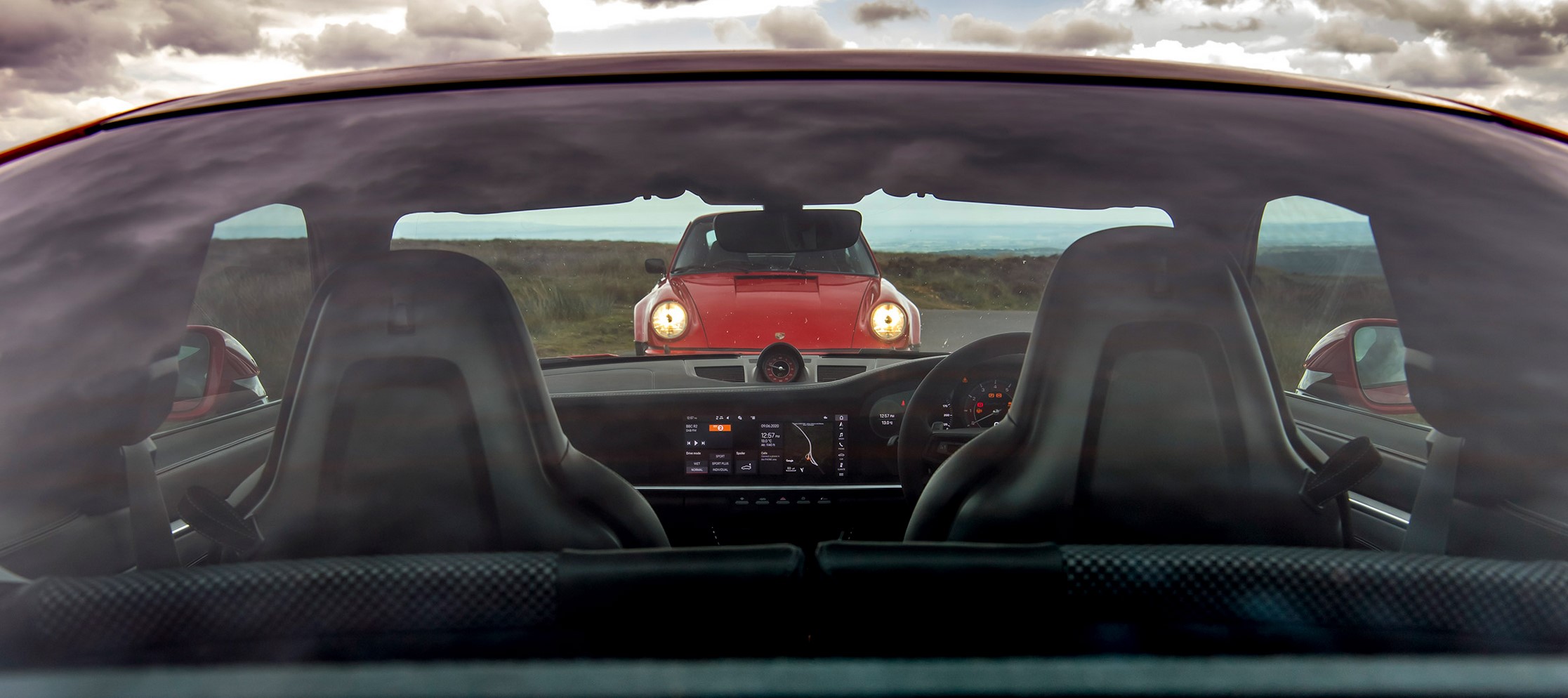 As a result, few if any model lines have enjoyed such sustained and successful development. Forty-five years of continuous evolution have seen the Turbo rapidly morph from a homologation special that laid the foundations for Porsche's dynastic dominance of endurance racing into a sporting flagship that propelled the company's rear-engined sports car into new and more lucrative territory as relentlessly as the car itself hurled its occupants at the horizon.
It's all too easy to be blasé about the introduction of yet another ultra-fast Porsche, but the arrival of a new 911 Turbo is never less than momentous. A fact underlined by Porsche's controversial decision to bestow Turbo and Turbo S names on its Taycan EV. This may have caused a few of us to grind our teeth, but it confirms the name resonates with enthusiasts of all denominations.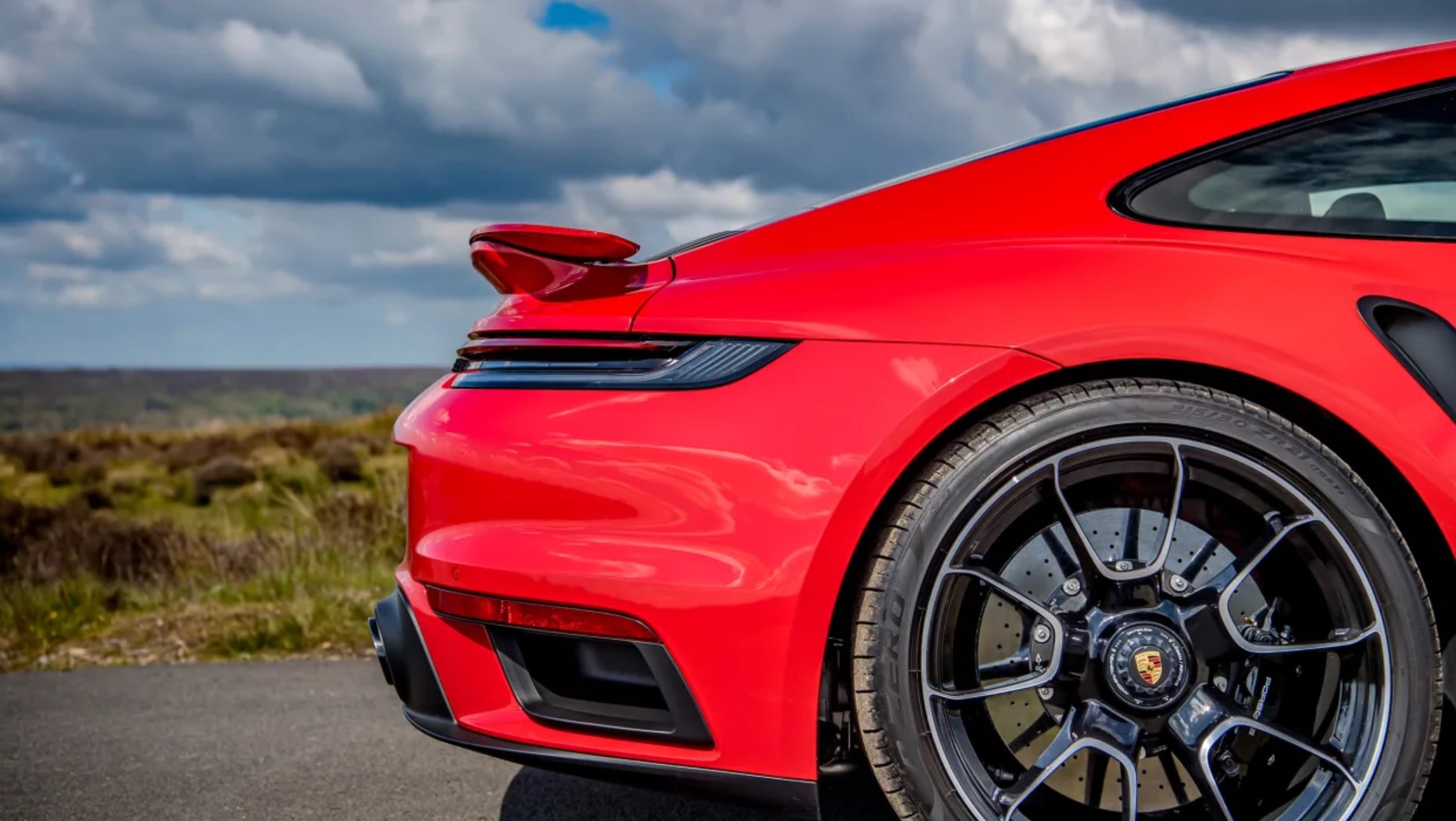 In this seventh generation of 911 Turbo we've been treated to the greatest leap in performance between old and new generations in the model's history. Yes, this is partly to do with Porsche launching the flagship Turbo S ahead of the regular 992 Turbo, but whichever way you slice it the new car's stats are sensational. The new 3.7-litre flat-six motor is an absolute powerhouse, punching out 478kW at 6750rpm – an increase of 50kW over that of the 991.2 Turbo S – while torque gets a 50Nm bump to reach a peak of 800Nm. Not only is this also 50Nm more than the rampant 991.2 GT2 RS, it arrives from just 2500rpm. This explains the beefed-up eight-speed PDK transmission and revised front axle for the all-wheel-drive system.
We don't tend to fixate on the figures, largely because the way a car feels is more important to us, but you simply can't ignore the 992's extraordinary numbers. Porsche claims 0-100km/h takes just 2.7sec. More eye-watering is the 0-200km/h time of just 8.9sec. Oh, and it doesn't run out of puff until 330km/h. It's an absurdly rapid machine, even by today's warped standards.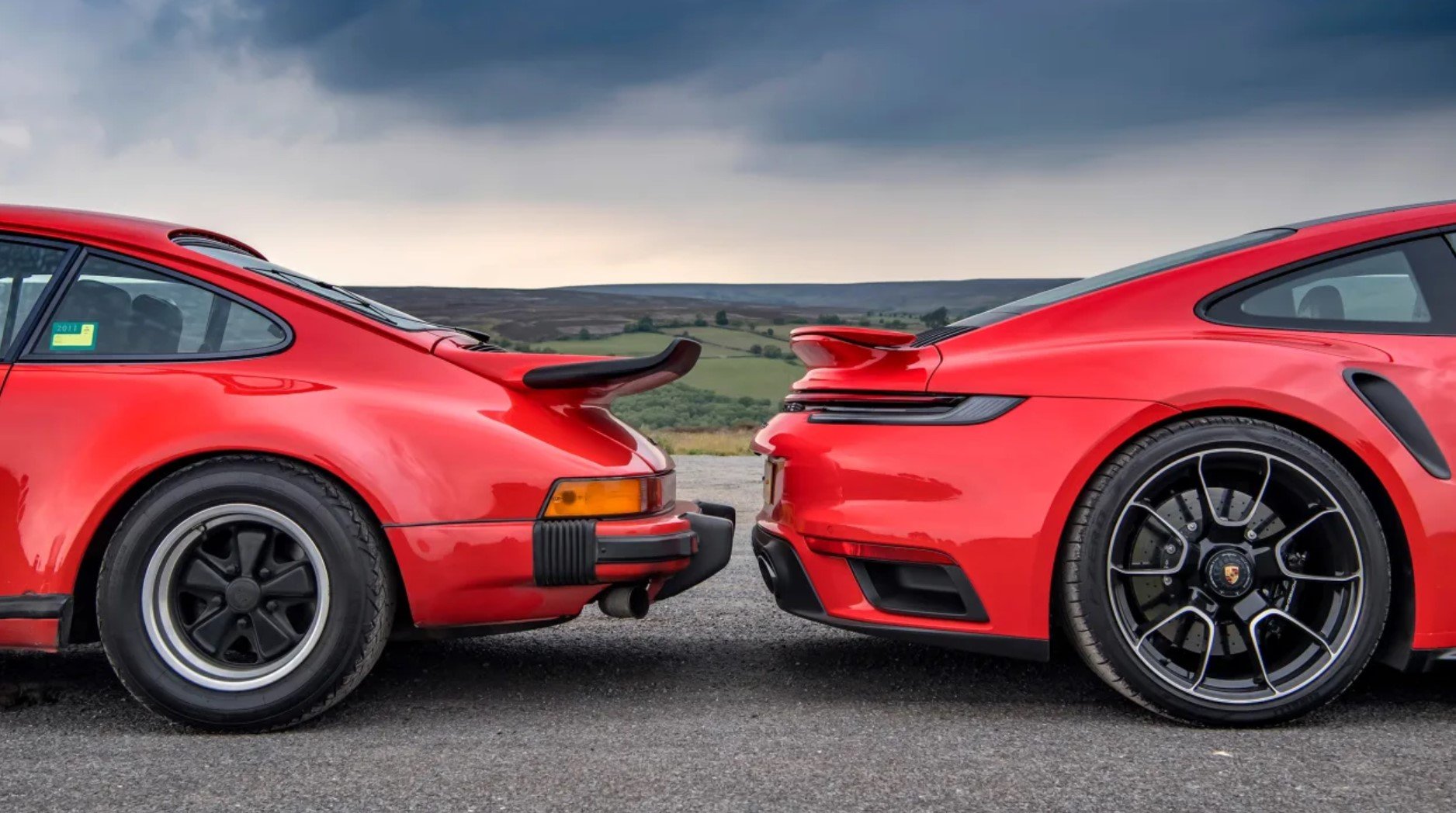 It's fair to say the first 992 models received a rocky reception around these parts. More refined and capable they may have been, but their size, sophistication and – oh the irony – wholesale adoption of turbocharged engines in the series production range seemed to have left some of the 911's core values behind. It's reassuring, then, to find the brand new 992 Turbo looks every bit as suited to Porsche's iconic scarlet hue as the car that started it all. A good omen? Perhaps. It's certainly true to say that not every generation has rocked red quite so convincingly, nor that all Turbos have been true game-changers, but on looks and on paper the 992 Turbo S promises to be a rollicking return to form.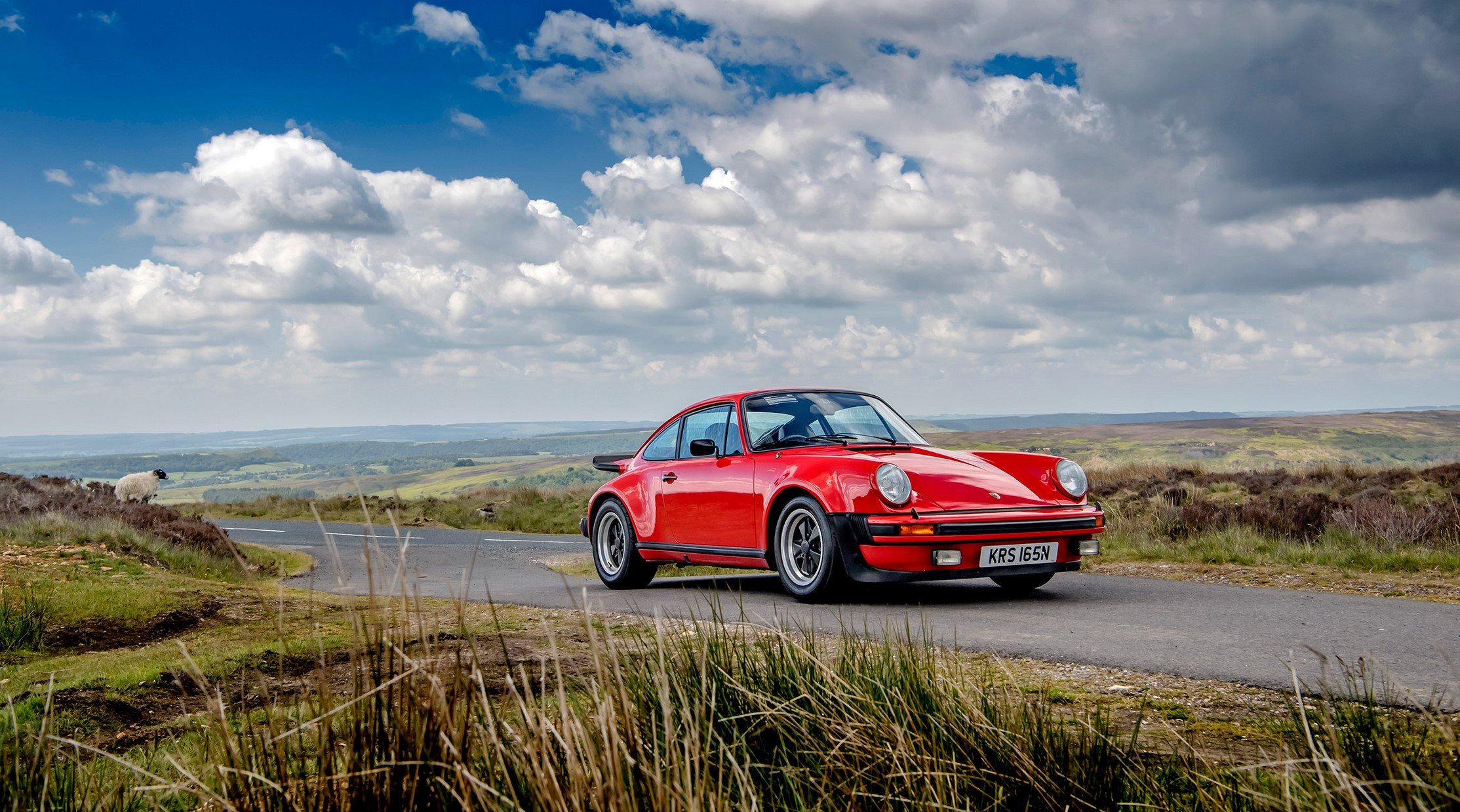 The immaculate 930 we're driving here for this feature is in the UK (although it was originally an Australian factory-ordered car many years ago), where we'll be meeting on the North York Moors. The almost 150km of motorway driving to get there is the kind of trip Turbos of all ages were designed and built to excel at. The 992 follows in this tradition. It's so easy and painless to spend time in. Of course, there's some road noise – what do you expect with tyres this wide and of such skinny profile – and the ride is firm even in the softest of the PASM modes, but away from lumpen low-speed urban surfaces there's enough pliancy to take away the sting.
There's myriad settings for powertrain and chassis with which to dial in the car's behaviour, but for many buyers the beauty of the Turbo is you can simply climb in and drive, with no thought given to the fact it happens to be one of the fastest point-to-point cars (a lot of) money can buy. If that doesn't sound very evo you'd be mistaken. At least in the context of 911 Turbos, for it's this blend of effortlessness and otherworldliness that has built an unrivalled reputation over the last four-and-a-half decades.
As a consequence, self-restraint is paramount if you're to stay within the limited bounds of a motorway police officer's sense of humour. In many ways this neatly describes the dichotomy present in the Turbo S, for the more effortless its performance, the more effort you have to expend in preventing yourself from using too much of it. This said, there's a sense of occasion to the 992 that's gratifying in itself. The engine doesn't have the vocal range of the lesser turbocharged models, but it does have a simmering, turbine-like note that captures something of the S's steely potency. It devours miles in magnificent fashion.
Leave the motorway and take to the A-roads and you discover a Turbo with more control weight and connection than recent predecessors. It's a welcome discovery, for the steering is the one remaining touchpoint from which you can take a constant stream of connection. On the fast, flowing roads across the moors it's really satisfying to thread the car down the road, suspension working with precision and pliancy as speed and loads increase.
Through tighter turns there are real glimpses of Porsche's GT 911s in the way it turns, grips and – if you disable the PSM stability control systems – slips. Time was all-wheel-drive Turbos could be prickly when provoked, but despite the monstrous amount of torque being put into the tarmac, the 992 breaks traction with progression and comes back into line with equal poise. It takes some unsticking, but once you understand how to time the arrival of all that torque and trust in the torque vectoring, it's amazingly intuitive.
There's no question the Turbo S is one of those cars you never fully unleash on the road. Stretch perhaps, but never completely, and rarely for more than a few mouth-parching minutes. Unsurprisingly, the brakes are never troubled. Hardly any wonder when you consider the carbon-ceramic discs are 420mm in diameter at the front – more than an inch greater than the 930's Fuchs rims! – and gripped by incredible ten-pot calipers, with 390mm discs and four-pot calipers at the rear. That such prodigious stopping power comes with brilliantly progressive feel is testament to Porsche's mastery of the middle pedal. Or indeed the left pedal if you're too young to remember cars with a clutch pedal.
Tactility and Turbos have not always gone hand in hand, but the 992 Turbo S has a greater degree of connection than its recent predecessors, combined with a superb chassis and palpable charisma. It's a sensational car and exactly the kind of flagship a 911 Turbo should be.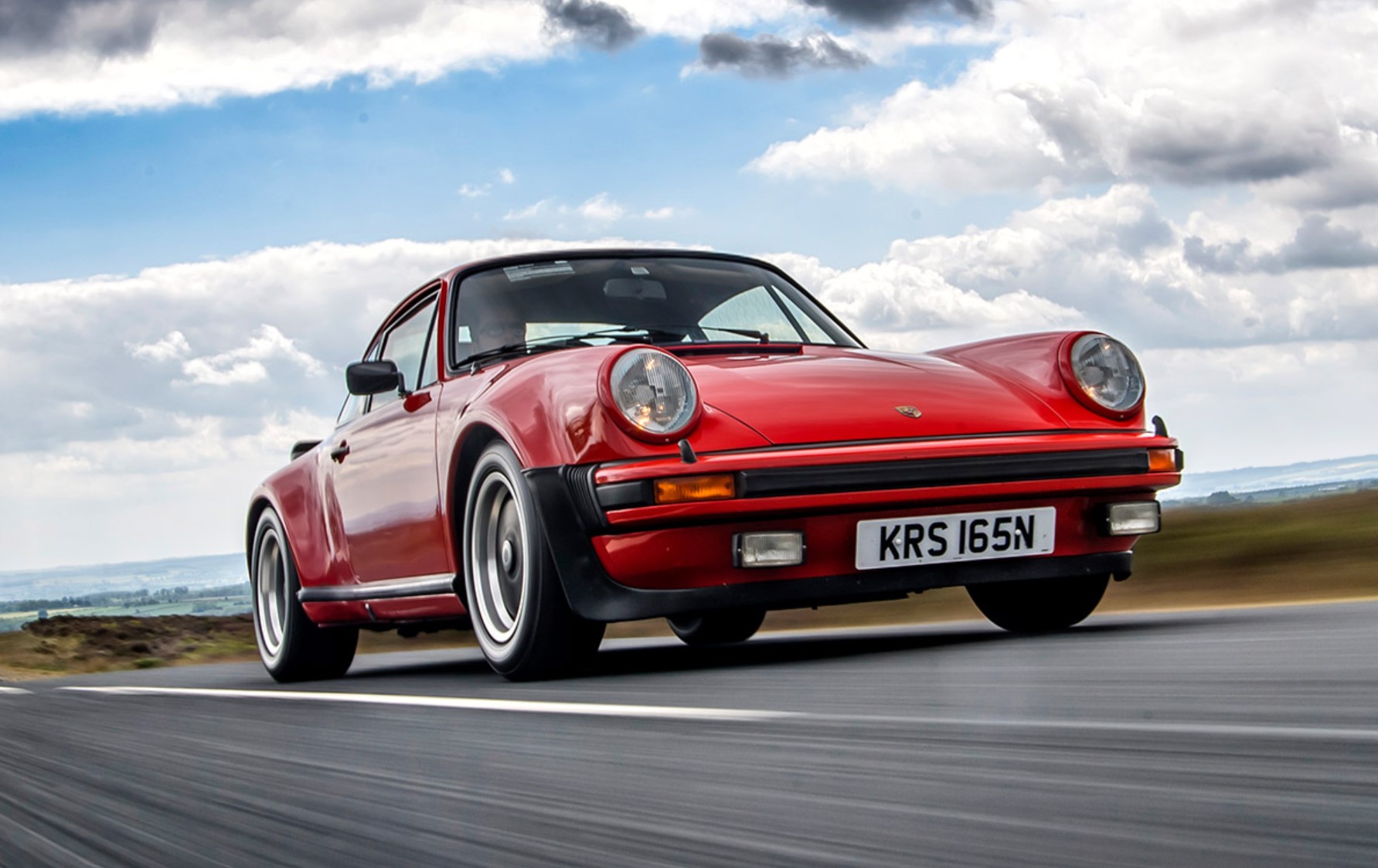 In these days of metronomic model cycles the relentless churn of new 911 generations is in stark contrast to the 930 era, when the first Turbos were built in '75 with production continuing until '89. Little changed visually over that period, but plenty changed beneath its skin. The motor grew from 3 litres to 3.3 and also gained an intercooler, the combined effects of which saw power increase from 190kW to 220kW and, eventually to 240kW. The 930 also went from anachronistic four-speed to five-speed transmission, and steadily became heavier as Porsche not only realised it could charge a premium for the Turbo, but that it was appealing to a different type of customer. One who appreciated a level of comfort and refinement to match the Turbo's increased performance.
It was a pivotal moment for Porsche, and one which shaped the development direction of subsequent generations of Turbo. These later 930 Turbos are the ones that captured the wider imagination – the Top Trumps generation, if you like – but the significance of the very earliest cars was quickly overlooked and they have remained something of an enigma.
Had I not been fortunate to drive this very car a few summers ago I'm sure we would have had a later 3.3 Turbo to represent the 930 in this test. However, once you understand the '75 Turbo's backstory you'll know why it had to be one of these pure and very rare machines that drove to North Yorkshire to meet its 2020 descendant.
It's always the RS 911s that wear the motorsport halo. But this forgets that for many years Porsche dominated endurance racing with forced-induction cars. The car that facilitated this via official homologation was the 930 Turbo, a car developed in the same period as the 2.7 and 3.0 RSs and benefiting from much of their chassis improvements and obsessive detail engineering.
The car you see here is chassis number 80 of the 400 3.0 Turbos built to satisfy Group 4 racing homologation regulations. A right-hand-drive example originally ordered by an important customer in Australia (where it spent the first 20 years of its life), it was subsequently purchased by a Mexican collector in the USA before finally finding its way to the UK, where it enjoys regular use in the hands of current owner John Brewer.
Sitting on modest 15-inch Fuchs rims wrapped by period-correct Pirelli Cinturato CN36s (early Turbos came too soon for the P7), it has covered almost 50,000km since new and is breathtakingly original. It looks every inch the Stuttgart icon.
I'm a fan of the 992 Turbo S's style, but there's no question it pales in the presence of the 930. The old car just has such definition and proportion, with a physique that makes the new car look bulky and pebble-like. And no aero device, however effective, can beat that whale tail.
Fabulous McLaughlin tartan swathes much of the interior for a wonderful '70s vibe, while the long wand-like gearlever is topped with a simple black knob bearing a simple four-speed H pattern. No PDK here.
Sitting in the driver's seat it's clear so much has changed. It would be easy to strain for similarities, but there's almost nothing to connect the experience of being in the cockpit of the 930 to that of the 992. In fact I'd go so far as to say it's restricted to the fuel filler flap mounted in the front wing.
Even when you've spent many miles in 911s of all ages it still takes a few moments to get yourself comfortable. So much of it is alien to today's Porsches, especially the floor-hinged pedals and your proximity to the windscreen. And, of course, there's the fact these old Turbos still foster a degree of foreboding thanks to the oft repeated 'widowmaker' tropes.
Given I've just stepped from a 911 with 478kW and 800Nm of torque, it seems absurd to feel apprehensive about heading back out onto the moors in a 911 with just 188kW and 343Nm. Still, it always pays to play yourself in, so I head off at a steady pace so as to get dialled in to how the 930 likes to be driven.
The first thing to get your head around is the gearing. Pulling away in first feels like pulling away in second in a normal car, such is the reach of the Turbo's lowest gear. It sets the tone for a driving experience that's never less than unique. Even compared with that of other old 911s.
You quickly get used to the slight sense of disconnection you get from old cars with no power assistance to the steering. Likewise you're just as quick to appreciate the feel and measured responses once you've made your initial steering input. It's calm, assured and true.
Funnily enough, you're not immediately aware of the Turbo's turbo. Largely because of the gearing, which amplifies the lag between squeezing the throttle and the motor filling its lungs. The engine revs freely, but until the turbo builds some boost pressure you're effectively driving a low-compression engine.
What rapidly becomes addictive is sensing the engine starting to come alive, and feeling how it begins to get on top of whatever gear it's pulling. It's a delicious sensation of endless, elastic propulsion as each loping ratio sends you surging down the road in one effortless rush. No, of course it's not explosive in the manner of the 992, but there's a degree of sensory discombobulation due to the disconnect between gear, road speed and engine speed. If I tell you second gear stretches to the best part of 140km/h you should get the idea. The way this car makes progress is in no way compatible with a machine knocking on for half a century old.
What comes as a bigger surprise is that far from being the pendulous hedge-seeker legend would have us believe, the '75 Turbo handles beautifully. In fact it's very reminiscent of a '73 RS, such is the feeling of lightness and lack of inertia. You can feel the rearward weight bias, but the chassis has a wonderful balance. It has body roll, but this helps you work energy into each corner of the car. The result is a car you can squeeze towards its limits, feeling it squat under power and using that weight transfer to find even more grip. I can't imagine it ever breaking traction under power alone.
But what if you lift off mid-corner? Honestly, there's little to fear. Yes, the nose will tighten its line through quicker corners, but you just need to relax your grip of the steering wheel a little. The effect is less pronounced in medium- and low-speed corners, and even if you really try to provoke it the Turbo's tail only gives a modest wag on a closed throttle. Likewise, because of the turbo lag and long gearing you can pick up the throttle early without fear of a big spike of power arriving at the wrong moment.
It's making allowances for the lag and timing your throttle inputs accordingly (it's all but impossible to get on the power too soon) that present the biggest challenge, but also the most satisfying rewards, for it is the key to unlocking the Turbo's full dynamic potential. Which, as you might have gathered, is considerable. It really is like a 2.7 RS blessed with 125 per cent of the performance.
If there's one aspect of the original Turbo that falls a little short, it's the brakes. It may weigh as little as 1140kg (later 930s weighed more than 1335kg), but the early 3.0 Turbo's stoppers can't quite keep pace with its ability to build speed between the corners. Never to the point where you question whether they'll fade away, but you do get the sense they're working close to their design parameters and therefore require a little sympathy.
Having spent a full day enjoying both cars on the same epic stretches of road, it's clear there is a satisfying and somewhat unexpected symmetry to this pair of Turbos. One that sees the newest iteration make a return to some of the qualities and nuances not seen in the Turbo since the very earliest model. No, the 992 isn't a homologation special, but it is a car that bears very clear hallmarks of the GT Department. Which, as we all know, is where Porsche keeps its special sauce.
Turbos have always been rocket sleds relative to their peers, but they haven't always been game changers, and rarely have they offered the kind of dynamic gradation and deftness found in the contemporary RS models. Those first-year '75 930 Turbos were a different breed to the heavier, more powerful and more luxurious models that followed, though. Built to satisfy motorsport's regulators, their inherent athleticism and singularity of purpose set them apart from the cars that followed just a few years later. Until you drive one, you wouldn't credit the difference, but when you do you appreciate not all 930 Turbos were created equal.
The 992 is anathema to much of what its earliest forebear stands for. Laden with tech and built without consideration for finding the unfair advantage (at least in a motorsport context), it is, or at least should be, the definition of today's 'more is better' mindset. And yet. While there's no disputing it achieves considerable increases in engine outputs and decreases in acceleration times, there's something about the way it does what it does that's unusually satisfying. More three-dimensional in its talents and abilities. You derive more nourishment from how it feels, and from the fact that when the mood takes you it will attack a sequence of corners with more than a hint of GT3, or perhaps more accurately, GT2.
It's less prescriptive and more exuberant, while never forgetting it has to be easier to live with and exploit than the truly hardcore race-bred GT models. In squaring the circle started by the original 930, the 992 brings the Turbo back to a place where true enthusiasts can be drawn to its prodigious and freely given pace without feeling like they're selling their soul. I've never not been excited by a new 911 Turbo, but the 992 is genuinely something special. The legend continues.
Richard Meaden