Porsche has created a new electric sports car concept for the seventh instalment of the Gran Turismo video-game franchise, giving clues to the brand's evolving design language as it embraces electrification.
Named the Vision Gran Turismo, it is Porsche's first stand-alone concept for the racing series, following cars revealed by Audi, Bugatti, Jaguar, McLaren and Toyota in recent years. It will become 'drivable' when the new game is released on 4 March 2022.
Although there is no production intent for the concept, Porsche has built a full-size physical counterpart, and exterior design boss Ingo Bauer-Scheinhütte told Automotive Daily's exclusive partner Autocar that realism was a priority.
"That's what we tried to achieve: that it feels like it could be on the road," he said, adding that "there are always design elements that you might see on future cars."
The Vision Gran Turismo comes soon after the reveal of the Porsche Mission R concept, which more closely previews future production cars – specifically, the electric next-generation 718 Boxster roadster and Cayman coupé.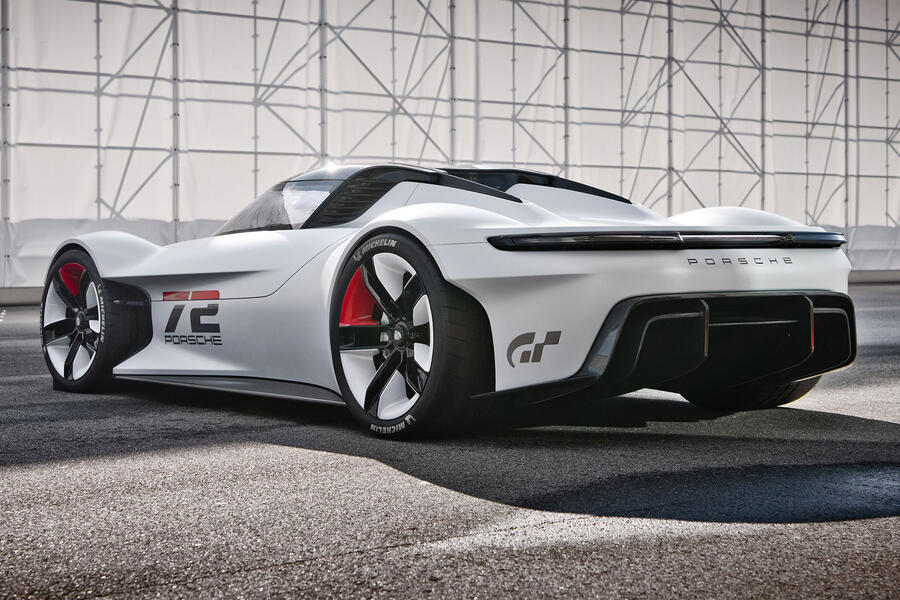 Like that concept, the Vision Gran Turismo is a compact, squat sports car with traditional mid-engined proportions and a focus on aerodynamic efficiency.
Bauer-Scheinhütte said that its size and silhouette are nods to Porsche's heritage as a manufacturer of small sports cars, such as the 356 and 550, and that the designers focused on creating a concept "that isn't too extreme but makes you just want to drive the car".
The design is uncluttered and more clearly streamlined than that of the Mission R, partly as a result of a drive for greater simplicity but also in line with the Vision Gran Turismo's aerodynamic focus. "Aerodynamic efficiency is key to every Porsche," said Bauer-Scheinhütte.
Demonstrating his point, he highlighted the active aerodynamic elements in the front splitter, which move independently at speed and in cornering to improve airflow, while a movable spoiler at the rear promotes downforce.
The headlights, meanwhile, feature a new interpretation of Porsche's recognisable 'four-point' light signature and are mounted at the bottom of the front wings for a clean, flush look that apes the 909 Bergspyder of 1968. The concept features a canopy opening, rather than conventional doors, while the interior is finished in the same colour as the exterior and the seats are mounted directly to the monocoque – all features that interior designer Doeke de Walle said give you the feeling of being truly "inside the car".
Other motorsport-inspired features include an adjustable pedal box, exposed carbonfibre bodywork and an Alcantara-wrapped, yoke-style wheel.
The transparent gauge cluster, meanwhile, houses a futuristic reimagining of Porsche's classic circular dials and is equipped with holographic projector technology that de Walle said lets it "fully use the possibilities of the digital world".
Notably, he added that the steering wheel houses haptic physical controls for several key functions, because Porsche doesn't want to "go fully digital" with its future sports cars.
The Vision Gran Turismo's creators were guarded about its performance potential, but references to its small, nimble positioning suggest that keen dynamics took priority over outright straight-line pace.
In top-flight Qualifying Mode, the Mission R produces a total of 800kW across its two axles, significantly more than even the most potent version of the Porsche Taycan electric road car, but the manufacturer has yet to give any firm clues about the powertrains destined for its future sports cars.
Felix Page