The all-new, multimillion-pound desert racer Prodrive-built, Bahraini-backed BRX T1 – is poised to start its first-ever event: the world-famous Dakar Rally.
Beginning on 3 January, it will run for 13 days on a punishing, 7725-kilometre circular route through Saudi Arabia.
The Prodrive-BRX (for Bahraini Rally Xtreme) team is based in Prodrive's Banbury headquarters and consists of two cars: one driven by Frenchman Sébastien Loeb, nine times a World Rally Champion, the other by Spaniard Joan 'Nani' Roma, who has entered every Dakar since 1996 and won it both on a motorcycle (KTM, 2004) and in a car (Mini, 2014).
Roma has done most of Prodrive's latest T1 development testing, at venues in the UK and Dubai. During November, he spent nearly two weeks at Millbrook test track in Bedfordshire, driving "harder than you'd go in the event, except by accident" trying to discover what would break first on the car under extreme treatment. The tests ended with some relatively minor wheel bearing issues and a propshaft failure (now fixed), plus a lot of plaudits for his engineering team about the handling and robustness of the new car.
Loeb is also pleased with the car's sophisticated design and toughness (see interview, above right). Testing of back-up machinery is continuing while the two team cars get their last-minute fettling, and Prodrive's team will fly to Jeddah over Christmas to begin the long campaign.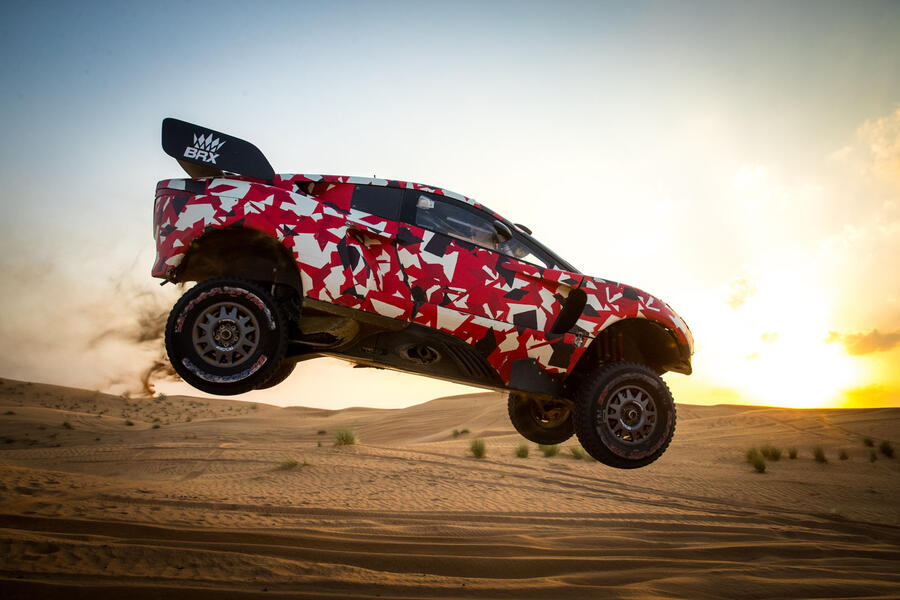 The 2021 Dakar will be one of the biggest ever staged: there are 75 cars, 42 trucks and 110 motorcycles entered from 19 countries. Including back-up vehicles, there are expected to be 679 vehicles and 15 helicopters on the course in total.
They will cover an all-new route that includes more than 4000 kilometres of competitive sections that entrants will never have seen before. It's rumoured to include more varied driving terrain and more difficult navigation tests than in recent events and ends with a mammoth 515-kilometre 'showdown' competitive section on the penultimate day, where the organisers say the time differences between competitors "could be huge".
The T1 is a purpose-built, steel-spaceframe coupé, similar in length to the Ford Focus but much taller, with a remarkably sleek body designed by former Aston Martin and Jaguar designer Ian Callum. The Dakar regulations allow both two-wheel-drive and four-wheel drive cars. Prodrive has chosen the latter for its innately greater traction under braking and acceleration, despite having to cope with a higher minimum dry weight (1850kg) plus curbs on engine power (300kW), top speed (172km/h) and suspension travel compared with competitive 2WD designs.
The T1 project's chief engineer, Paul Doe, says the event's regulations are evolving in favour of 4x4s and may eventually outlaw 2WD designs. The team's "marquee signing", Loeb, is a seasoned Dakar campaigner but a new recruit to 4×4 Dakar cars, having driven a RWD Peugeot on the previous four events, scoring a best second place outright in 2017. Doe expects the T1 to handle more like a firmly suspended WRC car than the Peugeot buggy with its "gangly" suspension and near-unlimited wheel travel. "Ours is closer in feel to the rally cars of his earlier career," says Doe. "I believe he will see that as an advantage."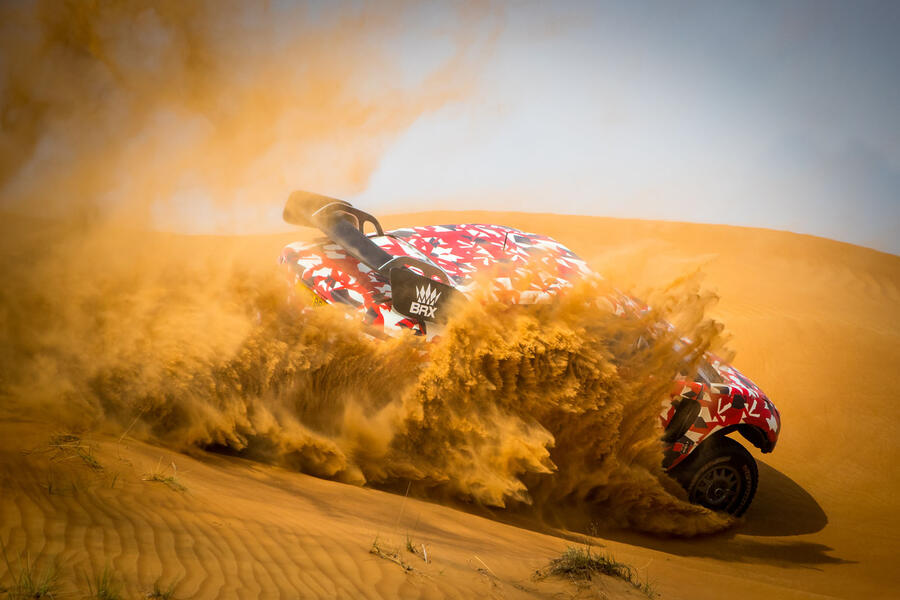 The T1's engine is a Prodrive-developed version of Ford's twin-turbocharged 3.5-litre V6, mounted low and well back in the chassis compared with a front-engined road car. Fully fuelled for its long driving stints, the car can carry 500 litres of petrol in a centrally mounted tank below and behind the driver and navigator, so it will weigh close to 2500kg at the start.
Once it's proven in future events, Prodrive will look to offer the T1 as a production-ready racer to clients around the world. It might even appear, eventually, as an extreme road car – a self-styled "Ferrari of the desert".
Meanwhile, the Prodrive-BRX team sees part of its mission as being to raise awareness of desert endurance racing in the UK. Prodrive founder and boss David Richards sees this as a promising new division to stand alongside its Aston Martin Racing and advanced engineering consultancy businesses.
On its Dakar prospects, Richards is bullish. "I believe we will have the fastest car and two of the best drivers," he says. "Our engine is in great shape and we've had a very successful 6000km of testing. But successful desert racing needs plenty of luck, and we have to acknowledge three factors that could upset our best efforts.
"One is navigation: they say the potential for getting lost will be great. Another is punctures: we didn't have them on test, but that doesn't mean they won't be a problem when the event gets going. And then there are all the problems we don't even know about yet. You need luck, as I say; in our first year, we will need as much as we can get."
Q&A: Sebastien Loeb, Prodrive-BRX Works driver and nine-time WRC champion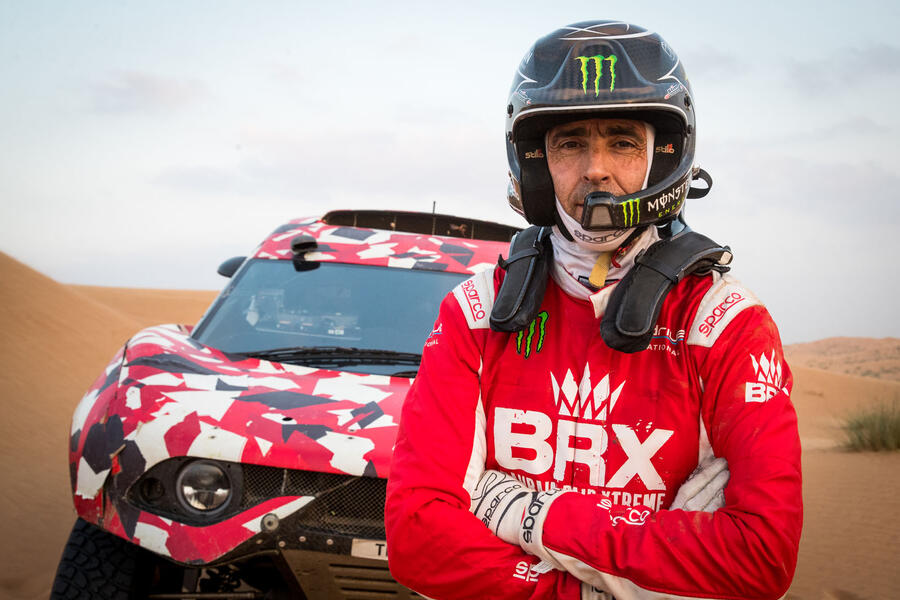 How does the Dakar Rally compare with other forms of competition that you've tried?
"I really like it a lot. It's a really severe test, because you only get one chance to win, not 12 rounds, as in rallying. And because the event is so long, you have to face both good and bad times as you go. As long as you don't lose a huge amount of time, if things aren't good, you can fight back. I enjoy that challenge. The other great thing is it's an adventure. You do these big, 500km days and don't really have much idea where it's going. You see things you never otherwise would."
What about driving style? Does the Dakar suit the way you drive?
"Yes, it does. I tend to drive the way I feel, which is different from race-track driving, where you're so driven by the data. But you need experience to do a good job of the Dakar. There are no pace notes, so at first you feel guilty for braking over fast crests, because you have no idea what's on the other side. You think 'I'm losing time', but then you learn everyone has to brake."
What made you change from the rear-wheel-drive Peugeot to the four-wheel-drive Prodrive car?
"This wasn't my first option, but they were very open, and I liked that. They invited me to come and see the design and the works and showed me everything. When I saw the car, the ambition of the team and the way they had analysed everything to find the best way to win, I was impressed. And it's nice to be part of a new project."
Is the Dakar a bigger test of driving skill than other forms of racing?
"I definitely think it can be. I'm thinking of one long section from one of the Dakars I did a couple of years ago. I was fourth when I started and only passed one car, but when I finished, they said I was leading. And it was half an hour before anyone else finished…"
Does the Prodrive car feel good from the testing you've done?
"I like it, and I definitely think it will be quick. I've got no other reference so far, but it feels much faster where you don't have much traction in a buggy. The only place where a buggy might be better is over really rough sections. But the new car is agile, and I have confidence in it. They've made a good job of it, so I'm optimistic."
Steve Cropley