The Dakar Rally is one of the most demanding motorsport events in the world, and Prodrive has decided to go all in with an entry for 2021
British motorsport and technology company Prodrive has unveiled plans for a groundbreaking, three-car, 250-person Dakar desert race team, backed by Mumtalakat, Bahrain's sovereign wealth fund, and called BRX, for Bahrain Rally Xtreme.
The team will challenge for outright honours in the 7,000-kilometre Dakar Rally in January next year, using an all-new car designed at Prodrive and specifically intended for a global programme of off-road events, starting with the Dakar. Called the BRX T1, it may in future be developed as a road car for private sale – a so-called "Ferrari of the desert" – or for other uses.
The multimillion dollar BRX project, backed by the Bahraini government and led by Prodrive founder and chairman David Richards as team director, will use an all-new Ian Callum body design. It's currently under construction inside the company's headquarters in Banbury, Oxfordshire. Although Prodrive will continue to build Aston Martin racing cars for the foreseeable future, the Dakar project is likely to become its headline business over the next four years.
The Dakar entry is a surprisingly sleek-looking, raised two-door coupé based on a tough and complex steel spaceframe, clad in a carbonfibre-and-composite body and painted in what Prodrive describes as Bahraini Racing Red. It stretches 4.5 metres (about the length of a Ford Focus) and rides on 15in wheels and huge tyres protruding from even more massive wheel arches. Its body is designed for a better aerodynamic performance than most rivals, although it does feature an air scoop on its roof, which is obligatory for most off-road competition cars.
Overhangs are short, so the T1 has a relatively long wheelbase of 2.9 metres, with a height of 1.8 metres. It uses a 'crate' engine: a modified version of Ford's ubiquitous twin-turbocharged 3.5-litre petrol V6, mounted well back in the nose, almost between the two occupants. The north-south unit sends its drive via a short torque tube to a six-speed sequential gearbox, before a centre differential splits it between the front and rear wheels. Power is regulated at 300kW, which Prodrive engineers say is easy for this engine; in other applications, it has made twice that.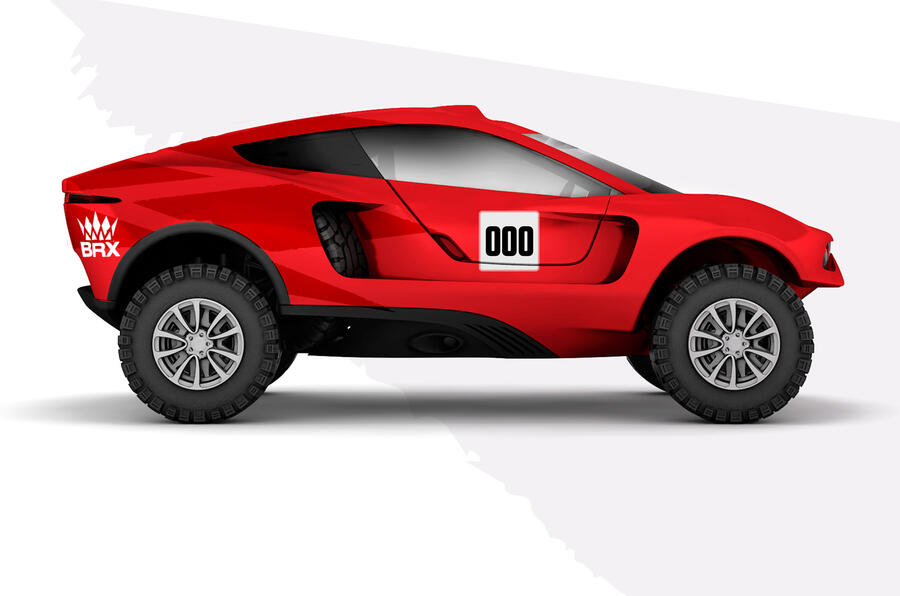 The unladen weight of the T1 is 1850kg, but it's more likely to weigh around 2500kg on the start line, because it carries 40kg worth of spare wheels, plus a 500-litre fuel tank mounted as low as possible behind the occupants. This is needed to cope with the gruelling distances of the Dakar, more than 5,000 kilometres of which involve flat-out racing.
The suspension is by double wishbones at either end (with twin adjustable dampers on each wheel), the brakes are six-pot discs both front and rear and the steering is hydraulically power-assisted.
The body shape has already been extensively tested to refine its aerodynamics, on both the top and bottom surfaces of the body, but recent regulation changes have limited cars' top speed to 170kph (106mph), which gives Prodrive the chance to build in still more downforce – hopefully a further advantage over entrants whose cars' shapes are production-based.
This project is Richards' own brainchild, hatched during talks he promoted 18 months ago about the direction of motorsport.
"Prodrive has been successful at running championship campaigns over the years," he says. "Subaru's rally programme and Aston Martin Racing were two. But we concentrated on what should come next. To us, motorsport is about entertainment and technical leadership. The trouble is, current regulations in many categories have moved the cars close together, which means they're all much the same, which slows technology – and that doesn't suit a business like ours.
"We started assessing new opportunities and the Dakar stood out because it's prominent on the world stage, given the arrival of people like Fernando Alonso. During last year's F1 Bahrain Grand Prix, I got talking to the authorities there, encountered plenty of enthusiasm for backing the idea, and by last October we'd done a four-year deal. And we've been working flat out ever since."
Prodrive has brought out its biggest guns for the BRX project. Beside Richards as project director sits team principal Paul Howarth, who had the same role for the Subaru and Aston Martin teams; the hugely experienced David Lapworth as technical director; and chief designer Paul Doe, who previously worked on BMW's M cars.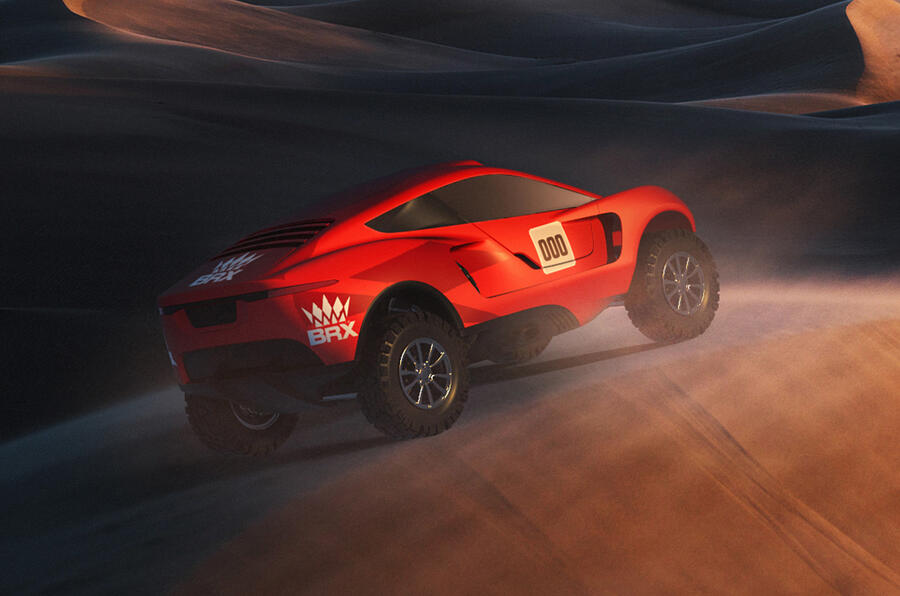 Ex-Jaguar design director Callum created the car's shape and will lead any road car project, while Richard Thompson (hugely experienced in Dakar competition) and Alan McGuinness (30 years at Prodrive) are chief race engineer and head of operations respectively.
According to Richards, the current Dakar regulations make this the right time to build "the ultimate car", although Prodrive reaching that goal involves much research to discover exactly what the best is.
The rules allow cars to vary in look and layout. They can have either two- or four-wheel drive and can be powered by a turbo diesel, turbo petrol or normally aspirated petrol engine. Size, materials and the use of active systems are governed, but the rules are still surprisingly free.
Weight is another important factor: a four-wheel-drive machine must weigh at least 1850kg and is limited on tyre size and wheel travel, whereas a two-wheel-drive design can be 200kg lighter and the tyres and suspension travel are free.
Richards exclusively showed Autocar part of Prodrive's research, based on Dakar conditions, that led to adoption of the turbo-petrol-and-4WD configuration, which was an eye-opener. Talking engines, the three types were equal on performance, but the chosen twin-turbo petrol V6 won the day on low weight, compactness and, interestingly, relevance. For wider car manufacturing, downsized petrol engines are the way to go.
Prodrive's people also reckoned the Ford-derived engine (which gets a dry sump, new electronics and a redesign of the timing chest to protect its moving parts from mud and stones) had a built-in advantage from its turbochargers, which allowed it to be tuned more accurately to follow an idealised power curve provided by the FIA.
This is more difficult with a normally aspirated engine.
What about the decision on drive type? You might have thought this was a no-brainer, because maximum traction is needed in sand. Not so fast, though. Prodrive's research showed that 2WD is marginally better in dunes and much better at acceleration and coping with really rough roads (that's the unlimited suspension travel at work), but 4WD won the day on mountain roads and has really big advantages on traction and drivability. And when you're racing flat out for 5,000 kilometres over more than a week, that's probably what counts.
Prodrive's design was close to first testing when the pandemic intervened but, after the loss of about six weeks (made up by concentrating the test programmes), all is back on track. Testing will now begin in September, about the time the first of the six drivers will be announced. First tests will be in the UK, then France and then Morocco before the car's debut competitive drive, in the Rallye du Maroc in early October.
Then it's the big one, the Dakar, the route for which has just been announced. While testing the car, Prodrive is configuring its team: nearly 50 people will travel as part of the three-car squad, supported by another 200 at home. Organising all that is a mammoth task on its own.
Shackled by the lockdown, chief designer Doe grows more impatient by the day. He's well aware of his car's advantages (a new design aided by careful observation of others' mistakes and drawbacks, sophisticated aerodynamics and speed) but knows the others have "a massive head start" on durability. "We have plenty to learn," he says. "In this form of racing, you're not at the performance limit all the time. You've got to conserve the car and the tyres. I'd say it was one-third challenge, two-thirds good judgement."
Looking out over it all is Richards, who knows that to succeed, the team must entertain. That means coverage and access by an audience. Working with CSM, one of the world's largest sports marketing operations, he plans to make that happen.
If it all comes off, in the depths of winter next January, when the frost is hard on the ground and driving isn't much fun around here, we'll have a whole new British motorsport effort to watch and enjoy.
The history of the Dakar Rally
The Dakar Rally is the world's longest and most arduous off-road endurance rally – also known as a rally raid in some quarters. It started in 1979, a couple of years after one of its founders, Thierry Sabine, became lost in the southern Ténéré region of the Sahara Desert while competing in another event and decided it would be a great place for a full-house endurance rally.
Sabine led the inauguration of a rally from the French capital of Paris to Dakar in Senegal, and the event became a fixture of the post-Christmas period, with factory-backed teams gradually taking up the challenge through the 1980s.
The event moved to South Africa in the early 1990s but stuck to its 12-day, 5000-mile route, until it went in the late 2000s to various South American locations due to security concerns on the original route.
Early this year, the Dakar moved successfully to Saudi Arabia, where it began in Jeddah and finished in Qiddiya, connecting Neom in the north with Shubaytah in the south. It's scheduled to run there again in January 2021. The route is new, though, with only about 30 miles repeated from this year's event.
As well as cars like the Prodrive T1, there are classes for quad bikes, motorbikes and trucks. Fields have contained close to 400 vehicles at times, with 80% of drivers amateurs.
Prodrive's greatest hits
1987 BMW M3 Group A rally car: Prodrive had been running MG Metro 6R4s but, after Group B was banned, the company prepared and ran BMW M3s in Group A. One of these won the 1987 Tour de Corse – quite a feat for a privateer team. The project continued until 1990, when Prodrive was approached by Subaru to run its rally team, and the rest is history…
1995 Subaru Impreza Group A rally car: Prodrive's Subaru Impreza Group A rally car really started something in 1994 by winning its second event at the hands of Carlos Sainz. But its biggest achievement was carrying Colin McRae to his triumphant world championship in 1995. Richard Burns and Petter Solberg then starred in the WRC era, building Subaru's sporting reputation.
2003 Ferrari 550 Maranello GTS: Prodrive's engineers bought a standard Ferrari 550 Maranello and prepared it for a Le Mans privateer team. It not only won its class but also established the company's endurance racing prowess. Within a year, Prodrive was preparing racing cars for Aston Martin Racing. Colin McRae raced the Ferrari in 2004, taking a podium on his Le Mans debut.
2007 Aston Martin DBR9: The first big Prodrive-Aston Martin Le Mans win came in 2007, as Darren Turner, David Brabham and Rickard Rydell took the DBR9 to first place in the GT1 class, finishing a remarkable fifth outright. A year later, two of the trio – Turner and Brabham – raced it again. They drove one more lap than they had managed the previous year yet were only 13th outright.
2018 Renault Mégane RX: The experts call this spectacular-looking, Prodrive-developed 447kW works Renault Mégane RX "a rallycross masterpiece". It has a transverse 2.0-litre turbocharged engine (with re-engineered ancillaries mounted as low as possible) and an Xtrac five-speed gearbox. To reduce unsprung weight, its disc brakes are mounted inboard, both front and rear.
Steve Cropley