Aston will upgrade from sponsoring Red Bull to running its own team.
Wondering why a troubled car maker is going racing? So are we.
Aston Martin will enter Formula 1 in 2021, but why? On the face of it, the plan to invest in what's by far the most expensive form of motorsport is hard to square with the gathering flow of dreadful financial news that has gushed from the company in the past year.
Dropping car sales, falling revenues, a plummeting share price after what now seems an ill-conceived public flotation and now the coronavirus crisis have pushed Aston Martin close to the brink – only for Canadian billionaire Lawrence Stroll to pull it back from the edge.
Stroll is clearly a believer in F1, having financed his racing driver son Lance into Williams before switching allegiance to Force India and then reviving the team as Racing Point after a mid-season meltdown. It's this Silverstone-based squad that will be transformed into the full-blown factory Aston Martin team next year.
At his maiden appearance as Aston Martin's executive chairman in March, Stroll called F1 the "foundation of the strategy" designed to turn around what can only be described as a failing car maker. A city analyst has called the firm a "high-risk, high-return" investment – which is a pretty good description of the shark-infested waters of F1, too.
Timing could be everything
However, it's those F1 returns that Stroll has faith in, and there's a case to be made that his timing for an entry couldn't be better. Decades of unfettered investment from the biggest teams have resulted in a two-tier F1 of 'haves' and those who 'have much less', but finally a slow awakening has roused the majority to understand that only fundamental change will create a more sustainable, balanced and competitive sport. Financial regulation is never popular but, more than a decade after ex-FIA president Max Mosley mooted the idea, a budget cap will be introduced next year.
And now the current crisis has shaken F1 into further action, triggering calls for this cap to be lowered from the agreed $175 million annually (excluding driver salaries) to perhaps $100m. Both figures remain eye-watering in real-world terms and keep F1 levitated in rarefied air above all other motorsport – but within the bubble, it would be a significant leveller.
Stroll has also bought into the right team. In its previous guises of Jordan and Force India, Racing Point consistently punched above its weight, and it remains surely the most efficiently run team on the grid. If F1 succeeds in its aim to become more equitable for all of its competitors, Aston Martin's entry might just start to make financial sense.
Wolff at the door?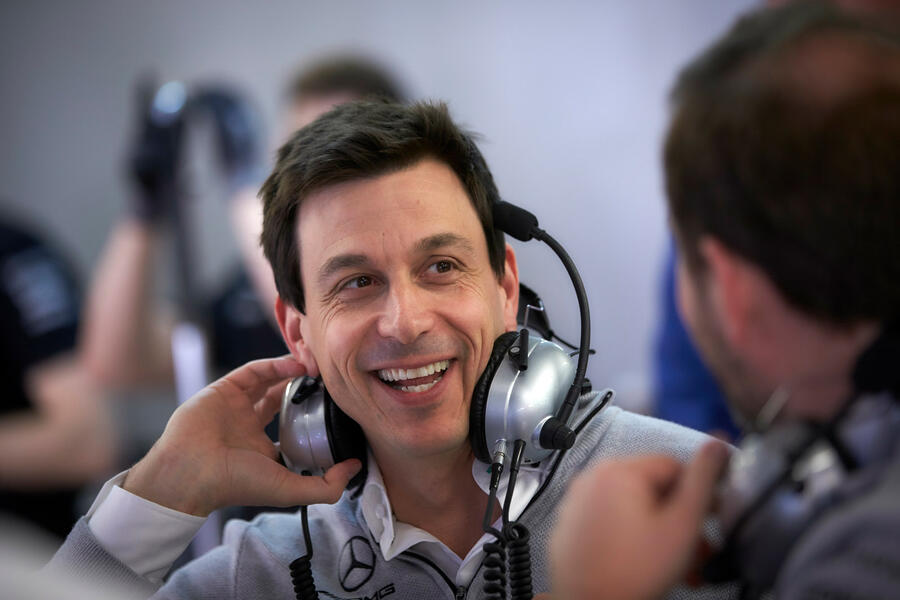 There is also the big question of who will run the team in the long term, following confirmation that the figure who deserves a big chunk of credit for Mercedes' record-breaking F1 success is now an investor in Stroll's Aston Martin consortium.
Toto Wolff remains Lewis Hamilton's team principal, and it should be stressed that his $72.5m stake is in the car maker, not specifically the F1 team. Also, his 30% share in the Mercedes-AMG team remains intact. But the cosy relationship between Racing Point and its engine supplier has already inflamed rivals, especially after the team openly admitted that this year's RP20 is near enough a copy of last year's double-title-winning F1 W10.
For all their success, even the greatest racing teams disband eventually; it's human nature to shake things up. Wolff has already been linked to a future management role in F1 itself – but is he actually preparing the groundwork for a bid to lead Aston Martin to the summit of the sport instead?
Hamilton will be the first to want an answer to that question, given that he has cited Wolff's future as a key factor in deciding his own beyond the end of this year, when his current contract expires. In that context, Wolff is the key piece on the F1 chessboard. If Stroll does succeed in luring his friend and business partner to his F1 team, it could be a game-changer, given Wolff's high standing in the sport.
A well-financed team led by the man who has delivered Mercedes a record six consecutive drivers' and constructors' titles would surely become a beacon for marquee technical signings who could unlock a great deal of performance. Wolff is too politically astute to openly fuel such speculation, but the more you think about it, the more intriguing the potential becomes – perhaps even to Hamilton himself.
A slap in the face for Le Mans
The F1 entry appears to have been made at a cost to the Valkyrie racing campaign that aimed to deliver Aston Martin a first outright win in the 24 Hours of Le Mans since its sole success back in 1959. The new hypercar rulebook, now due to come in next year, seemed readymade for the Valkyrie, which is why Aston Martin CEO Andy Palmer committed the Red Bull Technologies-developed hyper-hybrid to it.
But Stroll pressed the pause button immediately on his arrival, citing the lack of clarity on how the various strands of car specifications would be balanced to create a level playing field. Aston's long-standing and successful Prodrive-run GT racing programmes will continue, because they make a solid return, but is the Valkyrie campaign stillborn? In theory, it could be revived if Le Mans gets its currently cluttered house in order, although the Red Bull link will surely be fatally broken by the new F1 masterplan. Right now, the Valkyrie ever racing looks to be a long shot.
Instead, the pause can only be read as a slap in the face for Le Mans as a race that still matters on a global scale, as well as a further endorsement of Stroll's faith in F1. Historically, Aston Martin's racing context has been tightly bound to Le Mans in a manner that's the antithesis of its irrelevance in F1. If Stroll succeeds, that perspective could be about to be flipped on its head.