Now here's a familiar face in an unexpected place. The face is bug-eyed and painted fluro green on yellow, so roughly how I imagine an oversized, confused chameleon might look.
It belongs to the #912 Porsche GT3 R that won the 2018 Nürburgring 24 Hours. That was an epic race: so wet and foggy that spectators were both mesmerised and profoundly unnerved. At the chequered flag, only 26 seconds separated the winner and the second-placed Mercedes-AMG, which had acquired some of that eye-popping paint over the course of 3425.97 kilometres. I know exactly how wet it was because I was watching from the woods, and I wasn't expecting to see #912 again quite so soon.
Or for the setting to be a dim and nondescript first-floor meeting room. Talk about cognitive dissonance. However, this particular meeting room belongs to Manthey Racing. You may never have heard of these guys (it's pronounced Man-tie) but I'll bet you've seen them in action. Manthey supported Porsche's factory racing campaigns in a semi-official capacity as far back as the 1999 Le Mans 24 Hours and has been so successful in endurance racing with the humble 911 that Porsche even took a 51% stake in the business in 2013.
It was then that Manthey began running Porsche's two monstrous works 911 RSR cars, which blast around Le Mans and anywhere else on the FIA World Endurance Championship calendar. It supplies everything from spare parts to pit crew. The same crew look after #912 and its #911 sibling 911 GT3 R in the GT3 class, so when it comes to top-tier sports car racing, Porsche is Manthey and Manthey Porsche, even down to the cast of works drivers in the hot seat. Household names like Earl Bamber, Nick Tandy, Lars Kern and Kévin Estre abound. Manthey also helps Porsche develop the race cars from scratch, although that process is secretive.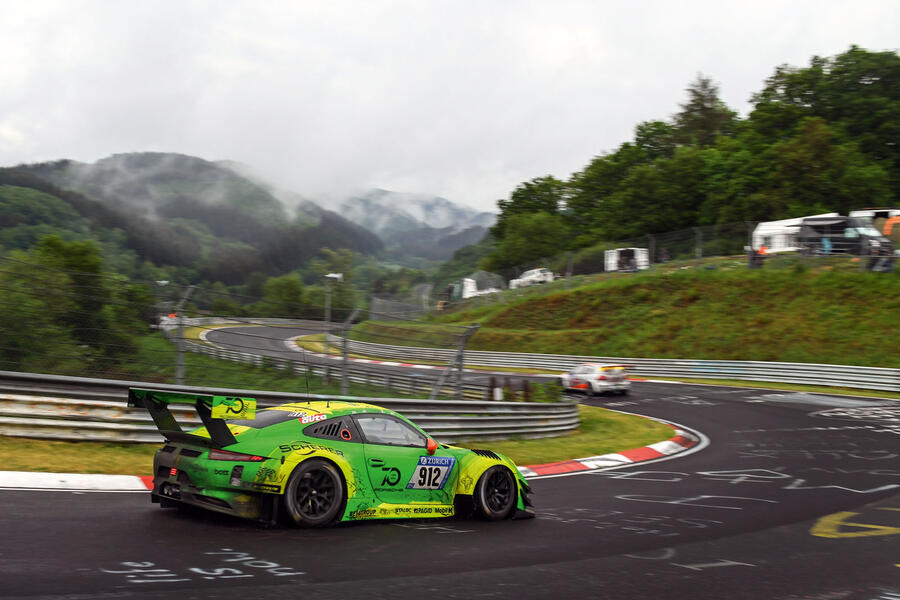 But we're not at Manthey Racing in Meuspath, on the fringe of the Nürburgring, to drool over competition machines. We're here because that winning racing relationship is seeping into Porsche's gilt-edged road car business. You see, when it isn't competing on track, Manthey develops top-ranking road-going 911s – cars like the GT2 and GT3 RS – into even more precise, quick and capable machines than they are to begin with. How exactly it does so we'll come to shortly, but the results are so convincing that in the not too dim and distant future, you might even have the option of ordering an 'MR pack' for your new 911 GT3 RS – straight from the dealer. It seems that, once again, we're witnessing an external influence push an original product to new heights using expertise gained in motorsport, and so Manthey Racing in 2020 isn't at all unlike BMW M was in the early 1970s. Exciting? Just a bit.
As affable Nicki Raeder, who along with his brother Martin has run the Manthey operation since founder Olaf Manthey stepped back in 2013, neatly puts it: "Porsche engineers get to live out their fantasies with Manthey." He's talking about the aerodynamic and suspension modifications that form the basis of the MR kit. They're derived directly from racing cars such as #912 and are the kind of changes Porsche cannot always exact upon its own series-production cars, no matter how much it wants to. Blame homologation rules, the broad-use parameters all mass-market series-production cars must today demonstrate, and plain old time.
"Porsche develops a car and it has to be ready six to 12 months before the start of production," says Raeder, who is sympathetic to the plight of Andreas Preuninger, Porsche's colossally respected GT-series chief and the man whose products Manthey, for the want of a better word, perfects. "Andy can never do everything he wants. We start one or two years later, so have other possibilities, and more knowledge," he says, before casually dropping perhaps the definitive description of Manthey Racing's approach. "If the customer comes to us, we can help them prepare the car as Andy would want."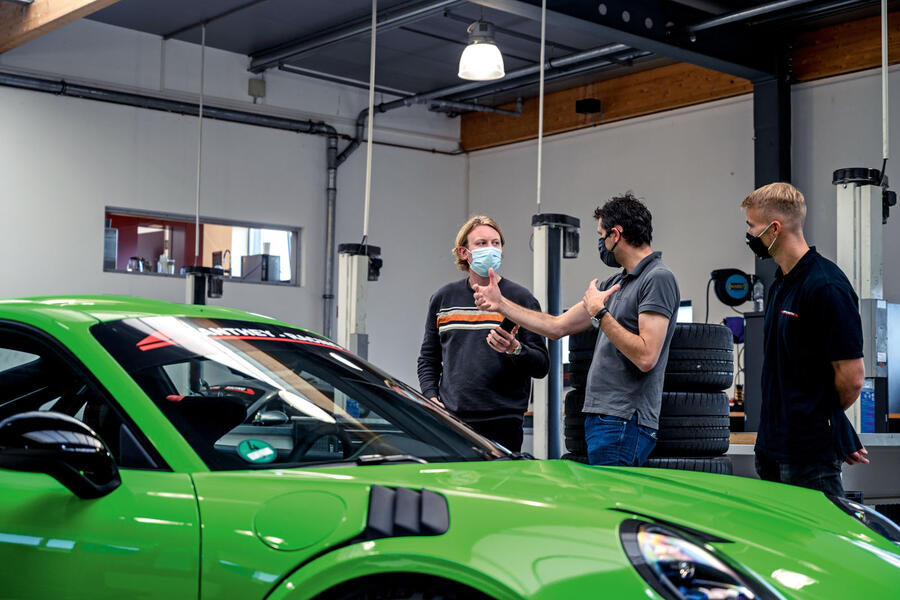 One look at the cars and you just know that's the truth of it. Manthey's modifications are not superficially spectacular or flamboyant. The wing end plates are vast and the car's stance unambiguously mean, but this is more about making the cars faster, more confidence-inspiring and just more fun on circuit than turning them into flame-spitting animals.
The Raeders' story is an inspiring one. Alongside Olaf Manthey, Nicki and Martin own the 49% of the company that doesn't belong to Porsche. They started out in 2001 in reasonably humble circumstances, and Raeder Motorsport built a good reputation for expertly setting up punters' cars for Nordschleife track days. In motorsport-mad northwest Germany, this kind of cottage industry isn't unusual, but in their late twenties the brothers began to develop almost anything they could get their hands on for serious club-level VLN racing: Honda's Accord, the Mitsubishi Evo VII, even a thunderous Lamborghini Gallardo for none other than Hermann Tilke.
And they proved exceptionally good at it. The pair eventually made big ripples when their Ford GT, developed on a shoestring's shoestring, qualified on pole for the 2009 Nürburgring 24 Hours ahead of four works Audi R8 LMS cars and the Porsche works 911 GT3 RSR run by bearded Olaf himself.
Two years later came the pivotal race. Having seen first-hand what Raeder Motorsport could do with almost no money, then boss of Audi Quattro GmbH and Nürburgring regular Werner Frowein handed it the contract to build the TT RS racing car. And it was in 2011 that one of these front-driven Audis, in damp conditions, won the six-hour ADAC Ruhr-Pokal-Rennen race ahead of no fewer than 30 GT3 cars. Remarkable doesn't begin to describe it, and clearly Olaf Manthey thought so, too.
"Olaf was the first to come and shake our hands," recalls Nicki, still as proud now as he and his brother had been that very evening, when they related the moment to their motorsport-agnostic parents. So enthusiastic were Nicki and Martin that their mother (who else?) tracked down an email address for Herr Manthey to thank him for the moral support.
Olaf's lengthy reply floored them all when he wrote how, after the death of his own son in 2007, he had resigned himself to having nobody to follow in his footsteps, but now hoped to have the Raeder brothers take the reins at Manthey Racing.
By 2013, Raeder Motorsport had been integrated into the wider Manthey Racing business, Porsche had taken the majority share in the team and Olaf had handed operational control to Nicki and Martin. Seven years since then, Manthey Racing's turnover has increased sixfold to around €45 million (AUD$72.3 million) with the Porsche contract for WEC and Le Mans accounting for around 20% of that.
The business has also diversified, not least with those MR packages for the GT3 and GT2 RS, and it is an MR-equipped GT2 RS that until recently held the Nordschleife lap record for road cars, with a time seven seconds quicker than the standard car's. Does that irritate Porsche? Actually, no. It goes back to the notion of Porsche engineers 'living out their fantasies'. It's a literal claim. Since 2015, when contact was first established, the Raeders and Preuninger have tentatively built an effective and beneficial feedback loop when it comes to developing not only the factory-spec GT cars but also the more explicit MR kits.
Back in the meeting room, and gesturing to the victorious #912, Nicki explains how even the four-way adjustable suspension on the GT3 RS MR is only lightly evolved – made road-legal, in essence – from that of this very racing car. "Everyone talks about the story from race track to street, but I think nobody does this more than Porsche," he says, before adding, with the flicker of a smile, "and then Manthey".
How to make a car faster: the Manthey method
Manthey only finished developing its kit for the 911 GT3 RS in August and the result is unmissable. Let's start at the back. The wing uses the same struts as the regular GT3 RS but the end plates are dramatically bigger and the aerofoil replaced with Manthey's own reinforced hardware.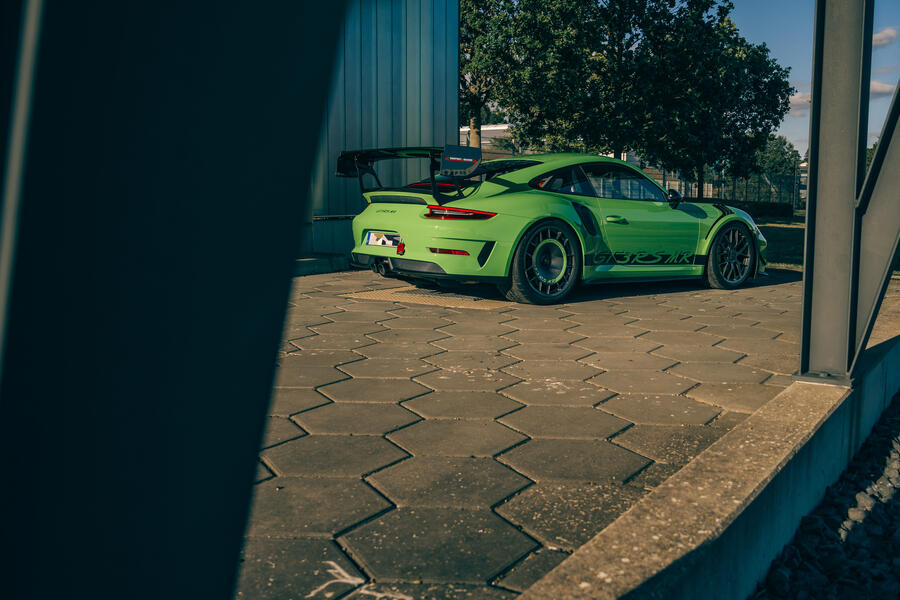 Why reinforce it? Because the new Gurney helps generate 50% (that's not a typo) more downforce, which would be enough to eventually crack the factory wing. As a consequence, the mounting points for the wing are also reinforced, and because of this the bootlid is entirely new, and made from carbonfibre.
There is also an unusual relationship between the wing and the spectacular aero discs that seem to float on the rear wheels. These saucers are not brake related, as you might expect, but instead tidy up the airflow and mean the wing can run 2deg less angle with no apparent reduction in downforce. That gives lower drag on the straights, and so bigger speeds. Note also the canards at the front of the car, which help balance the aero package and increase stability.
Hidden from sight are sensational KW coil-over units derived from the GT3 R race car, along with more racy brake pads and braided brake lines. Finally, the magnesium-alloy wheels appear identical to the sought-after items you get with the Weissach pack for the regular GT3 RS. However, they are 1.6kg lighter at each corner than even those featherweight wheels and are the same as the WEC 911 RSR's, only with altered dimensions.
"There's no design in it," says Nicki Raeder, "only function."
Three famous third-party road racers
ES Motorsport 550LM, 2004: Road-going version of the Prodrive-developed Ferrari 550 that won the GTS class at Le Mans in 2003. Haymaker bodywork and a tickled 5.5-litre V12 provided headlines, but the 300kg diet and racier suspension made the real difference.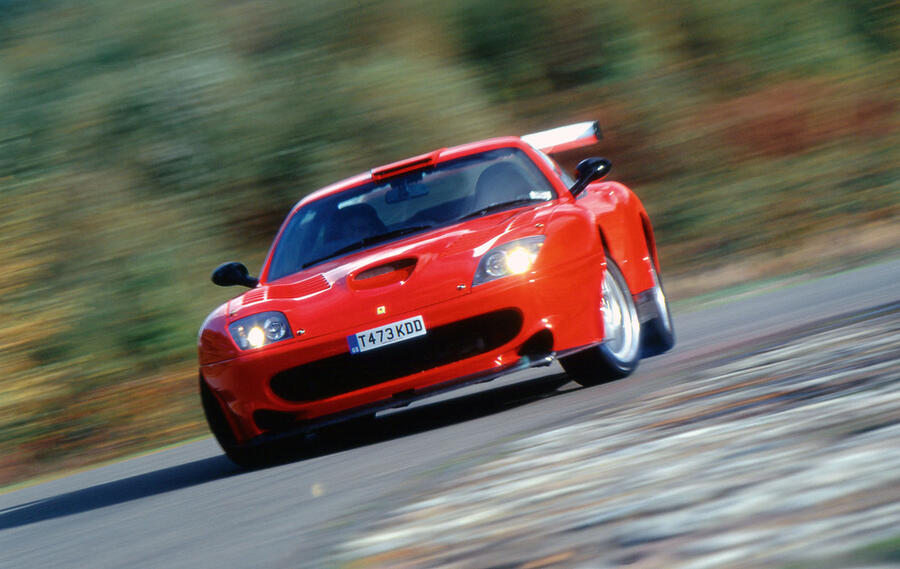 Lanzante McLaren P1 GTR, 2017: Track-only P1 GTR was adapted by the company that ran the victorious 1995 Le Mans effort. It wore its numberplates very lightly, with Lanzante adding catalytic converters, a handbrake, proper headlights and road-ready tyres to an otherwise unhinged package.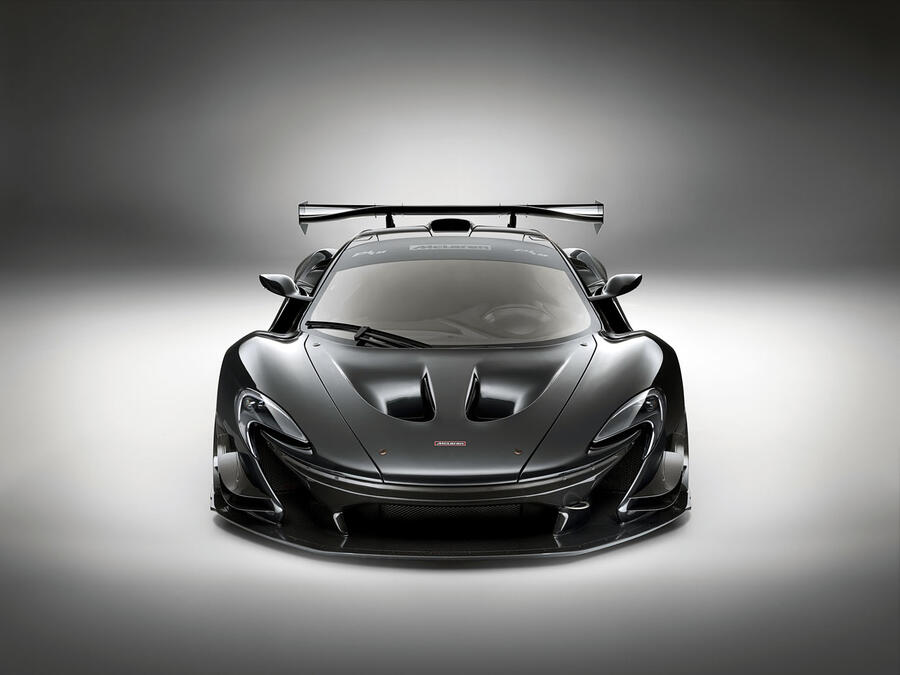 Alpina B3 GT3, 2012: Race-bred 3 Series borrowed know-how from Alpina's German GT Master B6 racer. Twin-turbo straight-six power met with track-ready adjustable coil-over suspension, an aggressive Drexler limited-slip differential and very fancy wheels, not to mention the massive brakes.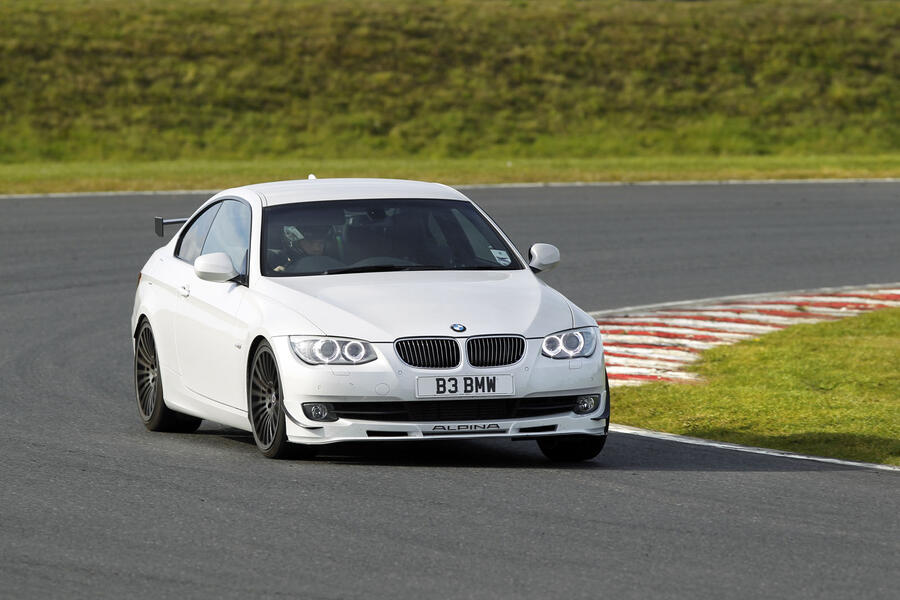 Richard Lane