It is clearly evident where Volkswagen is now spending its efforts.
The importance of VW's ID sub-brand is obvious, as the German firm is claiming that the ID.3 is the car that is taking it into a new era, just as the Beetle defined the company, and the Golf refined it.
In the wake of VW's renewed push towards electrification, and as we move closer towards sales of new combustion engine cars being banned in the not-so-distant future, it's models like the ID.3 that shine a light on how family hatchbacks might look.
Thankfully, the result is impressively positive, because the ID.3 is a great family car that is all the better for being electric.
It's based on a brand-new platform, called MEB, which is only for EVs, so you won't see an ICE (internal combustion engined) ID car, unlike models such as the Golf (based on MQB), which can be petrol, diesel, plug-in or fully electric.
At the minute only 1st Edition cars have hit roads in Europe, all of which have been sold, and it will arrive in Australia much later – 2022 or even 2023. This car features a 62kWh battery, with 58kWh usable, for a claimed range of 418km. With 100kW charging capability an 80 per cent top-up takes 30 minutes; it's just under an hour from a 50kW feed.
Thanks to an 11kW on-board charger, home charging should take six hours 15 minutes if your wallbox can support this power load. It rises to nine hours and 15 minutes with a 7.2kW supply.
Going on European pricing of £35,880/AUF$64,000 after EV grants – still a significant sum – it's cheaper than a Nissan Leaf e+ in top-spec 'Tekna' trim in that market. Plus VW offers incentives such as 2000kWh free rapid charging on this 1st Edition car, which could work out to around 11,000km in energy, depending on efficiency.
The ID.3's power is sent to a rear-mounted electric motor that makes 150kW and 310Nm of torque. That means there's more than enough performance, even though at 1719kg, the ID.3 isn't exactly light.
It delivers a 0-100km/h time of 7.3 seconds, but it's more the 0-50km/h time in a car designed for urban areas like this that counts – here the ID feels eager and smooth.
The suspension set-up replicates this feel, as the damping offers plenty of comfort. Even on 19-inch wheels big bumps on country roads are mostly dealt with sweetly, while at lower speed and around town there's a soft, supple feel to the way the VW evens out bad road surfaces.
There's also very little suspension noise – no clonks or groans from the moving parts underneath the car, making it noticeably quieter than a Golf on the move. The MEB platform's packaging means it's also more practical, too.
The boot stands at 385 litres, the rear motor means there's lots of steering lock for a good turning circle, so its manoeuvrable, while the MEB's flat floor helps legroom, which is good in the back.
Inside, like the new Golf, there are some hard plastics, but there are also some softer materials, and the ID.3's fresher design means the cabin feels interesting.
As you'd expect 1st Edition cars get lots of tech, including a neat digital dash that moves with the steering wheel when you adjust it. The central touchscreen infotainment system is the same as you get in the Golf, which means the graphics are great, it's responsive, and full of features. There's nav, Apple CarPlay and Android Auto, plus strong connectivity, including an app to help with energy management and to schedule charging.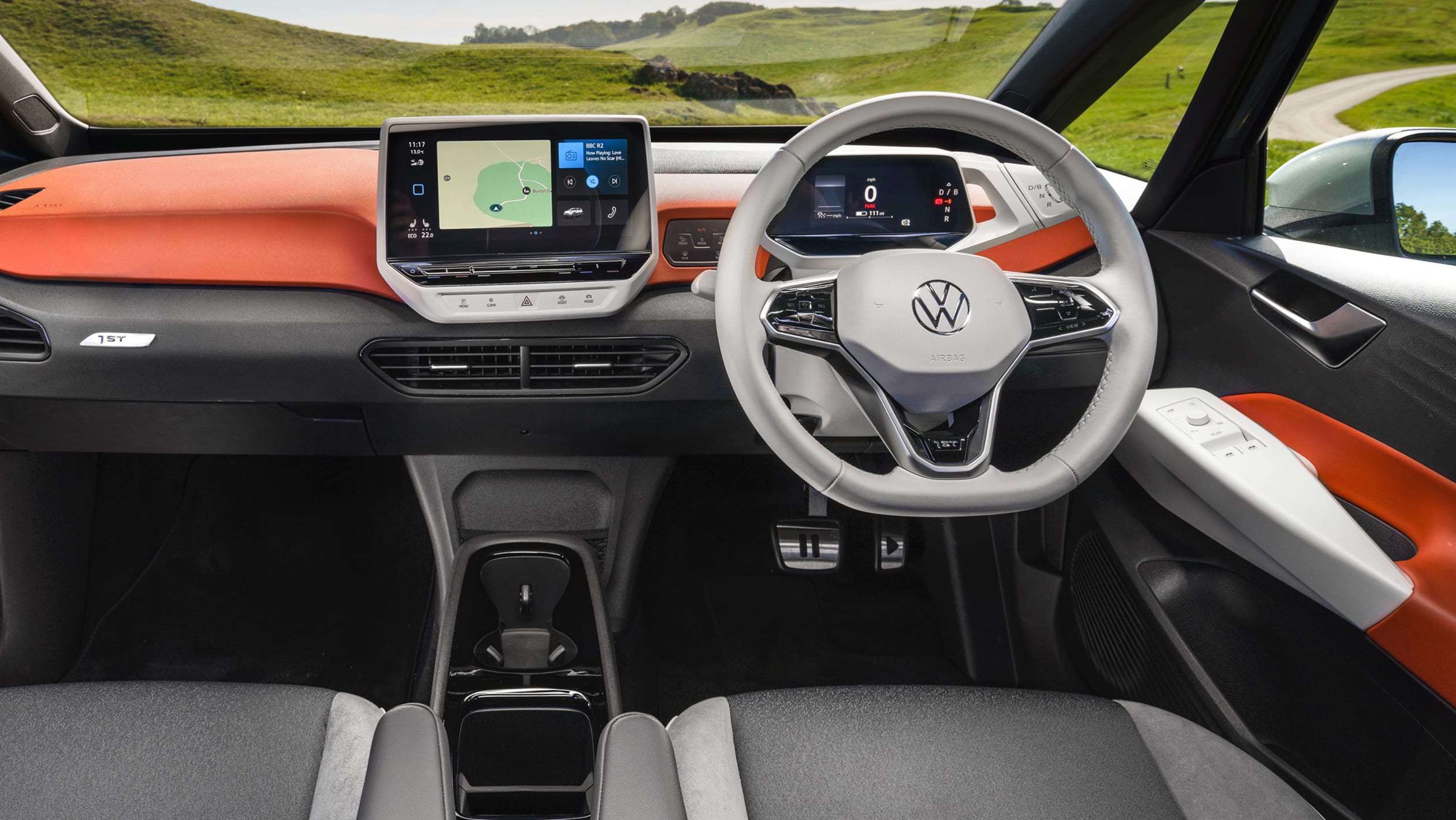 However, this Golf-sourced tech also has the same drawbacks. Everything is touch sensitive and a little too fiddly to use on the move.
There are more comparisons to make to the Golf, too. Now we've driven the ID.3 it's obvious that, compared with the Golf 8, this is where VW's recent development efforts have been focused.
The Golf feels like a mild update, which it very much is, whereas the ID.3 feels like a snapshot of VW's future – and first impressions show that it's extremely competitive.
Sean Carson