The British legend won more than 200 races in his career. These are some of his standout performances.
With 212 victories from 529 motor races, Sir Stirling Moss's career was packed with incredible performances.
The British hero is best known for his efforts in Formula 1, often delivering giant-killing performances in underpowered cars run on limited budgets, but also turned his hand to numerous other motorsport categories, with success in sports cars, rallying and touring cars.
Moss died on Easter Sunday at the age of 90. To continue our celebration of his career, here's our selection of five of his finest victories.
5: British Grand Prix, 1957
Moss was proudly British, and long dreamed of winning Formula 1 races for a British manufacturer. That wish finally came true with Vanwall in 1957 – and even at the British Grand Prix. But his success at Aintree was far from simple: he was leading after 20 laps when his VW 5 developed terminal engine problems, seemingly ending his hopes.
It wasn't over. His teammate Tony Brooks was running in sixth place and unable to perform to his limits while driving through an injury, so he was called in to hand his car to Moss (which the rules then allowed). Moss rejoined in ninth, but with a string of fastest laps took the lead with 20 laps left. Moss and Brooks shared the victory, and secured the first Formula 1 World Championship race win for a British manufacturer.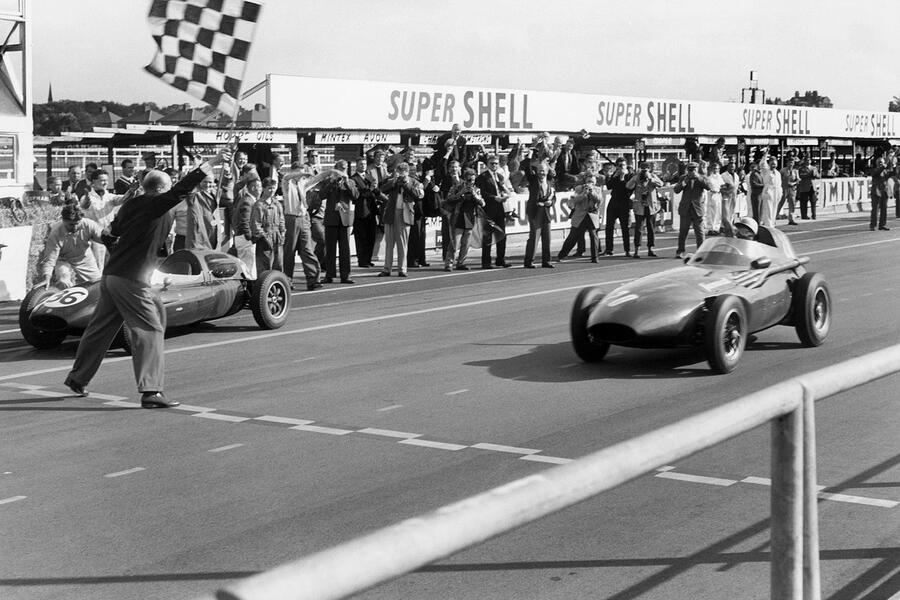 4: Nürburgring 1000km, 1959
In this epic on the demanding 22.5km Nordschleife, Moss built a clear lead in a works Aston Martin DBR1/300 before handing over to teammate Jack Fairman, who was gradually reeled in by the pack of chasing Ferraris before sliding off the road and into a ditch.
Moss returned to the driving seat of the Aston trailing by more than a minute, but quickly overcame the deficit and built another lead of more than three minutes before another driver swap. Fairman soon lost the lead again, and was quickly called back in so that Moss could finish the race. He put on another charge, battling past Ferrari's Phil Hill to secure the first of three consecutive Nürburgring 1000km wins.
Notably, on his charge to victory Moss lowered the Nordschleife's sports car lap record by 11 seconds.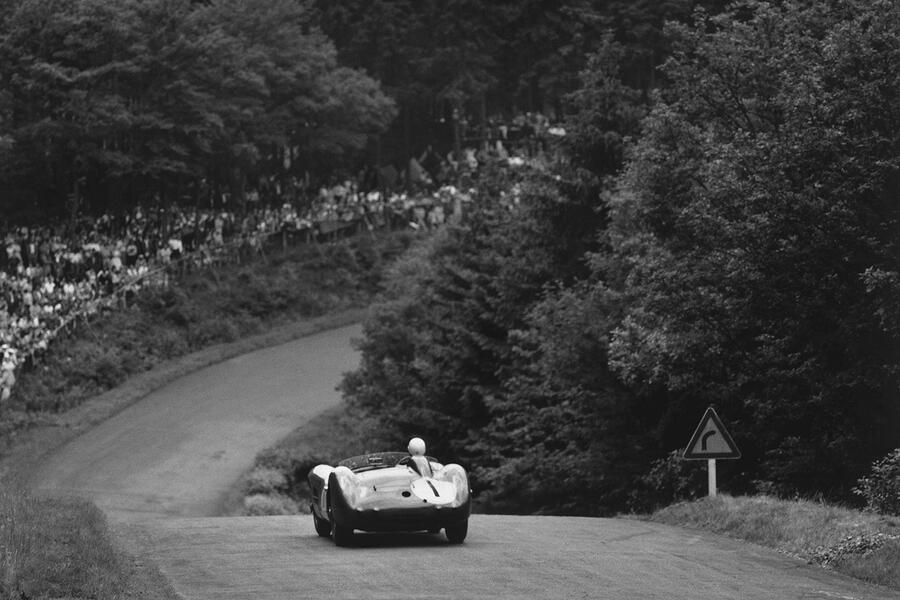 3: Argentine Grand Prix, 1958
Vanwall's new cars weren't ready for the start of the season due to a late regulation change, so Moss agreed a one-off drive in a Cooper-Climax entered by privateer owner Rob Walker. The modified Formula 2 car's 2.0-litre engine had a 500cc deficit compared with Maserati and Ferrari rivals, resulting in Moss qualifying seventh. But the tiny Cooper did have one advantage: Moss and his team worked out that, if driven carefully, it could just about complete the race without refuelling or changing tyres.
As the race progressed, Moss rose through the order and took the lead when his faster rivals pitted. He was helped by the other teams believing the Cooper would have to pit, a belief furthered by Walker's team even faking preparations for a stop. By the time they realised, it was too late and Moss, tyres worn down to the canvas as he crossed the line, narrowly led home the Ferrari of Luigi Musso.
His success was the first World Championship win for a rear-engined F1 car, a milestone that convinced other teams that had long insisted grand prix cars should be front-engined where the future lay.
As if Moss's drive wasn't impressive enough, he also completed the race with an eye patch on after his wife had accidentally poked him in the eye earlier in the weekend…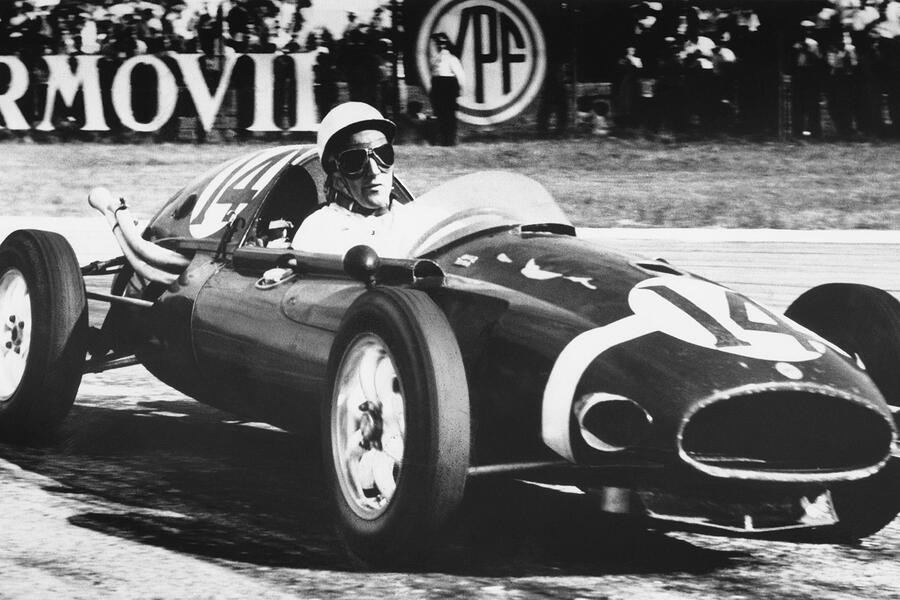 2: Monaco Grand Prix, 1961
The Ferrari 156 was the dominant car of the season, with Phil Hill and Wolfgang von Trips finishing first and second in the championship. Yet despite driving an underpowered Lotus 18 entered by Walker's privateer team, Moss still took two wins.
The first came in the season-opening Monaco Grand Prix, where the tight confines of the street circuit helped offset the power deficit of the Lotus. Moss qualified on pole ahead of Ferrari's Richie Ginther and Jim Clark (Lotus). Ginther took the lead ahead of Clark and Moss at the start, but Clark soon suffered mechanical issues and Moss muscled past Ginther to take the lead.
He built his advantage to around 10 seconds, before Ginther and Hill worked their way back into second and third and began to close in. With 60 of the 100 laps left to run the lead gap was down to three seconds, but Moss delivered a faultless and sublime drive to hold off Ginther.
Moss would take his second victory of the season in the German GP on the Nordschleife.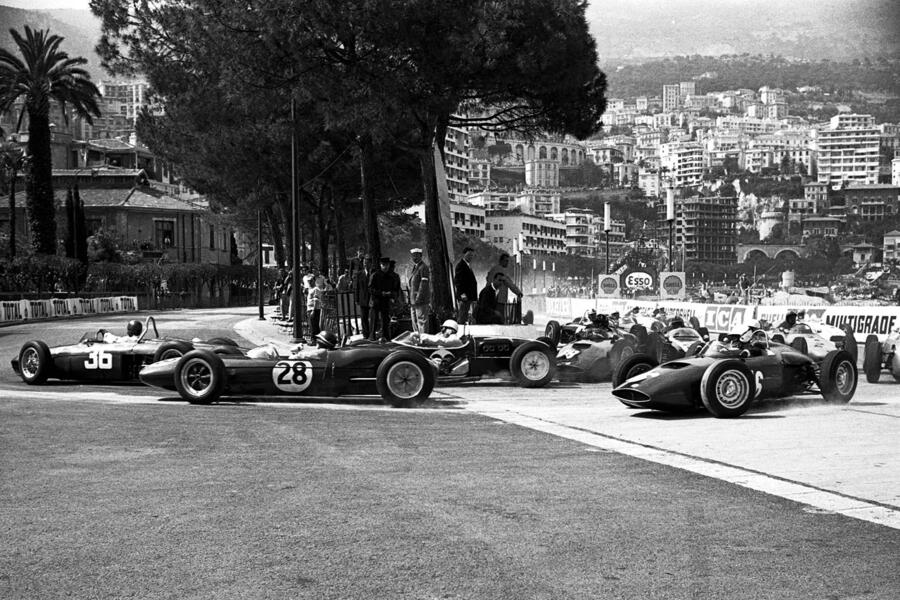 1: Mille Miglia, 1955
Moss's victory in the gruelling 1000-mile road race has become the stuff of motorsport legend. With co-driver Denis Jenkinson delivering accurate pace notes through a combination of an innovative roller reader and hand signals, Moss completed the open-round course in record pace, averaging 156.6km/h in just over 10 hours of ultra-committed driving.
Moss later described tackling blind crests in his Mercedes 300SLR flat out at 280km/h, absolutely trusting in his well-researched notes. His win was only the second by a non-Italian on an event where intimate knowledge of the roads was a huge advantage.
Runner-up and teammate Juan Manuel Fangio, who was delayed by some technical issues, finished 32 minutes behind.
The question of whether Moss's performance in the Mille Miglia was better than his 1961 Monaco win has been the subject of much debate – Moss reportedly named both as his finest in different interviews. Ultimately, that one driver delivered two such superlative efforts in two vastly different events in hugely different cars simply showcases why Moss is regarded as a true motorsport hero.