Prototype Tesla Cybertruck hits the road, but futuristic, all-electric Tesla Cybertruck is still no closer to launching, though.
A prototype version of the long-awaited Tesla Cybertruck has been seen in California. It was present during a grand opening ceremony of the Elkhorn Battery storage facility in Moss Landing, with some notable changes over previous iterations.
While the design remains shockingly minimalist and angular, we can see a few more real-word touches appearing. Pictures taken by Nattanan Sirivadhanabhakdi show a new windscreen wiper situated vertically and door mirrors. The wheels have also lost the bizarre covering, with much more conventional alloy wheels with a six-stud pattern.
Cybertruck spotted near Santa Cruz this morning ⚠️

Photoshoot, perhaps?

Video by a friend of this guy: https://t.co/ddFPhoakOh pic.twitter.com/pwqC1y0bF5

— The Cybertruck Guy (@cybrtrkguy) June 6, 2022
Inside, there's a new driver's display which appears to have been taken from the Model X and the central front seat has been replaced by a centre console. There's also the yoke steering wheel – a feature first seen on the Model S Plaid.
While it's gained some more conventional equipment, the Cybertruck is still far from being finalised. Tesla boss Elon Musk confirmed previously that the American electric car maker will not be launching any new cars in 2022, including the Cybertruck, which has been delayed until 2023 at the earliest.
Cybertruck windshield wiper! pic.twitter.com/wadePGgIPe

— Tesla Raj (@tesla_raj) April 8, 2022
"We will not be introducing new vehicle models this year. It would not make any sense because we'll still be parts constrained," Musk said referring to the global chip shortage.
Musk said that once Cybertruck production starts, he hopes to produce a quarter-million Cybertrucks annually but achieving this will take time because the tech is yet to be improved and it is still very costly at this stage.
"Batteries will probably not be the limiting factor in Cybertruck production," he said.
"I worry more about things like how do we make the Cybertruck affordable despite having awesome technology."
The Tesla Cybertruck was revealed in 2019 and has been delayed every year since. Since then, other manufacturers have entered the electric pickup truck space, including Ford with the F-150 Lightning, Rivian with the R1T, GMC with the Hummer EV, and Chevrolet with the Silverado EV, to name a few.
When the Cybertruck concept was introduced, it shocked the automotive space with its angular, stainless-steel-bodied utility vehicle with bulletproof glass and a claimed maximum towing capacity in excess of six tonnes.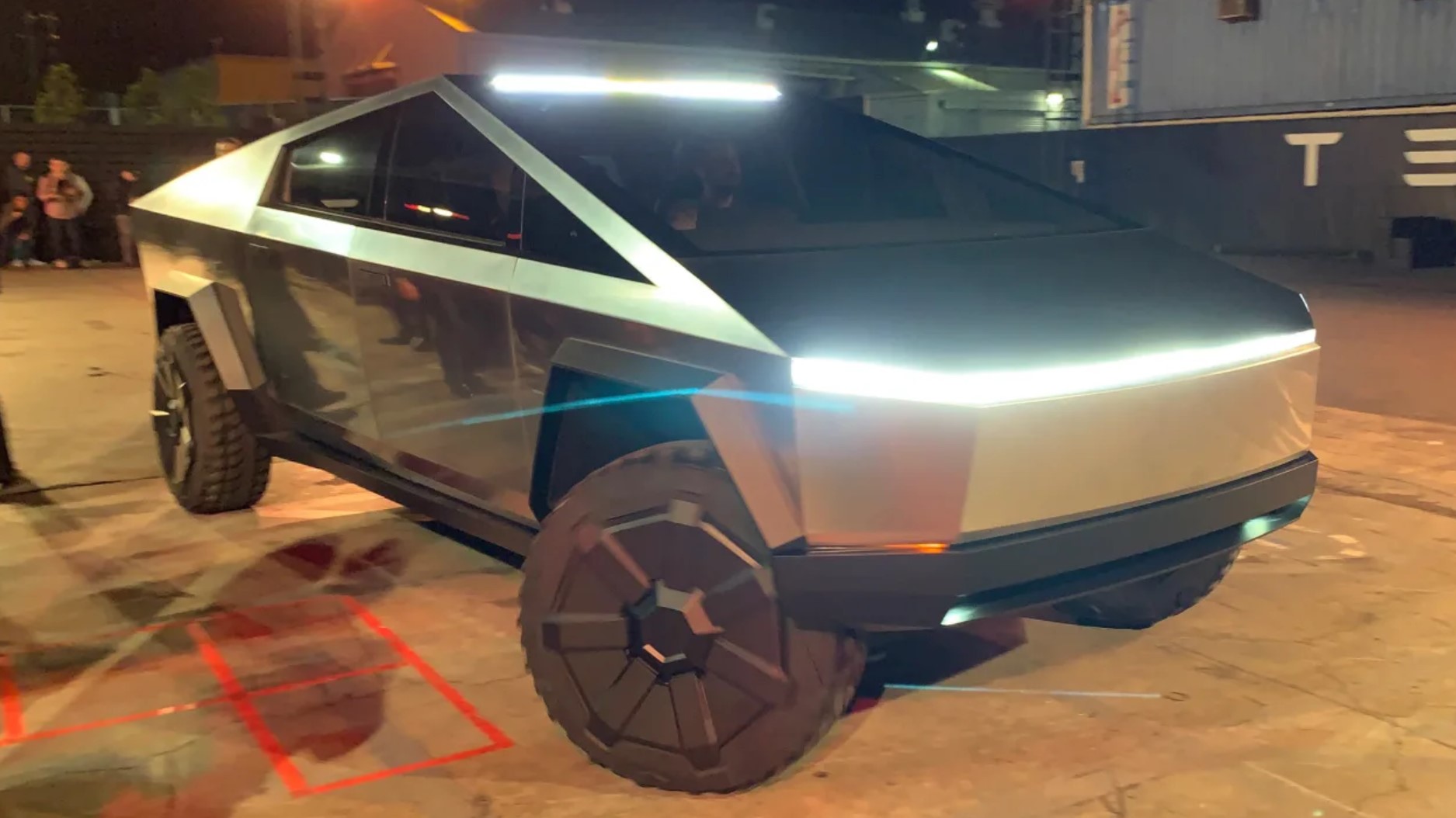 Elon Musk claimed that it can carry a payload of up to 1587kg and tow up to 6350kg. It also comes with a lockable, 2832-litre load bed which can carry items up to 1981mm long.
Musk promises the pick-up will be handy off-road, too. It has 406mm of ground clearance, an approach angle of 35 degrees and a departure angle of 28 degrees – which is better than the current Ford F-150. A range of new traction control settings, designed to simulate mechanical locking differentials, is also promised.
Like the Tesla Model X, the Cybertruck rides on air suspension which allows the rear of the pick-up to be lowered to make loading and unloading easier. The truck is also fitted with a retractable ramp, which was demonstrated with a rebadged and rebodied Yamaha all-terrain vehicle driving across the stage and into the bed.
There's still a considerable amount of conjecture over the Cybertruck's angular design, with many publications remaining doubtful over whether it will pass the pedestrian safety aspect of US crash regulations.